Historic storm is developing now.  States of Emergency have been declared over multiple states.  Winter Storm Watches, Warnings & Ice Storm Warnings to Winter Weather Advisories are up over a massive area.  Upgrades to Blizzard Warnings are possible with the blinding snowfall & highs winds in many areas.
As storm wraps up over Arkansas, very dry air will be pulled eastward from Desert Southwest & High Plains, resulting in an all-out firestorm risk from Kansas to Mexico.  50-80 mph winds, drought, extremely low dew points amidst blowing dust will lead to extremely volatile & explosive fire conditions there.
Note how snowfall accumulation could make it to nearly the Gulf Coast & note the damaging ice storm expected in part of Georgia to South Carolina.
Also note the amount of land area seeing +6" & just significant winter weather.  This is the most significant winter storm for the central & eastern U.S. since 2014 & the greatest amount of square miles will see +6" or snow in general since the January 31-February 2, 2011 historic winter storm.  Nearly 90 million will be hit by impactful snowfall in one main storm-a rarity. 
That storm in 2011 brought 8-16" snow to our area, up to 6" sleet, up to 0.25" glaze, winds to 45 mph & thunder snow, sleet & freezing rain.  It paralyzed our area for several days.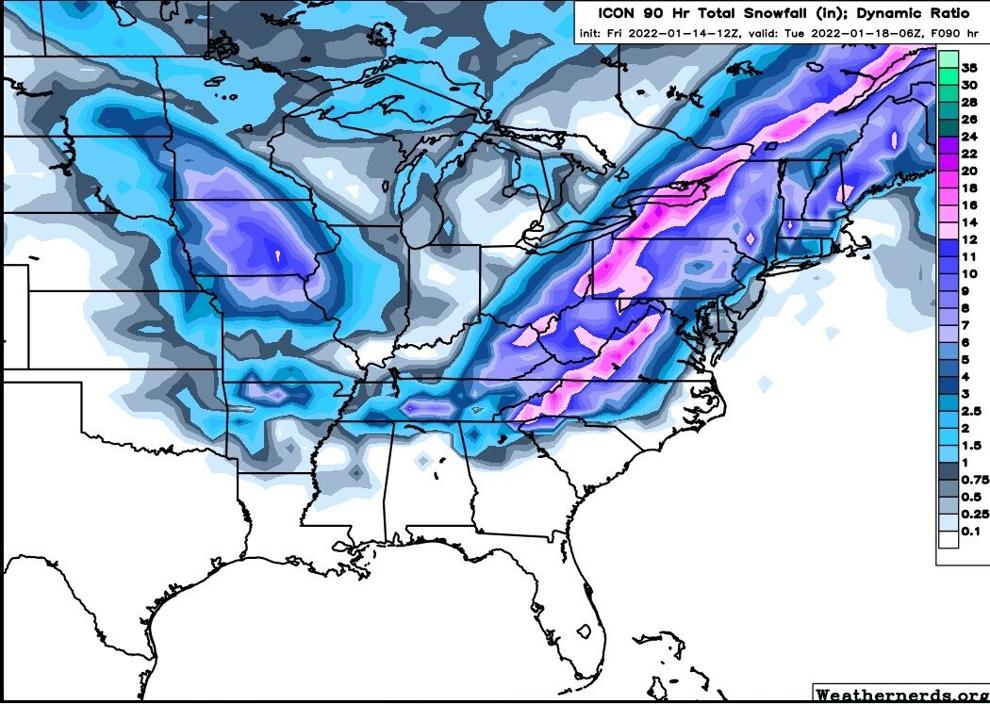 The current Alberta Clipper & southern disturbance merge & then the storm moves eastward, then it re-develops into "Inside Runner" storm that rides the East Coast.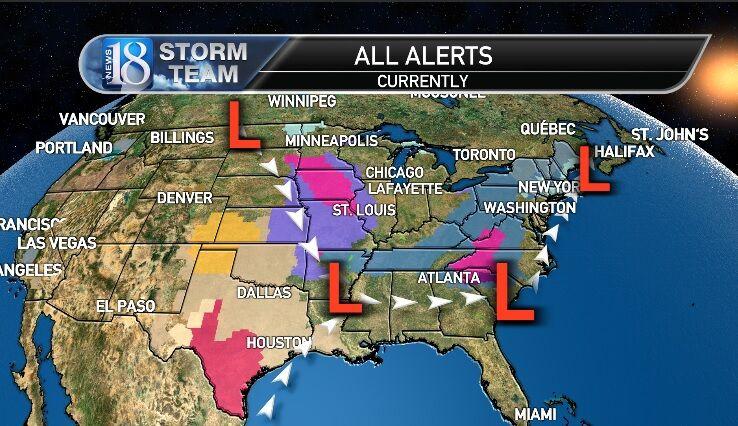 Meanwhile, extreme, dangerous cold is hitting part of New England (wind chills to -55 to -40 & temperatures to -28 to -20).  A little bit will try to get in here Saturday-Saturday night on the strong northeast winds.  However, the Northeast cold may be deadly, here not so much, but it will be really bitter.
Some lake effect snow showers in our northwestern & far northern areas tonight will give way to some snow showers Saturday morning.  After those snow showers, we actually see a bit of partial clearing with potential of a few flurries.  Temperatures drop to 16-24 by 8-9 am, then hit 19-25 for highs in the afternoon.
Northeast winds will run 20-40 mph, leading to wind chills -1 to 9.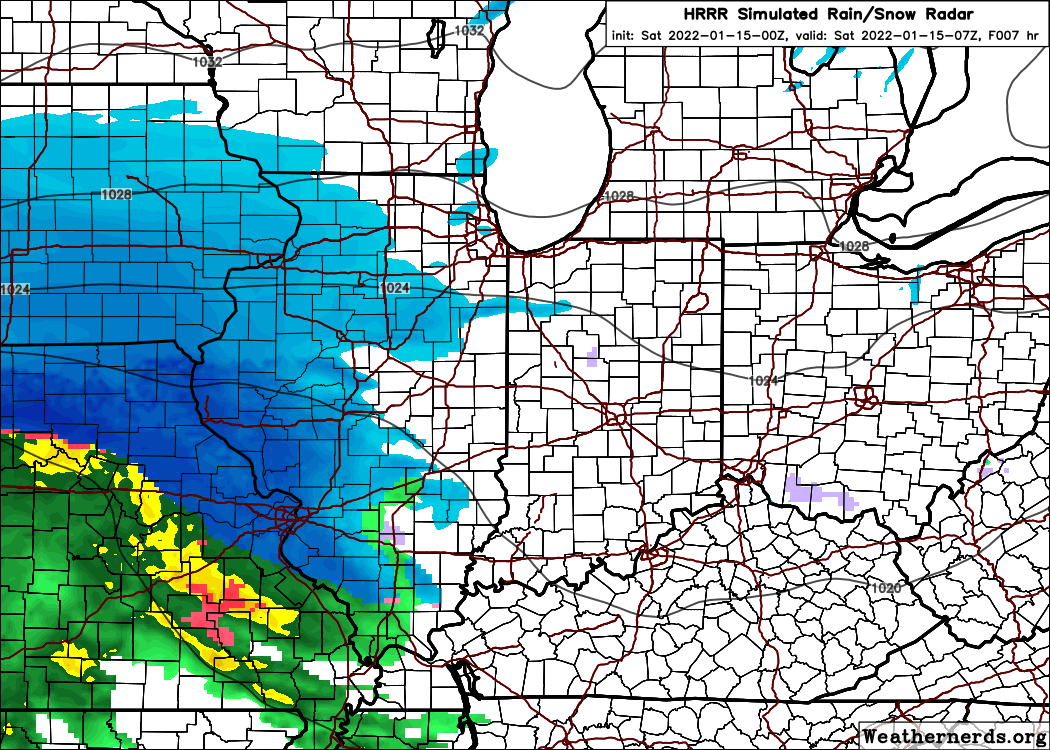 UP TO 1" is possible in our far northwest, far west & far southwest part of the area.  Elsewhere, it will go from nothing to a dusting or coating.  Watch for slick areas in places that see some snow.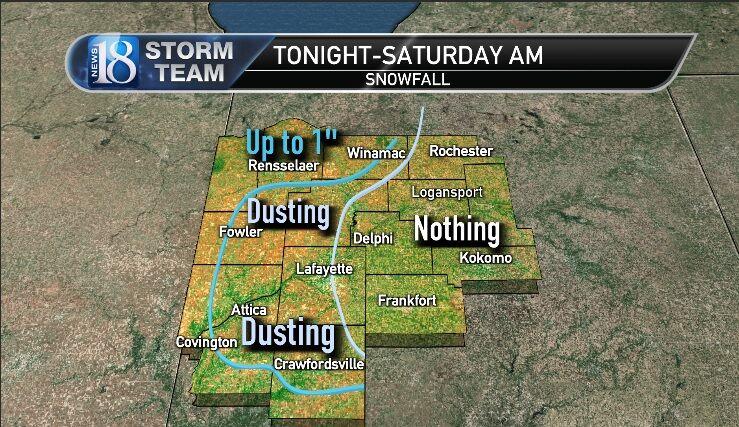 Saturday night will be cold with lows 7-14 with wind chills -8 to 0 with partly cloudy skies.
Sunday looks partly cloudy with a couple flurries from Lake Michigan in the northwest counties.
Otherwise, it is this disturbance or potentially clipper that pivots through Sunday night-Monday AM with some snow showers.  Dusting/coating is possible.
Highs of 26-32 Sunday will give way to lows in the upper teens to lower 20s.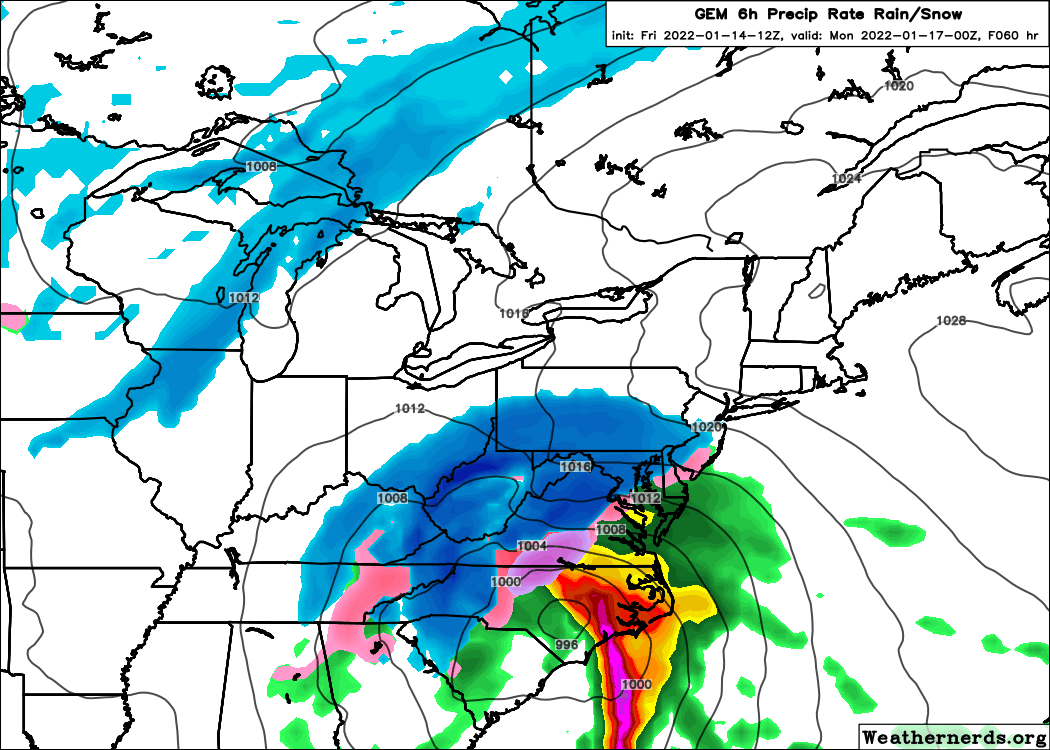 After 28-34 Monday, it will turn warmer with south wind Tuesday with 35-40 with mostly cloudy skies & a few flurries/sprinkles.
We turn colder with a few lake effect flurries Wednesday, then Arctic front passes Wednesday night, leading to a cold, windy Thursday with a few lake effect flurries.
We need to watch Friday through next weekend for potentially another big storm as a clipper dives in from the north & a southern storm tracks from Mexico to Texas & through the South.
It is unclear whether this will bring us snow.  
Arctic outbreaks will bring below to well-below normal temperatures for the eastern 2/3 of the U.S. for latter half of January.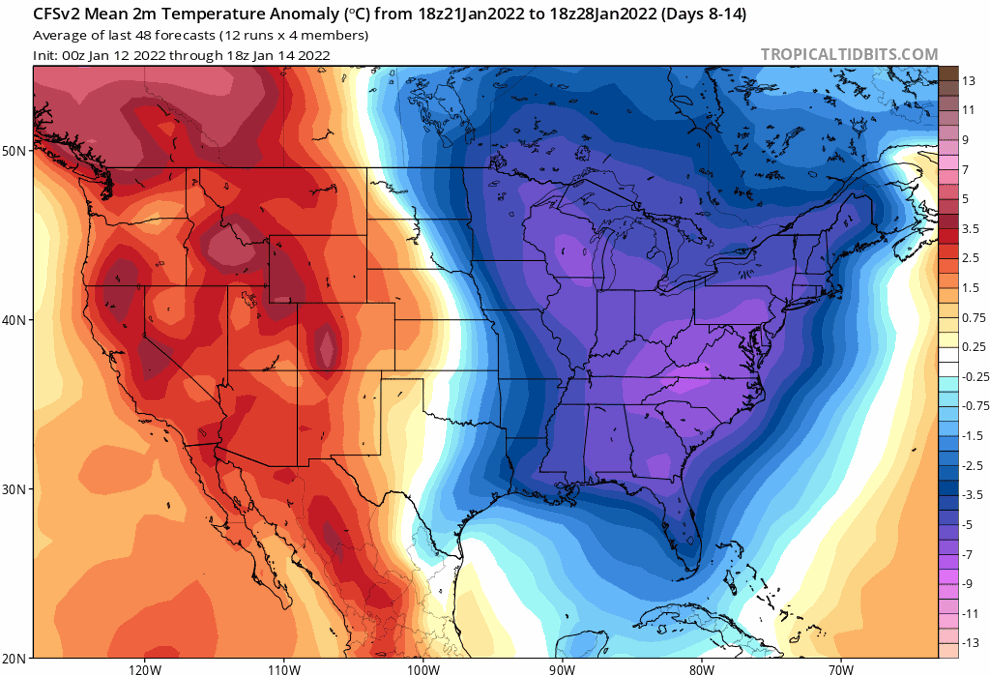 Other than one brief, potent, random thaw, early February looks quite cold with more rounds of bitterly cold air.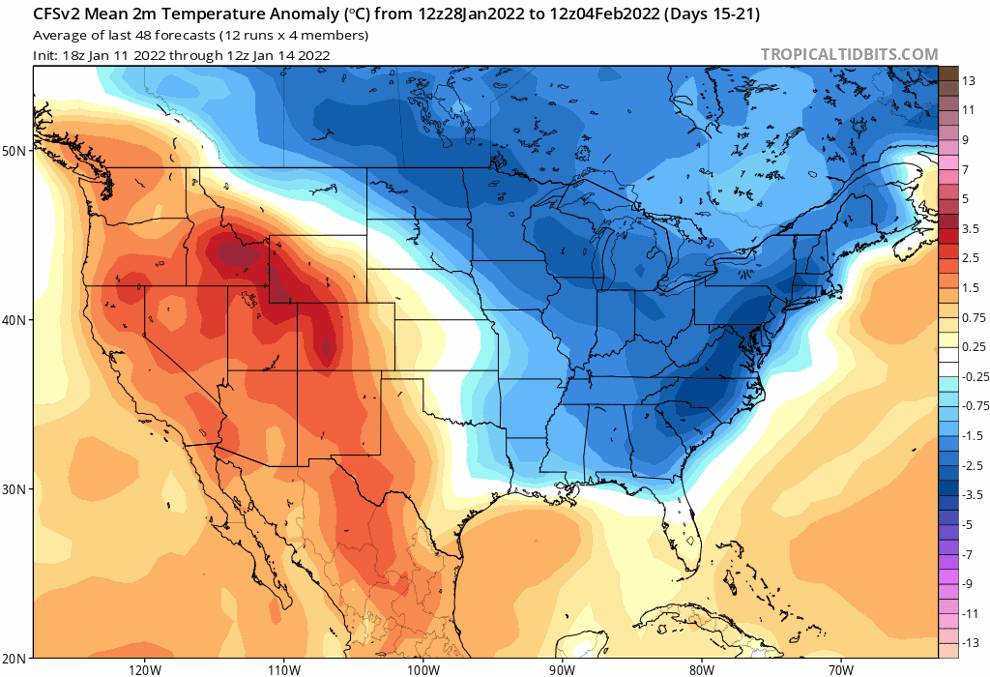 Cold pattern continues mid to late February!
Model data paints a deep snow pack here by mid-February.  
Bitter cold & deep moisture for heavy snowfall are all available to turn this snow drought around.  Temperatures are already below normal by up to 5 degrees for our area for the month of January & it will only get colder.  We just need to get storms to track in the right place to bring us snow.  It will happen in this pattern.
CFSv2 shows a 7-12" depth here in mid-February.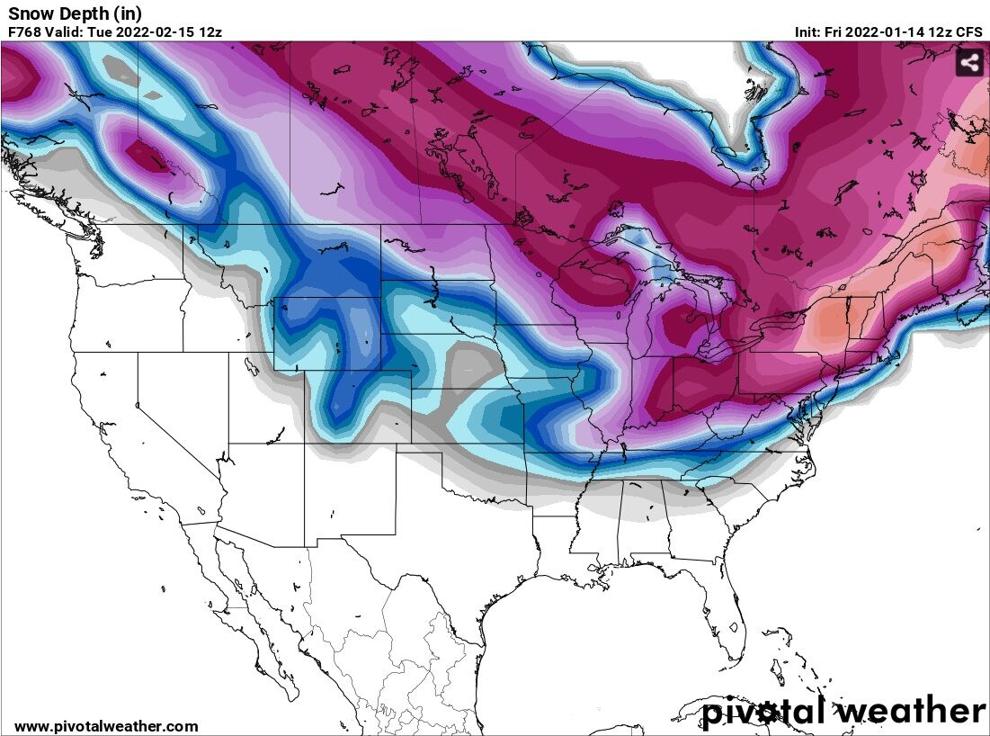 I do see this cold, snowy pattern changing after February 24 with sudden warmth & a taste of spring.
Overall, March looks warmer than normal, but watch for a late-season hit.
I like the 1940, 1968, 1996, 2018 analogs for late-season snowfall risk in late March & cold hit.
It'll either be here or very close to our area.
We will monitor.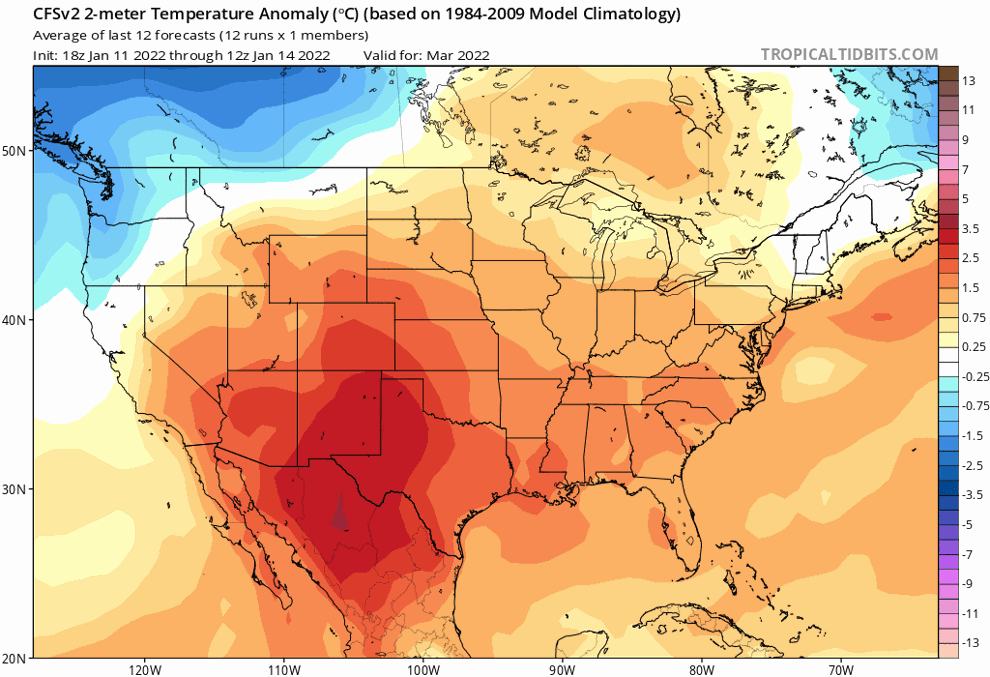 New data continues to suggest that La Nina may hang on for quite awhile.  With this being a double-dip La Nina beginning to edge a bit to the colder version of La Nina (Modoki), even when the La Nina greatly weakens, its patterns may continue.
We may not shake La Nina's influence completely until next winter.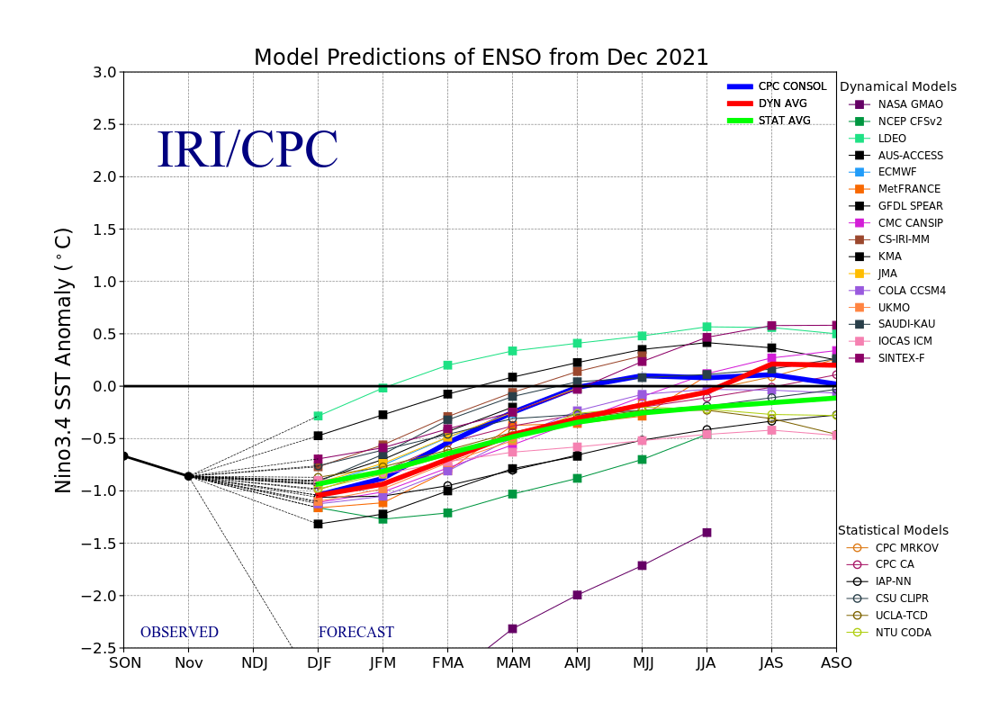 As a result, I am still beginning to feel as if I need to turn away from cooler & wetter than normal Summer to a hotter & drier than normal one with another very active Atlantic hurricane season.
Also, given La Nina's influence & the extremely loopy jet pattern, it may be a 2008- & 2011-style violent spring with lots of severe weather in the Midwest & South.  The South may be especially hit hard.  Given the La Nina-like drought in the Plains, the dry line is shifting eastward.  Last time we saw such a dry line shift like this was 2011 & that was a violent spring here & especially in the South.
So..............we will see.
2011 was very wet & stormy here in Spring to early Summer then flash drought developed & expanded northward with 100s here in July.  
My thoughts are centered on a quick return to El Nino Spring-Summer 2023-24 after potentially pretty neutral winter in 2022-23.
Winter 2022-23 is unclear, but 2023 may end up cooler & wetter than normal if El Nino really gets going enough.  Given the state of our climate, I would expect El Nino to intensify quite a bit to traditional, possibly moderate stage in Winter 2023-24.
This would tend to mean a warmer than normal, drier than normal winter with below normal snowfall for the snow season October to April.