(WLFI) - Good Wednesday morning! Radar returns early this morning are more bark than bite. We are still dealing with fairly dry mid-levels in the atmosphere. This could help cause some sleet but a changeover to all rain will be expected.
*To view current radar conditions, you can click here to view our Live Interactive Radar.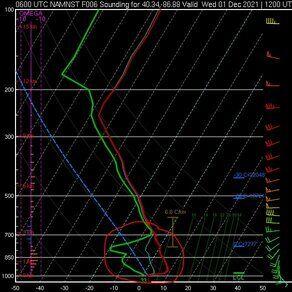 Scattered light showers will be working into the WLFI viewing area. The best chance of rain region-wide will fall between 7:00 AM to 10:00 AM.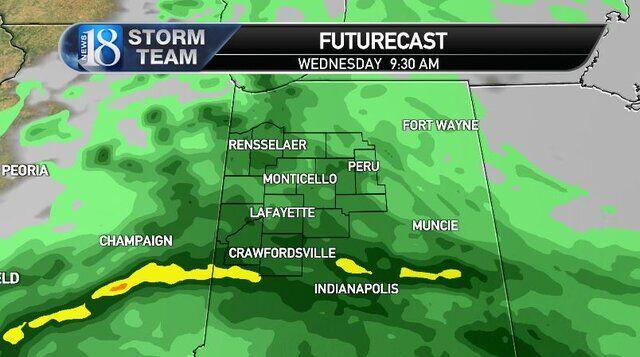 (Futurecast at 9:30 AM showing the heaviest rain from Lafayette and Kokomo southward. Areas to the north may only see light rain.)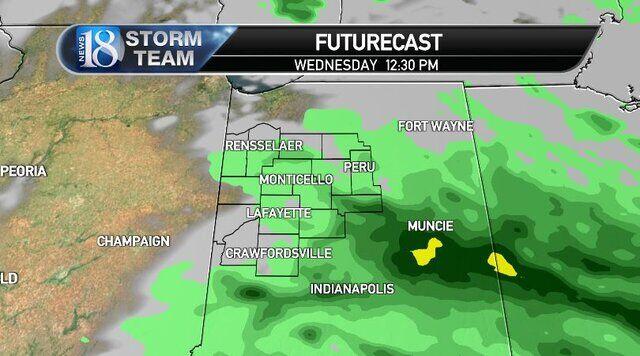 (Futurecast at 12:30 PM will be clearing out rain and clouds by this time.)
Not a lot of rain is expected. Only less than a tenth of an inch is expected in many areas. Further south will see the highest rain totals.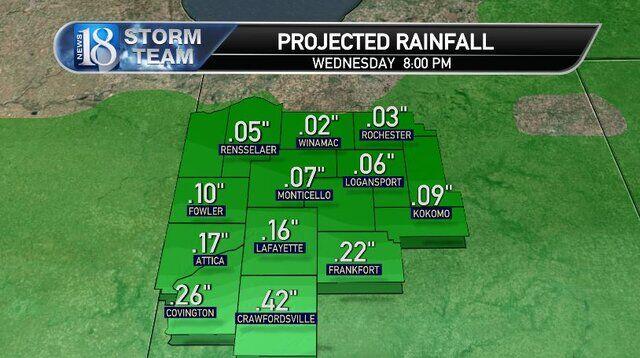 Temperatures are gradually warming up this morning into the mid to upper 30s. By noon, most of the rain will be out of the area and sunshine and a few clouds will be likely. Highs today will reach up into the lower 50s with a southwest breeze 10-15 mph.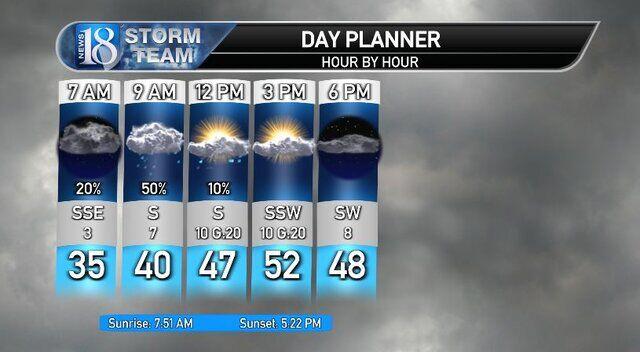 Thursday
Thursday through Saturday look great with a few clouds and sunshine. Warm air advection will help us warm up throughout the day tomorrow. Highs Thursday will be in the lower 60s with a strong southwest wind 15-20 mph with gusts up to 25-30.
7-Day
Friday's high will be slightly cooler, in the mid 50s. By Saturday temperatures will only be in the mid 40s before our next system comes in on Sunday giving us rain chances Sunday afternoon.
Sunday night and into Monday, temperatures will begin to fall giving way to a possible changeover to snow by early Monday morning. The cold weather will continue into next week as another system is set to arrive Tuesday and into Wednesday. This could give us some accumulation of snow however it's far too early to give specifics. Stay tuned with Storm Team 18 for the latest details!