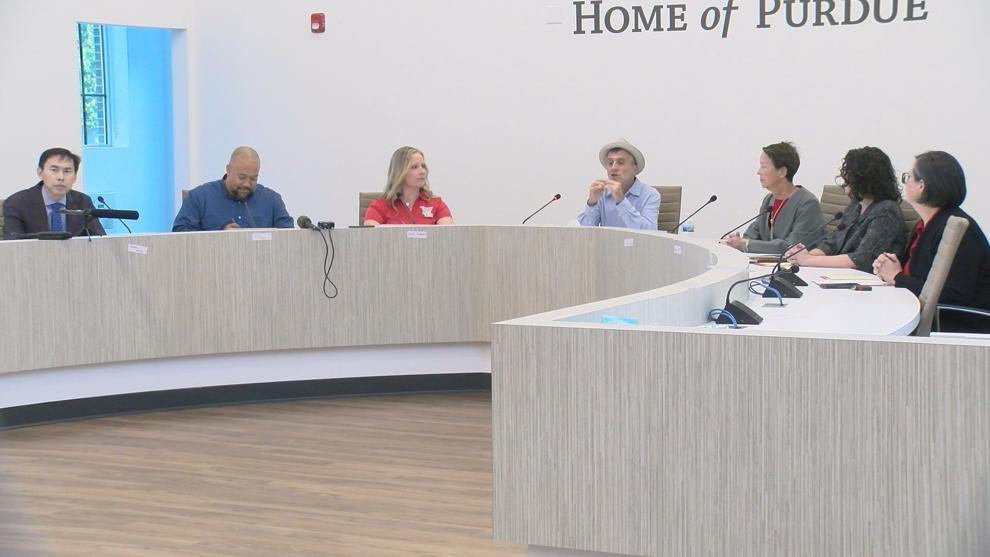 WEST LAFAYETTE, Ind. (WLFI) – The council chamber was packed at Sonya Margerum City Hall Thursday night. Candidates for West Lafayette School Board met with voters and gave their stances on a variety of issues during a public forum.
The six candidates – Angie Jane, George Lyle, Dacia Mumford, Karen Springer, Laurence Wang and Rachel Witt – are vying for three at-large seats on the seven-member school board.
Some of the candidates argued the school board needs to be more transparent with the public, particularly about financial matters. Others said transparency is important, but it needs to happen in an authentic, legal and purposeful way.
The candidates were also asked if they support charter schools. Four of the six candidates said they oppose them. Laurence Wang and Dacia Mumford spoke in favor of charter schools.
Wang said more options for parents and students is a good idea. Mumford argued competition for the school system will ultimately make it a better system. She also said she is confident the corporation can compete with charter schools "no problem."
Seema Mattoo is a West Side parent. She says the forum was a welcome change from previous years.
"This race is contentious. It has been in the last race as well... and it's not always been positive," Mattoo said. "It was nice to see such a constructive dialogue happen. I thought the candidates did a really good job presenting their views."
Incumbents Karen Springer and Rachel Witt touted their experience on the board. Witt has served for 8 years and is currently board president. Springer has been a board member for 24 years.
Other candidates said now is the time for new and equally passionate voices to serve. Mattoo also believes electing new board members could be a good move.
"A change in board membership is not going to suddenly change the outcome of the school," Mattoo said. "The school is... we're here because it is a good school district. We're here because we're all passionate about it, but there's always a chance for improvement. So give new people a chance."
Candidates also said the board should focus on increasing community engagement and prioritizing diversity initiatives. This is currently the only forum scheduled for the school board candidates before the November 8 election.