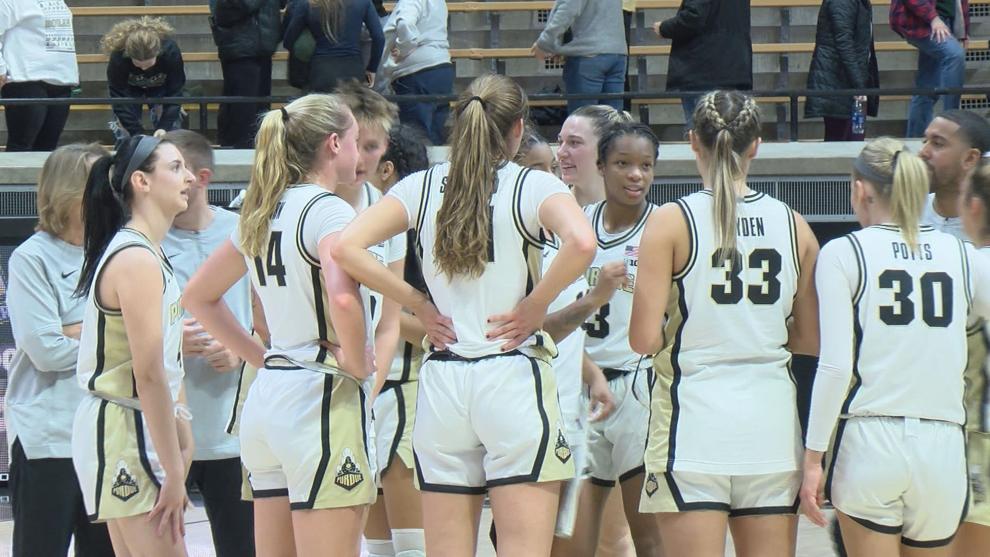 WEST LAFAYETTE, Ind. (PURDUE SPORTS) – Purdue scored 20 or more points in all four quarters Sunday afternoon to roll to a 90-61 win over Murray State at Mackey Arena. Purdue moved 2-0 for the second straight year under head coach Katie Gearlds.
Purdue shot a blistering 50.7% from the field and went 9-for-21 (42.9%) from behind the arc. Purdue is now 15-3 under Gearlds when shooting 40% or better and recorded its 21st game with seven or more 3-pointers in 34 games (14-7). 
Transfer duo Lasha Petree and Caitlyn Harper combined for 40 points. Petree paced all scorers with 23 points with three triples, while Harper added 17 for the second straight game. Junior Madison Layden knocked down a trio of 3-pointers to finish with 15 points.
After making history as the first Boilermaker to notch a non-point double-double in the season opener against Marshall, Jeanae Terry did it again Sunday. The senior tallied 10 rebounds and 10 assists falling one point shy of her third career triple-double.
 The Boilermakers made the extra pass with 25 assists on 35 made field goals. Layden added six of her own, and Harper, Cassidy Hardin, Jayla Smith and freshman Addison Potts chipped in two. The 25 helpers were the most in the Katie Gearlds era.
While the Boilermakers moved the ball, they did so without committing turnovers. Purdue committed just seven giveaways in the win. Defensively, the Boilermakers scored 17 points on 12 Murray State (1-1) turnovers.
Reigning Ohio Valley Conference Player of the Year, Katelyn Young came in after scoring 23 points in the Murray State's senior opener and following 20.1 points per game last year. Purdue held her to just seven points.
The Boilermakers jumped out to a 20-13 lead after the first quarter, aided by an 11-2 run late in the period. Purdue scored 18 of the first 21 points in the second and carried a 13-point advantage into the break.
Purdue continued to build on the lead behind a 51.3% shooting clip in the second half, growing it to as many as 32 in the second half. The Boilermakers hit on 6-of-10 triples, as Layden and Petree evenly split four.