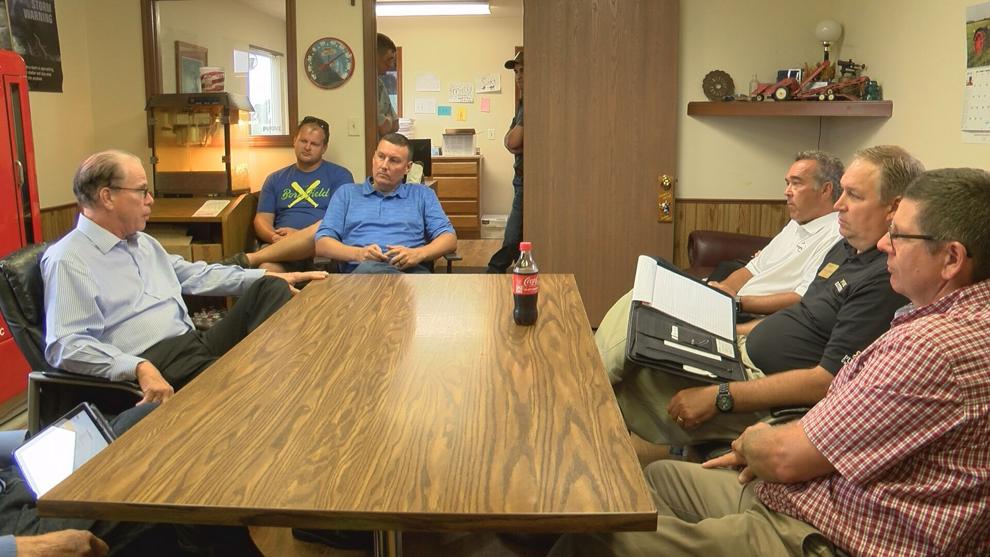 ROMNEY, Ind. (WLFI) — In a small farm office next to a huge grain elevator, U.S. Sen. Mike Braun, R-Ind., met with local corn and soybean growers Tuesday while supply chain issues loom.
"Farming is at a pivot point to where you've got many concerned farmers in there that don't know, mostly, about what they're gonna do next year," Braun says.
Braun also joined News 18 for a wide-ranging interview on federal spending bill, abortion and economic development.
Two days earlier in Washington, D.C., Braun and his colleague from Indiana, Sen. Todd Young, joined other Republicans in voting against the Inflation Reduction Act.
The senate voted 50-50 on the measure, with Vice President Kamala Harris casting the tie-breaking "yes" vote.
"This was sold as budget-neutral, maybe reducing the deficit, until you point out all the deficit reduction comes in years six through 10 and all the spending starts immediately," Braun says.
Braun departed from Young with his vote against the CHIPS Act, signed into law Tuesday, which will pump millions of dollars into computer chip infrastructure, including a production facility planned for West Lafayette.
"Almost all of that bill, we're borrowing the money to do it," Braun says.
The pro-life lawmaker praised the Indiana legislature for becoming the first state without a "trigger law" to pass an abortion ban, following the recent upheaval of Roe v. Wade.
"It has been a framework that needed to be brought back to the states, and I think Indiana did a decent job," Braun says.
After the U.S. Supreme Court's draft opinion leaked, Braun walked back a statement that issues like interracial and same-sex marriage should also be left up to states.
On Tuesday, the senator clarified he believes the ruling preserves those rights.
"This was about abortion, sanctity of life, and you lay it there," he says. "I think that discussion that it would go further doesn't make sense to me."
Braun also fielded questions today on the expansion of high-speed internet statewide and across the nation.
He wants states to invest more in broadband to attract young people to rural areas.