WEST LAFAYETTE, Ind. (WLFI) —  It has been a year of devastation, destruction and undying resilience in Ukraine with shows of support against the Russian invasion from Greater Lafayette.
Purdue University Political Science Professor Kyle Haynes specializes in great power politics.
"Most people, myself included, kind of expected the major combat part of this war to be pretty short, because Russia would win," Haynes said. Clearly, that was not the case.
He said Putin's recent withdrawal from the New START Treaty, a nuclear arms reduction agreement, likely won't change much. Haynes calls these tactics "brinkmanship," or pushing dangerous events to the brink of reality.
"It seems like a lot of what he's doing is kind of premised on the assumption that if he can make this situation as a whole dangerous enough, it'll convince the rest of the world, the western alliance, to pull back on it's support for Ukraine," Haynes told News 18. "I don't think that will work."
Near the anniversary of this invasion, Purdue University announced the Ukraine Scholars Initiative is expanding after a grant from The Heritage Group. The $270,000 gift will allow Ukrainian scholars to stay at Purdue through May 2024.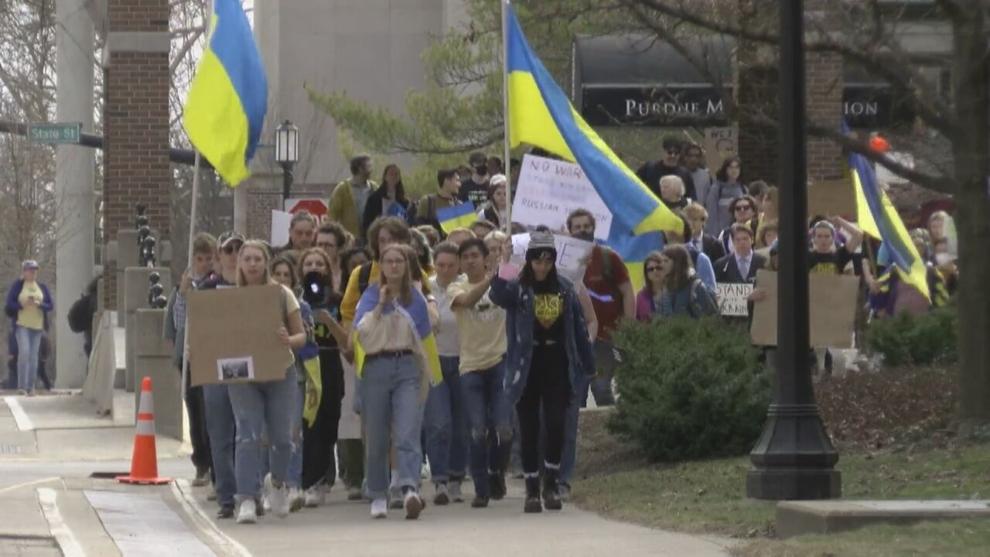 One of those scholars is Yaryna Borenko. She is one of the nine scholars who enrolled in the program last year. Borenko will be staying in West Lafayette to continue her human rights research. She said her family and her hometown are safe. But, she is still shocked by the events of the war.
"I worked a lot in different regions, also in the east," she said. "And of course to see the city you worked [in] devastated, and the people you work with, they are everywhere now. And like 80 years [of] efforts to maintain the city's development, and then you see that it's nothing left."
Purdue student Sophia Priatka is a member of the Ukrainian Club on campus.
They have hosted protests and supply drives for the community to stand in solidarity with Ukraine over the past year.
She said Ukrainians are not just fighting for democracy, but the right to be themselves and express their culture. She remembers the fear she felt when hearing from family and friends in Ukraine as the Russian attacks began Feb. 24, 2021.
"Hearing, like, that everyone is so scared and hiding and they can hear bombs outside is something that you don't ever want to hear from family or friends," she said.
Priatka and the Ukrainian Club are hosting a commemorative event marking one year since the invasion on Tuesday, Feb. 28.
Purdue student Tanya Masnyk is helping to organize the commemoration. 
"Many if not all Ukrainians feel a strong sense of pride in who we are because [there have been] so many attempts to destroy us," Masnyk said. "But we're still here, and we're going to continue to be here."
The featured speaker is Andrew J. Futey, President of the Ukrainian Congress Committee of America. He will speak about the state of affairs one year into the war. The event is free and open to the public at Beering Hall room 2280 at 7:30 p.m.