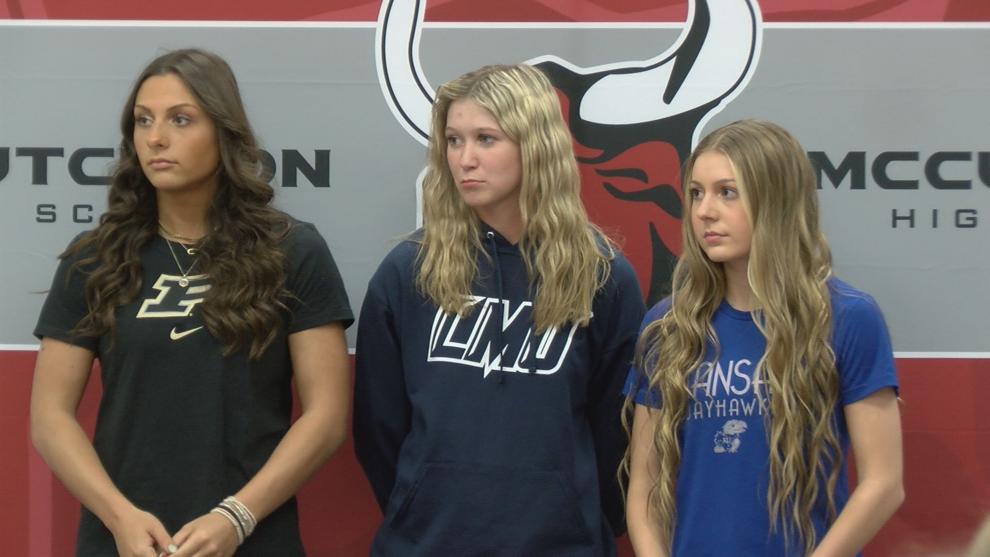 WEST LAFAYETTE, Ind. (WLFI) — National Signing Day took place today. Many athletes signed their letters of intent to continue playing at the level.
Over at McCutcheon High School, three athletes signed their National Letters of Intent.
Chloe Chicoine is staying close to home and has officially signed with Purdue Volleyball.
Chicoine has helped push McCutcheon to the national stage. The team was ranked top five in the country this year for several weeks. She told us today that she's going to miss playing with all her teammates, but she credits them for preparing her for the next level. 
And while she knows the road ahead will be challenging, she said she's ready to face it head-on. 
Chicoine said, "I'm super excited. I know I'm going to have patches where I think man this is really tough. And we might have a great night of us playing and we still find a way to barely lose cuz it's one or two points that determine a match. But I mean that's just what I've wanted to play. And I know it'll be hard at times, but I'm just super excited and that's what I've been waiting for."
Meanwhile, teammate Raegan Burns signed with the University of Kansas.
Heading to Kansas Burns said she's excited to continue playing the sport she loves. She told Sports 18 that she wants to thank her parents, coaches, teammates, and everyone who got her here to this moment today.
Even though she's heading far away from home, she said she's excited to embark on this new adventure. 
Burns said, "I've never been on my own before, I'm literally 17 in high school, so it's going to be a learning curve for me and I know that. But I'm just excited to like to finally...I love working out so being in the weight room like whenever I want, getting those extra reps whenever I want, and just finally being on my own I'm excited about it." 
Both Burns and Chicoine will be heading to their respective colleges in January to begin their collegiate careers.
Last but not least, we had Katie Rose who signed with Lincoln Memorial University to continue with her softball career.
Rose has overcome a lot in her short time at McCutcheon. After suffering a gruesome injury, and never giving up, she is back and ready to start her collegiate career.
She thanks her family for always pushing her and telling her to never give up on her dream.
She said she can't wait for this next level and just wants to compete as soon as possible.
Rose said, "College softball is competitive. Like I know it's competitive, and I know I'm going to get to continue to work hard and play with the best of the best. And I'm just so excited to be, to have the opportunity to have that family in the softball program, but also have people that are going to push me to be the best that I can be."