Flooding lingers today from Mississippi to southern Indiana to the Northeast U.S.
Up to 9" rain in 3 hours occurred yesterday in southern Indiana, leading to at least one fatality & multiple roads being washed away.  Up to 12" of rain has fallen in Connecticut to Rhode Island to Massachusetts.  
Jackson, Mississippi still has no access to drinking water after the rounds of flooding.
Meanwhile, extreme, record heat continues in the West, especially in California.  For example, Sacramento officially hit 117 at the International Airport.  The all-time record for the city is 115.
Parts of the Bay Area have reached 108.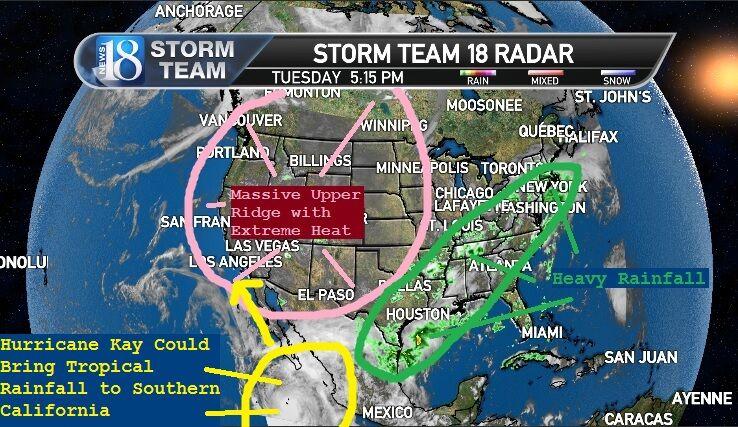 ________________________________________ 
After lows of 62-68 this morning, highs today ran 78-85.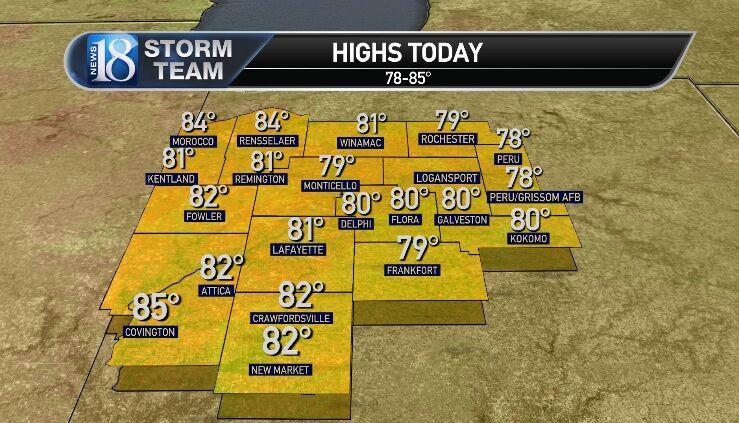 Some patchy fog is expected Wednesday morning with lows 60-64, followed by low clouds breaking up & fog burning off tomorrow morning.  Clouds may bubble up a couple isolated showers with the heating.
Wednesday will still be humid with highs 81-85 with a northeast wind 9-16 mph.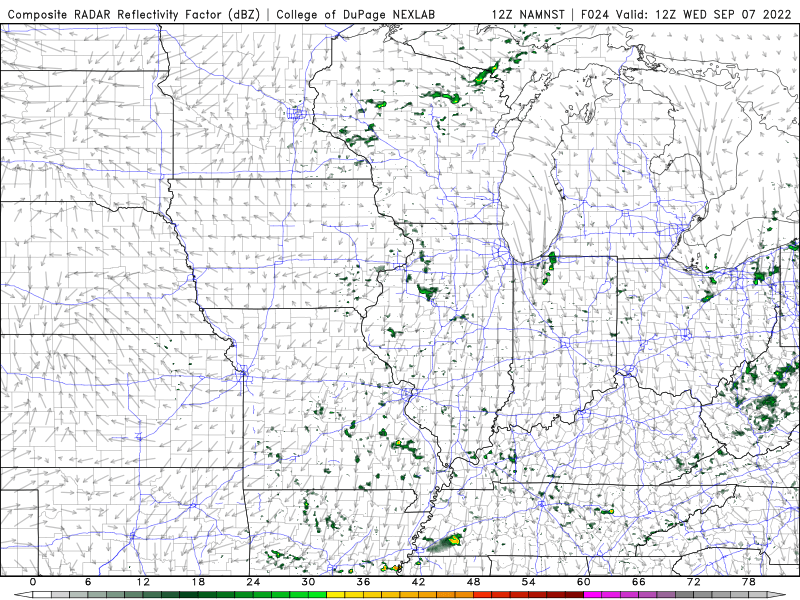 Areas of dense fog are expected Thursday morning with lows 55-60, followed by low cloud breakage clearing with mostly sunny skies by afternoon.  Highs of 81-86 are expected with a bit humid conditions.  Winds will be east-northeast to east at 5-10 mph.
55-60 is expected Friday morning with areas of dense fog, followed by mostly sunny skies & highs 82-88 with humid conditions.  Winds look southeast on Friday at 7-12 mph.
Friday evening projected IR Satellite.....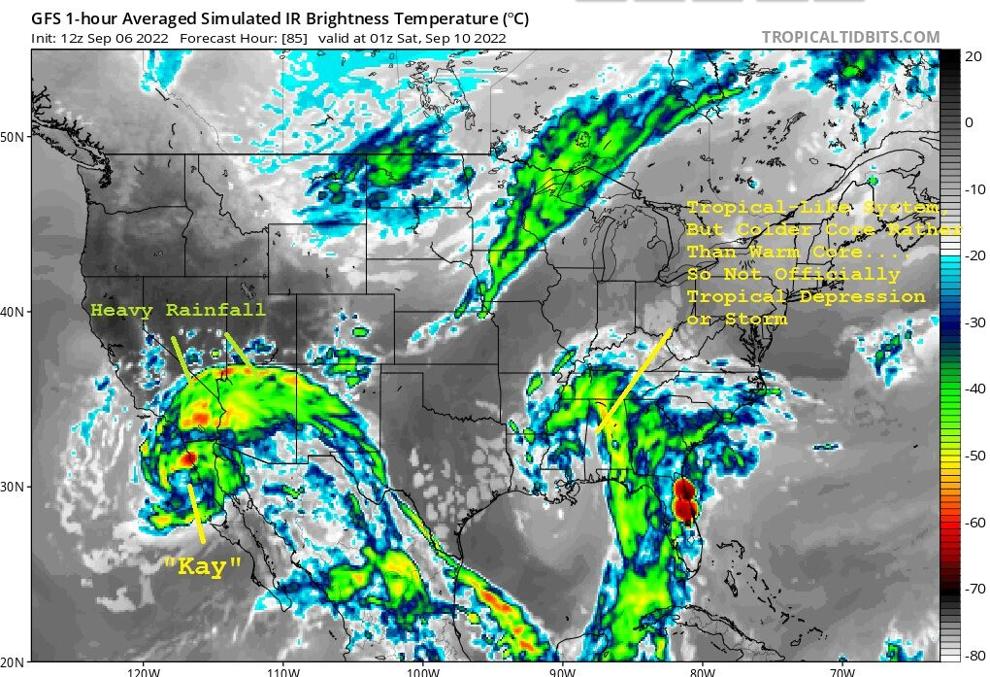 63-66 Friday night will give way to 80-85 Saturday with skies becoming mostly cloudy to cloudy.
Winds on Saturday will run southerly at 10-15 mph.
Some scattered showers & t'showers (35% coverage) will pivot up from the south & southeast as storm system originating in the Gulf of Mexico migrates northeastward.
It will not be a tropical depression or storm (it appears at the moment) as it will not have a warm core, but it will have depression-type qualities with a landfall on the western Gulf Coast.  It may still have winds gusting up to 50 mph over the water & on the coast as just a low pressure system.
So.....it is a tropical system..........but not by exact qualifications by the National Hurricane Center.....
It should bring more flooding rainfall from Mississippi to far southern Indiana to Virginia.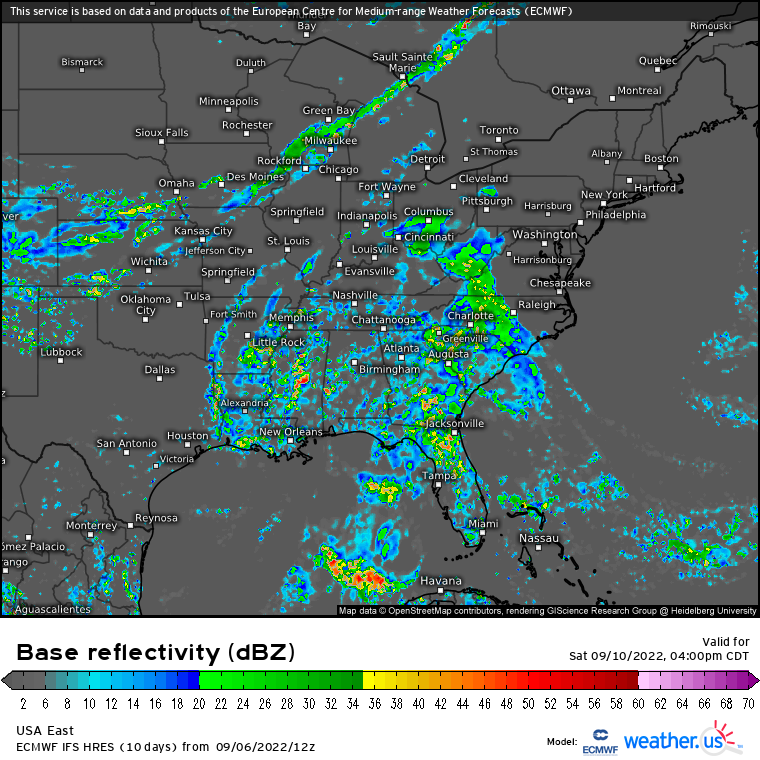 After 60s, some fog & some scattered showers Saturday night, Sunday looks mostly cloudy with a scattering of showers & t'showers (40% coverage).
As the system pivots in closer to the area, the rainfall coverage will go up.
Rainfall coverage looks to tend to peak at 70% Sunday night & be around 60% Monday.
Locally-heavy rainfall is possible, given the tropical nature of the rainfall.
Scattered rainfall Sunday.....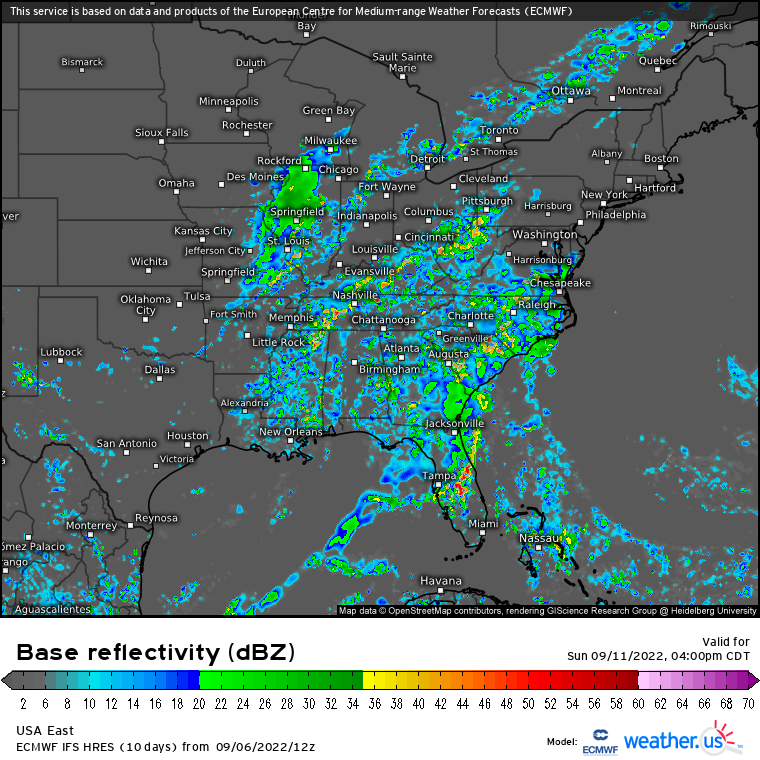 Increasing rainfall Sunday night.....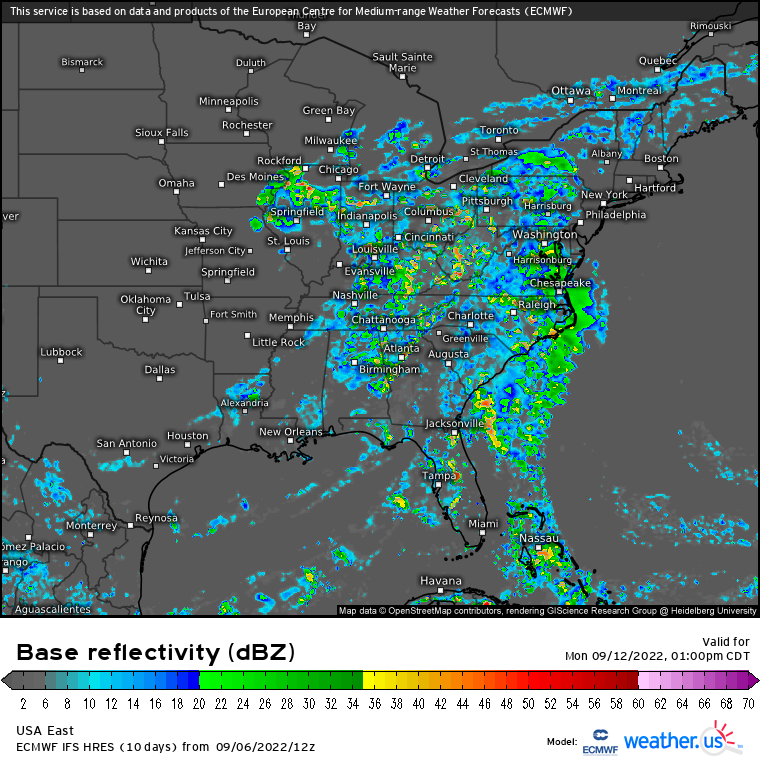 Rainfall should diminish Tuesday with 225% coverage.
Highs Monday & Tuesday will run at only 70-75, but it will be humid with dew points 68-72.
Center of the system spinning over southeastern Indiana Tuesday morning....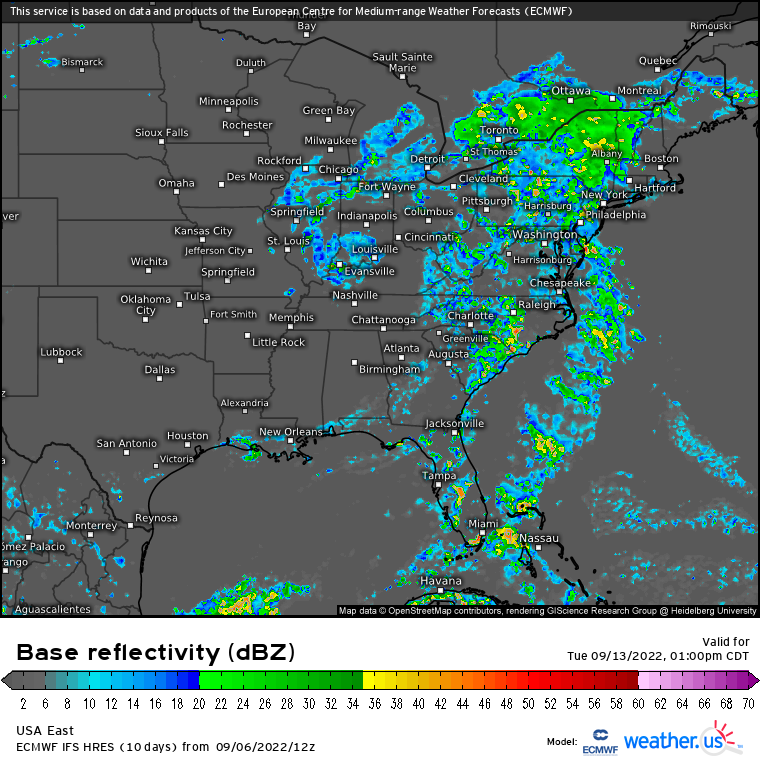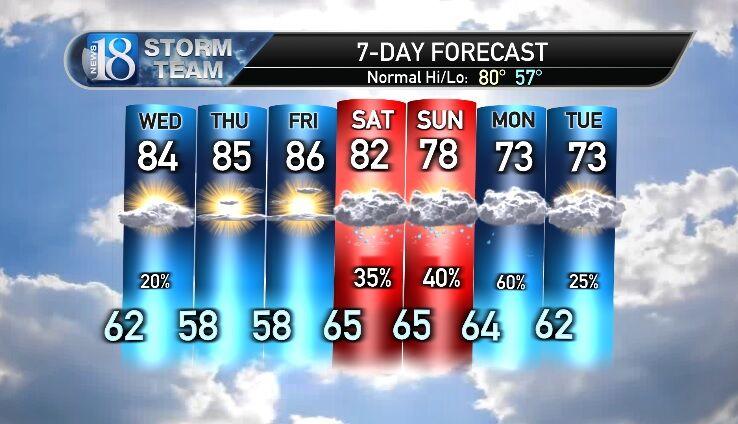 Wednesday-Friday of next week look brighter & dry with fog at night.
Temperatures will warm back well into the 80s with lows in the 50s then 60s.
It looks quite hot & humid here toward September 17-20 with 90s & heat indices potentially +100.  Winds look strong out of the south-southwest.
Record heat is likely northwest of our area.  Our record highs for those dates at Greater Lafayette are 93-95, so it is possible that we approach or reach record hot levels.
The heat shows up well in the CIPS analog analysis, while parts of the West turn unseasonably cool.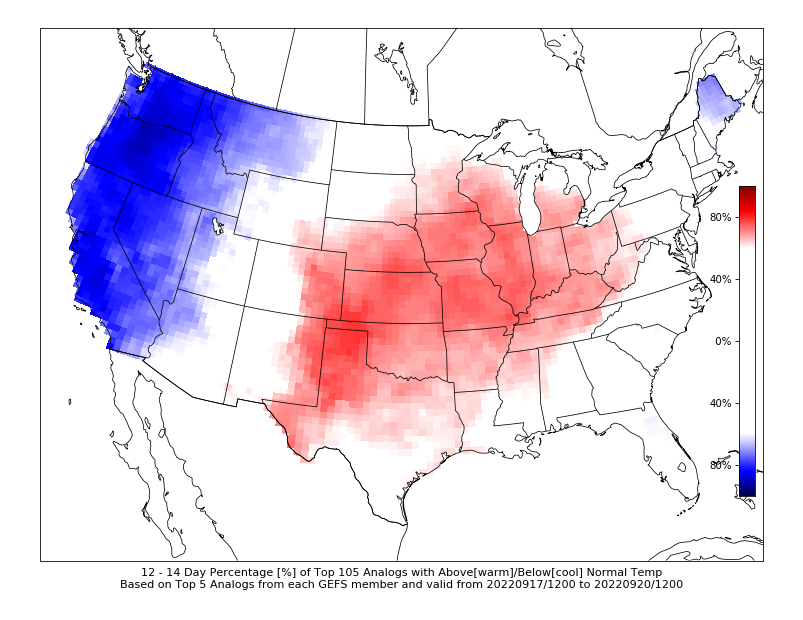 Severe weather risk shows up North Dakota (& even up into Manitoba) to Kansas.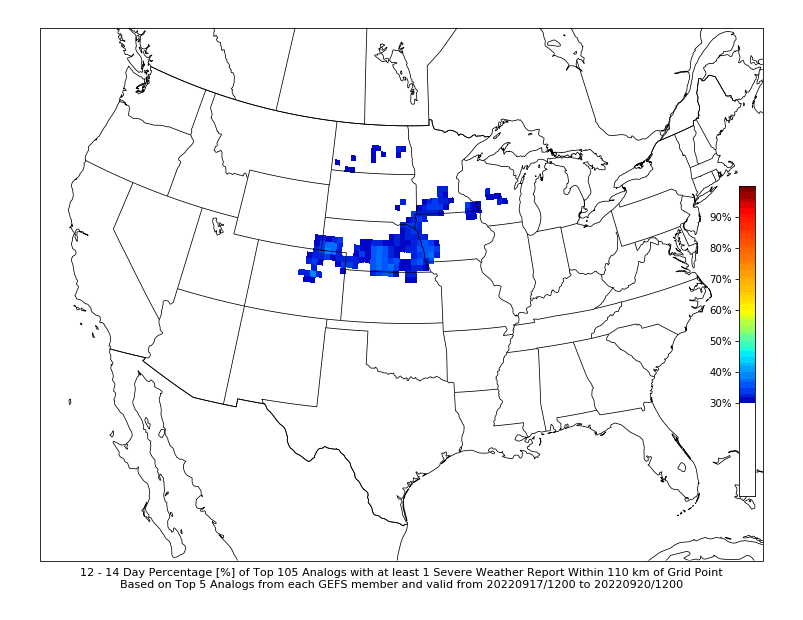 Eventually, the storm risk (with severe weather risk) will get into our area with the hot, muggy weather.
We should then cool of for a time, then heat up substantially moving into early October.
Model trend for the first half of October is still dry....though it may be very wet from North Carolina to Florida, owing to enhanced tropical activity.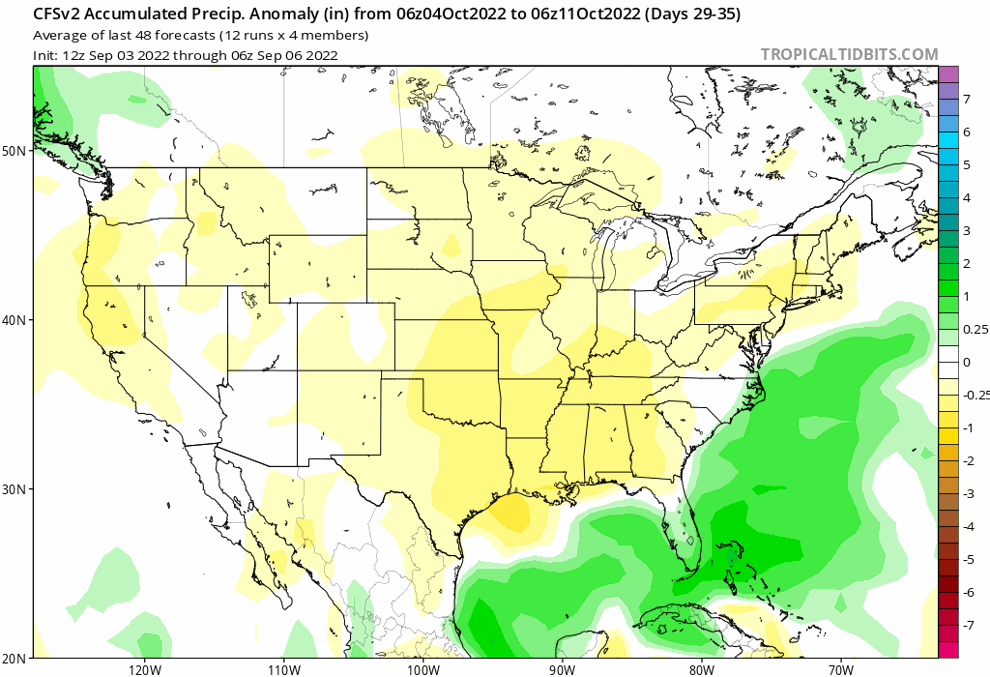 Trend is also still warmer than normal here....while parts of the Southeast are closer to normal owing to all of the wet weather with the tropical activity there.