Wildfire smoke has continued in our skies today, filtering out part of the sun's rays.  This is likely actually removing a couple of degrees off our high temperatures.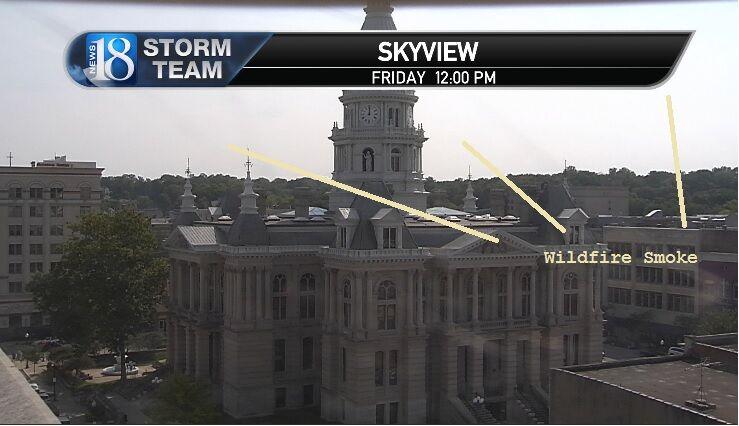 Lows this morning dropped to 53-60 with patchy fog, while highs today topped-out at 82-87.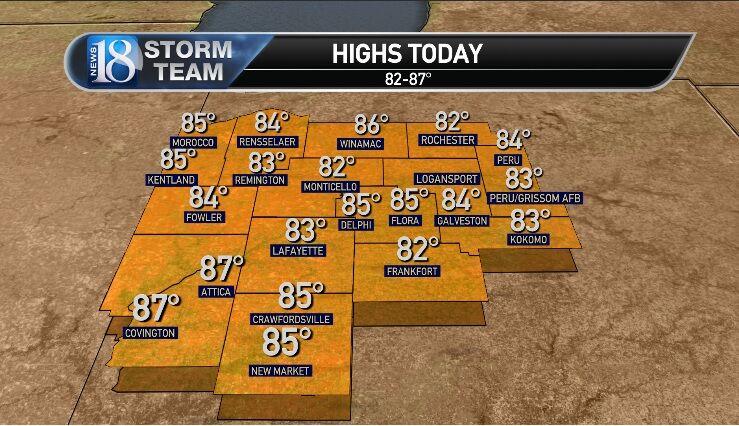 The air quality has been Moderate over the area, but it has been on the upper side of Moderate to near Unhealthy in areas around industry.
As a result, Howard County has been under Air Quality Alert & it is likely in that criteria in areas of Greater Lafayette as well.
This is the result of the abundant sunshine leading to high ozone levels with surface high trapping that ozone & particulates near the surface.
Pollen continues to be high with Ragweed as the culprit.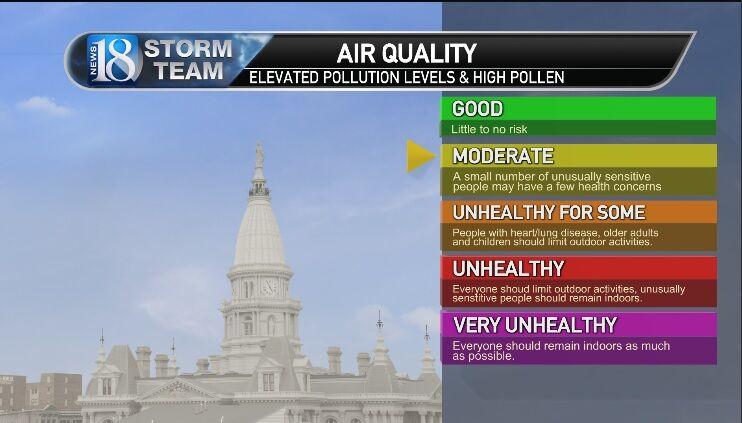 _______________________________________________
Tropical storms & hurricanes (known as typhoon in the western & northwestern Pacific) have been bombarding the western & northwestern Pacific for a month now, resulting in the flooding rainfall in Alaska.
These have also been putting kinks in the jet in just the right place to keep the worst of the intense heat & drought west of our area.
The remnants hit parts of Alaska, then pump upper ridge ahead of them, then dropping upper troughs that skim by our area & move into the Northeast.
This has been the main theme behind the frequent severe weather in the Northeast over the past few weeks & great reduction in the Severe to Extreme Drought conditions there.
Now, the remnants of Typhoon Merbok will hit western Alaska as a bomb with hurricane-force winds & flooding rains (even into the central part of the state).
This will bump upper trough southeastward, bringing us the risk of severe weather (likely SLIGHT RISK) Sunday night-Monday AM.
Meanwhile, the remnants of Muifa & now strengthening Typhoon Namodel will both head for Alaska.  This will bring more flooding rain & wind to parts of the state.
This will drop significant upper trough into the Great Lakes & Northeast next weekend.
It could bring frost & freezing to a lot of the Northeast.
Here, we have the potential to drop briefly to lows in the 40s.
It is this trough that could steer Hurricane Fiona away from the U.S. after potentially impacting the Bahamas to eastern Florida to the Carolinas.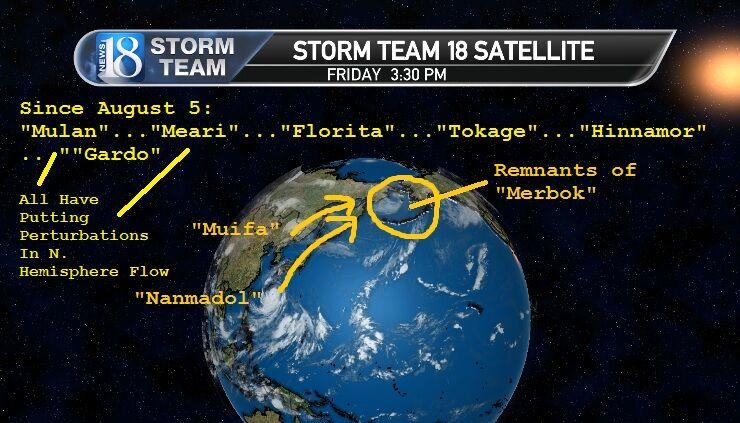 So, after patchy fog tonight & 58-63 we reach 85-91 tomorrow with hazy sun & south-southwest winds 14-25 mph.
After 63-67 tomorrow night, 87-92 is likely Sunday with heat indices of 91-97 amidst hazy sun & south-southwest winds 16-32 mph.
I am forecasting 90 for Greater Lafayette.  The record is 93 set in 1891.
I am trying to be careful with the daytime highs.  This wildfire smoke that will be with us until it thins & clears Sunday evening may knock a couple of degrees off the high temperatures.  Temperature forecasting with the smoke is tricky as it filters some of the radiation from the sun that would be used for heating.
Sunday night to early Monday morning, the upper trough pivots southeastward.
Given the very warm, muggy, unstable airmass with the more Fall-like shear, it looks like a SLIGHT RISK scenario.
It looks like a squall line with the risk of some severe wind gusts.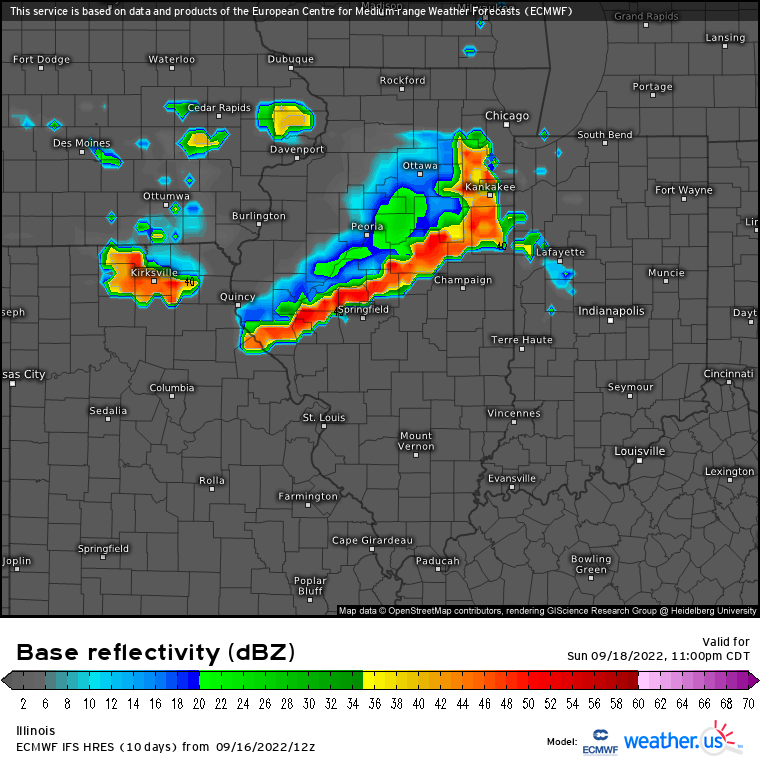 The upper trough will quickly eject out of here though.  It warms right back up Monday with sunshine & highs 84-90 with heat indices 90-97 (as dew points rise to 71-75).
Winds will go back to the southeast, then south.
Tuesday-Thursday heats back up with heat indices reaching as high as +100 in parts of the viewing area.
Other, deeper upper trough with surface cold front will pass likely Thursday night-Friday morning.
Storms are possible, followed by breezy, cooler, less humid rest of Friday.
Quebec to Ontario through New England to northern Ohio may see a severe weather outbreak.
Here, risk of isolated severe storms looks to be there, but actually, capping shows up on the sounding well.  This may prevent storms from severe storms back-building so much through the area.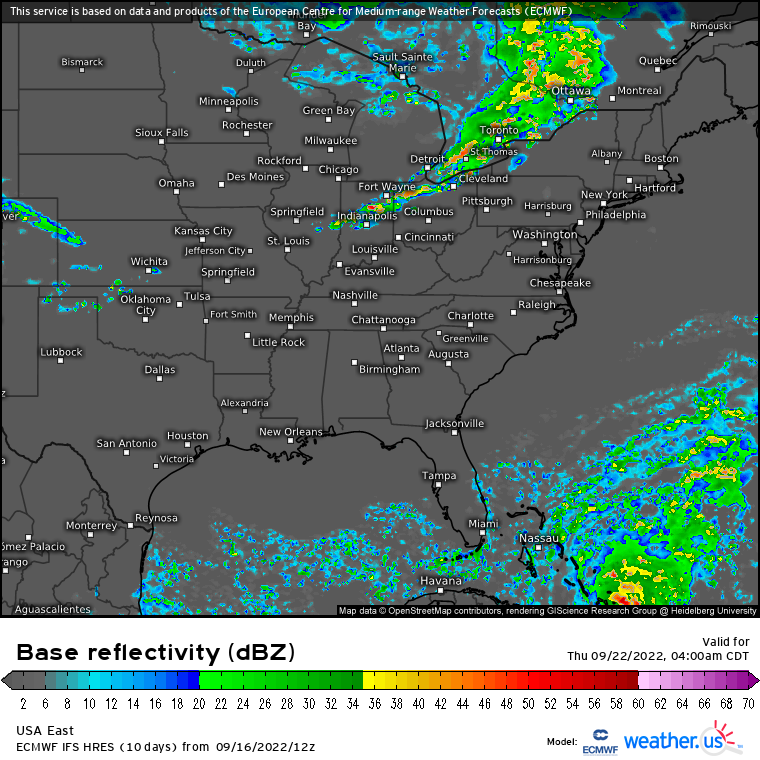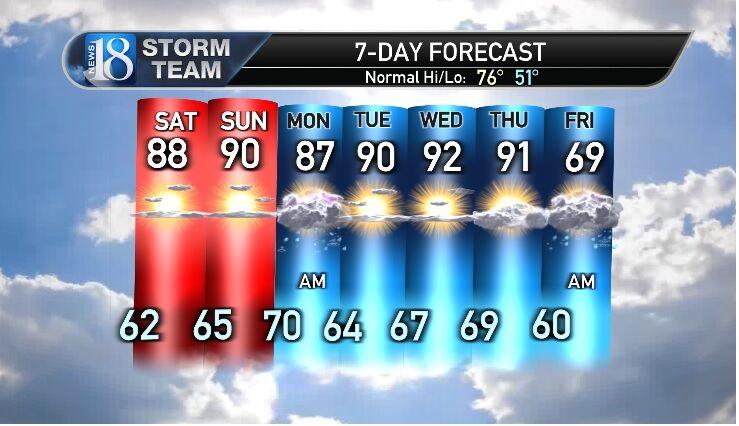 There are your near 40 to mid 40s for lows for our brief cool-down: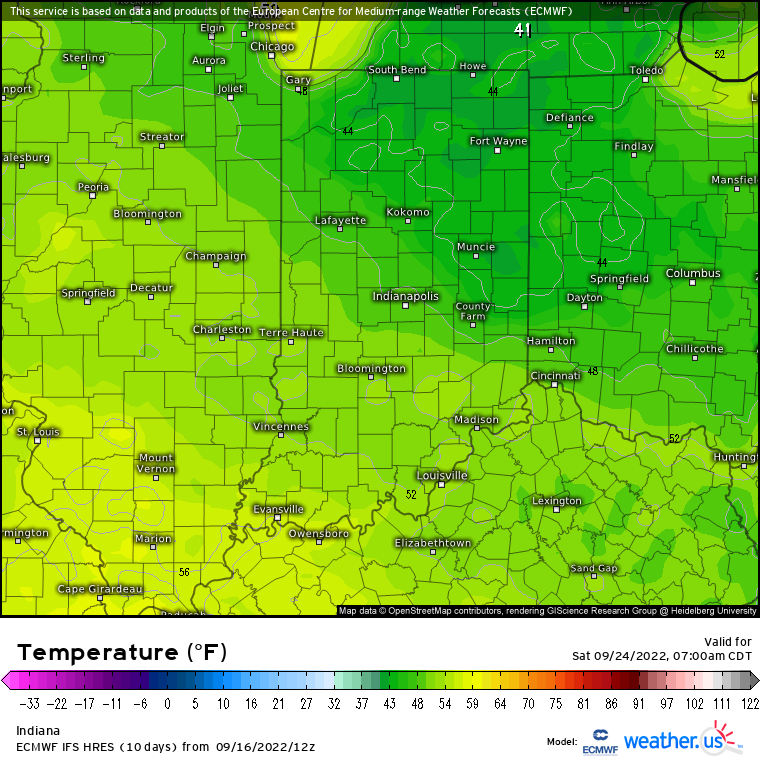 Just as quickly as we cool off, a warm front will move right back northward with a few showers & storms.
This will bring more heat & humidity ahead.
Temperatures above to well-above normal then dominate early to mid-October, while we will need to watch the Southeast & East Coasts for tropical storms & hurricanes.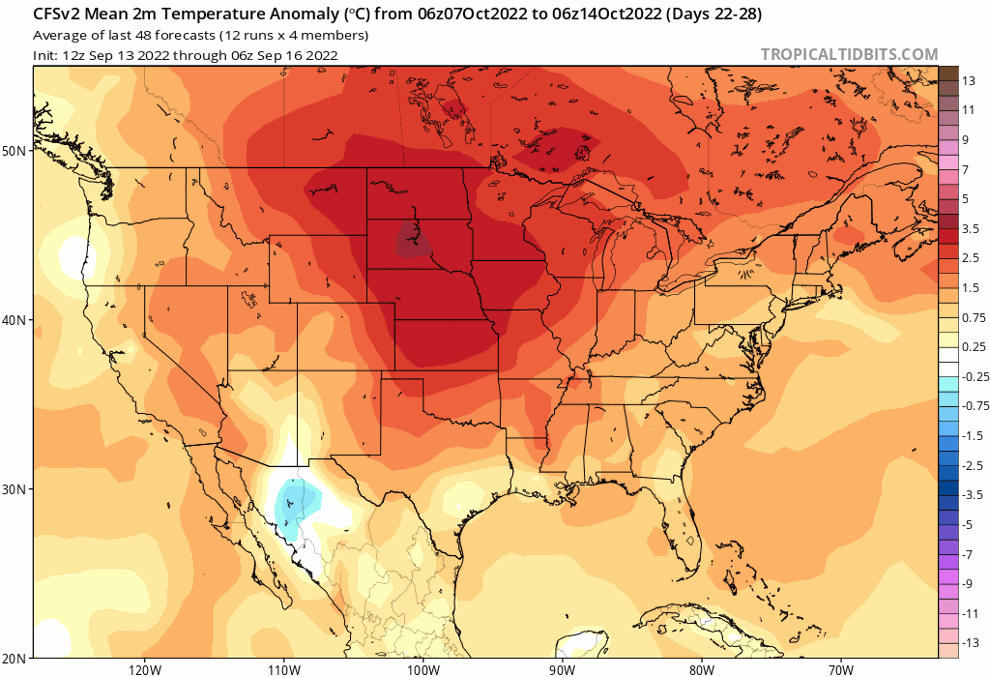 Brief cold spell with frost & freezing should occur in late October, but the month looks dominated by above normal temperatures.
If all goes as planned, we may have even near/record warmth a time or two.
Precipitation continues to trend below normal.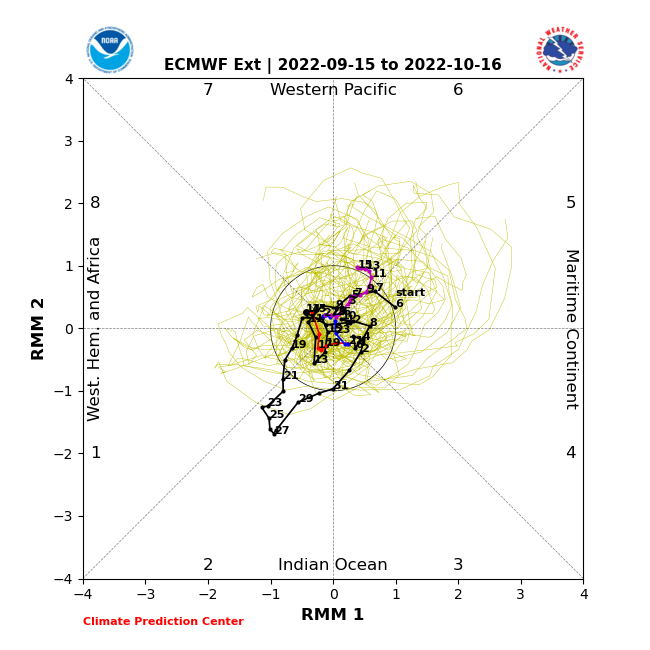 Neutral MJO may go to Phase 6 by mid-October.  That does tend to be a wetter phase for us with increased risk of severe weather in the cool season.  
It is also a warmer than normal phase for us.
We will see how that evolves.
It could very well be just a quick round of heavier rainfall & severe storms while the month is overall dry or the month does indeed end up wetter than normal from this.
This appears to occur before we see the cool shot with frost, largely tied to western Pacific typhoons that buckles trough into eastern U.S.
Otherwise, it looks like a near-record late frost & freeze like last year.
That does not look to occur this year.