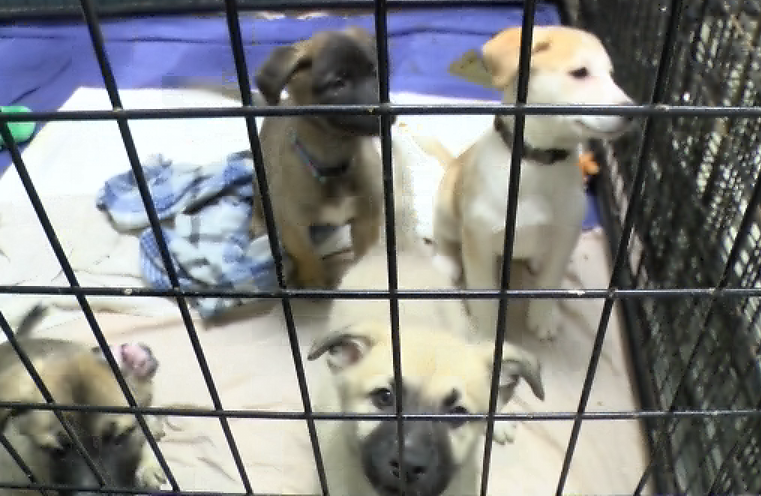 LAFAYETTE, Ind. (WLFI)—Valentine's Day is right around the corner and one local shelter wants to help you express your love.
Loving Heart Animal Shelter in Lafayette wants you to say I love you with a puppy this Valentines Day.
"We are going to do where you can order a rose, chocolate candy which is being furnished by McCord Candies and we are having Valentines Cards made," said Loving Heart Animal Shelter Founder Sandy Fogarasi.
For $59.95 you can have a fur-baby deliver a rose and box of chocolates to someone special.
This is a first for Loving Heart Animal Shelter. Founder Sandy Fogarasi said it's a way to raise money for the shelter as well as put a smile on people's faces.
"You get to cuddle with a puppy for a few minutes and yea get your chocolate," said Fogarasi. "What else could be better, chocolate, puppies and candy, you know on Valentines Day and a rose."
The offer is only available for people in Tippecanoe County. Goods will be delivered between five in the morning and five in the evening and don't worry if you find yourself in love with one of the fur-babies delivering the goods.
"They can go to our website which is Loving Heart Animal Shelter dot org fill out an application and it will ask what animal you are interested in just say it was one of the Valentines Day puppies that came," said Fogarasi.
So if you are up for having a fur-baby put a smile on that special someone's face, Loving Heart Animal Shelter can help with that.
Last day to register is February 5th. Click here for registration information and info on Loving Heart Animal Shelter.