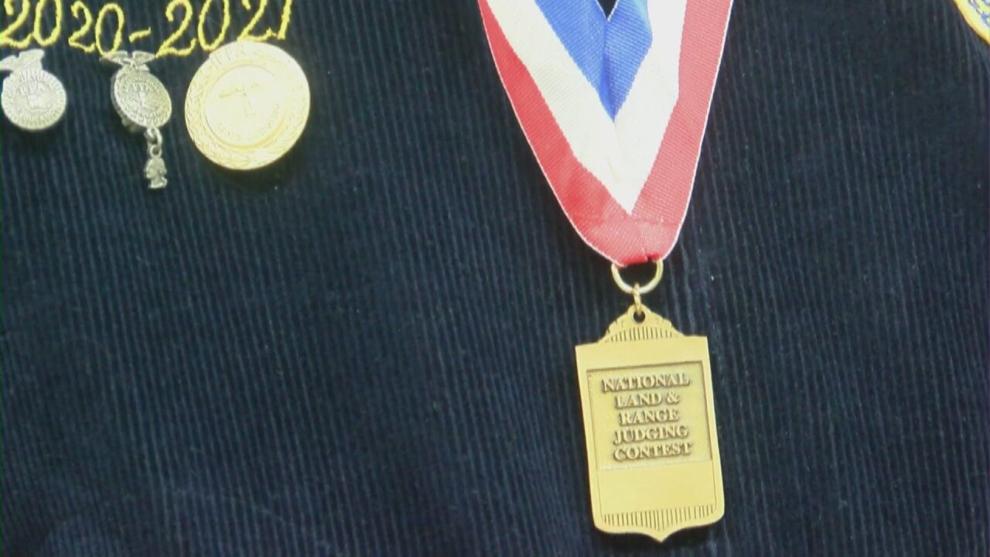 CLINTON COUNTY (WLFI) — Rossville High School FFA members are finishing the 2022 school year with a new award. 
"My team and I from Rossville FFA went out to Oklahoma City and we participated in the National Land Judging Content," said FFA member, Emmeline Seest. "We actually ended up winning Fifth team in the nation and I was the top individual in the nation."
Rossville's FFA team recently placed Fifth at the National Land Judging Competition in Oklahoma. Seest placed First in the individual competition.
"I'm still in shock," said Seest. "They called my name and I was like this could not be happening. This is not real." 
In order to compete in the national competition, each FFA team has to qualify in each state. 
"To get to the national contest each team from each state has to qualify, but some states have different requirements, but ours was the Top 5 in the state get to go on," said Seest. "So we qualified for the national content and then we attended the national contest and I believe there were 34 states represented there and they all have to quality to get there." 
While at the competition, the FFA team had to judge the qualities and characteristics of the soil. 
"So at the contest what we do is they dig four pits in the ground," said Seest."We will go out there and we're timed an we get a little score sheet. We'll evaluate the soil profile, determine its properties."
Rossville Senior FFA member, Hailey Uerkwitz, says they look for a variety of things. 
"We judge a lot of characteristics and quality of the soil," said "Then based on all of its characteristics we can tell you whether or not it's good land for a pasture, or if you can build a house on it and with a house if you can build a basement."
Seest started soil judging in fifth grade. Now, placing as the National Champion Individual, she's grateful she followed her sister's footsteps.
"My sister was in soil judging so she attended the national contest when she was eligible for it," said Seest. "So it's definitely been something I've looked up to and aspired to, but I didn't realize that I would actually be able to attend and do this well."
Sophomore FFA member, Garrett Miller, said the experience at the competition was something he'll never forget.
"Not only did I get to experience new stuff with the actual soil judging," said Miller. "But I met so many new friends from all across the United States."
And as soon as Seest's name was called, her teammates couldn't contain their excitement.
"Everyone was just bursting into joy," said Sophomore, Landon Brown. "We all started recording."
With a new piece of hardware to showcase moving forward, she plans to continue doing what she loves.
"I'll still compete in our area and hopefully state contest next year, if I qualify for that," said Seest. "After that I'll attend college and go on to hopefully something similar to this area."