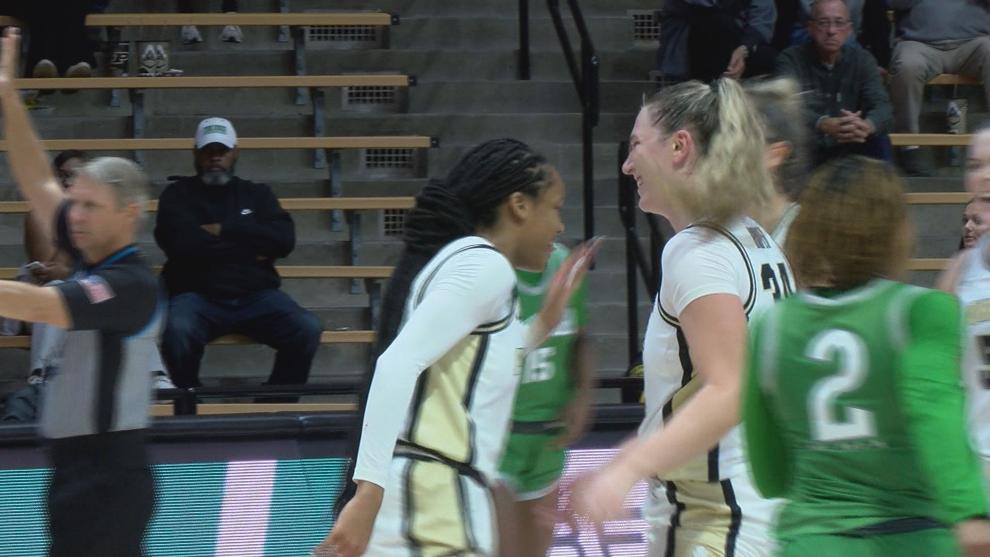 WEST LAFAYETTE, Ind. (PURDUE SPORTS) – Eleven 3-pointers and four players in double figures guided the Purdue women's basketball team to a 73-61 win in the 2022-23 season opener against Marshall at Mackey Arena.
Senior Jeanae Terry achieved the rare assist-rebound double-double finishing with 10 in each category. She is the fifth player from the Big Ten since 2009 to post a double-double with fewer than 10 points.
Redshirt senior Caitlyn Harper led the way offensively with 17 points on 6-of-11 shooting. The transfer from Cal Baptist added a game-high four blocks.
Jayla Smith came on strong in the second half scoring 10 of her 16 points, matching her career high. The sophomore went 3-for-4 from behind the arc. Lasha Petree and Madison Layden rounded out the double-digit scorers with 13 each.
Purdue shot 45.8% for the game and 37.9% (11-29). The Boilermakers (1-0) flipped 13 Marshall (0-1) turnovers into 13 points, while surrendering just six points on 12 giveaways.
The Boilermakers flew out of the gates, connecting on 53.3% (8-15) of its shots in the opening period with five 3-pointers. Harper tallied 10 points, including a pair of triples. Purdue finished with a plus-seven margin on the glass in the first to take a 25-11 lead.
Marshall rallied in the second to cut the gap to four at the break. The Boilermakers maintained their advantage throughout the third, despite growing the lead to seven at its furthest.
Purdue locked in for the fourth quarter to hold Marshall to just eight points in the frame, including the final five minutes without a basket. Smith drained a pair of triples in the fourth to seal the game.
The Boilermakers finished with 16 assists, 15 from Terry and Layden, on 27 made field goals.
DEBUT BOILERMAKERS
Transfers Lasha Petree and Caitlyn Harper made their Purdue debuts on Thursday. After combining for 36 points in the exhibition, the duo tallied 30 of Purdue's 73 points. Harper was 6-of-11 with a pair of triples, four rebounds and four blocks in 30 minutes. Petree chipped in her 13 on 5-of-12 shooting with one triple.
DOUBLE-DOUBLE TROUBLE
Terry, who set the Purdue record for triple-doubles in a career and single season last year, joined Iowa's Samantha Logic (2012, 2014), Nebraska's Jaz Shelly (2022) and Illinois' Lacey Simpson (2009) as the only players from the Big Ten to record a double-double and score fewer than 10 points. Terry notched her 11th career double-double and became just the 13th Boilermaker in program history to go for a double-double in a season opener.
QUOTE
Head coach Katie Gearlds on the team's resiliency…
 They never took the lead, and we found a way to win the third quarter. Rickie and Ava were great off the bench. I thought Cass's defense on the help side was superb. I thought our bench was really engaged, even the ones that didn't play. We just told them to stay with us. It's a long season. We're still trying to figure out where all the pieces fit together. If we can keep learning with wins, we'll take it.
NOTES
• Purdue is now 2-0 against Marshall, following a 70-60 win last year at Mackey Arena.
• Cassidy Hardin played all 20 minutes in the second half, playing stalwart defense without registering a shot.
• Smith matched her career-high from Nebraska last season.
• The Boilermakers are now 15-3 under Katie Gearlds when leading after the first quarter.
• Purdue has made seven or more 3-pointers in 20 games under Gearlds, going 13-7 in the span.
• The starting lineup accounted for 57 of 73 points, with Smith's 16 as the lone bench production.
• Layden was efficient in her 38 minutes of action, going 5-of-10 with a pair of triples, six rebounds, five assists and plus-minus of 14.
UP NEXT
Purdue will continue its four-game homestand to start the year Sunday against Murray State. Tipoff on B1G+ plus is slated for 2 p.m.