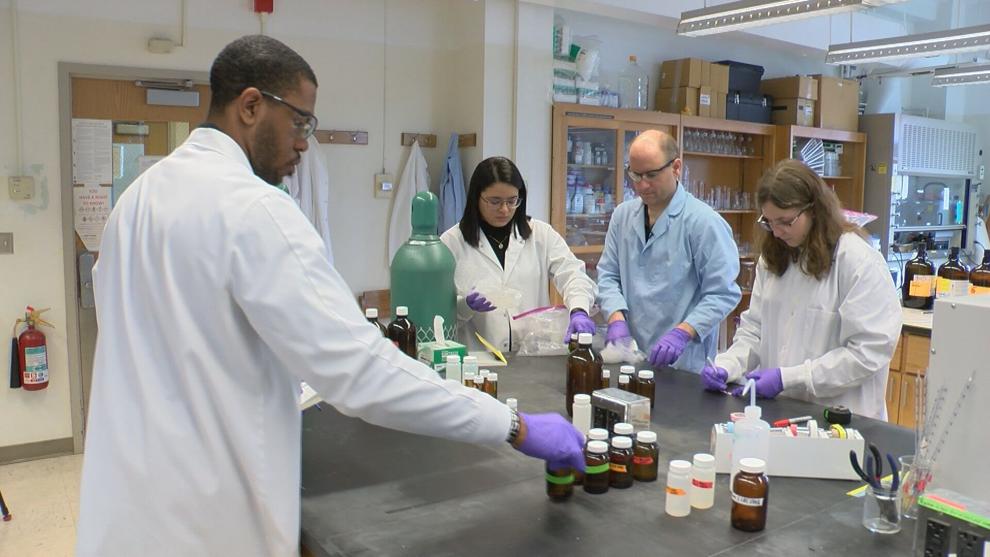 WEST LAFAYETTE, Ind. (WLFI) — A Purdue University research team is back in town after a trip to the site of the Norfolk Southern train derailment.
Members of the team, including ecological engineering professor Andrew Whelton and several students, collected water samples from creeks and homes in East Palestine, Ohio, where a train derailed and spilled hazardous materials like vinyl chloride.
They're testing for volatile compounds and heavy metals inside a lab at Hampton Hall, but they say it's too soon to know the extent of the contamination.
They returned to West Lafayette around midnight after a six-hour drive from the site of the ecological disaster.
They spent much of Tuesday separating and labeling glass vials that filled eight coolers.
"Today, we are separating the samples that we collected, and we're going to analyze it later, as soon as possible, to have feedback for people," Ph.D. student Paulha Coelho says.
Residents called for their help when government agencies wouldn't pick up the phone.
"A lot of them were very concerned, they didn't know if their water was safe to drink. ... Nobody ever thinks that, one day, they might not have access to clean water," junior Stephanie Heffner says.
"You see these things on TV, and then just getting there first-hand and seeing the amount of help people need, and the amount of clarity people need," Ph.D. student Rasul Diop says. "They're just looking for someone to come and reach out and show they're supporting and trying to help them out."
Clarity is what's missing as distrust in the official response and clean up grows. Many residents, for example, report trouble getting their wells tested.
"There's absolutely no communication back to the people that need it," Whelton says.
Video from Whelton shows an obvious sheen in a creek that runs through town.
"When you see kids playing at the creeks, or you see people walking their dogs at the creeks, and you know there's a problem, and that people should not be anywhere near that, and officials are not telling people to do that, you realize the value of what you're doing," he says.
The team tested the wells of several homes and will follow up with the results when they're available, Whelton says.