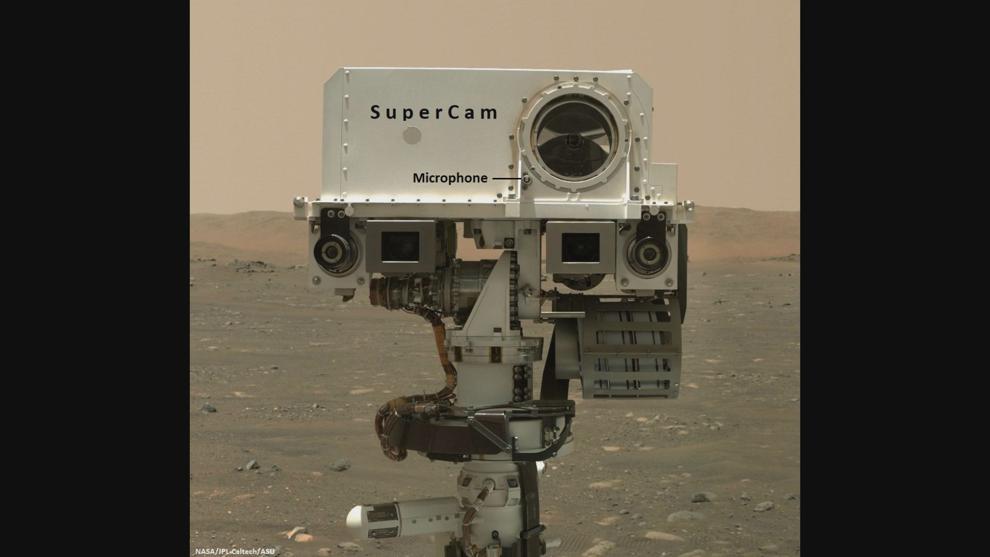 WEST LAFAYETTE, Ind. (WLFI) – For more than 20 years, one Purdue University professor has worked to give us a better understanding of the planet Mars. Now, he is leading a team that accomplished something you might have to hear to believe.
Purdue Planetary Science professor Roger Wiens just arrived on campus a couple of months ago, but he says the development of this technology began back in 2014. After almost five years of development, Wiens and his team have found a way to put ears on a Mars rover for the very first time.
Wiens worked with NASA's Jet Propulsion Lab to install a microphone on the Mars Perseverance rover. The rover landed safely on the red planet in 2021, and its microphone has since brought back the first audio recordings of Mars to Earth. It's part of the rover's SuperCam device. In addition to detecting sounds, this device also uses a laser beam to pulverize rock samples on Mars.
Wiens says scientists can learn about the hardness and composition of these rocks by listening to the change in sound as the lasers shoot them. He says scientists have tried to add microphones in the past, but they've never worked until now.
"Microphones had been attempted on Mars before," Wiens said. "One had actually landed on Mars, but it was never actually operated. And so this would be the first time that we could get a microphone. We knew that it would be very interesting to have all of these sounds from Mars."
Wiens says he started looking for usable technology from the Department of Energy while working at Los Alamos National Laboratory in New Mexico. That search eventually led to the creation of SuperCam. In addition to hearing the sounds from pulverized rocks, scientists can use SuperCam to hear the wind and measure its speed and direction, even in Mars' incredibly thin atmosphere.
Wiens says this successful venture has him thinking well beyond Mars for future microphone use in space.
"We would like to use microphones on other planets as well," Wiens said. "They have to be places where there is an atmosphere, so the Moon is out unfortunately. Other places have atmospheres that are much thicker than Earth and of course a lot thicker than Mars. A place like Venus would be a great place to study acoustics."
Wiens says the microphone also allows scientists to measure the size and speed of dust devils on Mars. They can even keep track of the rover's overall health by listening to the sounds it makes, much like we do for our cars here on Earth.
In addition to adding the proverbial "ears" to this rover, Wiens has also helped build instruments that have allowed the Perseverance rover and others before it to see and smell on the neighboring planet.
The Perseverance rover recently sent back a new batch of audio recordings. You can listen to those sounds from our neighboring planet here.