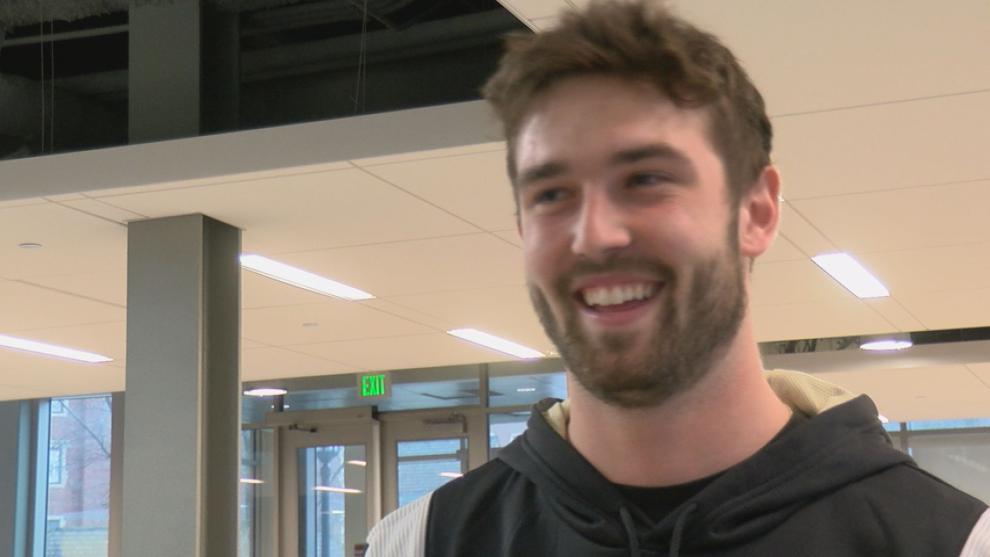 WEST LAFAYETTE, Ind. (WLFI) — A new era of Purdue football has begun and Ryan Walters isn't the only big man on campus right now. 
4-star Hudson Card is the newest addition to the Purdue quarterback room.
The University of Texas transfer has wasted no time embracing the Boilermaker culture. He made his first public appearance in the gold and black at the Versiti blood drive.
The quarterback said he's already feeling the Boilermaker love. 
 "The community has taken me with open arms and you know I can't be more thankful and more blessed to be here and you know I can't wait to get started." 
After speaking with Card for only a few minutes, it was clear he is ready for Saturday's in Ross-Ade Stadium.
"You know the team that we have here is something special honestly. And then obviously with a new coaching staff they're great, they are a lot of fun and they're really good coaches so we just can't wait to put it all together."
With a Head coach, Offensive coordinator and Defensive coordinators all only in their thirties, the QB loves the energy his young coaches bring to the program 
"It's cool, you know. They can relate really well to the players. You know it's really cool to have a young staff. You know, super energetic. They kind of get the players a little bit more…I'd say so I mean it's really cool and just building that relationship with them has been fun," Card said. 
We'll have to wait at least a few months to see his impact on the field, but off the field is a different story.  Card has already signed his first NIL deal as a Purdue athlete with The Boilermaker Alliance non-profit organization. 
 "I know I've only been here like a little more than a week or so but you know the community here is just great and have taken me in with open arms so whatever I can do to give back."    
The first time we will see Card in action will likely be during Purdue's 2023 Spring game. The date for that game has not yet been set.