(WLFI) – Happy Friday morning! We are in for a rollercoaster ride for the next 24-36 hours across the entire WLFI viewing area. A lot to get to in the forecast so… read on!
This morning, we are ramping up wind speeds across the viewing area. Morning lows are mild, running into the mid to upper 50s area-wide with partly to mostly clear skies.
High to mid-level clouds have moved in and will be with us for much of your Friday. Today we should all remain mostly rain free with high temperatures back into the mid to lower 70s. Throughout the day, winds will begin to start gusting up to 30-40 mph out of the south with a constant wind of 10-20 mph.
A stray shower cannot be ruled out further NW of the viewing area as hinted in several hi-res computer models and current radar observations.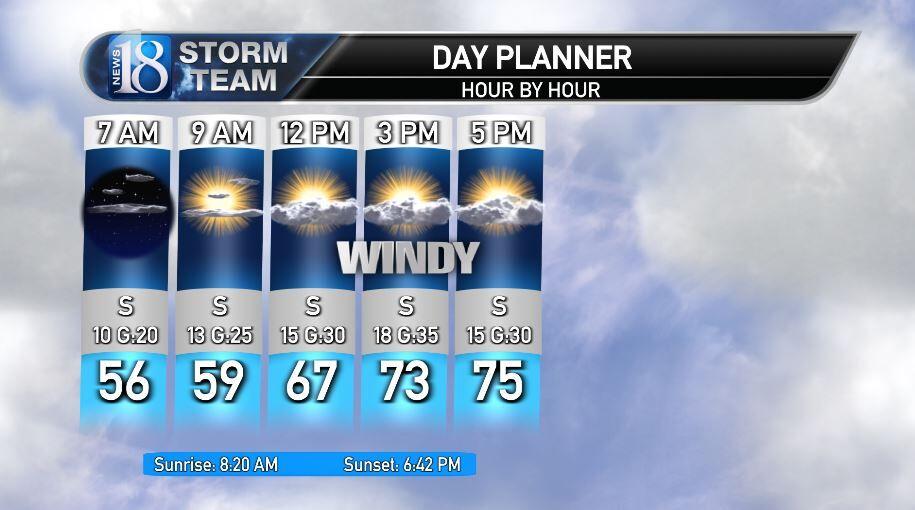 Tonight
As the cold front packs a punch of severe weather further south and west across portions of Texas to Missouri, our area will begin to experience strong winds overnight. Overcast conditions will be certain for us by this evening and through the afternoon hours on Saturday.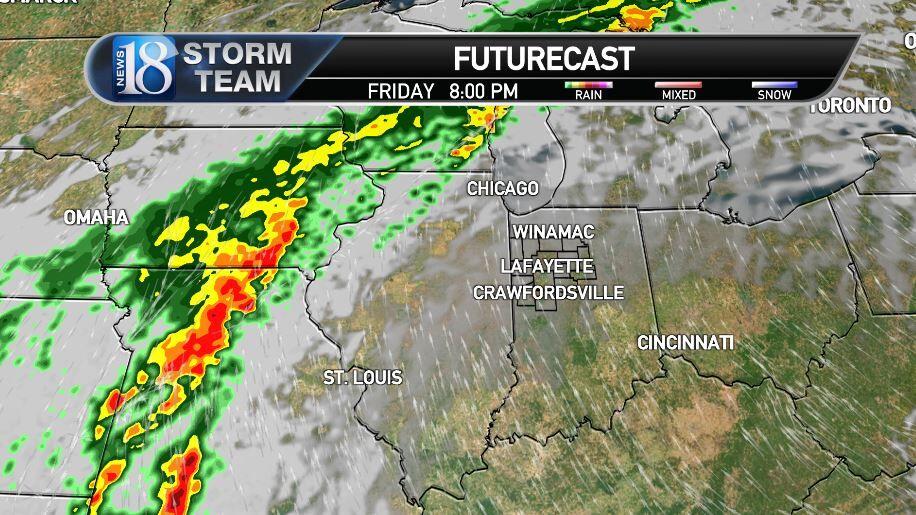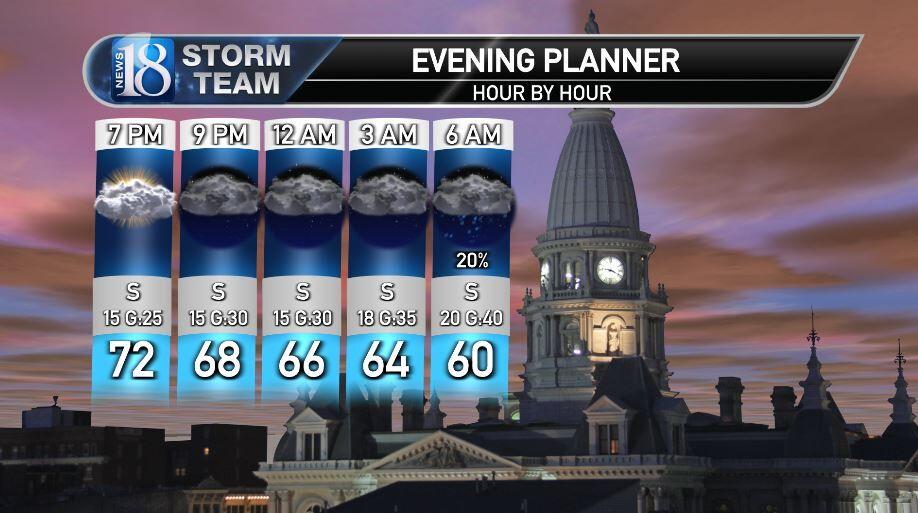 Saturday
We will be watching a couple of waves of rain and a potential for a few thundershowers. The first of which will begin to work in very early Saturday morning. This will essentially be a decaying line of storms that will work in from the west.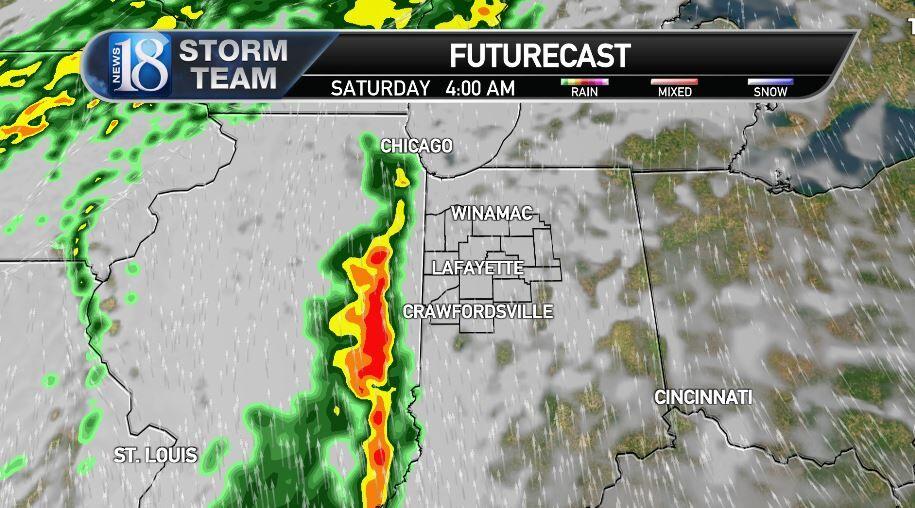 The timing of the aforementioned line will give us scattered rain between 4 AM to 8 AM from west to east.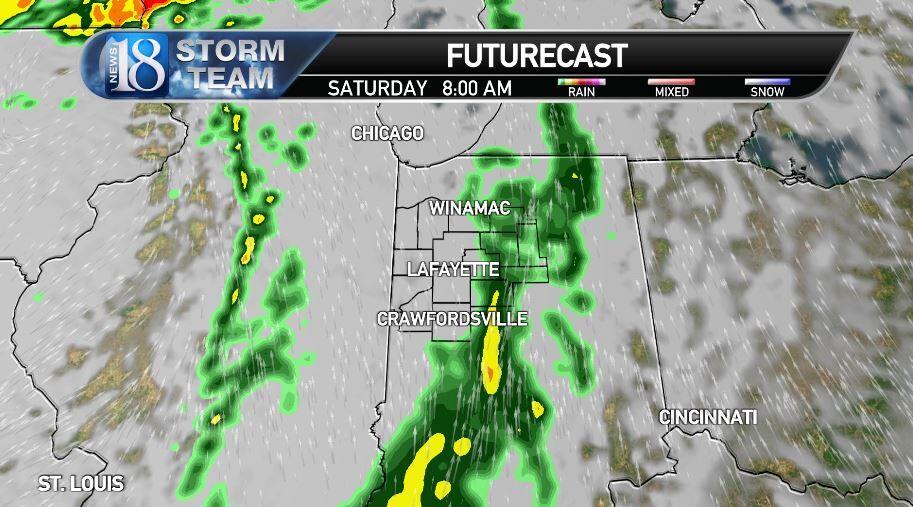 We will likely see a brief break from the rain between 7 AM to 10 AM before our second line works in around late morning. One note I must bring up, the timing of the main line may work in quicker so just keep an eye on the radar basically all morning and early afternoon for your Saturday. As of now, that main line will pass through the WLFI viewing area between 11 AM to 2 PM from west to east.
As far as lightning with both lines for the morning, there certainly is a chance where convection is greatest or where the heaviest rain will occur. Again, keep an eye on the radar for the morning and afternoon.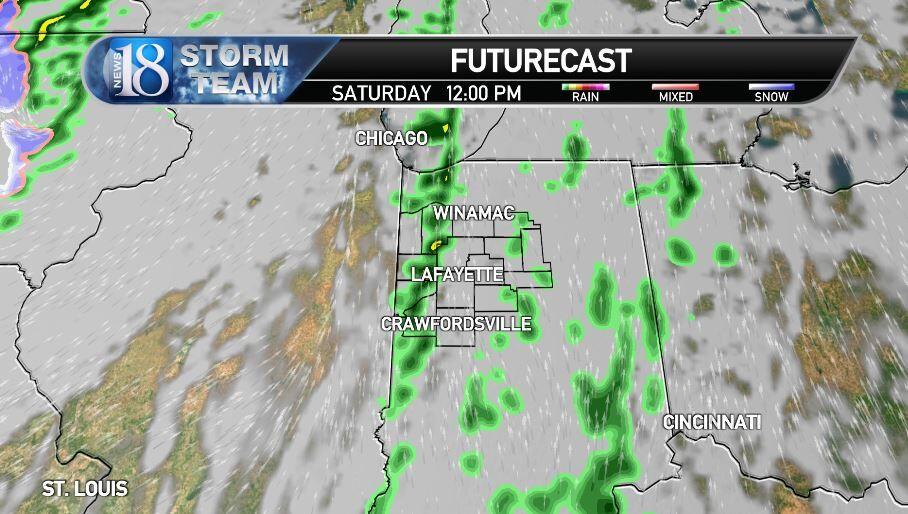 Once that main line passes, clear skies should work in rather quickly and we'll see more sunshine by the middle portion of the afternoon on Saturday with the continuation of howling winds.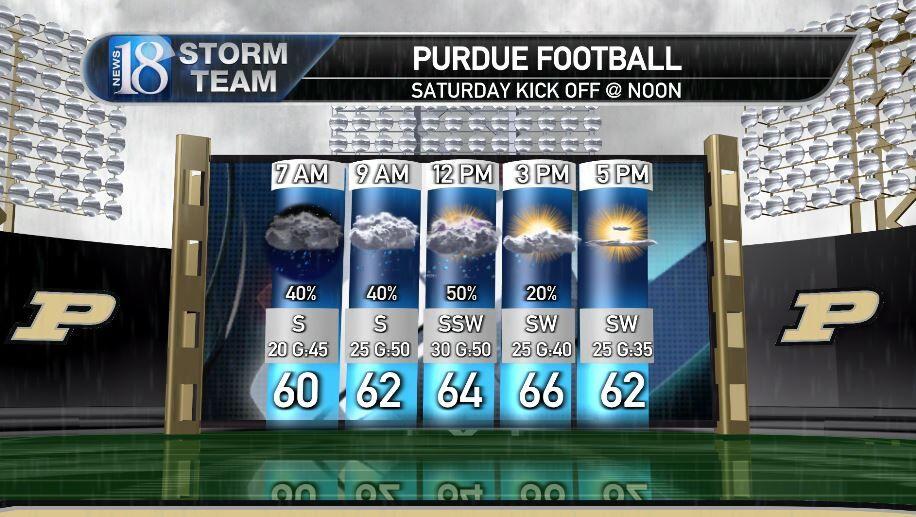 Strong Winds for Friday and Saturday
Strong winds will be rather constant especially from Friday night and through the entire day on Saturday. The National Weather Service as of Friday morning has given way to a Wind Advisory for all of the WLFI viewing area for Saturday from 8 AM to 8 PM.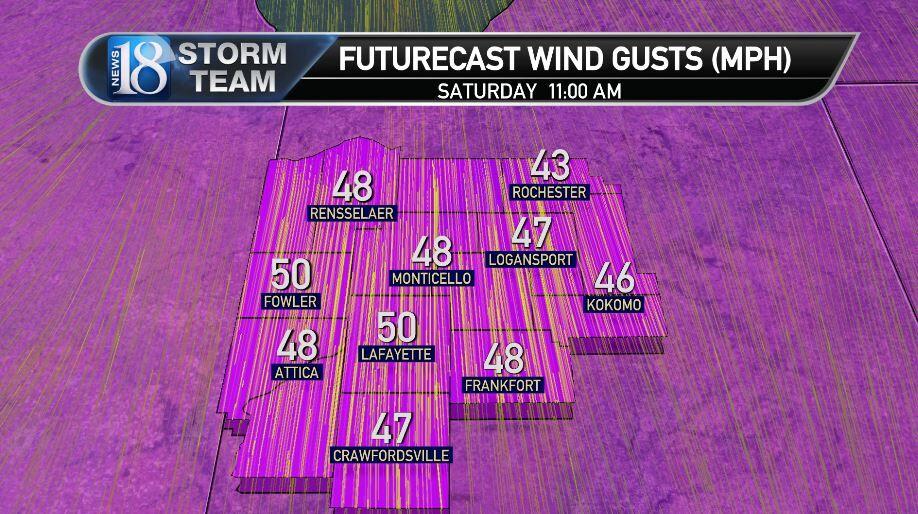 Sustained wind will be blowing at 20-30 MPH while gusts could easily reach 50 to possibly 60+ mph at times. Be sure to tie down outdoor furniture and drive carefully if you are in a high-profile vehicle.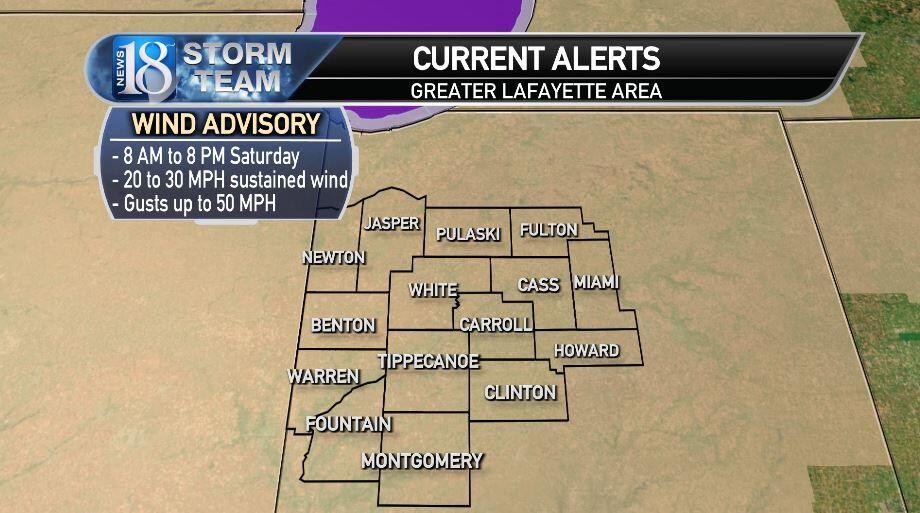 Severity of Storms
Severe weather is looking unlikely with these showers/thundershowers for Saturday morning/afternoon as noted by the Storm Prediction Center (map below). But given the high amount of shear (wind turning with height), a very brief and isolated quick spin-up/low-end tornado may occur. Severe wind gusts certainly appear to be the main threat.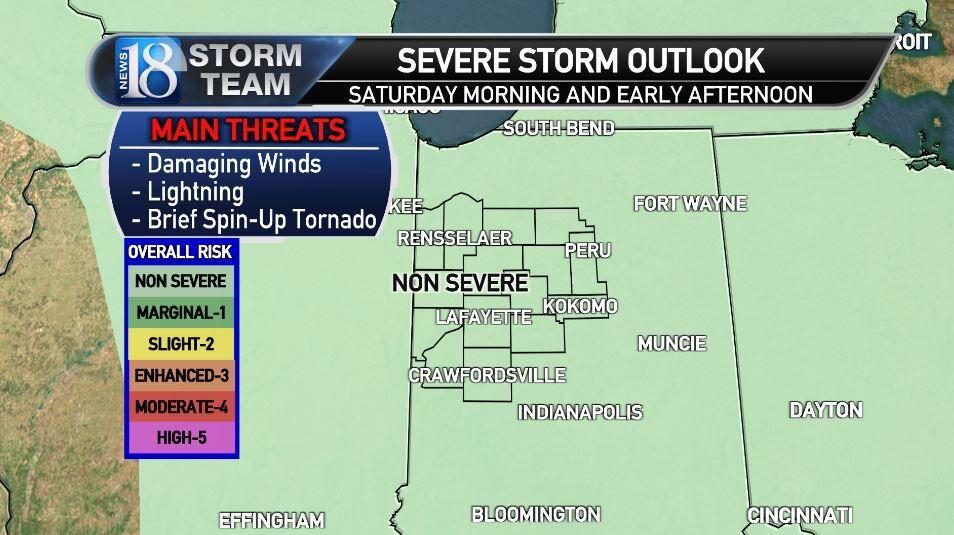 Daylight Saving Time Ends this Weekend
Here is your reminder that clocks move back an hour Sunday morning November 6th. Also, it'll be a good time to check all of the smoke alarms in your household.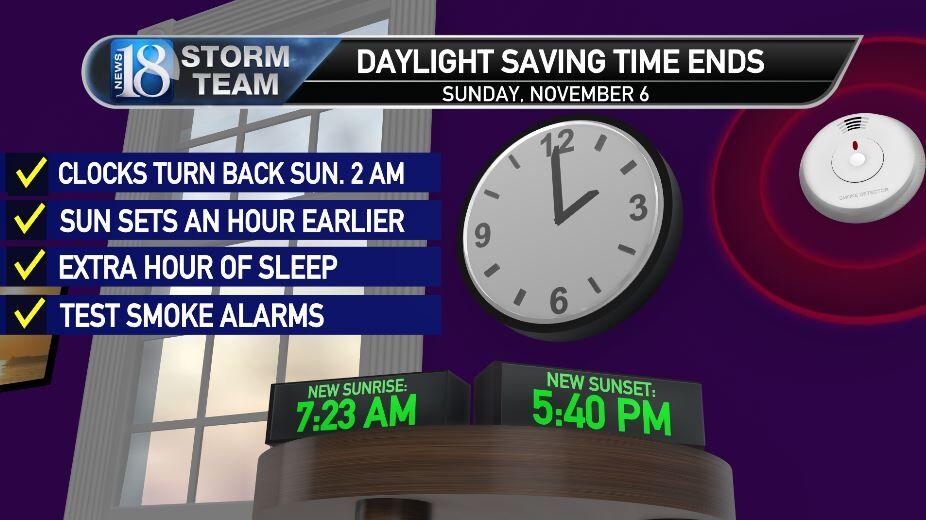 The Rest of the Weekend plus the 7-Day Forecast
Sunday morning, lows will be back into the mid to lower 40s with clear skies. It will be slightly windy on Sunday with gusts up to 25-30 mph at times. Otherwise, high temperatures will once again be above average, in the mid 60s.
The rest of the 7-day will feature above normal temperatures and mostly to partly sunny skies for the rest of the week with quiet weather expected.