33-37 tonight with winds going light with some patchy fog goes to mostly cloudy to cloudy skies tomorrow with highs 40-45.
Winds will be southwest tomorrow at 10-20 mph.
Lows of 34-38 tomorrow night rise to 36-42 by early Tuesday morning.
With mostly cloudy skies, highs reach 55-60 by late Tuesday evening with winds increasing from the south-southeast all day to gusts 40-45 mph by evening.
Showers & t'storms then move in Tuesday evening to night.
There is the risk of isolated severe gust or two & some small hail.
Main severe risk areas are southwest & south of here, however.
Winds will be strong from the south-southeast to south with gusts 40-50 mph at times.
We will hit highs of 58-63 before 2 a.m., then rapidly fall to 31-34 by 7 a.m. with howling northwest winds gusting 40-50 mph at times (isolated +50 mph possible).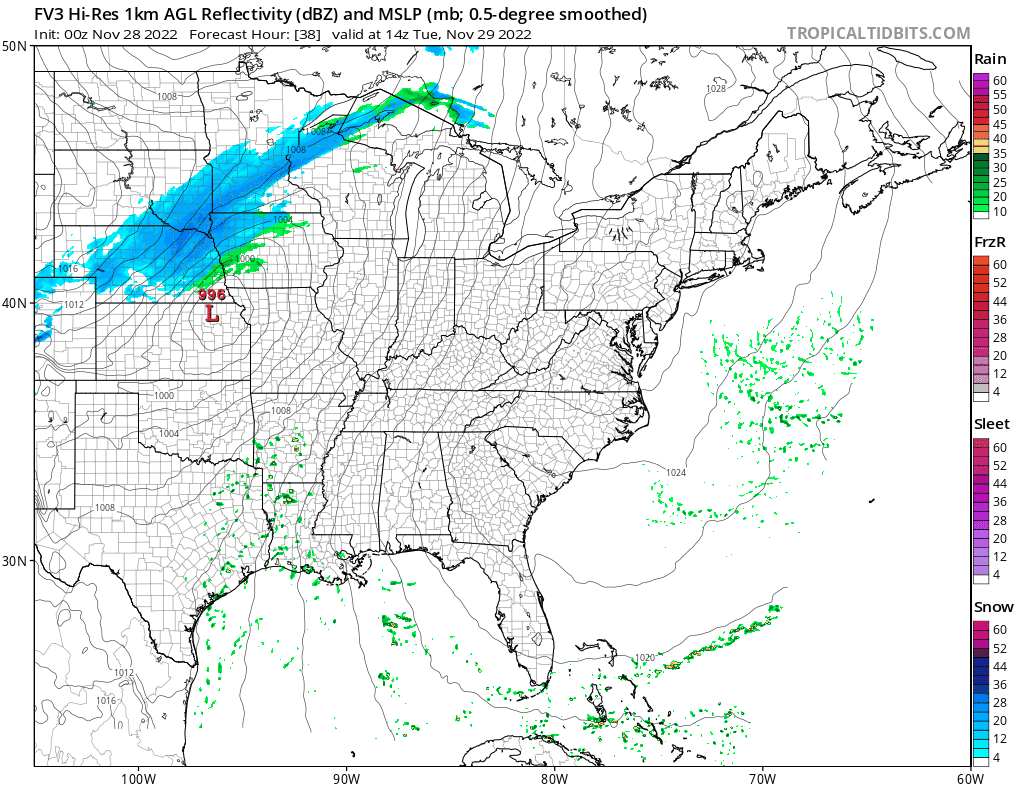 If we are going to see a pocket of MODERATE RISK drawn up by SPC, it would be northeastern Louisiana, southeastern Arkansas to west-central Mississippi where the storms' orientation to robust flow from the Gulf, strongest wind fields aloft overlay of solid ML & SBCAPE +1500 J/kg supports most intense storms & highest tornado risk.  Tornado risk should extend into southern & central Alabama into the night to early morning hours of Wednesday.
Otherwise, thoughts are that MARGINAL RISK will be expanded northward into our area & SLIGHT RISK expansion likely northward into southern Indiana.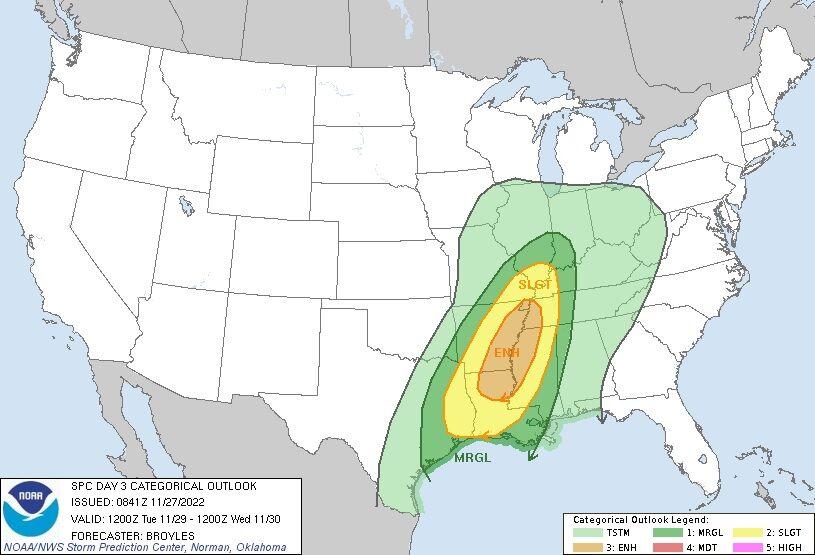 Brief period of scattered flurries & snow showers are possible Wednesday morning to midday, followed by mostly cloudy skies.  Winds will still be strong from the northwest, gusting to 45 mph.
Temperatures should be pretty steady at 29-32, followed by clearing, diminishing winds & lows of 14-18 Wednesday night to Thursday morning.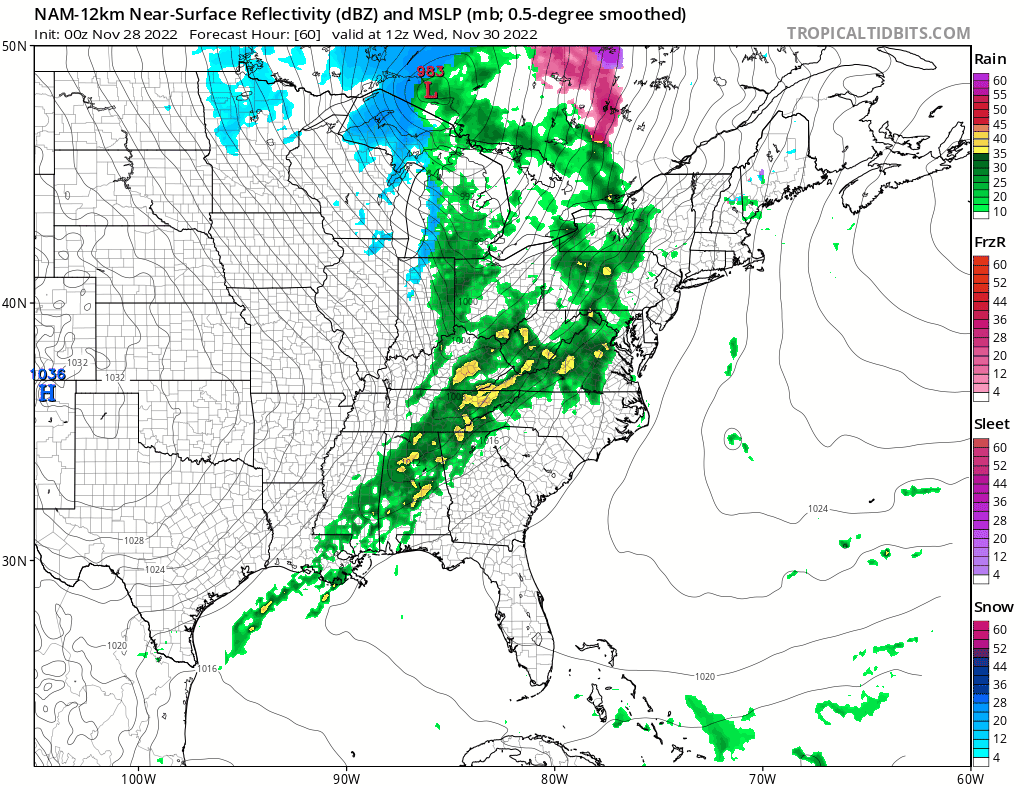 After teens, we should only reach 30-34 Thursday (with sunshine), followed by 18-25 Thursday night.
With sunshine, highs of 41-46 are likely Friday with lows 33-37 Friday night rising to 44-49 by sunrise with southwest wind.
Our highs Saturday should occur before 2 p.m. at 48-52 with strong southwest winds to 45 mph becoming northwest.  We will fall into the 30s in the afternoon.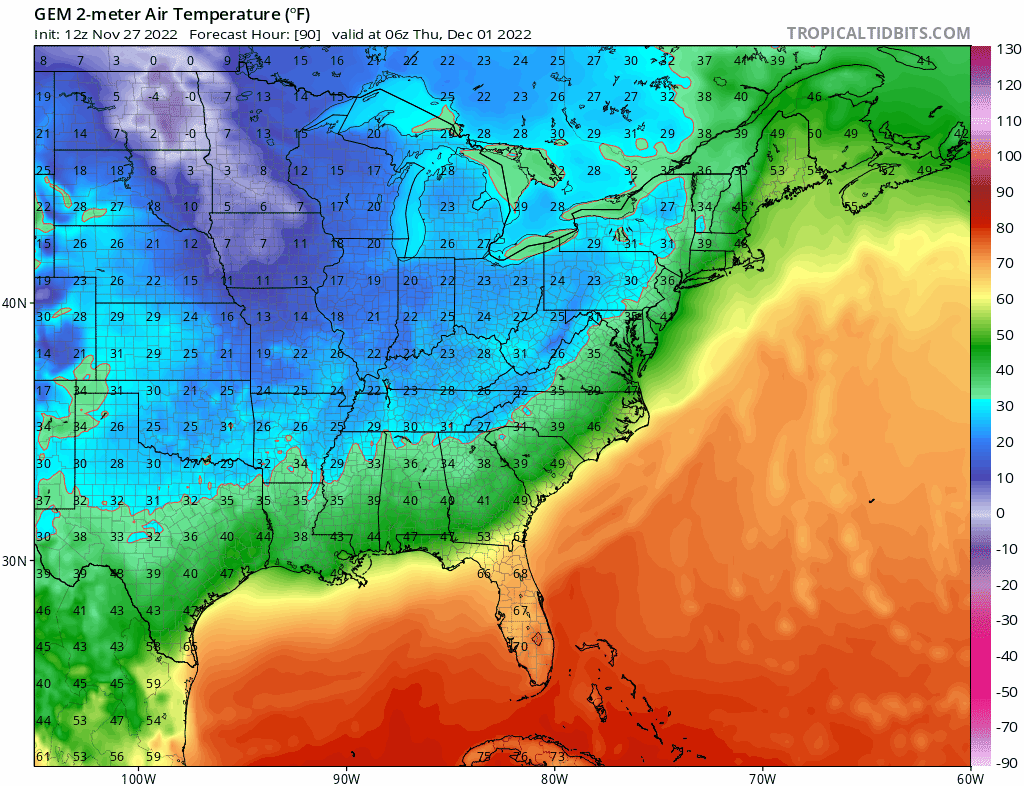 Alberta Clipper system north of us will bring warmer air Saturday morning, then colder air Saturday afternoon with all of that wind.  A few isolated showers & then isolated flurries are possible with it.
We then clear out Saturday night with diminishing winds & lows in the 21-26.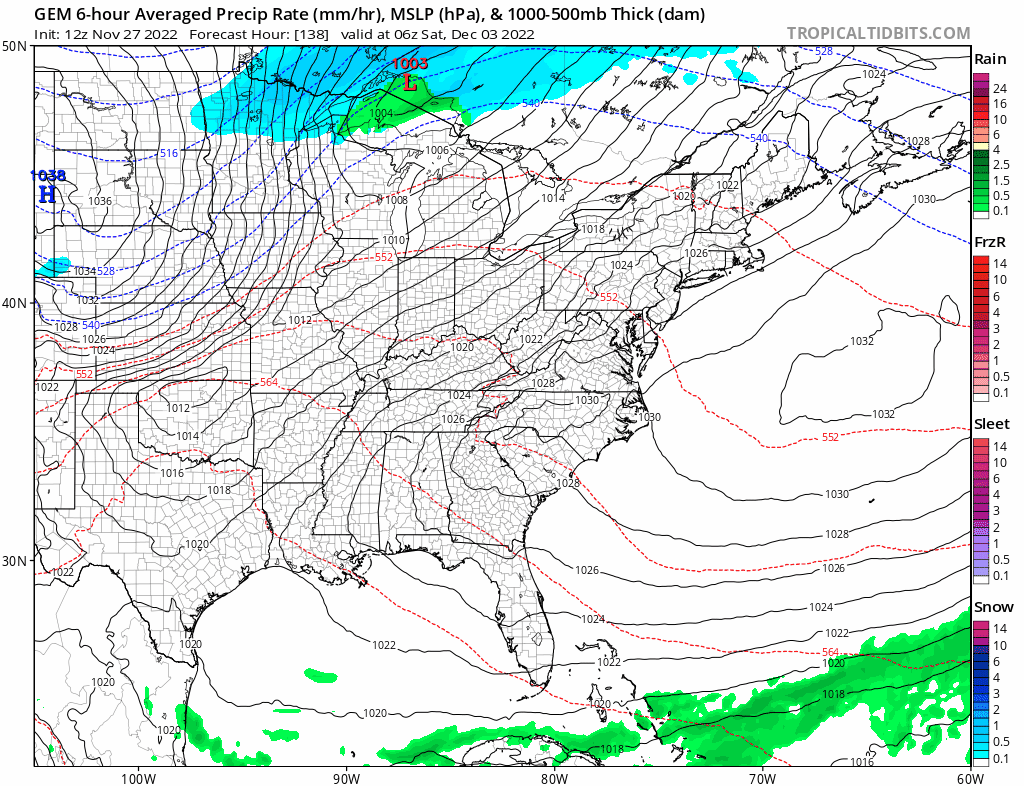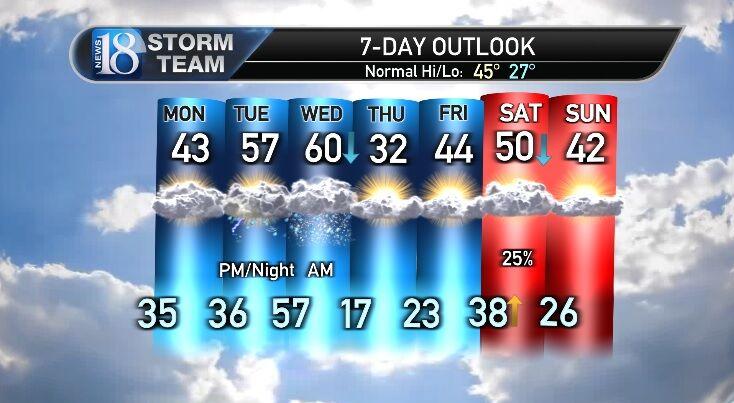 Strong winds +40 mph, rain, some storms & isolated severe risk with temperature rising to 59-63 passes around December 5 or 6.  The rain may end as some snow.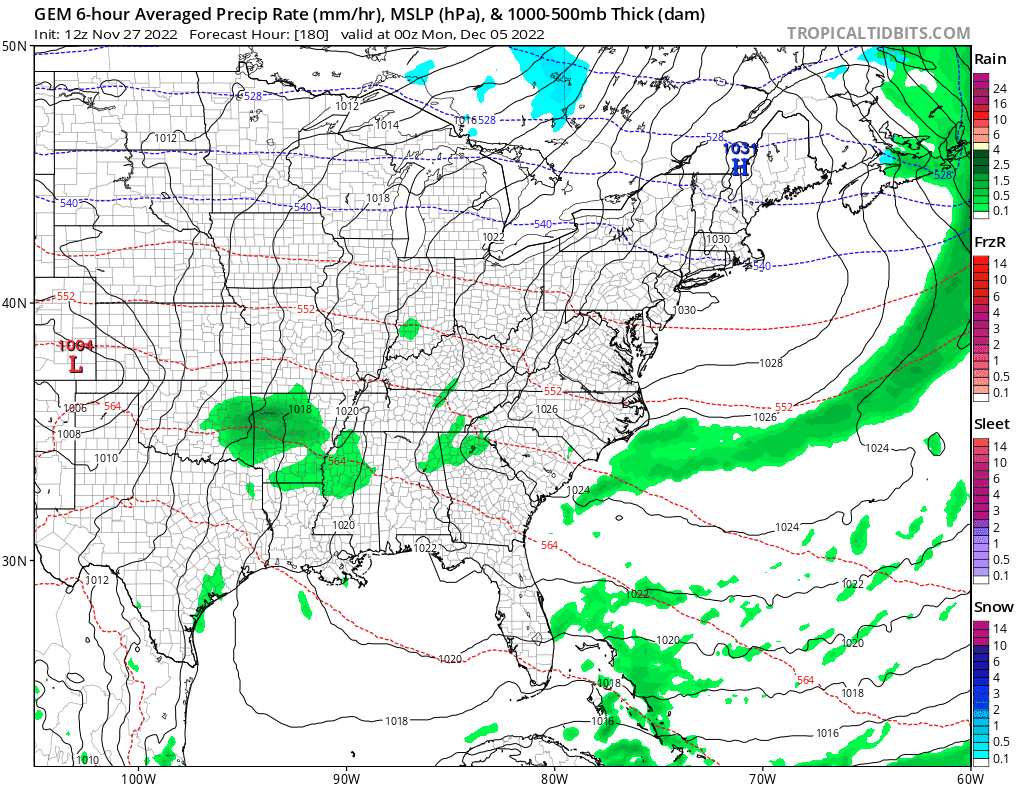 The cold then blasts in & it looks especially cold around that December 6 time up to December 15.
Temperatures may run up to 25 degrees below normal with Arctic outbreak hitting the area!
Thoughts are that the intense cold actually comes in two surges.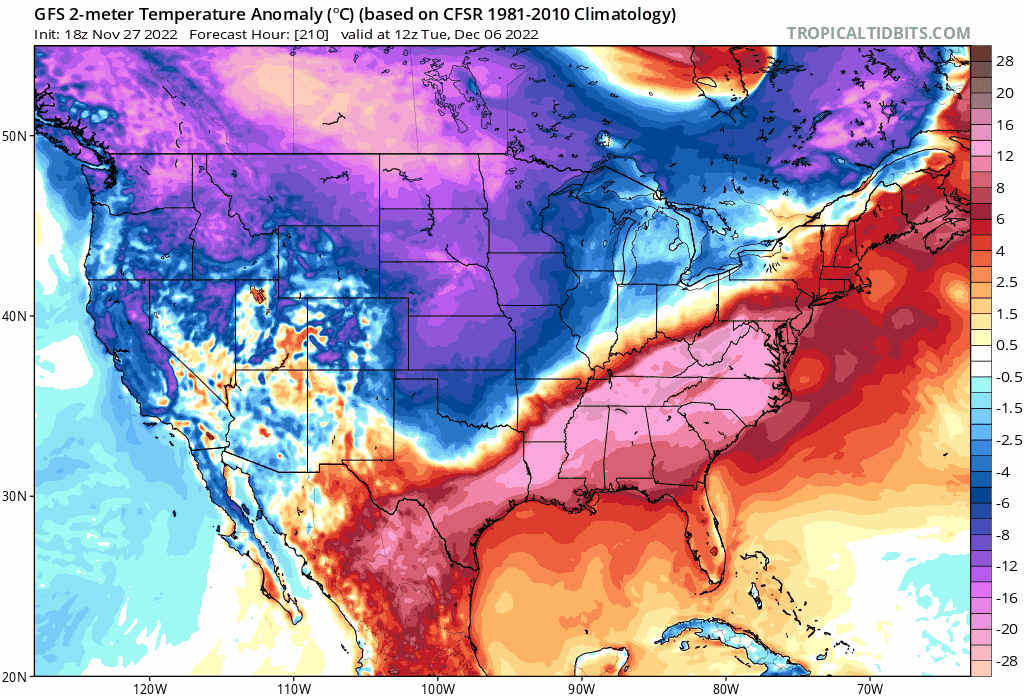 It would not surprise me to see temperatures drop to 25 degrees below normal across Florida & widespread frost & freezing to Lake Okeechobee around December 15.
Even areas down to the Yucatan of Mexico may see temperatures drop to 25 degrees below normal!
This will likely be an impressive cold wave for early- to mid-December!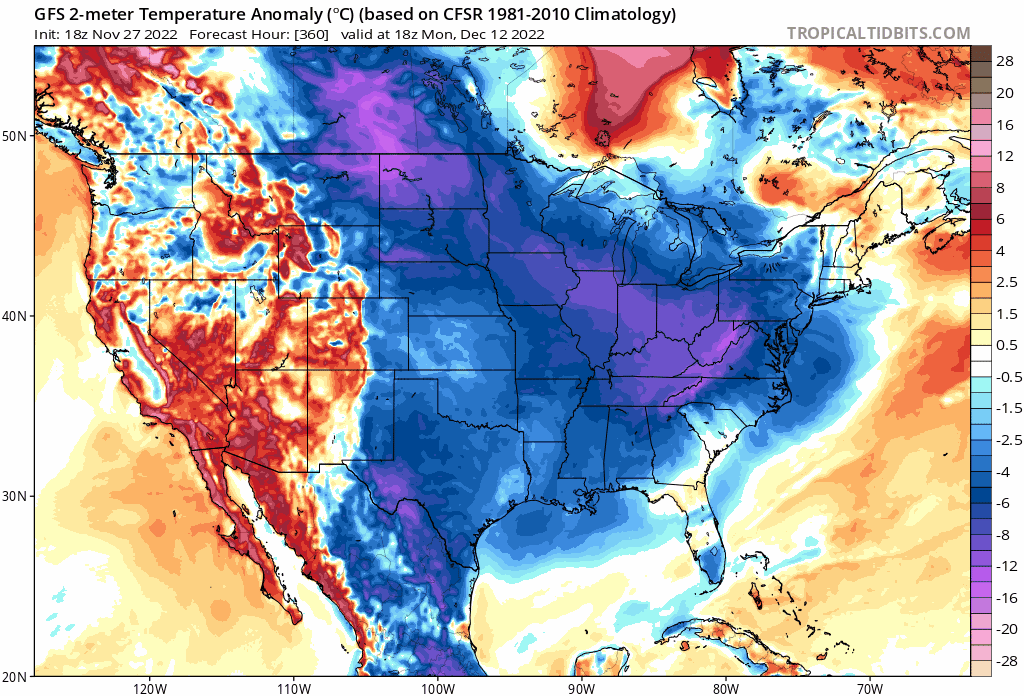 In terms of snowfall, we may have a couple of Alberta Clippers that bring impactful snowfall.
In terms of a solid winter storm, that remains to be seen.  If the polar jet's clippers & the subtropical jet's moisture phase, we may very well get an all-out winter storm up into our area.
It could also play out as a round of some sleet & freezing rain in the Deep South too!
We should warm nicely after December 15 & see a milder trend for that next 8-10 days.
After that, colder weather should arrive with opportunities for snowfall near New Year's Eve to & into early January.
In terms of Christmas, it still does not look like a White Christmas.  That is the case unless the colder, snowier pattern arrives earlier than expected.  However, in my winter outlook & the continued trend, there isn't a strong signal for a White Christmas.