Cold rain & some sleet in the central & southern counties (perhaps some brief flakes) will occur this evening-tonight, while rain/sleet/snow will go to all snow for a while in the north & northeast.
1" or less to as much as 1-2" is possible there.
Temperatures will wet-bulb from 42-46 to 32-36 due to the very dry air bleeding in from the east.  The surface will be quite dry at the onset, but the extremely dry layer at 3,000 to 9,000' were be the big factor in such impressive evaporative cooling or wet-bulbing.
Note how green line or dew point line goes WAAAAYYY left on the skew-T!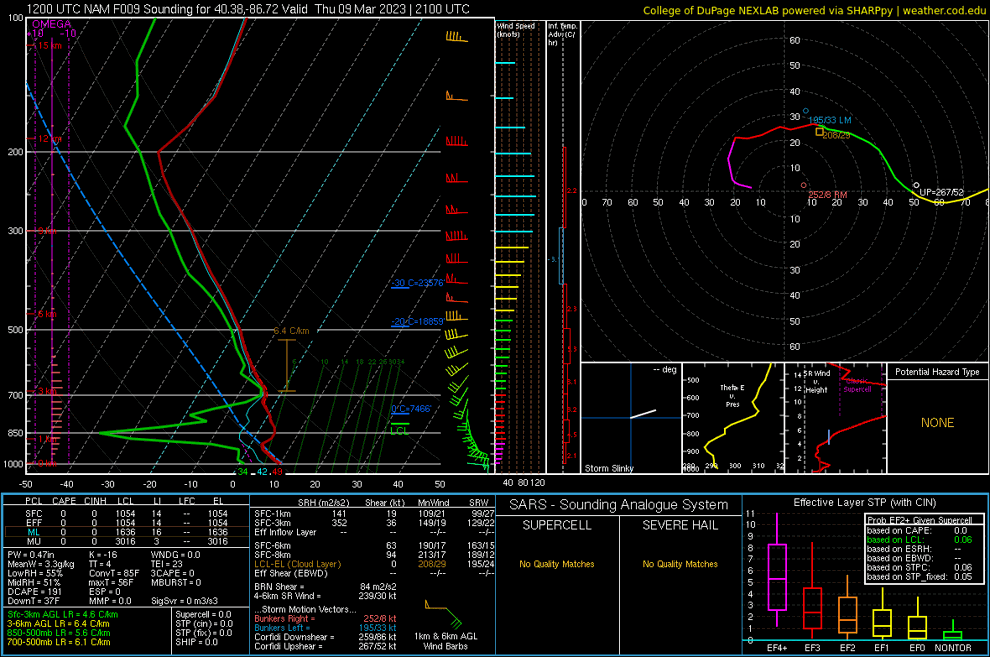 When I calculate the wet-bulb based purely on the temperature & dew point I get around 38, but I need to figure in this extremely dry layer evident a mile or less off the ground!
The steadier precipitation should end reach the ground after 5:30 p.m. & then taper by 5 a.m. Friday morning.
Winds will be east 15-30 mph tonight.
With some sun poking through the low clouds here & there, cold air aloft & some lake influence will bring a few scattered rain/snow/graupal/snow pellet showers Friday afternoon.
Highs will run 34-38 with northwest winds 15-30 mph.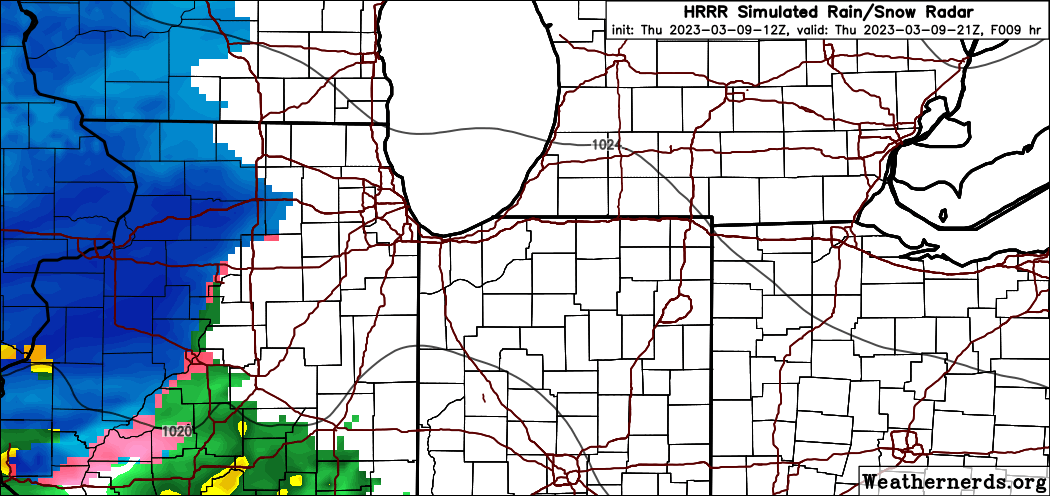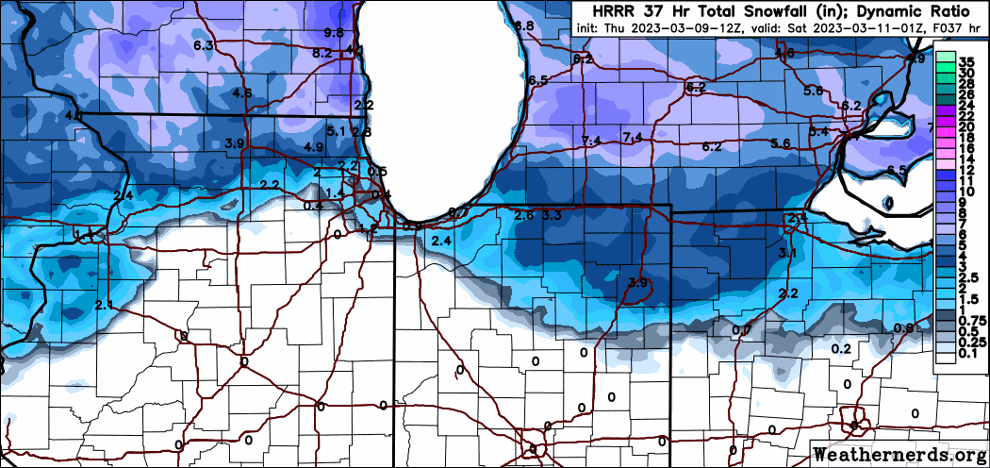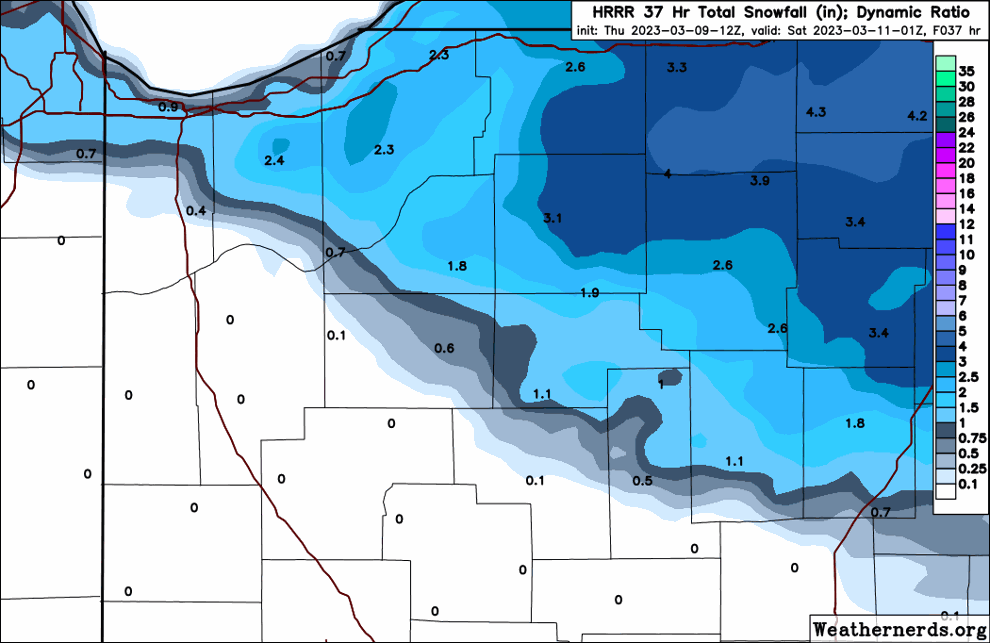 Friday afternoon-evening: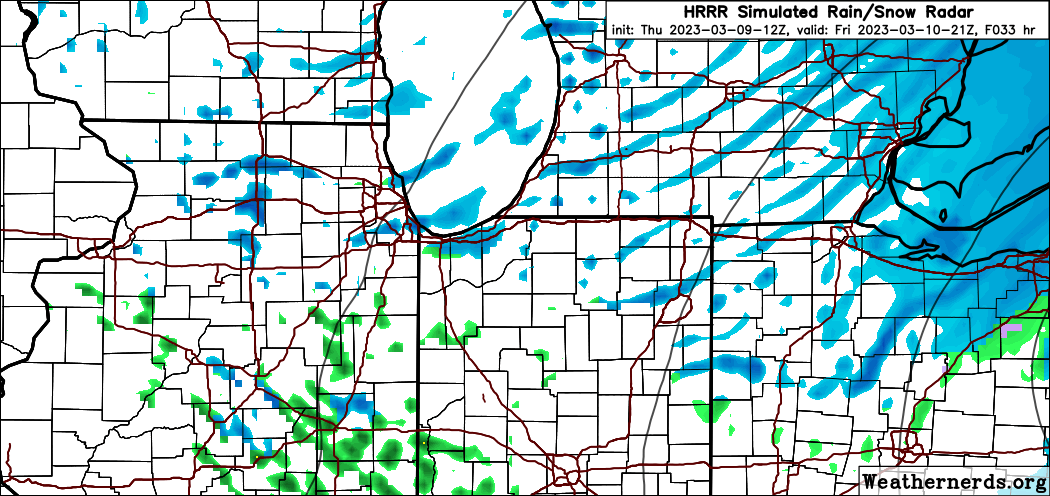 Saturday is mostly cloudy with east winds 10-20 mph & highs 35-39.
Round of snow passes Saturday night, moving in after 7 p.m. & ending by 5 a.m. Sunday morning.
Lows of 30-32 are likely.
Accumulation is expected.  Current preliminary data suggests around 1-2.5".
It should melt pretty quickly Sunday with highs 35-39 with a few scattered rain/snow/graupal showers (with mostly cloudy skies & northwest winds 15-25 mph)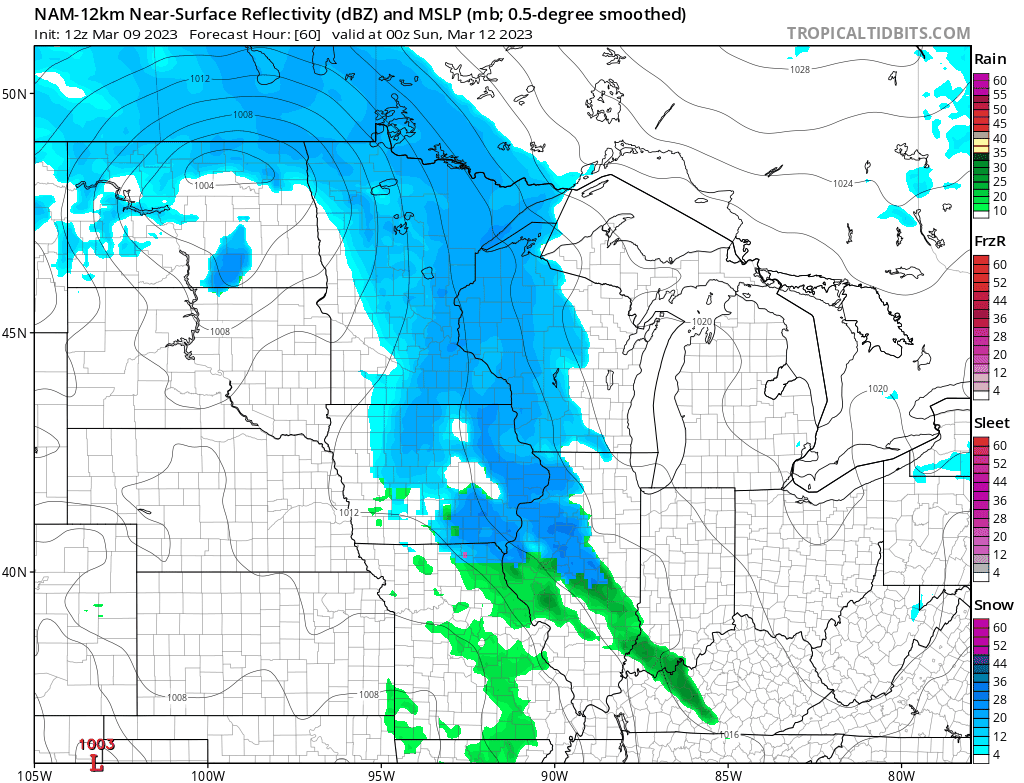 After lows of 25-29 by Sunday morning, core of upper trough swings through Monday with some scattered snow showers.  Any accumulation looks very minor & brief with highs 34-38 (winds northwest 15-30 mph).
Skies will be mostly cloudy.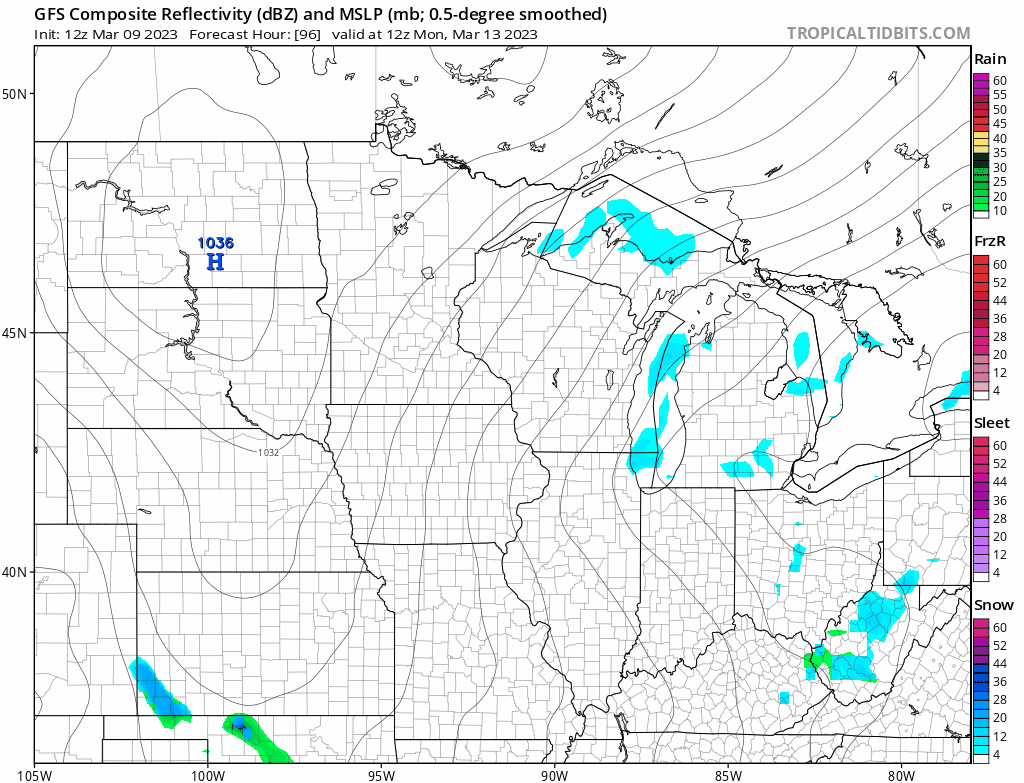 Tuesday-Thursday of next week look tranquil & cool.
This southern system still bears very close watching late next week.  It may have significant snowfall with it.  The track is extremely important.  We look to get snow from it, but it is unclear how much.
Snow showers will follow with some minor accumulation & windy conditions with upper trough & lots of cold air aloft next weekend.  Saturday & Saturday night look to have a majority of these snow showers after steady snow part of Friday-Friday night potentially.  The snow showers tend to decrease on Sunday as the coldest air aloft & deepest ideal Snow Growth Zone departs.
Highs will only run in the 20s & 30s.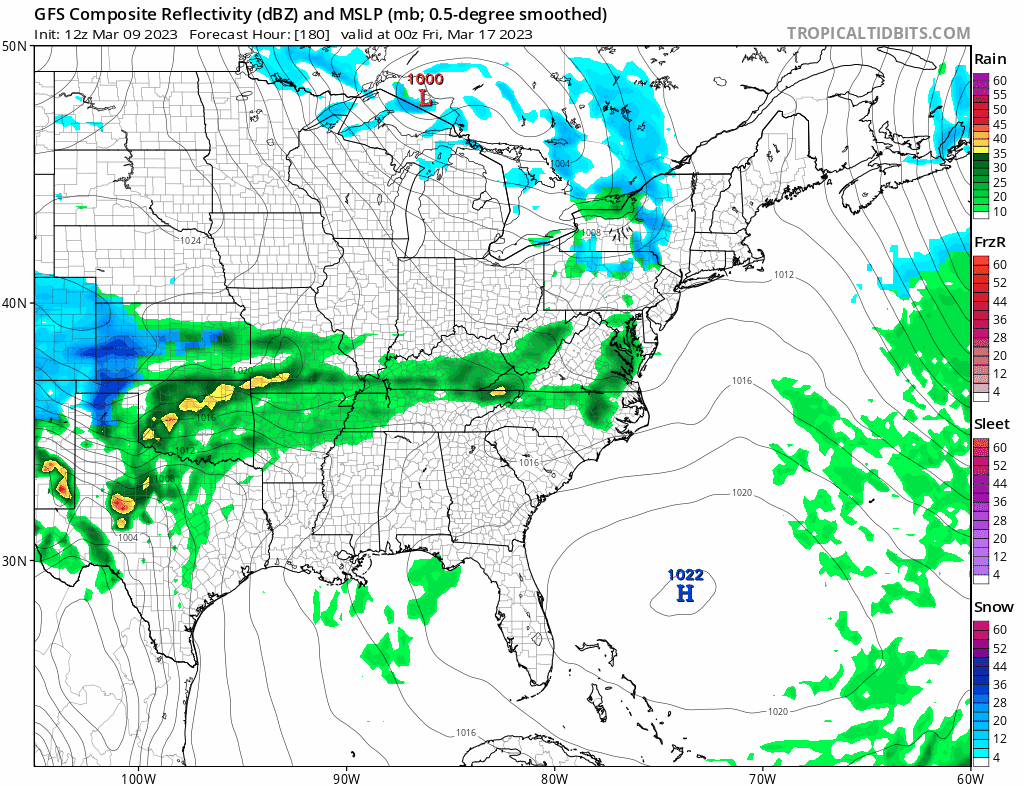 There may very well be a little clipper with some snow around the first day of Astonomical Spring, followed by some temperature moderation with rain around March 22 (40s).
Scattered snow showers are possible around March 24-25 as another cold upper trough swings through with lots of cold air aloft.
Bottom line is, the unseasonably cold air keeps coming.  Even around March 25, our temperatures may run 20-25 degrees below normal.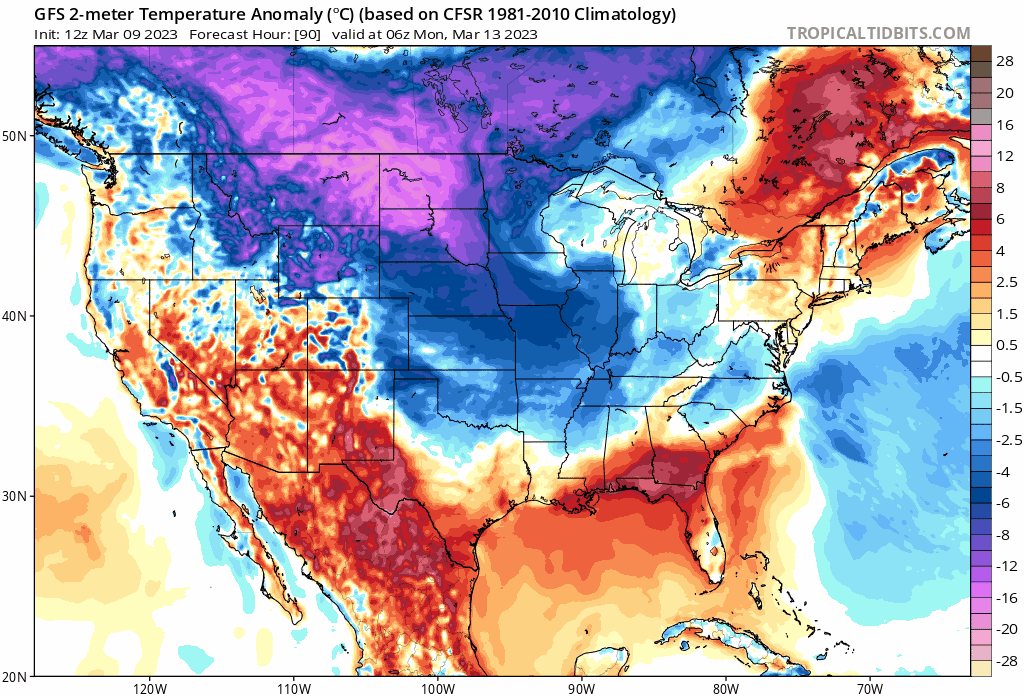 We see a big spring surge by April 10.
Thoughts are that it may be like a random sudden Summer.
However, I do think, based on the analog analysis, that we go back to a colder pattern actually after that at the very end of April.  Temperatures may run 15-20 degree below normal with frost & light freezing.
Warm surge depicted around mid-April: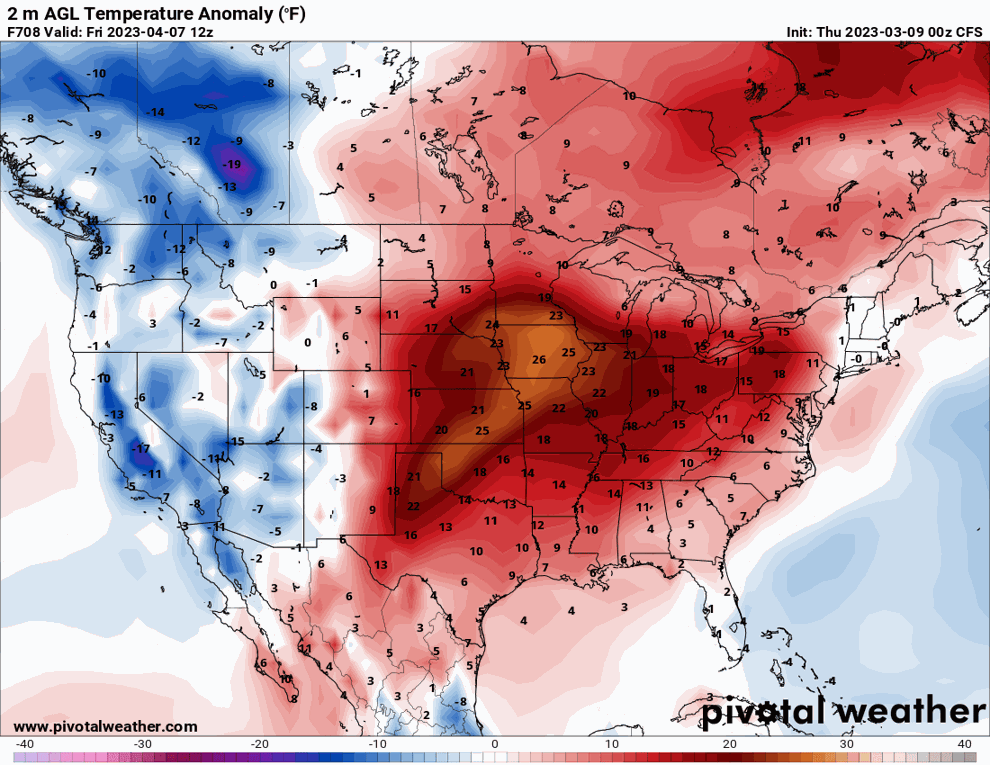 MJO is in highly-dominant cold phase for us into early April overall, before going completely neutral.
It should break into warm phases then after April 10 for a bit.  We could surge to +80 during that time.
I have noticed that 7-8-1-2 phase is colder here this time of year.
As we emerge from neutral to Phase 6, that is when we will warm dramatically.
Phase 6 is a warm phase in April.  Thoughts are then that we turn back to Phase 7 in late,late April to start of May for colder weather.
It'll then have to rotate back through 8-1-2 in May, showing colder start, very warm middle, cooler than normal late May.
This would also signal potential active severe weather period in mid-May.
There is a correlation between those solid phases in this rapid El Nino transition for severe weather surge in the Midwest.