Flood Watch is up for much of the viewing area.  Wind Advisory will likely follow soon.
Winter Storm Watch is up for Michigan to northeastern Illinois & far northern Indiana.
NWS Chicago & N. Indiana offices have put the watch as far south as Newton, Jasper, Pulaski & Fulton counties in our area.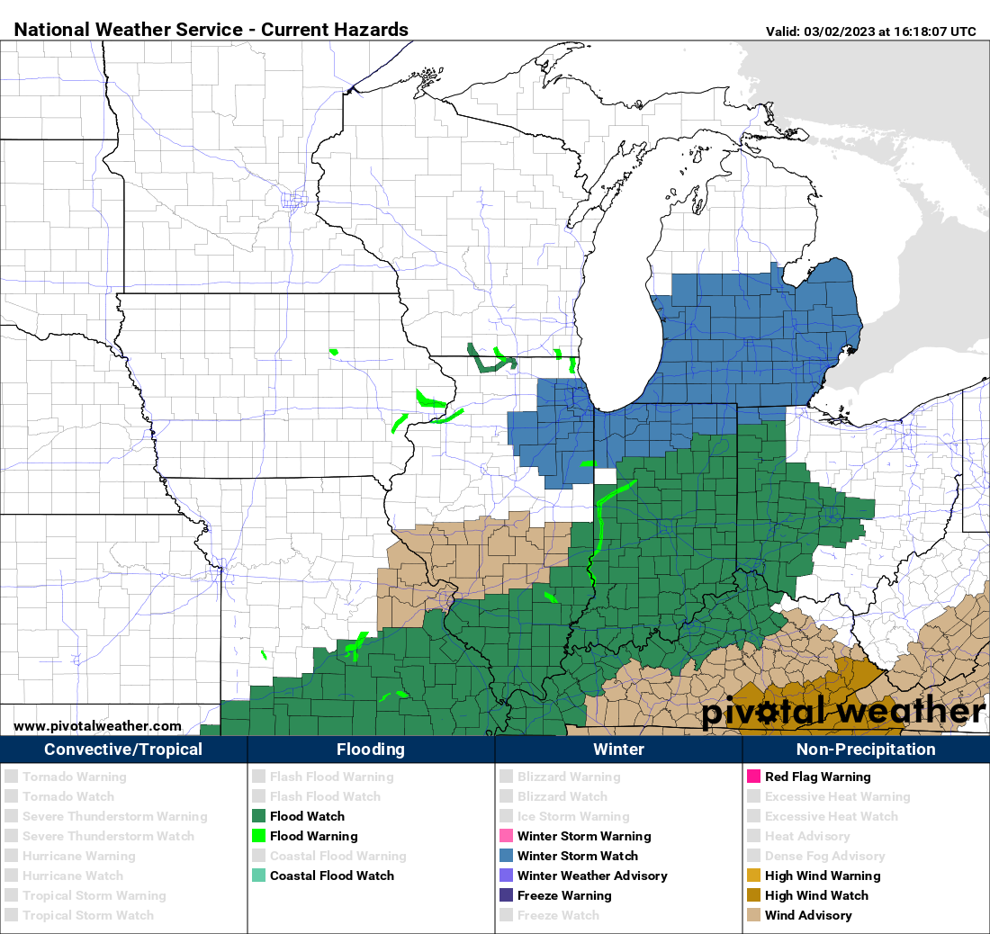 Widespread heavy rainfall is likely tomorrow with a total of 1.75-3.25" by tomorrow night.
Some thunder & lightning may occur.
Rapid rises in creeks, streams, ditches & rivers will occur with ponding in fields & on lawns.
The flash flooding will segway into river flooding event with Wabash potentially reaching moderate flood stage next week (+7' above flood stage).
Winds will also be howling from the east to northeast to north-northeast, sustained at 25-40 mph & gusts 40-55 mph.
A few trees may be toppled (given the wet, wet soil conditions) & a few isolated power outages may occur.
Heavy, wet snow is possible from part of Michigan to far northern Indiana to northeastern Illinois.
Here, NWS does have that Winter Storm Watch up for our northern fringe.
Snow may mix in the heavy rain & the rain may end as rain/snow & then some all snow Friday evening, especially in our northern areas in the viewing area.
If the snow can fall heavily enough & it get cool enough, some very gloppy minor accumulation may occur.
This is overwhelmingly a heavy rainfall & wind event, though.
The surface pressure will be very low with this system as it drops to 980 mb at its center over southern Indiana.
Highs of near 40 in the northern areas to as high as near 50 in the south are expected.  Near 45 is expected for Greater Lafayette.
Lows Friday night-Saturday morning should run 30-34.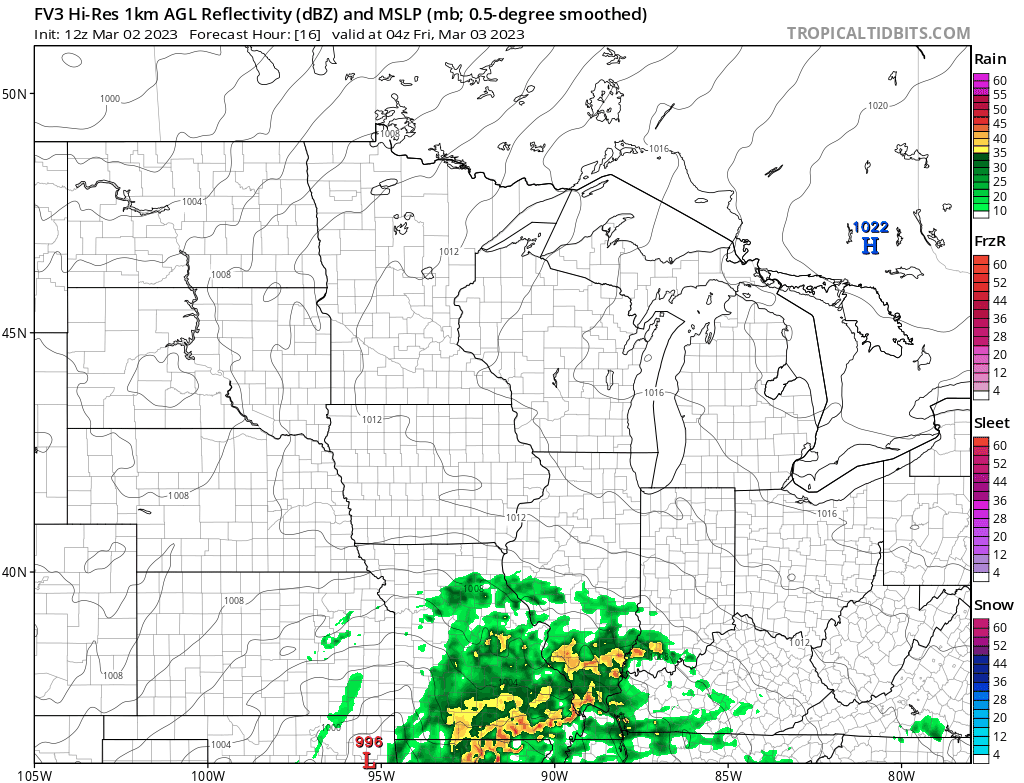 Mean EPS & GEFS model data for snow depth shows 2-4" of glop for Milwaukee, Chicago, back near Quincy, Illinois & 4-8" central Lower Michigan.
The key is to look at NOT what the model has for snow accumulation whether 10:1 or Kuchera, but rather SNOW DEPTH.  In Chicago, it may snow heavily, but with temperature around 33 & a warm ground, it will struggle to accumulate beyond 2.5".  Same in Michigan, it may snow the equivalent of 10", but it may only accumulate to 5" due to temperatures only around 33 & a warm ground.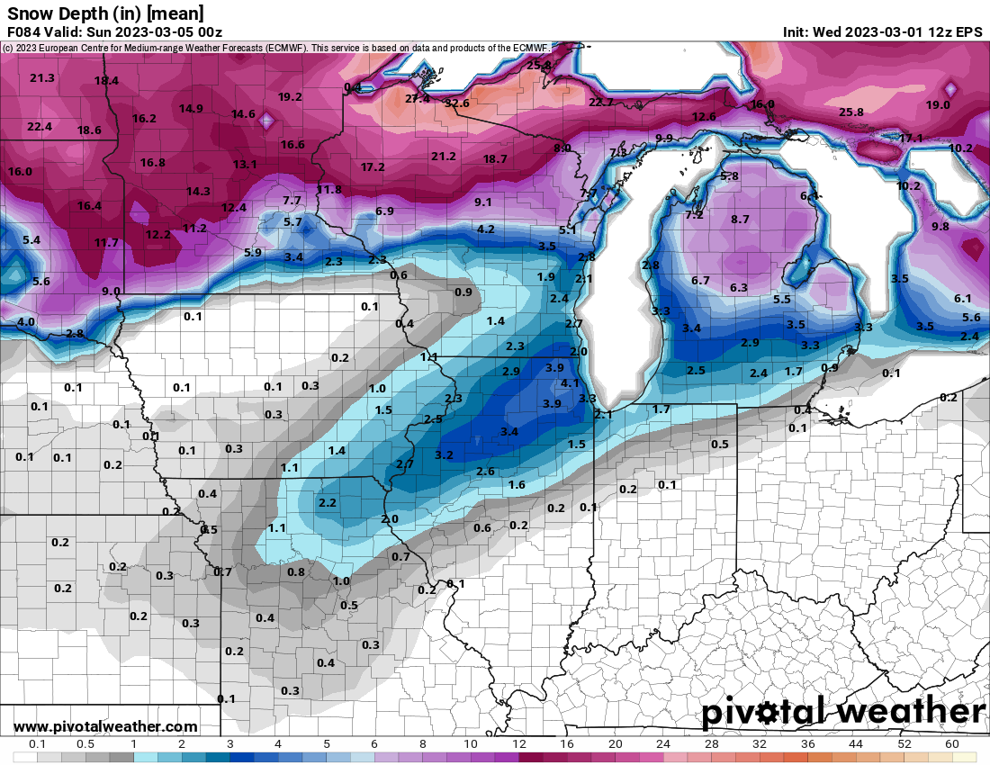 The weekend looks tranquil with 45-50 Saturday & 53-58 Sunday.
After windy weather with 61-67 Monday, a cold front passes Monday evening.
Warm layer aloft or cap is currently looking to keep any scattered showers/t'storms popping on the front once it gets just east of our area.
We will monitor & I will keep 25% coverage of the rainfall for Monday evening.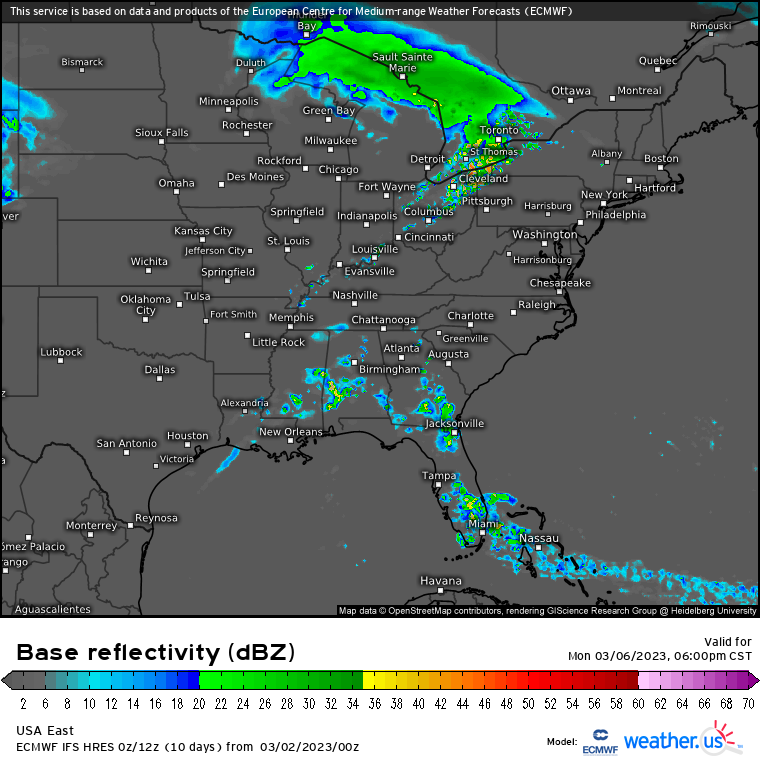 Tuesday is dry & breezy with 48-54.
Wednesday is windy & cooler still with highs 42-47.
By Thursday, highs may only run 36-42, but it still looks dry with partly to mostly cloudy skies.
We need to watch this round of precipitation early next weekend.  Temperatures may be in the 30s, so it may be mix, snow, rain.
We also need to watch storm in Texas.  Its track will be very important.  If it tracks far enough to the northwest, we have a winter storm.  If not, wintry weather is south of our area.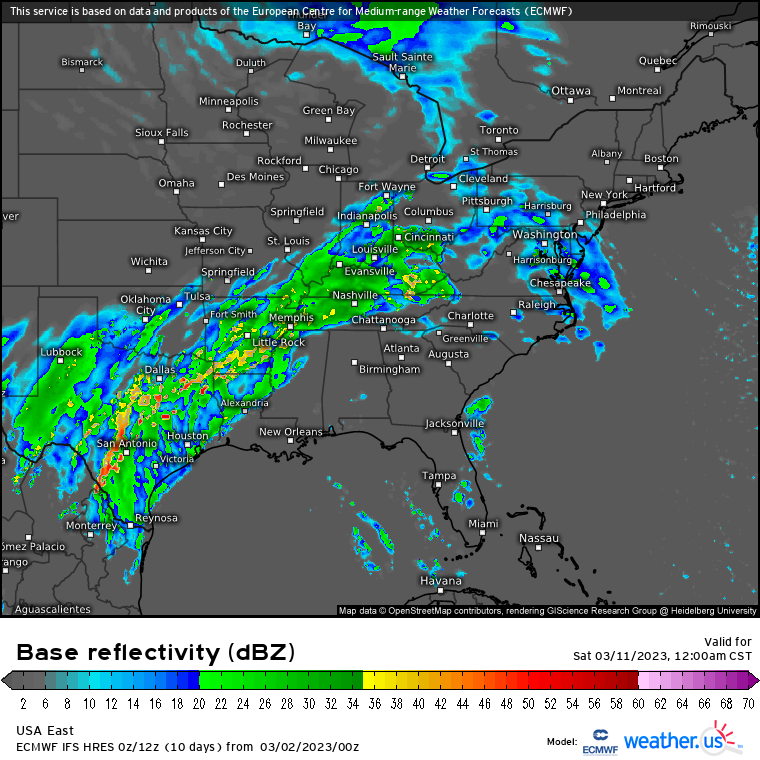 Those +2" snow odds are quite elevated for so far out (early next week), too.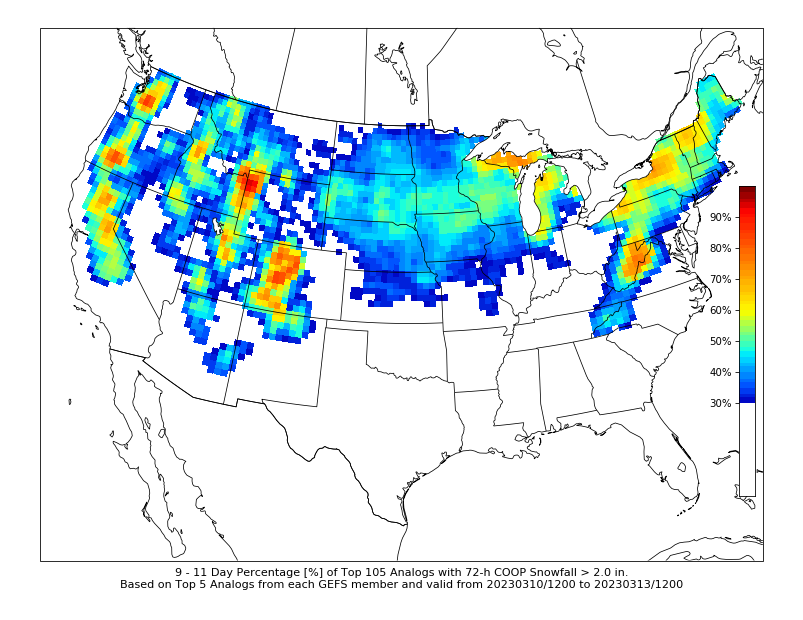 Highs will drop to +20 degrees below normal by the end of next weekend & beyond.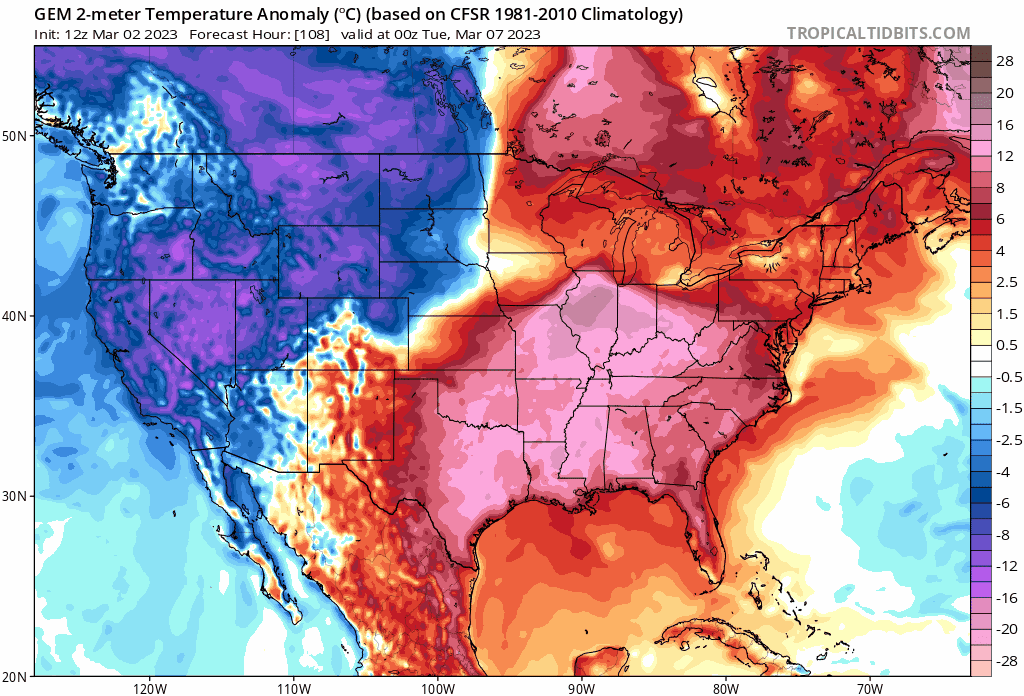 CIPS analog data shows lots of below to well-below normal temperatures coming.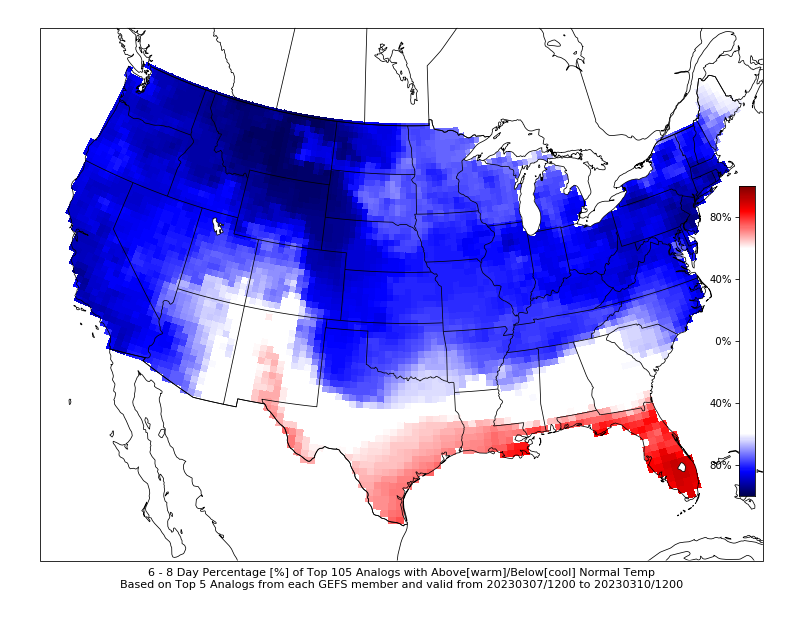 Even up to St. Patrick's Day period, CIPS analog data matches the modeling well with the cold.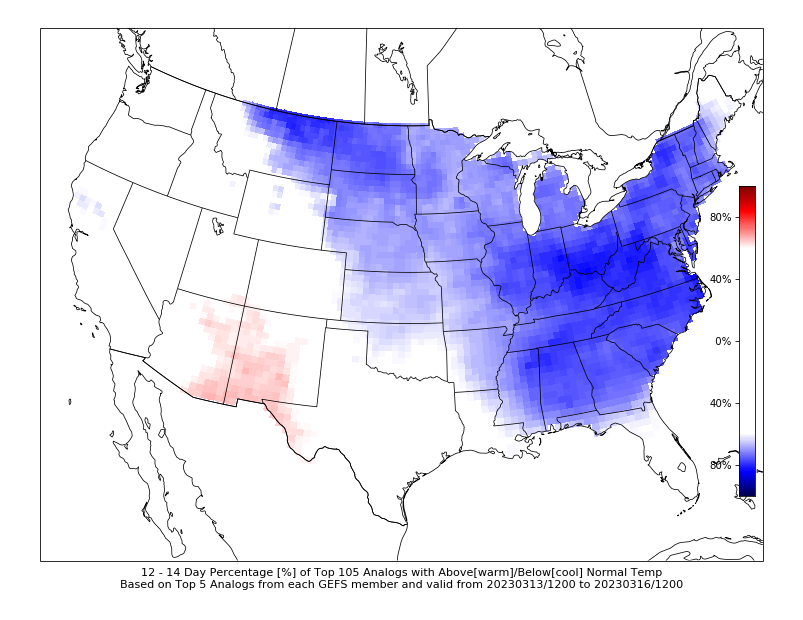 Cold surges keep coming south mid- to late-March.  This is a big problem for fruit growers from the Lower Ohio Valley & across the South as many nights of freezing are expected.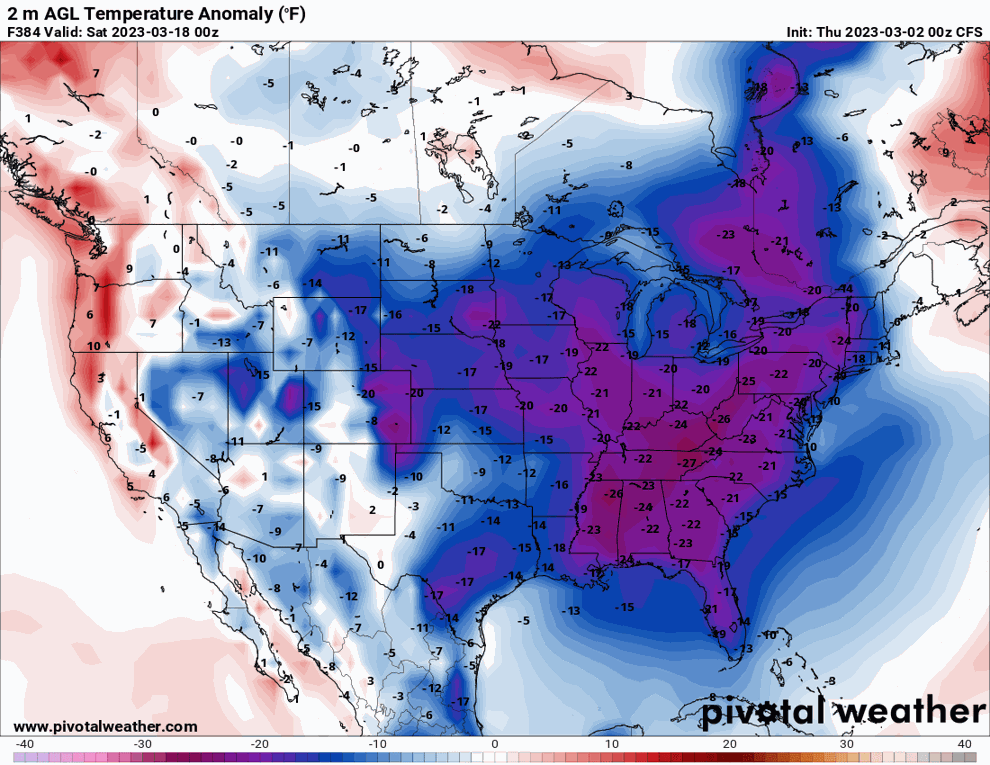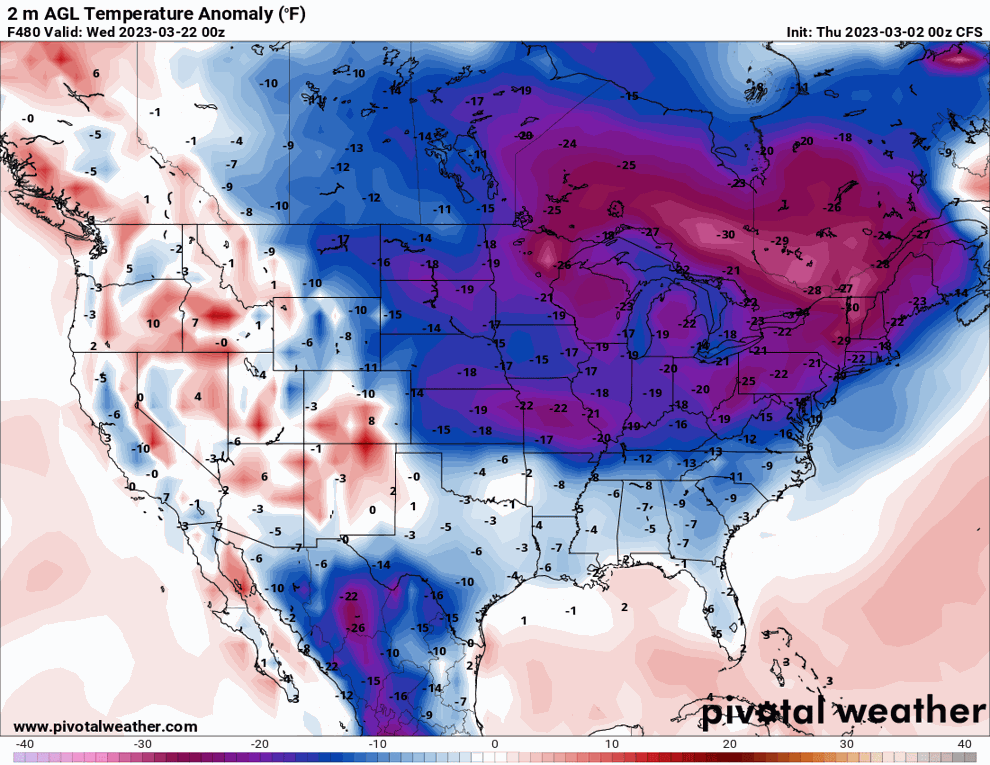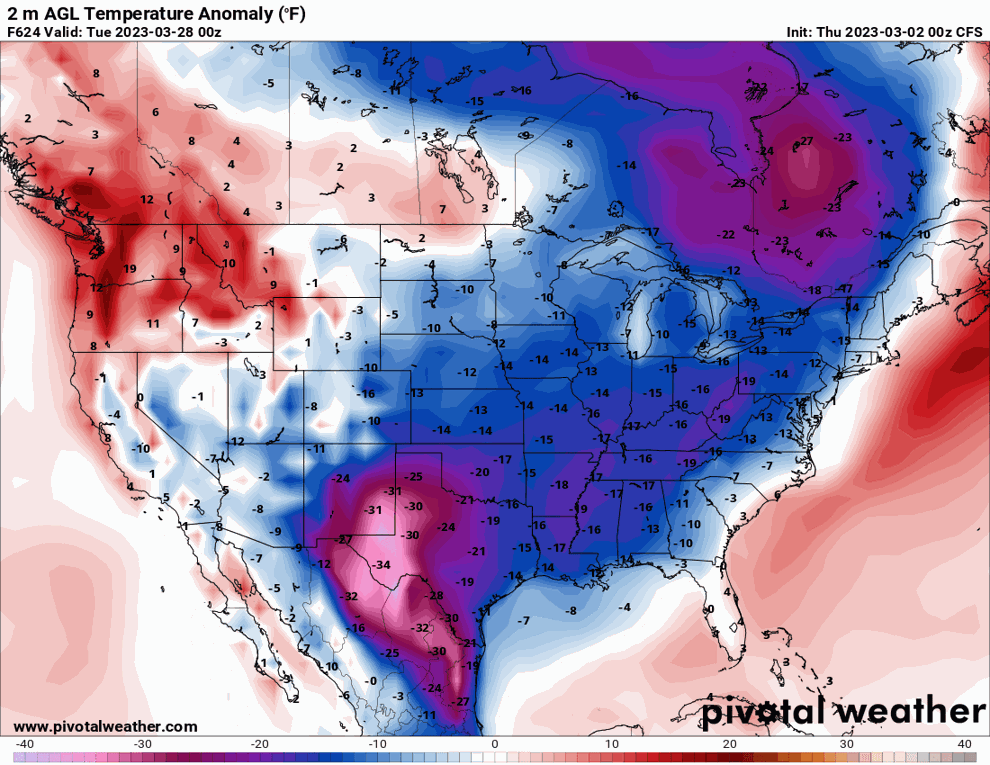 There are also a couple of early April surges: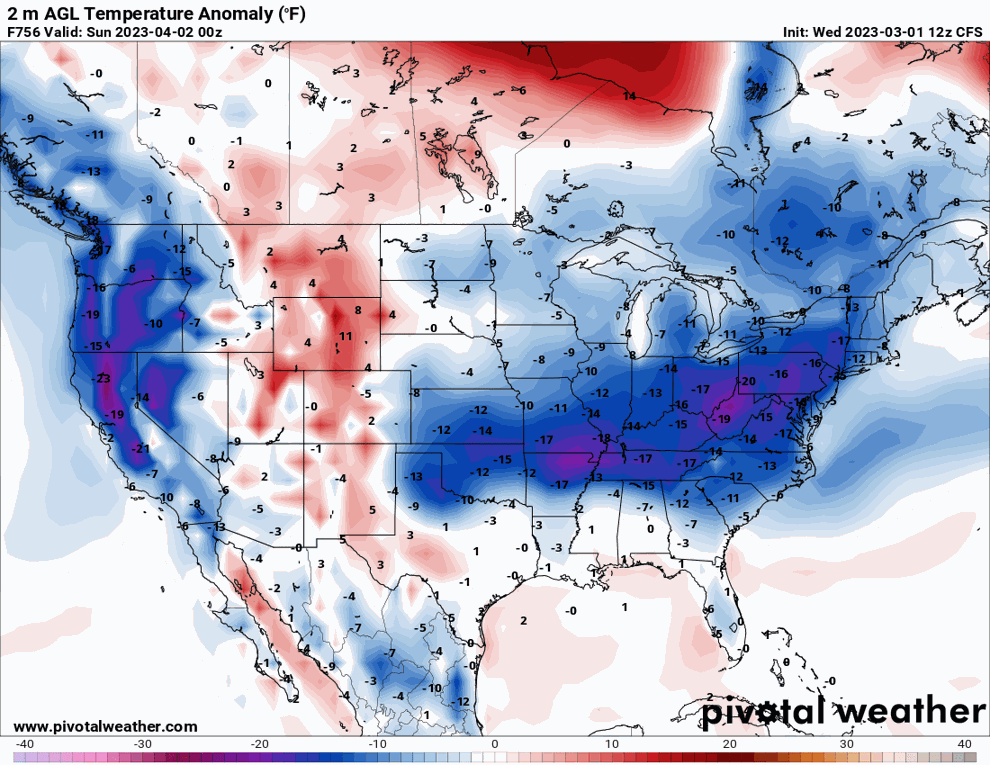 There are definitely opportunities for snow.
Note the mean snow depth via EPS for mid-point of March: