Local Weather History:  The First Time Storm Complex Was Called "Derecho" & How It Is Connected to Our Area
Dr. Gustavus Detlef Hindrichs, a professor at the University of Iowa & founder of the state's first weather service, discovered an unusually intense, widespread windstorm in 1877 that struck Iowa.  He published results of the storm later in the Weather Research Journal in 1888.  He coined the term "derecho", which means "straight" in Spanish, referring to the uni-directional wind pattern damage across entire central part of the state that was exceptional due to the scope & intensity in the damage.  This brought about this special designation.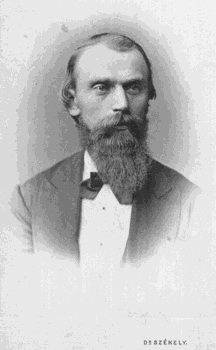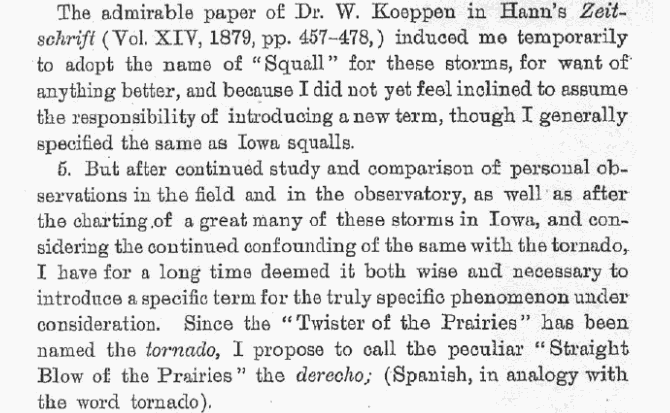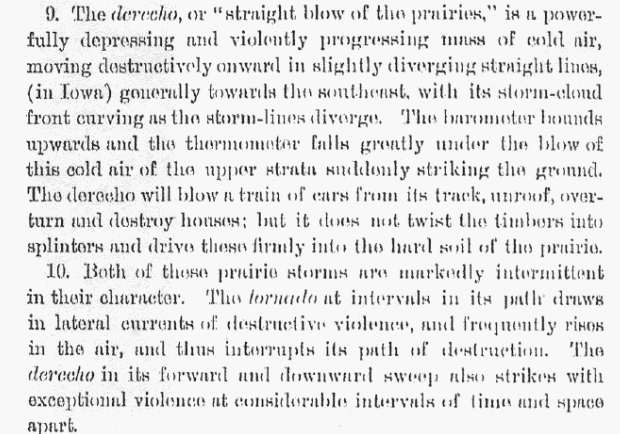 In the study, he points out that the derecho struck on July 31, 1877.  However, I have done exhaustive research & turned over every rock & have found no evidence of a derecho in Iowa on July 31. 
The severe only storms reported for near that time was July 26 when an estimated 100 mph wind gust was reported in a very violent storm at Fort Sully, Dakota Territory (modern-day Pierre, South Dakota).  The instrument shelter was leveled, fence was destroyed & stockade was leveled.  The last gust was measured at 84 mph before it was ripped from the roof & the chimney collapsed. 
Large hail at Bismarck, Dakota Territory (now North Dakota) on July 30 caused heavy crop damage & "severely cut" the buckwheat crop.  A gust of 84 mph was measured at North Platte, Nebraska on July 30. A couple of damaging tornadoes were reported on the Delmarva Peninsula on August 1 with damage at Kingston & Princess Anne, Maryland.
Significant wind & large hail damage was reported at Hagerstown, Maryland on July 28 & a gust of 60 mph was measured on the same day at Washington D.C. (with extensive flash flooding reported).  However, no rainfall was measured at Chicago or Indianapolis on July 31.  The high at Indy on July 31 was 88 & August 1, 88.  Heavy storms in the area of Carpentersville, Indiana on August 9 caused the Mississinewa to rise 5'4" in one hour, but no other reports have been found.  Meanwhile, significant flash flooding from torrential storms was reported in Maryland, Delware & then Vermont & New Hampshire.
However, I began researching further & found a significant severe weather outbreak August 31, 1877 with a seiche or "tidal wave" (which is often caused by a derecho) on Lake Michigan & Lake Erie. 
Widespread damage from Omaha & Council Bluffs through Iowa to Illinois, far northern Indiana & then it seemed to gain intensity again with widespread wind damage, some hail & a few tornadoes to Ontario & Pennsylvania. 
It began with "hail of extraordinary size" northeast of Omaha, then a tornado destroying the iron bridge over the Missouri River between Council Bluffs & Omaha.  The 3-story 102' x 52' newly-constructed asylum at Council Bluffs was levels with material carried a distance of a mile.  Damage was $245,000 (inflation-adjusted), but no damage was reported in the heart of Council Bluffs.  The tornado reportedly took 250' iron spans weighing "thousands of tons" & threw them into the river at a cost of $2.5 million (inflation-adjusted).  This was the last reported tornado until central Illinois (Gilman) & southeastern Michigan to Ontario. 
As the storms moved eastward they seemed to be wind-dominated & increasingly widespread.
Cornfields were reportedly "ruined" in Iowa.
At Brandon, Iowa it was reportedly the worst storm since 1858 with 30-50% loss to the surrounding corn crop from wind & hail.  26 window lights were broken in the town & many trees were toppled.  Flooding occurred with Lime & Bear Creeks overflowing & washing away fences.  Damage was reported at Pella, Oskaloosa, Des Moines, Davenport & Dubuque, Iowa.  3 children were injured near Oskaloosa.
A "fearful storm" was reported at Camp Douglas, Wisconsin & a church was dmaaged at Wisconsin Rapids. 
Severe damage was reported at Jefferson City, Missouri with corn laid completely flat & trees down while St. Louis was hit hard by damaging winds across the city.  Jefferson Barracks area reported much damage to trees, structures & fences.
"Great damage" was reported west of our area at Gilman, Illinois with "houses blown down" & "flouring mill completely destroyed".  One laborer was killed by falling timbers.  The losses alone from the mill destruction was $2.4 million (inflation-adjusted).
Trees & limbs were downed in & around Greencastle, Indiana & roofing was blown & "carried off" the Harris Brothers new mill. Rensselaer reported tree damage & hail was reported from Milford (south of Elkhart).
Detroit reported severe straight-line wind damage with an apparent brief tornado at the suburb of Collingwood seeing a chapel totally destroyed.  Windsor, Ontario reported very high winds with accompanying hail only enhancing its destructive power.  A damaging tornado slammed into Sandwich, Ontario, while extensive wind damage was reported from Benton Harber, Adrian, Ypsilanti, Ann Arbor, Michigant to Toledo, Sandusky, Cleveland, Painsville & Venice, Ohio.  With the wind causing structural damage & widespread tree & telegraph pole & line damage at Cleveland, reports of 0.5-1.25" diameter hail occurred.  At Sandusky, the "hurricane" was accompanied by hail the size of "musketballs" (most likely 0.75" in diameter).
In Wood County Ohio, the wind & hail caused the bumper crop of wheat to be greatly reduced.  20/bu. yield was reported prior, but fields were only averaging 4.3 bu./acre due to the crop fields being completely flattened & shredded.  Damage was also reported from Pittsburgh & Mifflintown, Pennsylvania.
A seiche occurred on Lake Erie into parts of the Cleveland area & through northwest Ohio to Erie, Pennsylvania & water reportedly flowed upstream on the Cuyahoga River for a time as the derecho's wind propagated the seiche inland.
Even as far south as near Cincinnati, Ohio, early on the morning of September 1, a "violent windstorm" swept through Maysville, Kentucky, unroofing several buildings & doing much damage to trees, fences & telegraph poles & lines.  The Steamer Wildwood, on the Ohio River wharf, was damaged.
A high of 89 was recorded at Indianapolis on the day of the storm of August 31 (only 0.09" rainfall measured, however), but it was just 71 on September 1 & 69 on September 2.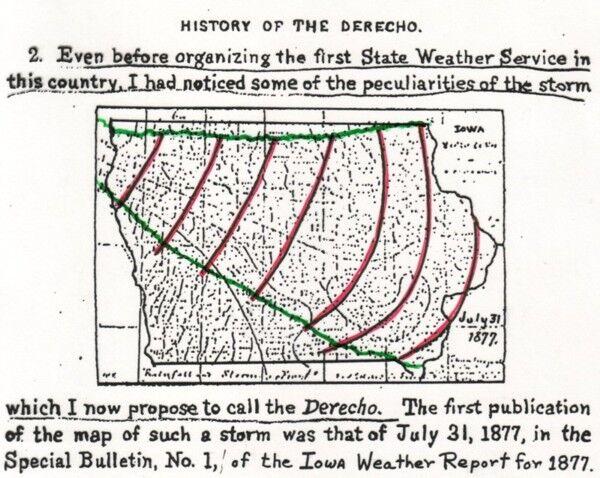 This appears to have been a Hybrid Derecho.
It had characteristics of a Progressive Derecho in that it pivoted around a dome of intense heat & had one or more intense bows.  But it also appears to have accompanied an organized low pressure system with a warm front & cold front moving through the Corn Belt & Great Lakes.
Note:  Keep in mind that I still do not have all of the storm reports plotted in the graphic below & research continues.  I still need to plot a few reports in southern Wisconsin & do research on northern Illinois & still much of Indiana (though it appears that the derecho damage was confined to areas west, northwest, north & northeast of southern Indiana.  There area also a lack of any severe reports from the Indianapolis area.  I also need to plot some additional reports I have found from southern Michigan.
Also, I need to remove the tornado reports from the Delmarva Peninsula.  Those are from July 30 & I mistakingly plotted them on this map.
STORM REPORTS from newspapers, diaries, agricultural publications, NOAA archives:
Red = Tornado
Green = Hail  (In this case I did not distinguish severe & sub-severe hail)
Wind = Blue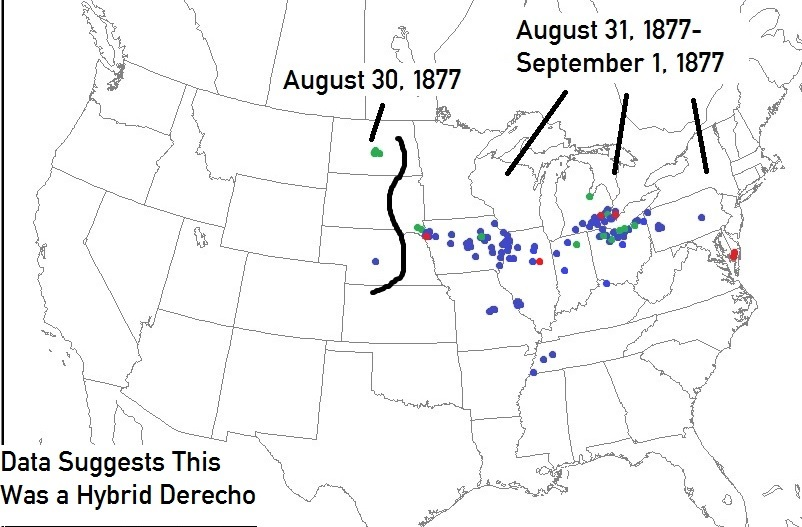 August 10, 2020 Serial Derecho storm reports: