(WLFI) – Good Monday evening! We are currently seeing a few showers and thunderstorms this evening across the WLFI viewing area. To view the current radar, head over to our Live Interactive Radar or click, here.  
A cold front is draped across Northern Indiana and will be slated to move through overnight and into Tuesday morning. This will give way to some scattered non-severe storms this evening. Localized heavy rainfall may occur with these storms as they work south and east.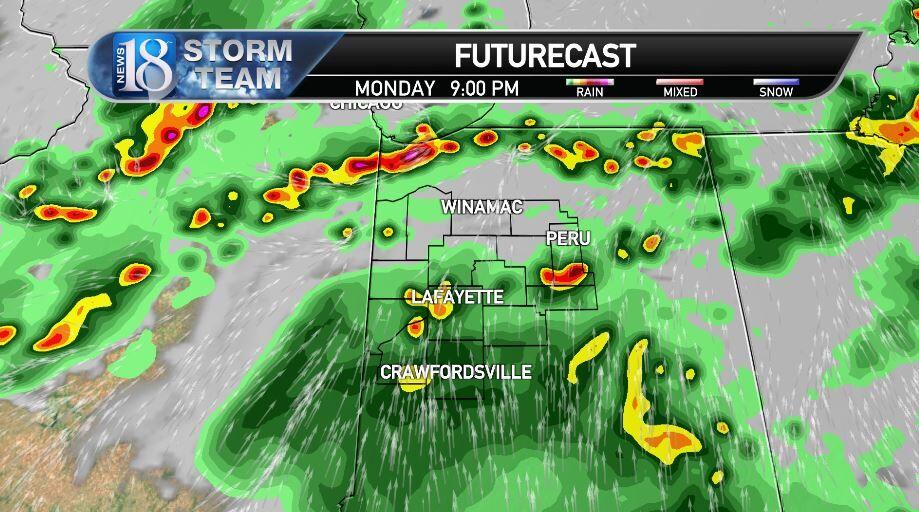 Rainfall could reach 1" to 1.5" inches in some of the heavier storms that develop along the front. Localized flooding could occur. Never try to attempt to drive through flooded roadways.  
A few storms may see small hail and quick bursts of wind 30-50 mph. Lightning will also be likely.  
The rest of the evening, things will quiet down after midnight and give us slight chances for a passing shower as the front slowly moves southeastward across the region.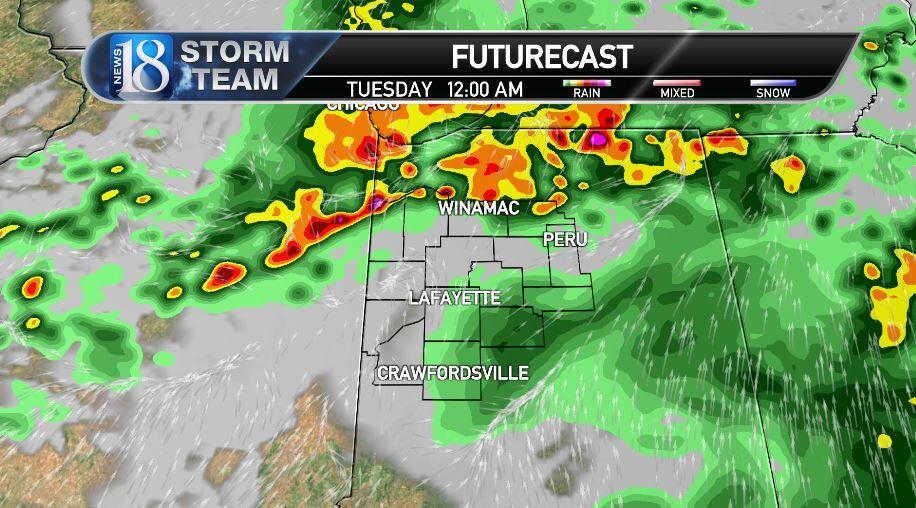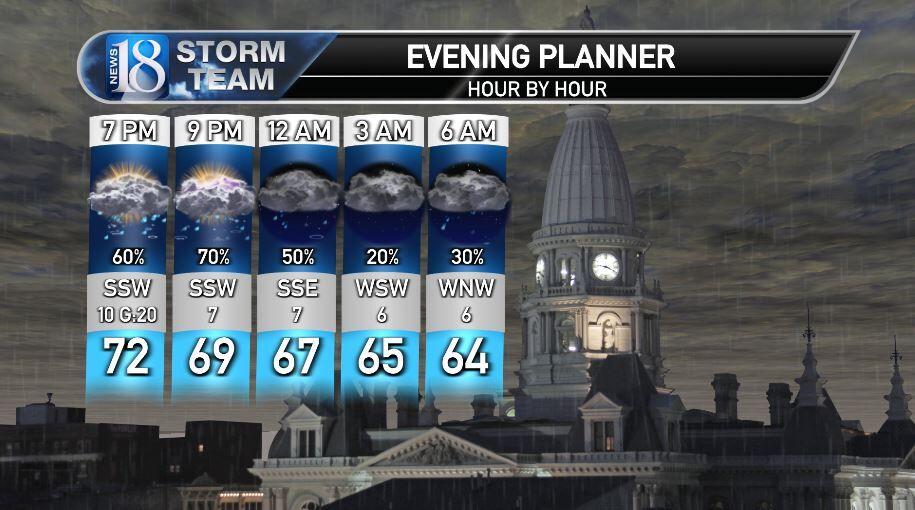 Tuesday 
We will have some lingering showers early Tuesday morning with mostly to partly cloudy conditions. Lows will dip down into the mid 60s.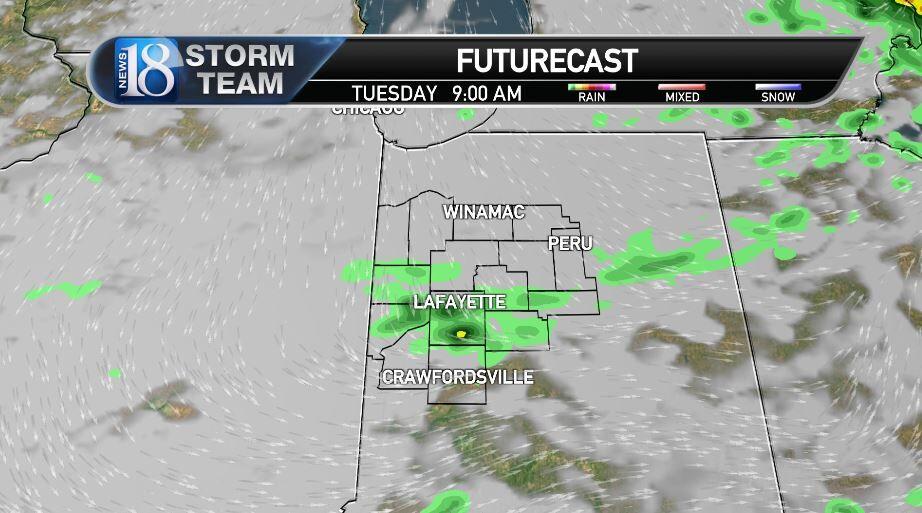 By midday, we will begin to clear out and give way to more sunshine. With the north wind and the passage of the front, highs on Tuesday will only reach the mid to lower 70s.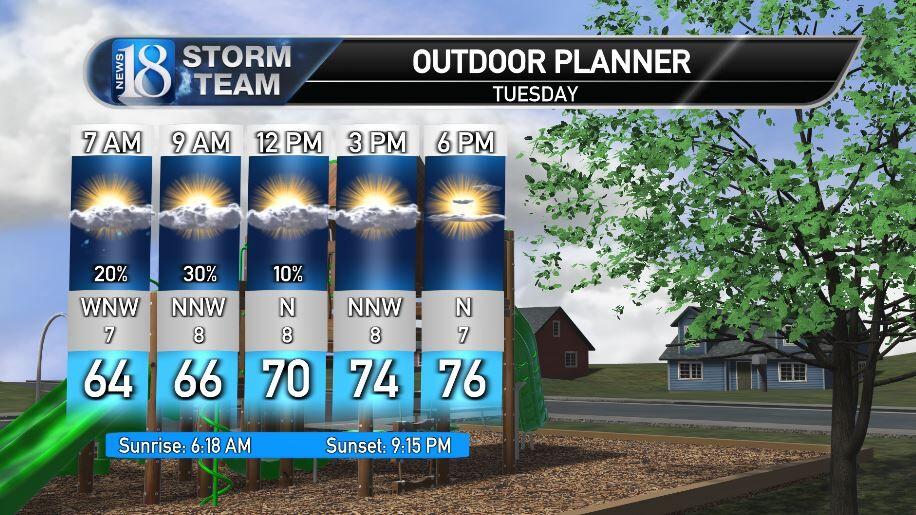 Wednesday 
We will begin the day on Wednesday with sunshine and temperatures back into the mid to lower 50s. During the day, we will have increasing cloud cover as our next system will begin to work in during the afternoon and evening.  
The low will pass through Wednesday afternoon and evening. Instability and lack of forcing for our area look to be low. Thus, severe weather will be unlikely. General thunderstorms look to be possible Wednesday afternoon and early evening.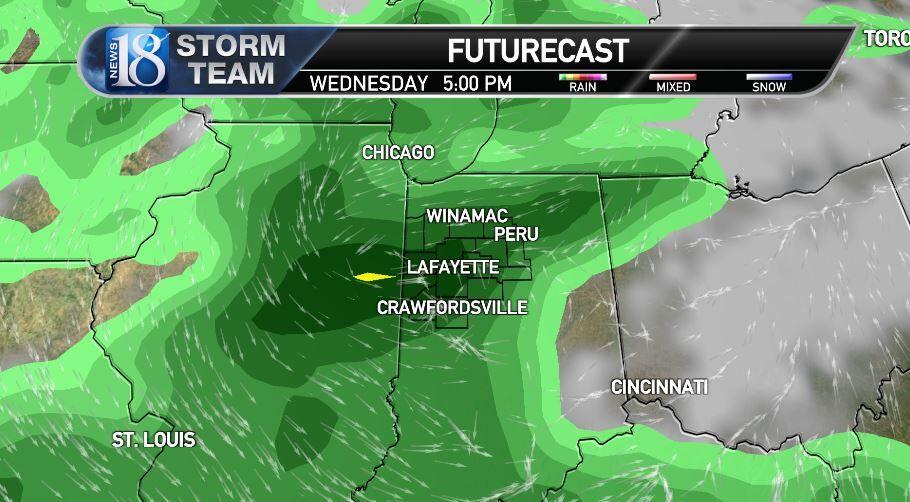 Highs on Wednesday will be back into the mid to upper 70s. 
Thursday and 7-Day
Upper-level ridging will take place allowing high pressure to keep us clear for Thursday. Highs will once again be near normal, in the upper 70s. Expect sunshine with some high clouds for the day.
Our next system is set to arrive by Friday evening. Big question is, how far north this system will get into the WLFI viewing. I'm keeping percentages low for now on Friday and Saturday with recent disagreements within models. We'll continue to monitor!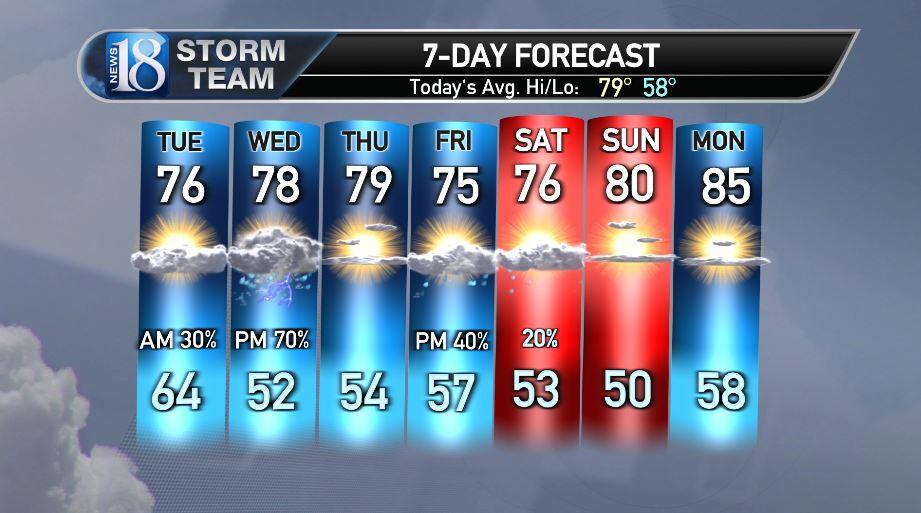 Past the 7-Day 
A strong upper-level ridge will begin to move into the central portions of the country next week. Giving way to very hot temperatures in the plains. We will be on the outer periphery of this feature which will certainly give us warmer air. Although with this set-up, multiple shortwaves (storms) could be likely into next week- but depending on how far east the high may settle, we could be seeing drier conditions. Stay tuned.  

The Climate Prediction Center has most of the US underneath a large area of abnormally high temperatures and less rainfall for our area in the 8-14 day outlook.