Highs ran 34-38 today.  Lows this morning ran 23-30.
1-3" of snow fell in a band from Missouri to Illinois largely with a few isolated amounts of +4".
Light snow fell briefly in our southwest & south in the viewing area, but no accumulation occurred.  All accumulation was west & southwest of the viewing area.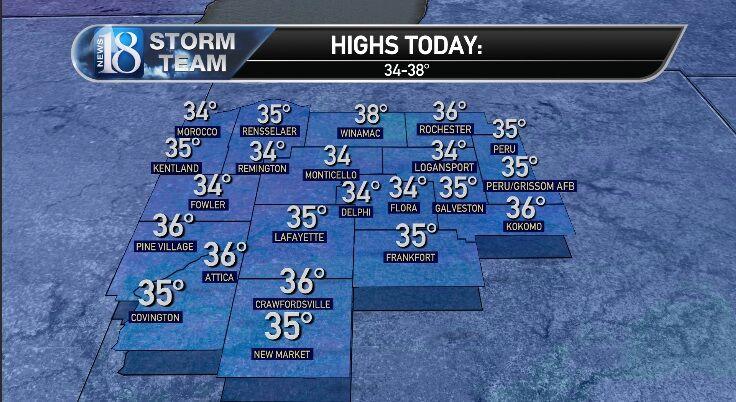 Where it snowed last night to today, freezing fog is likely to form.  That area would be central Illinois to northern Missouri & our far southwestern counties.  
Some of that freezing fog may migrate east & northeastward, so some patchy to areas of fog may occur in our area overnight to Monday morning.
In areas where it does occur, a few slick spots are possible.
Lows of 23-27 are expected, followed by partly to mostly cloudy skies Monday & highs 37-43.  Winds will be southwest at 10-17 mph.
Some freezing fog possible tomorrow night with southwest wind & lows of 28-33.
We cloud up Tuesday with increasing southwest wind & highs of 43-47.  A couple to few isolated showers are possible late in the day.
Wednesday looks ok with mostly cloudy skies & 40s.
Storm system should then pass Thursday-Thursday night to Friday morning.
Rain is likely, but it may change to snow before ending.  It has looked like little to no accumulation, but there are signs it may snow longer.  This may result in better potential of getting some accumulation.
Highs in the 40s Thursday will cool to near 30 for Thursday night & be in in the low to mid 30s Friday.
Strong southeast to east then northeast winds will become north to northwest with the system with gusts +35 mph at times.
0.50-0.80" of liquid is expected from this storm system.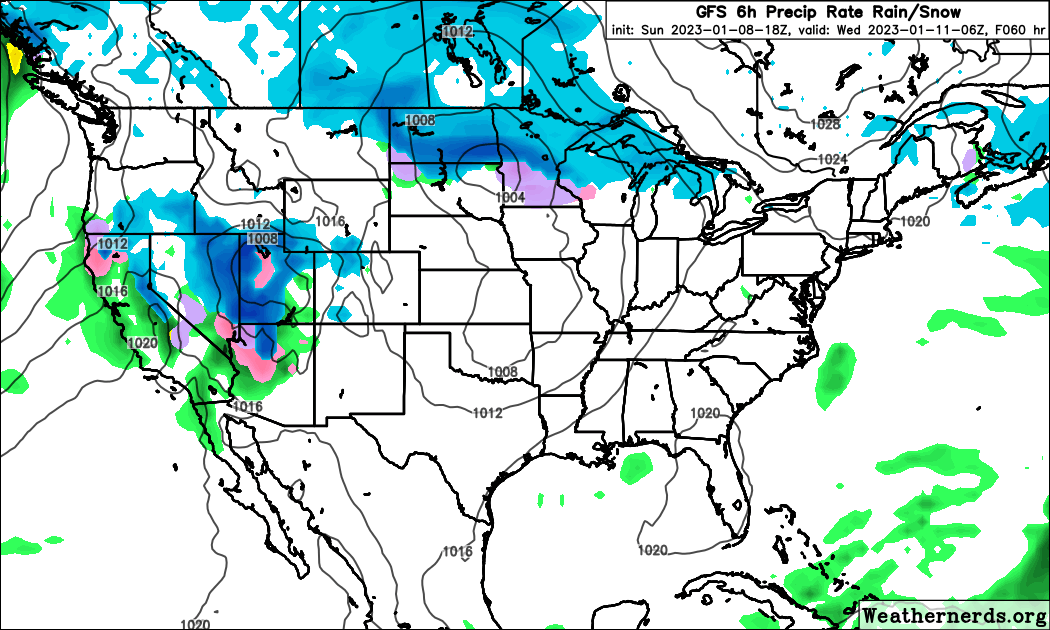 Another storm system should follow January 16-17 with rain & windy weather & highs upper 40s to the 50s.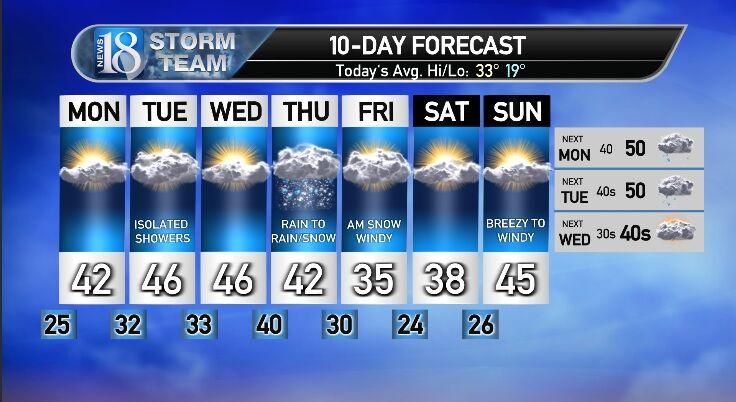 Yet another system should follow with 50s & rain followed by even some snow.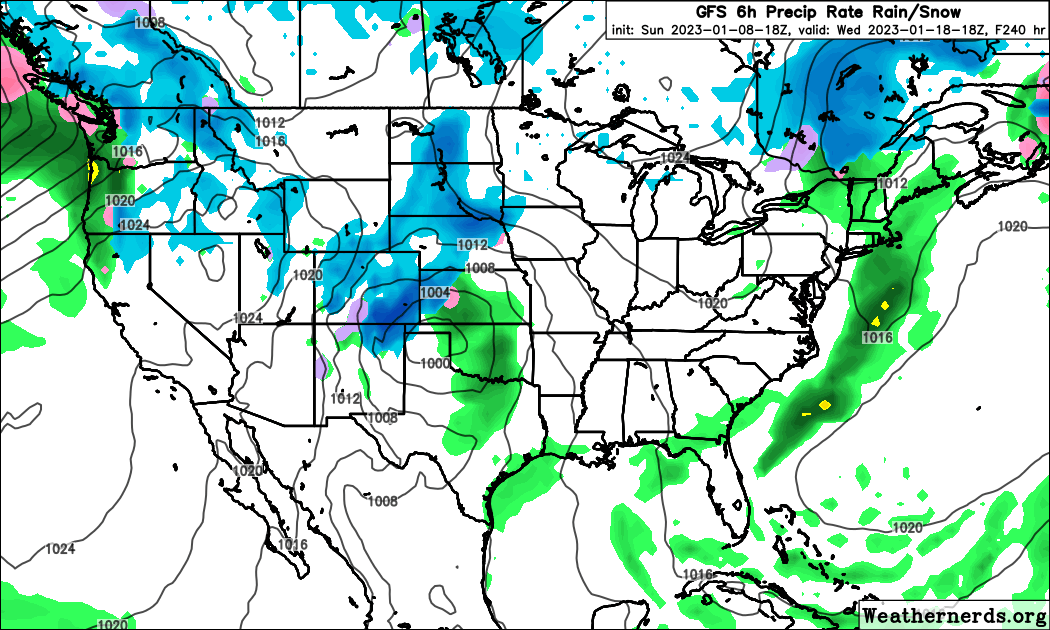 Here comes that big change, however.  The rain & snow will shut off in California & the gates will begin to open for successive rounds of bitterly cold air to come in.
Big ridge will be pushed up into Alaska, dislodging the cold air south with -EPO.
In addition the MJO will go into the 8-2-1 cold phases & this Stratospheric Warming Event will lead to that loosening of the Polar Vortex.
This all spells rough weather here with bitterly to brutal cold & rounds of snow & even some ice (couple winter storms possible) after January 22 through early February.
You can see what may be our first winter event of this bitter cold coming in occurring shortly after the first round of cold gets here: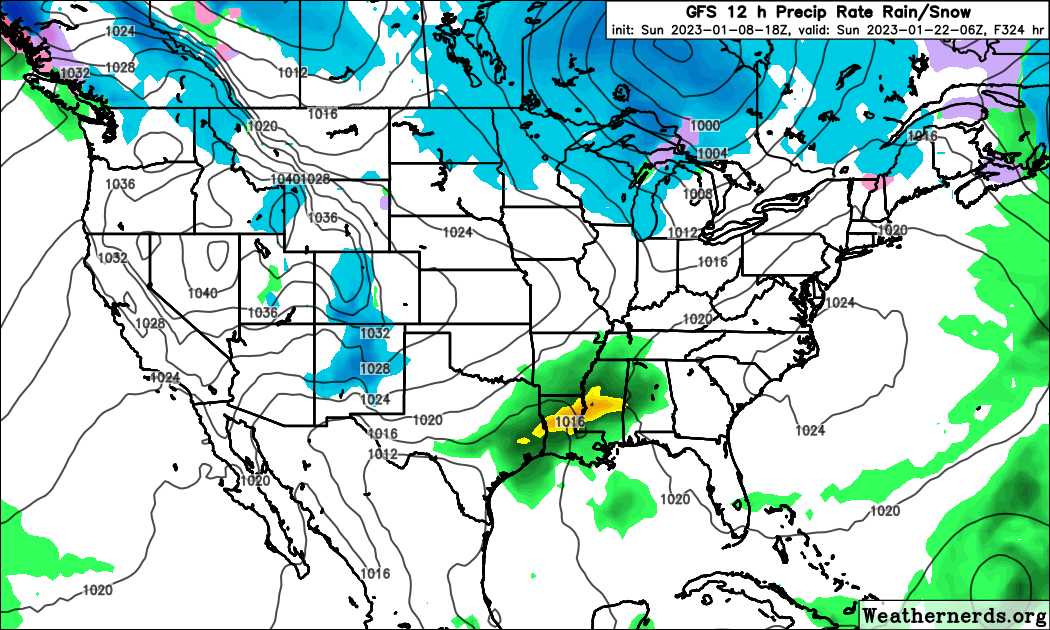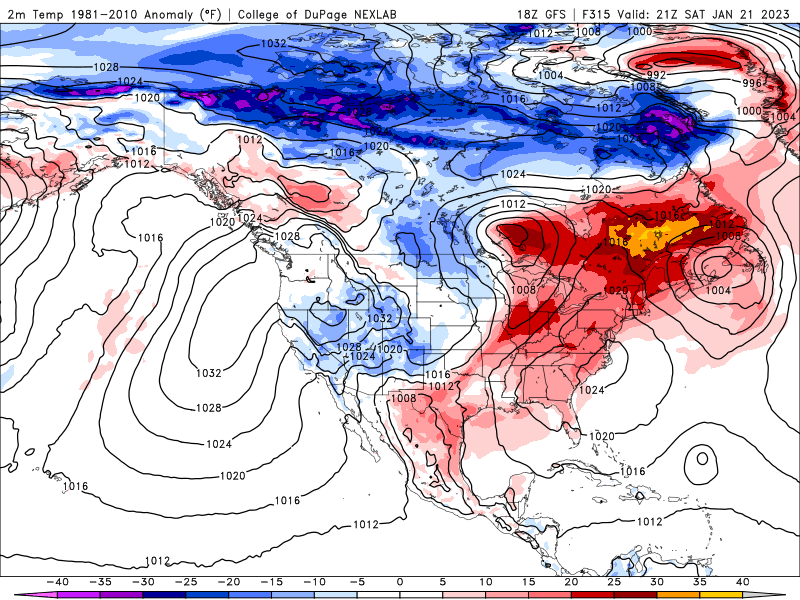 Note the projected temperatures at 1 pm near January 23 following passage of the Arctic front (they will be falling).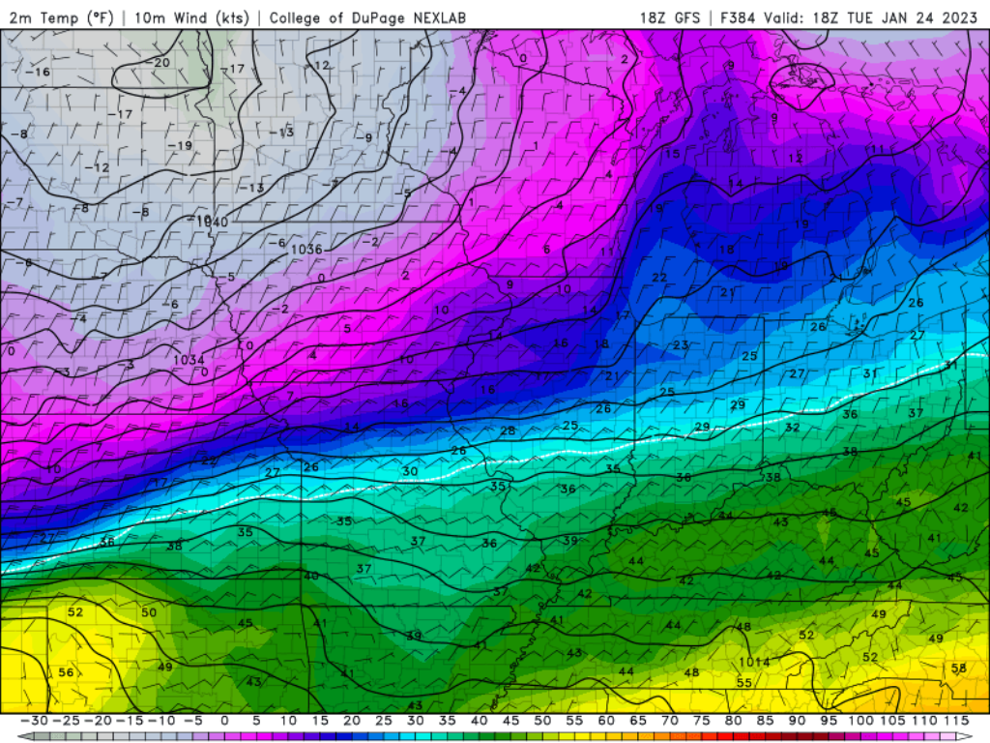 The bitter to brutal cold should come in those 3 waves with the third potentially being the worst (in early February).
I do believe this graphic via the CFS is reasonable & realistic: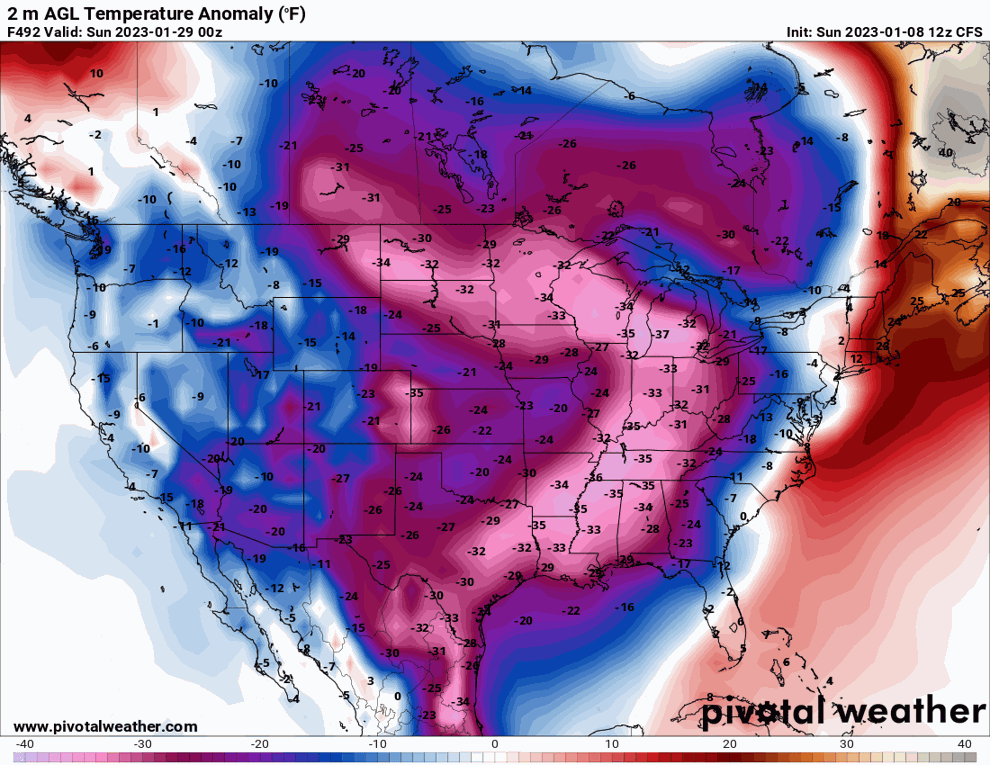 Projected snow depth in early February: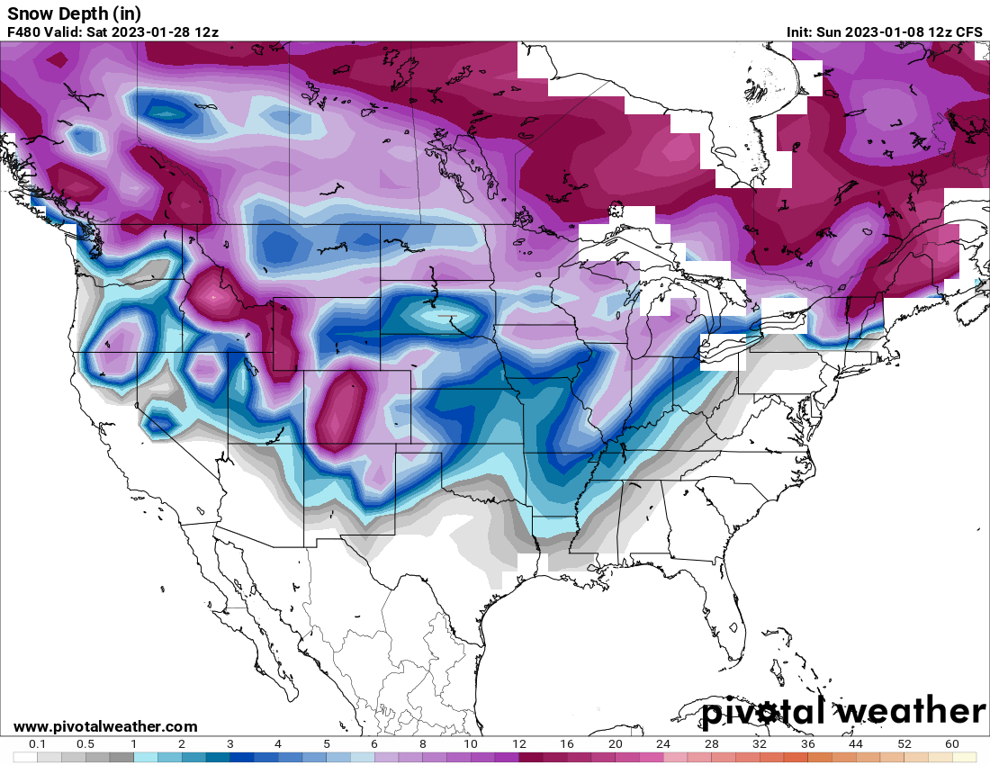 Again, looks a lot like the 1996 cold wave & 1996 is a pretty good analog.  1990 is too, but its cold hit in late March & April & led to absolutely awful weather like winter from March 20 to April 15 & killed unfurling foliage & flowers on trees that that were forced prematurely by such mild February weather & record warm early- to mid-March.
However, like 1996, we bleed the supply & it is likely that we go to warm phases of the MJO in late February to early March.
However, I'd look out in mid-March for potential big cold & winter event or winter storm.  We may not see decent warmth after mid-March until the start of April.
On a side-note, we are headed for a rapidly-strengthening traditional El Nino that could be significant next winter.  It could be a Super Nino in 2024-25.  That could mean two consecutive warmer & drier than normal winters with below normal snowfall.
Rapid surge into El Nino this Summer also has implications for our Summer.  It likely means below normal number of hurricanes in the Atlantic & Caribbean & above normal number of hurricanes in the Pacific.
I will re-visit the rapid La Nina to solid traditional El Nino transition & its impacts for the Summer & next Fall tomorrow evening.
I did it once & it looked cooler & wetter than normal for Summer with a warmer & drier Fall.  
We will dig in again!