After some fog with visibility of 1.75-5 miles this morning, we have scoured out the low clouds once again!  The sun has been dimmed by high/mid clouds, but it has still been a pretty nice day with highs 39-45 (as of 4 p.m.) after lows of 21-28 this morning.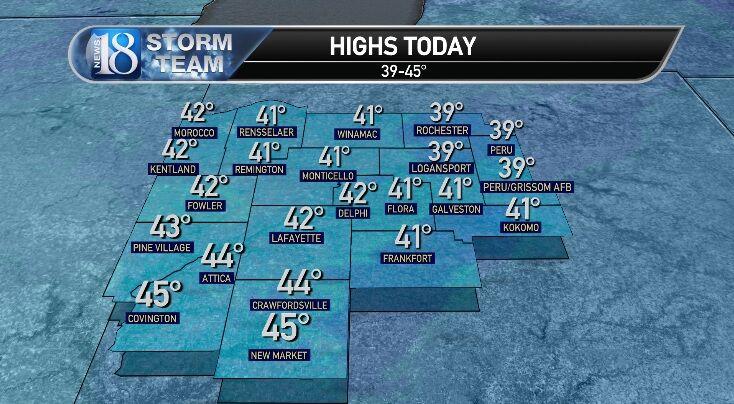 After potential of some light fog tomorrow morning after 6 a.m., we will see mostly cloudy skies tomorrow with 43-47 & south-southwest winds 10-20 mph.
A couple isolated showers are possible in the morning & again later in the day.
Some fog could occur tomorrow evening-tomorrow night with temperatures in the 30s.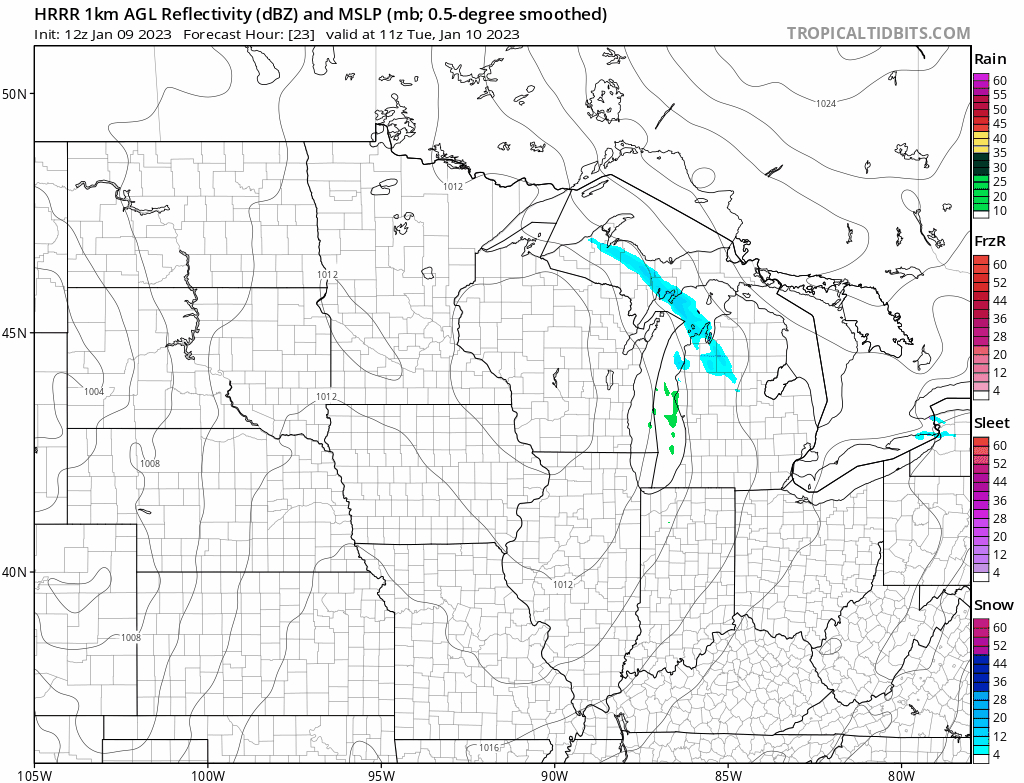 After a lot of clouds & south-southwest wind 10-20 mph Wednesday (highs 45-50), a few showers Wednesday night with some fog will go to steady rain Thursday, but south to southeast winds 20-38 mph will turn to the northwest, then north to northwest.
Rain will then mix with & may change to a period of wet snow later in the day as temperatures fall to near 32-34 early evening.
Snow showers are expected Thursday night & into Friday with temperatures 29-32 Thursday night & 31-35 Friday.
Some minor accumulation on largely grassy & elevated surfaces & bridges & overpasses cannot be ruled out.
Northwest winds on Friday will run 22-40 mph.
Total liquid of 0.40-0.70" is possible.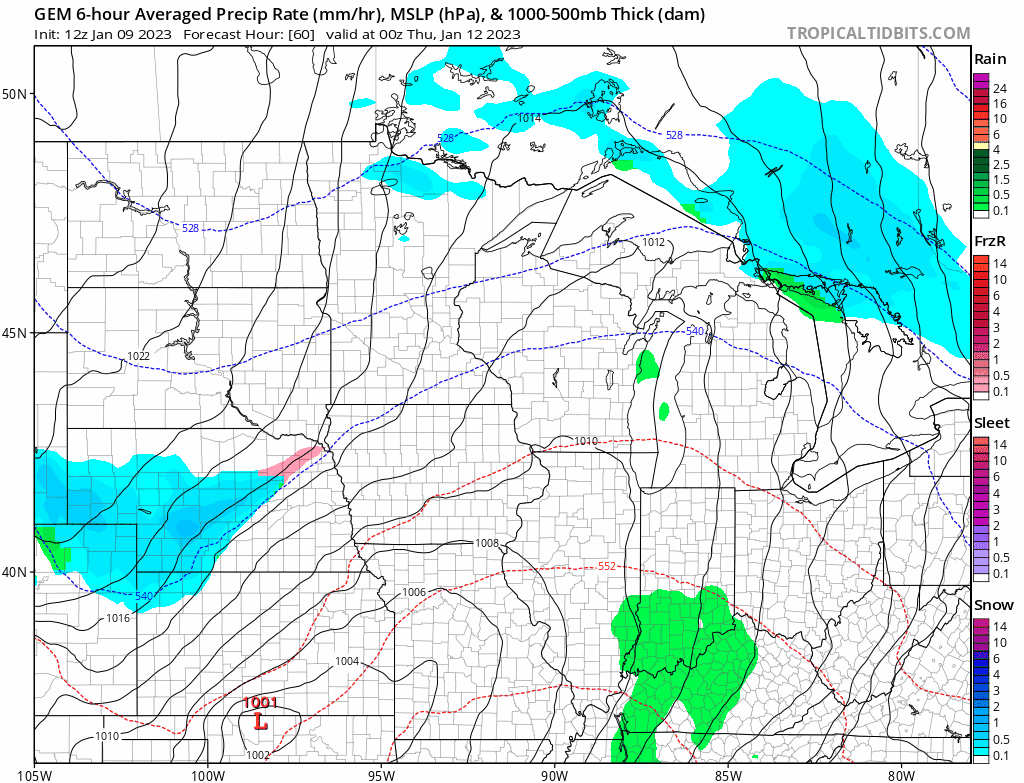 Much warmer weather again & another storm system with rain is expected Monday-Tuesday of next week (with highs surging to 48-55).
This looks to be followed by yet another storm system with 55-60 late next week.
Between the two 1-2" rainfall could occur.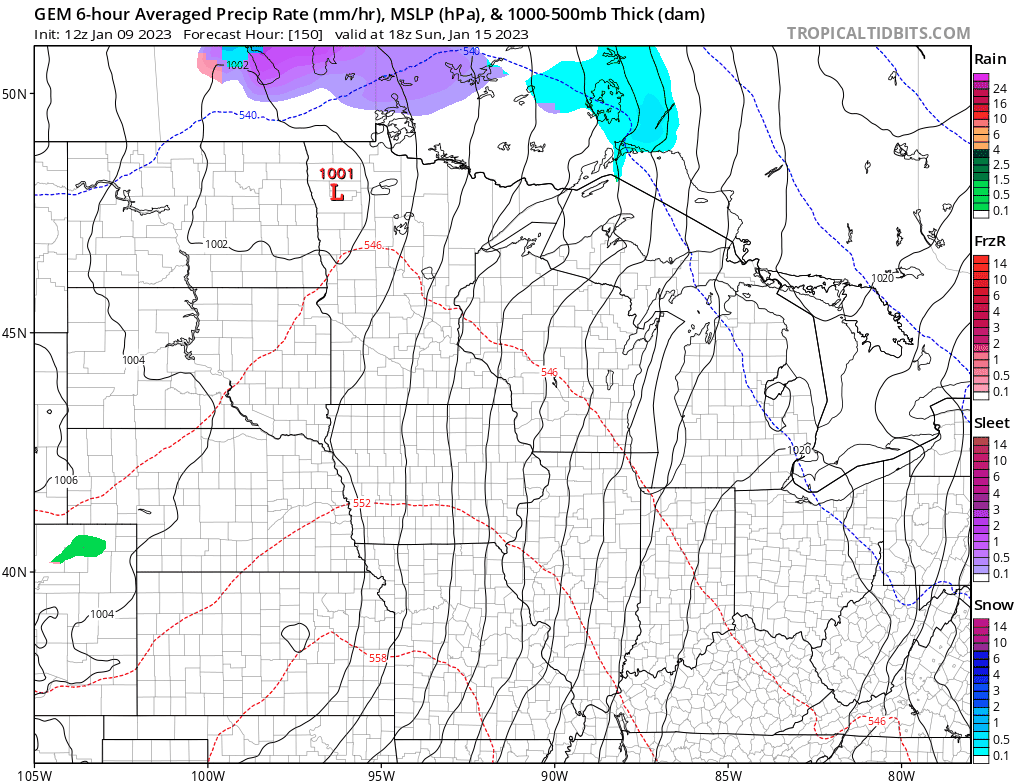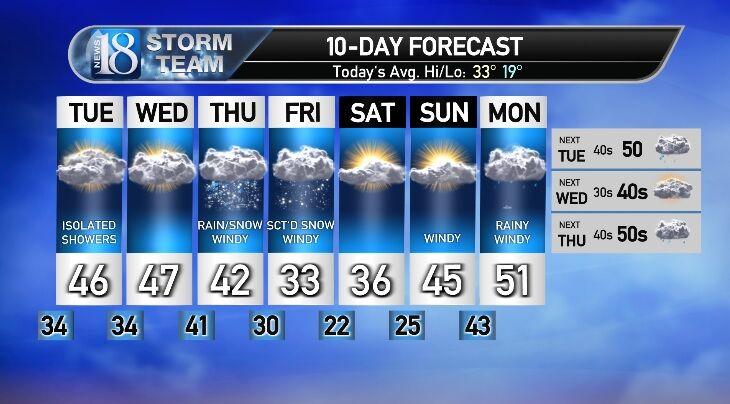 Things begin to change dramatically after January 22.
A couple of strong storm systems with rain & snow will pivot through & the Arctic air will then spill in.  This looks like the first of three surges of Arctic air.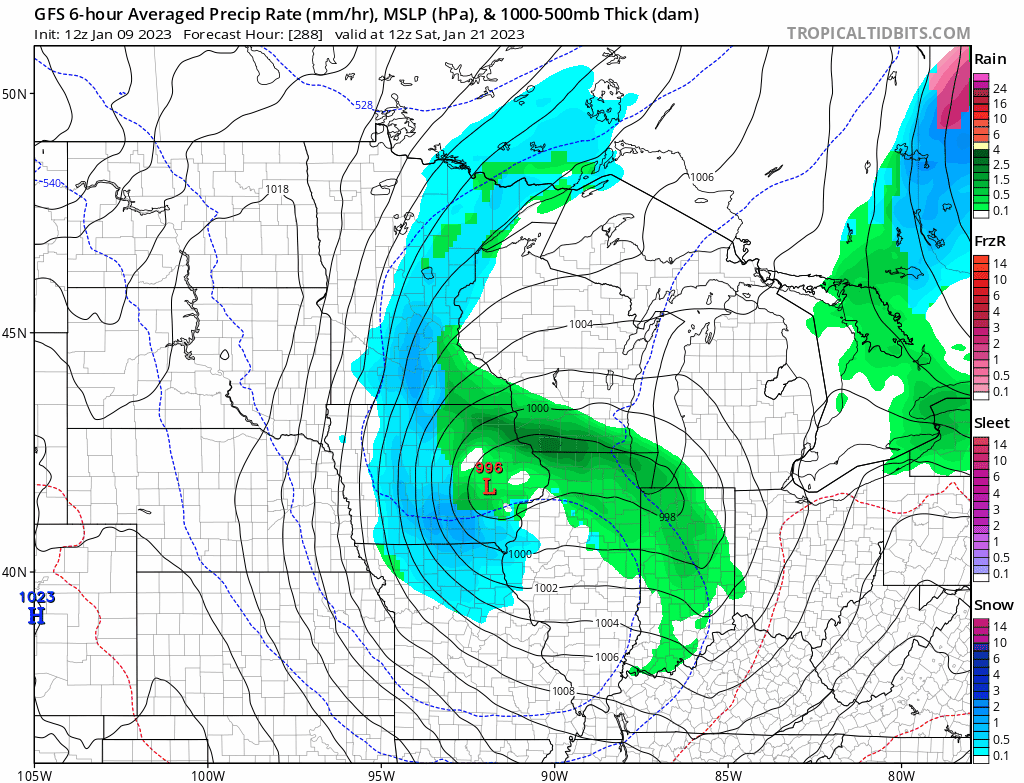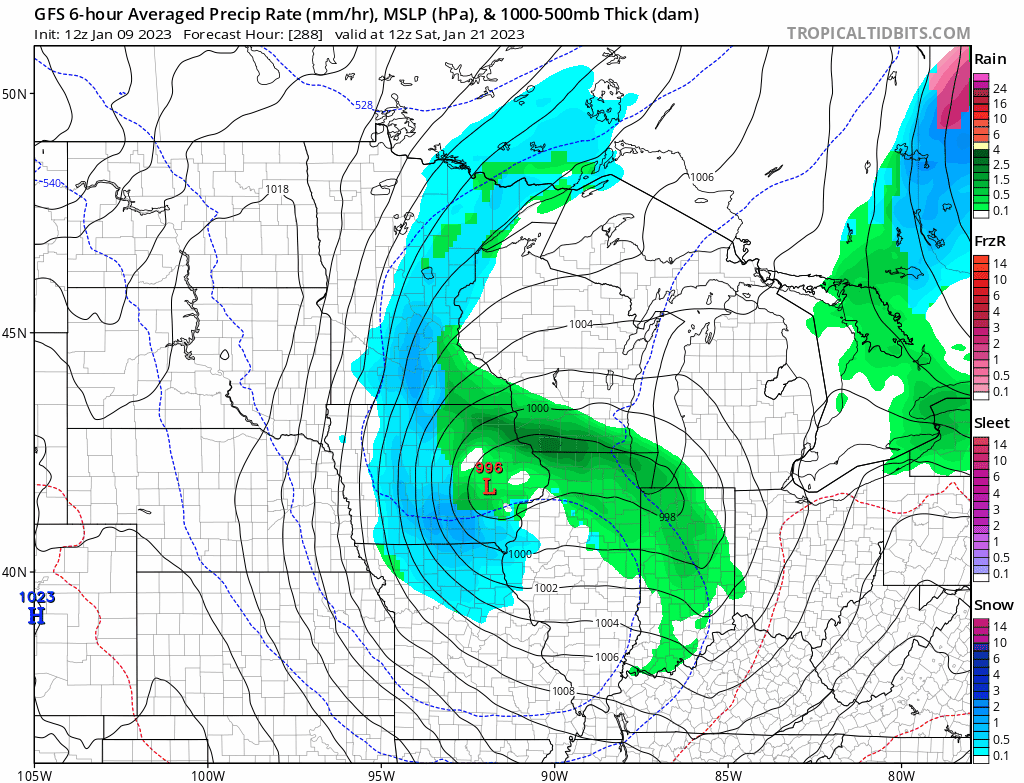 The coldest looks to occur in early February with temperatures +25 degrees to as much as 40 degrees below normal.
Snow is expected & even a bit of ice late January through early February.
It looks like a rough period of winter weather dominating for 2.5-3 weeks.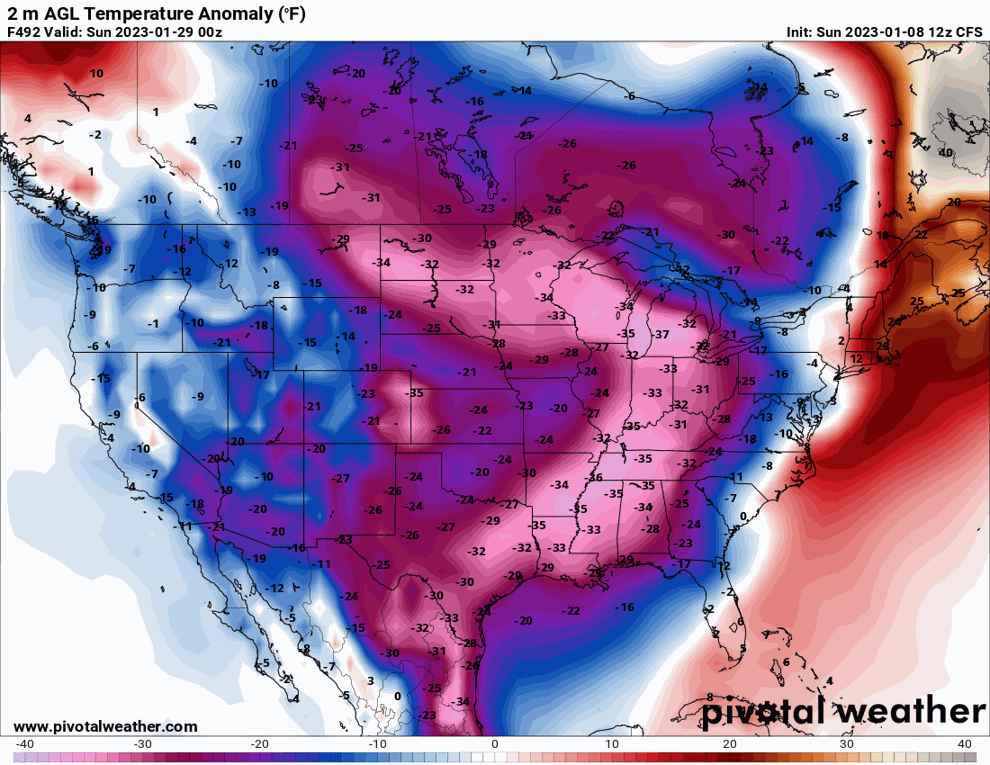 Note the below normal temperatures spreading over the U.S., especially the central, eastern & southern areas, then it abates after the mid point of February.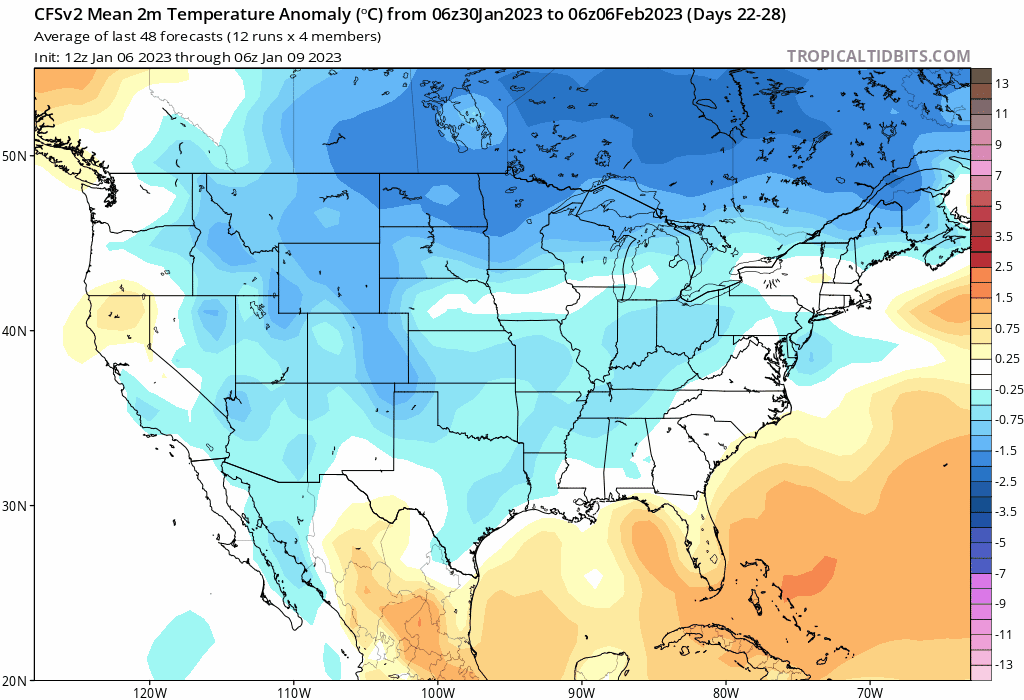 Thoughts continue to be that late February will turn much warmer with a period of spring-like weather with temperatures well-above normal that will send the daffodils, crocuses & snowdrops up & Silver Maple buds into swelling & even blossom.
Watch for some spring t'storms too with some/one likely at least MARGINAL RISK day(s) (given a look at the analogs).
The warmer pattern should continue to early March, but I'd still watch mid-March for cold, cold weather & potential winter weather event to winter storm.  It may be hard to shake the cold, wintry pattern after that overall until the start of April.
My thoughts are that we may even struggle to break free of it until after April 10.  After that, Spring will SURGE & we should turn much, much warmer.
However, residual cold air aloft may fuel severe weather events/outbreaks.  This occurred in 1990, 1996 & 2006.....which are some decent to good analog years for early 2023 (1996 is the best).