A few snow showers are possible overnight, followed by a few flurries & sprinkles tomorrow (with cloudy to mostly cloudy skies).
Winds will be west-southwest at 10-18 mph with highs 34-38 after a few slick spots & 28-31 in the morning.
I measured 0.3" snow on the board here.  Jim reported 0.6" at Kentland.  Mary Anne in Remington said her grass was "covered".  INDOT cams in the viewing area show apparent, consistent 0.3-0.7" amounts estimated.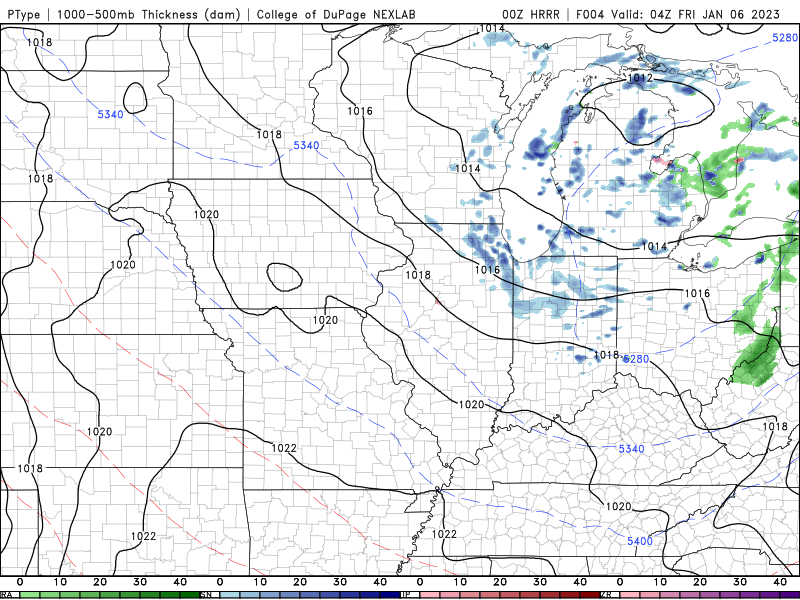 Saturday looks partly to mostly cloudy with highs 34-38 with an east-northeast to east wind at 9-13 mph.
Some rain/snow & wet snow is possible Saturday night to Sunday morning with lows 31-33.
Right now, it looks like main band of 1-2.5" of snow will stay northwest & west of our area, but we may see some pockets of the grass whitened.  We will watch that band to see if it shifts any.  That still cannot 100% be ruled out.
Sunday looks mostly cloudy with highs 35-40.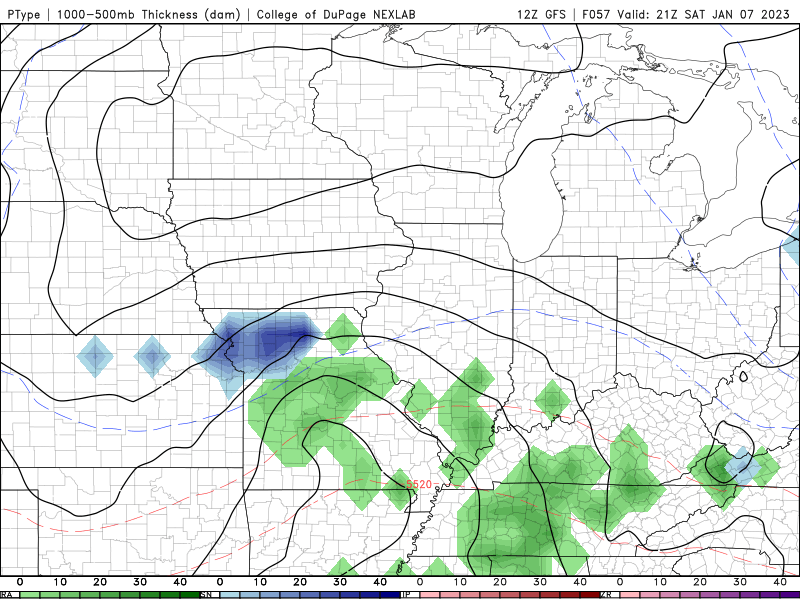 Monday looks dry with 20s in the morning & highs of 40-45.
A few isolated showers are possible with a cold front Tuesday with mostly cloudy to cloudy skies & highs 41-46.
Light north wind Monday will give way to a southeast wind Tuesday.
Rain followed by brief snow is possible Friday-Saturday.  Winds looks strong with that system, as well, with gusts +35 mph at times, largely on the backside of the system (northwest winds) as it winds up.
Thinking the system will pass right overhead, keeping the warmest air south & southeast of our area.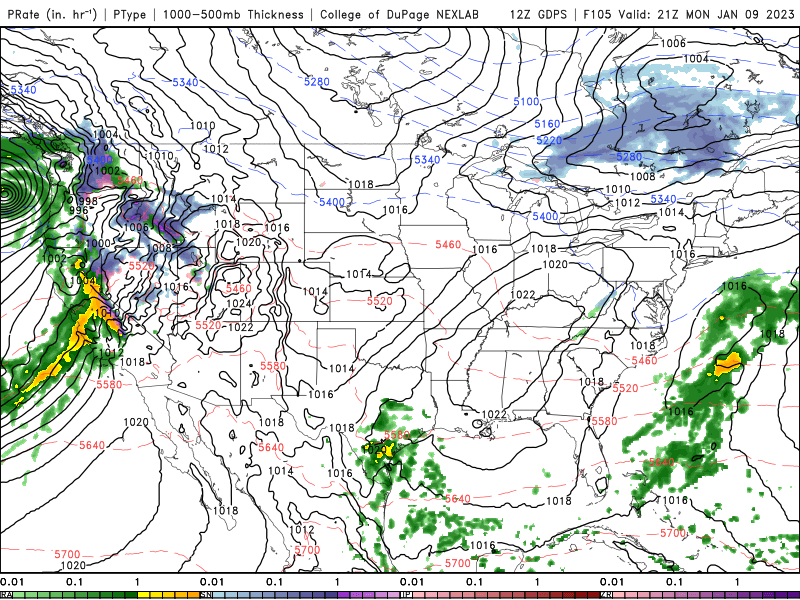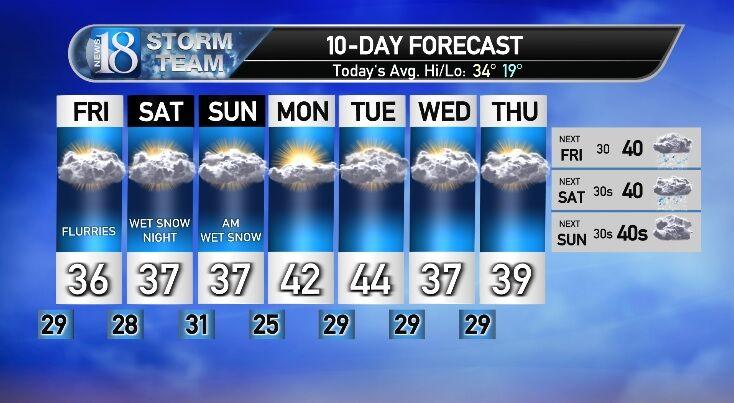 It still looks like another system will follow, but I am still thinking it will track farther to the north, bringing a warm-up to 50s in the area with rain.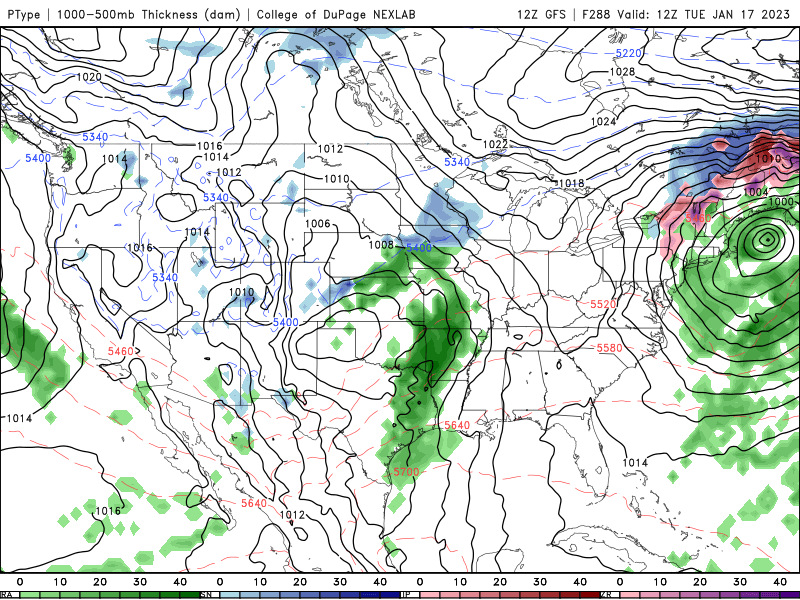 Another system should follow with risk of rain/snow to snow near January 22, then watch the cold, cold air begin to surge southward.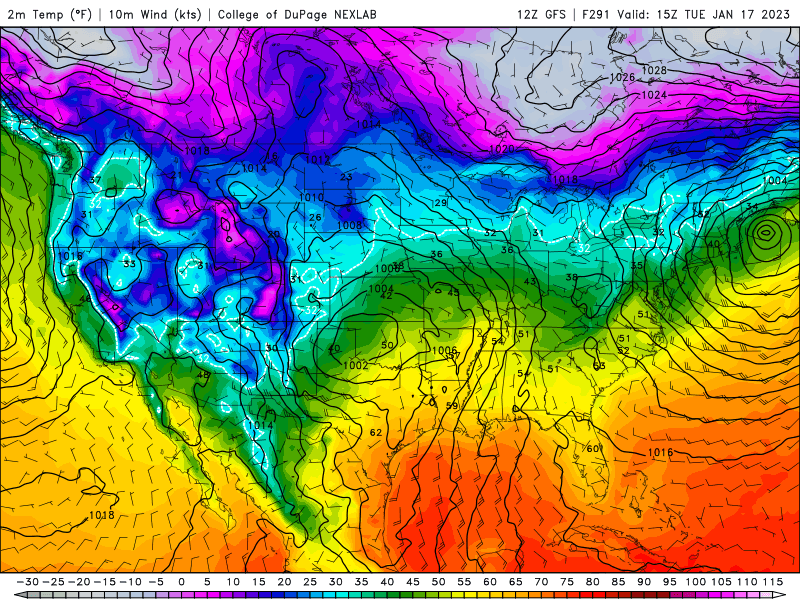 Latest analysis with timing of this SSW (Sudden Stratospheric Warming) & the blocking in the Arctic & Greenland ahead is three surges of below normal to well-below normal temperatures late January to early February.
Thinking now that the worst of the cold air may actually get here in the first few days of February.
So.............just using the CFS model to show what is going on in my brain & my thoughts on this........(I actually agree with the CFS more so tonight that the past few nights........it has trouble seeing cold, cold air)....again 1996 is a great analog.....
First surge in late January: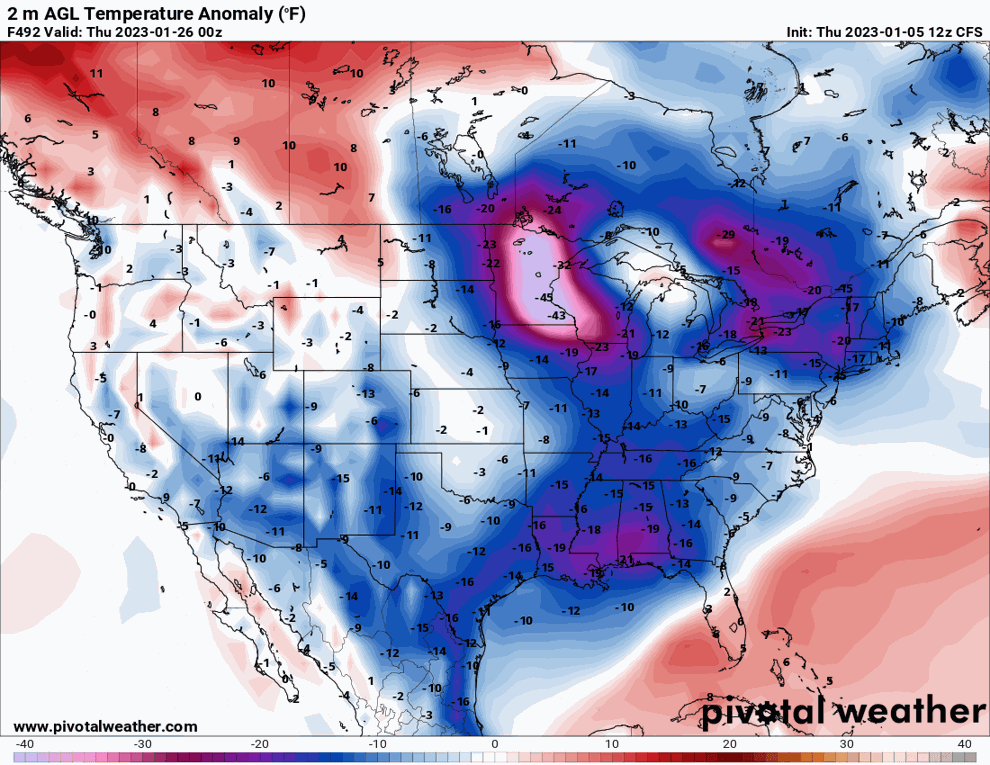 Another surge......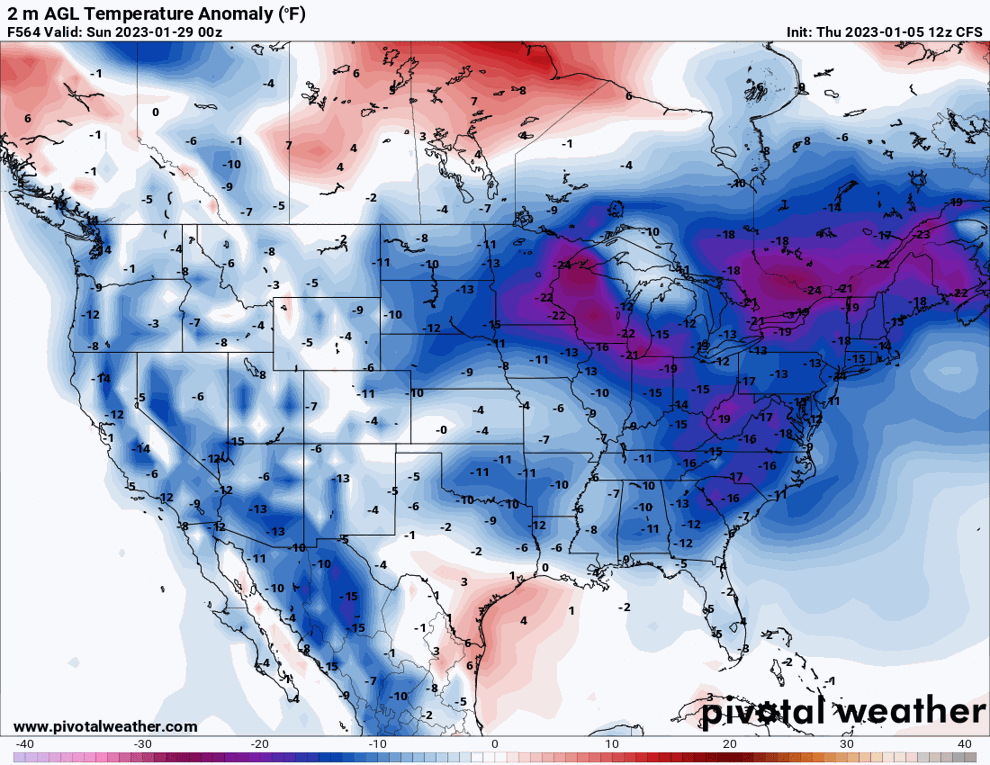 Then second surge abates........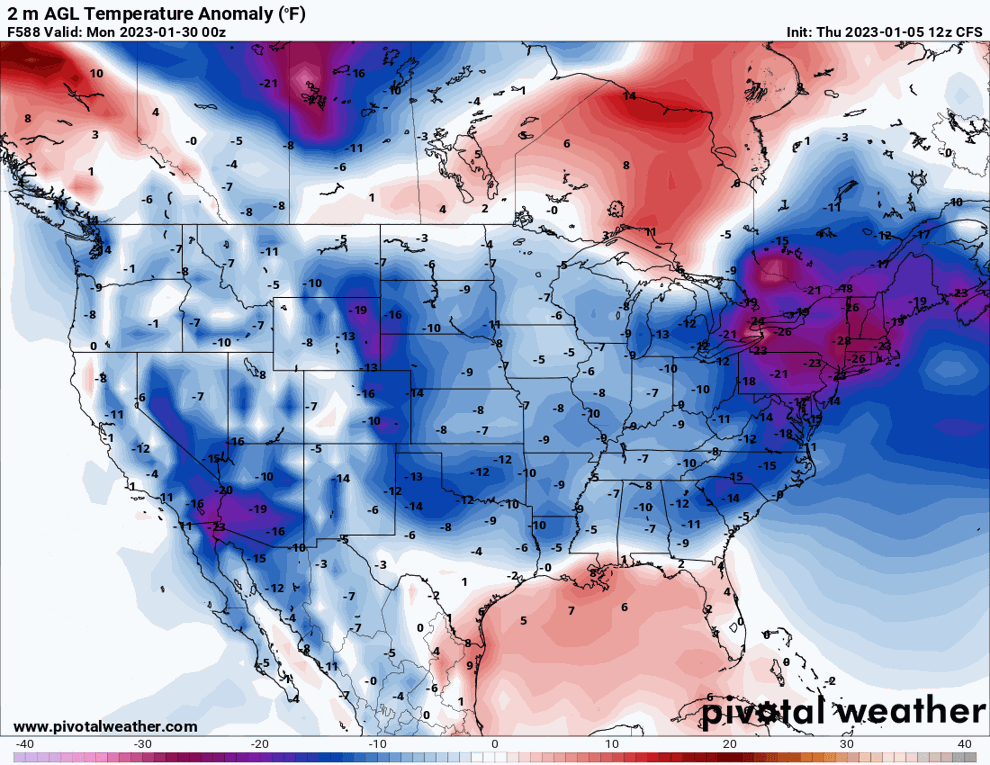 The real 1996-style & December 2022-style cold is setting up for the first several days in February as the intense third surge impacts the central & eastern U.S.
The first waves may have temperatures 15-25 degrees below normal, but the third could bring temperatures +25 to as much as 41 degrees below normal.  Normal high for that time is around 39.
Multiple overnights well below 0 are expected.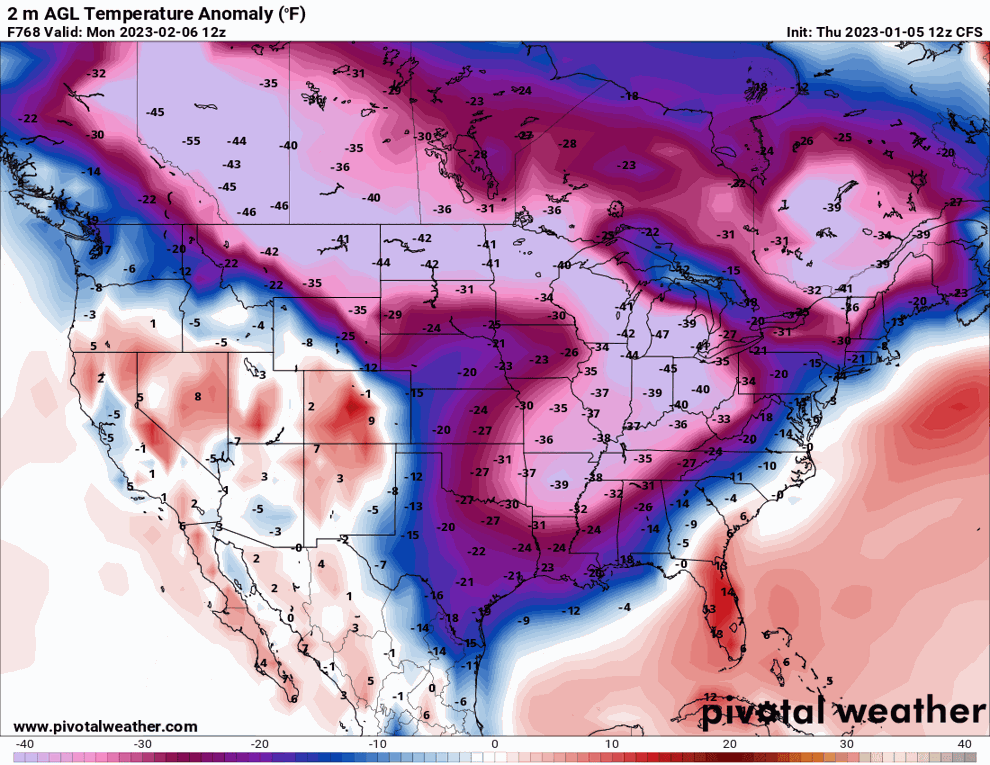 February 1996 cold wave (looks a lot like it.............so some of the modeling is matching my analog thoughts here):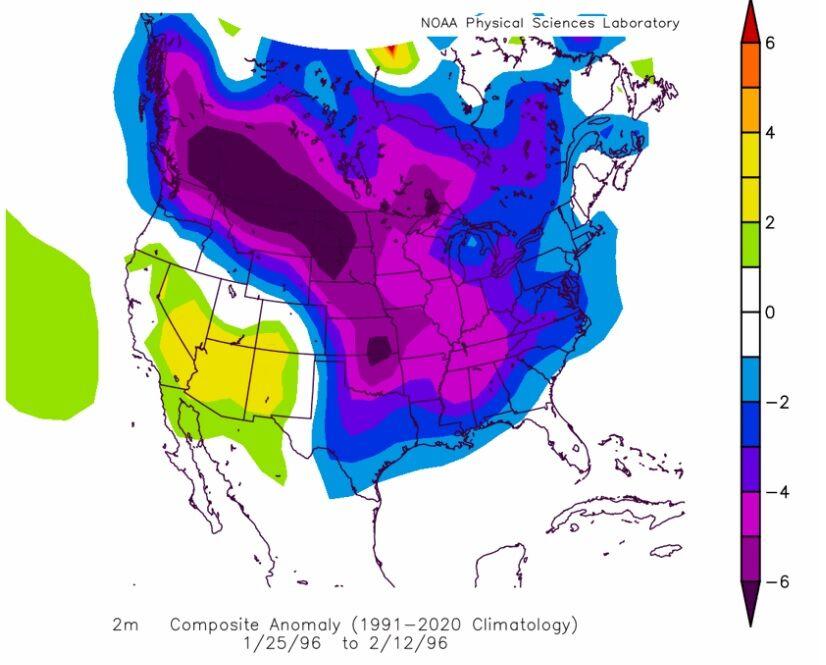 8-1-2 cold phases of the MJO, +PNA (-PNA right now, which brings milder weather to eastern U.S.) & the Sudden Stratospheric Warming making the Polar Vortex more flaccid & loose implies that this cold wave is ahead. 
Looks like a couple of winter storms then a couple clippers will pass during this time with snow & even some ice.