(WLFI) – Good Tuesday morning! Today will be cloudy and fairly quiet. Morning lows are in the lower 30s and upper 20s area-wide with mostly cloudy conditions. The rest of the day will be cloudy with highs in the mid 30s with WSW winds 5-10 mph.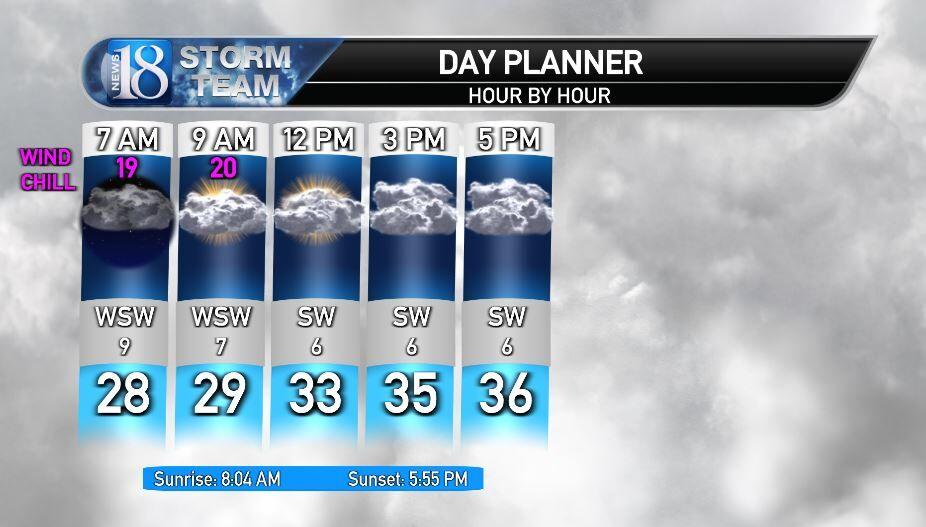 Wednesday's Winter Storm
Current Alerts
The National Weather Service has issued a Winter Storm Warning for counties highlighted in pink on the map below. These are the areas that will see the highest impacts of this storm. A Winter Storm Advisory is issued for counties where impacts will still be highly likely but lesser snowfall totals will occur.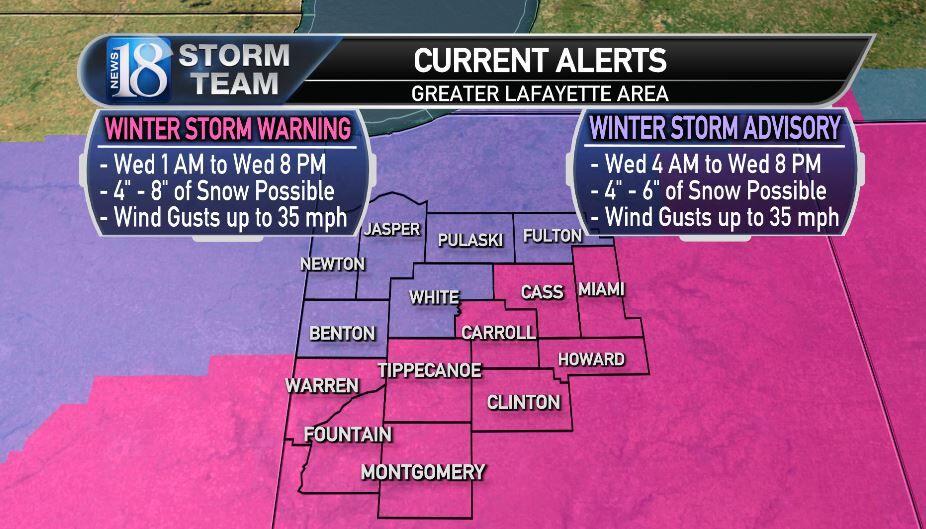 (Alerts as of 8:00 AM Tuesday morning)
Looking at our Wednesday Planner, we will see snowfall pretty much all day with temperatures remaining at and near freezing.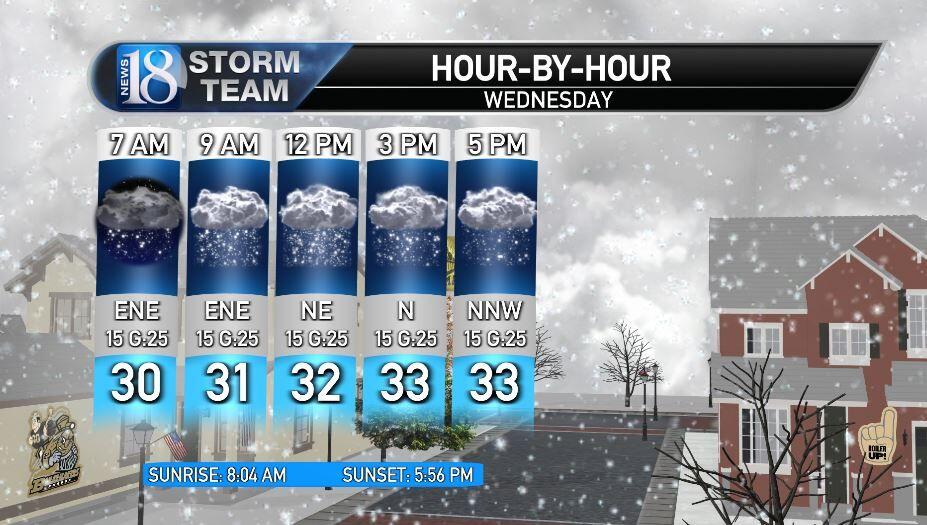 Timing (Hour by Hour)
10 PM - 11 PM Tues Night – A scattered mix of drizzle/sleet/snow works into our southern counties and works northward across the entire WLFI viewing area. Temperatures will be at freezing and will be holding steady throughout the rest of the night around 31-33 degrees.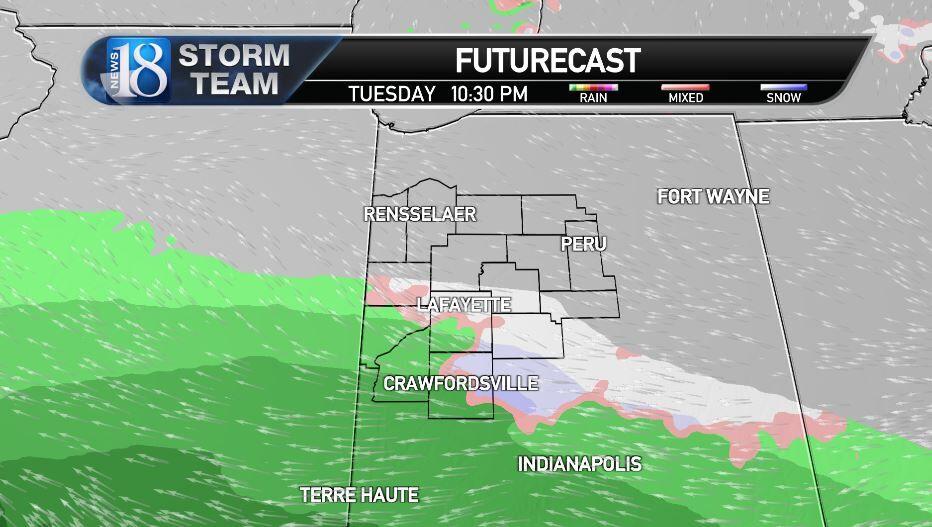 Midnight - 3 AM Wed – Moderate to heavy snow works in our southern counties while flurries continue to work northward overspreading the entire WLFI viewing area.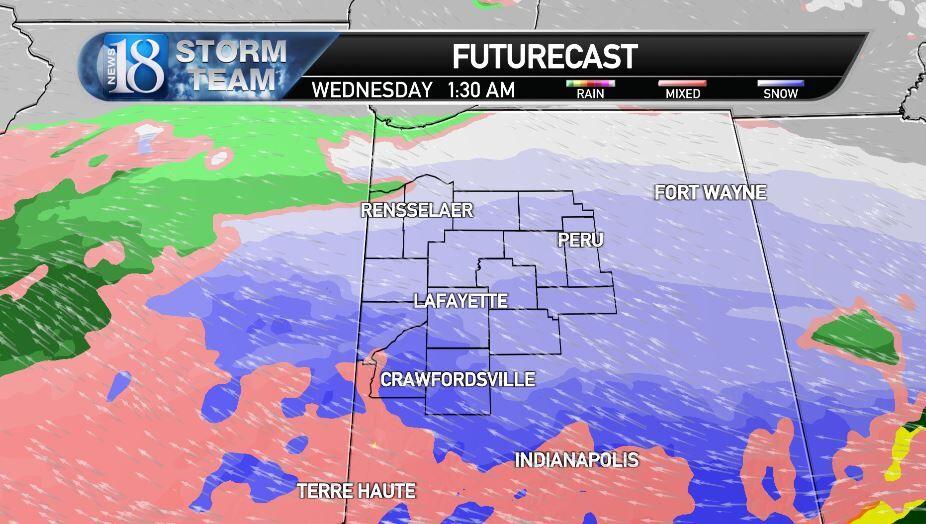 4 AM – 6 AM – Moderate to heavy snow occurs from Attica, Lafayette, Monticello, Logansport, Peru, and Kokomo. This will be a heavy/wet snow which roadway treatments will work however at the rate of which the snow will fall (1" to 2" per hour) roadways will begin to start to become covered. Especially untreated country roads and bridges and overpasses. 1-3 inches of snow will likely be on the ground at this time.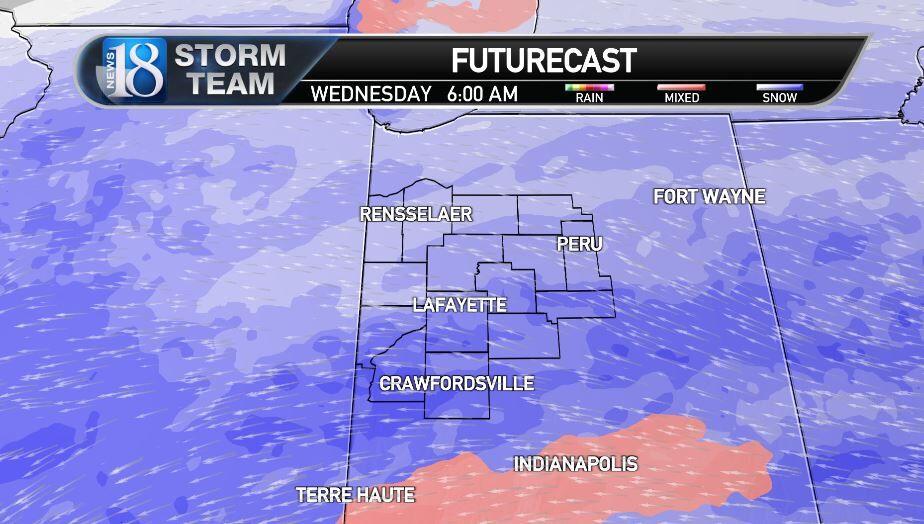 8 AM – 10 AM – Heavy snow will still be occurring across the locations stated above. Low visibilities will be likely. 3-5 inches will be likely in most areas.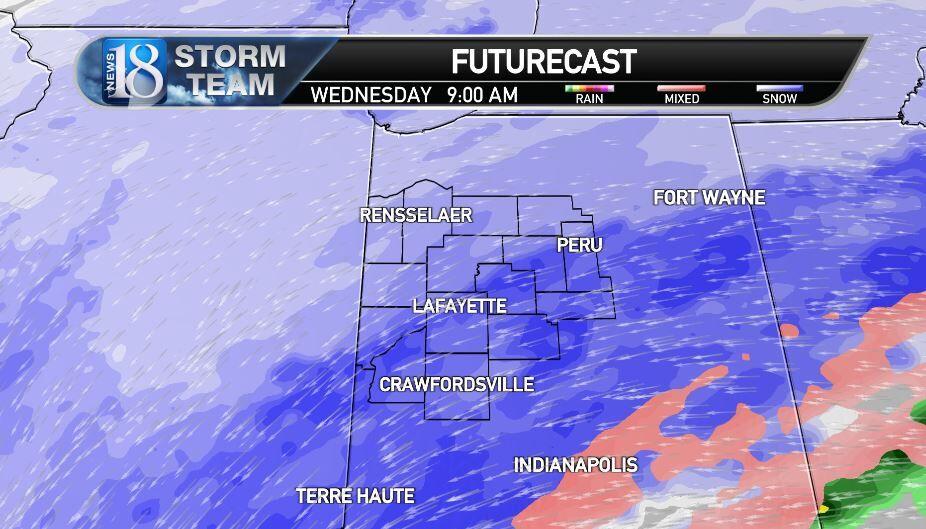 Noon – Light to moderate falling snow will be falling however this will still lead to additional accumulations. 4-6+ inches will be likely at this time.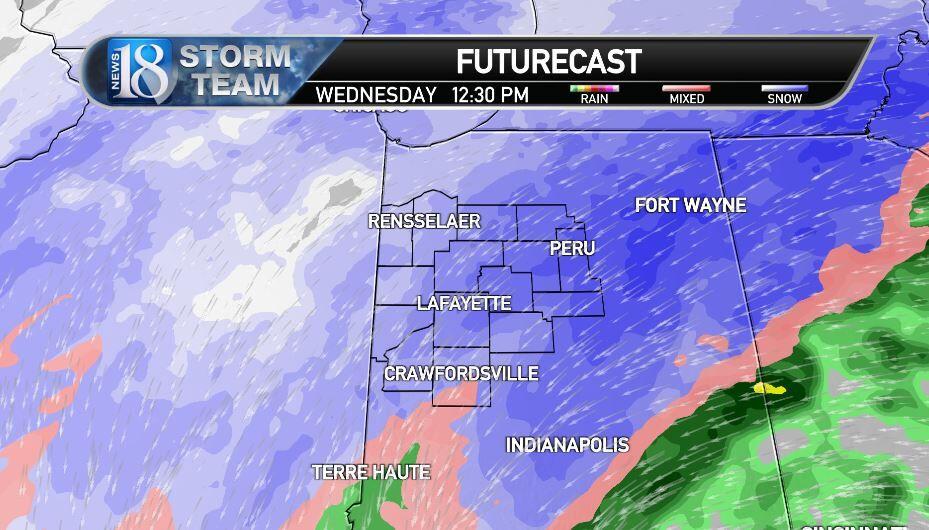 3 PM – 5 PM – Snow will become lighter in most areas but still add accumulation. An additional 1-2 inches will occur during this time frame.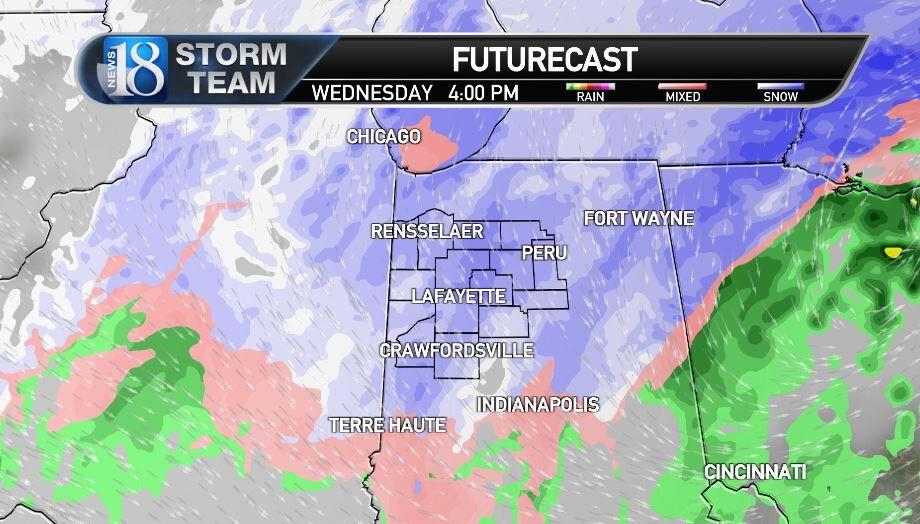 6 PM – Midnight – Winds will begin to ramp up from the NW and will cause blowing and drifting snow. Gusts up to 25-35+ will be possible. Additional scattered snow showers and flurries will be likely in which the snow will become finer and "dry" compared to early snowfall. Temperatures remain in the lower 30s and upper 20s Wednesday night and Thursday early morning.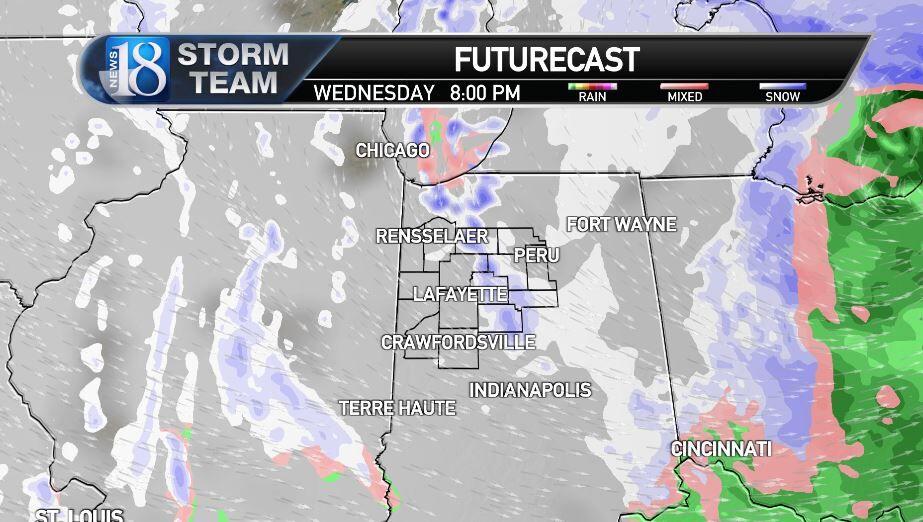 Thursday
Throughout the day, additional scattered flurries and scattered snow showers will be possible as the main area of low pressure exits the region. Highs for the day will be in the mid to upper 20s.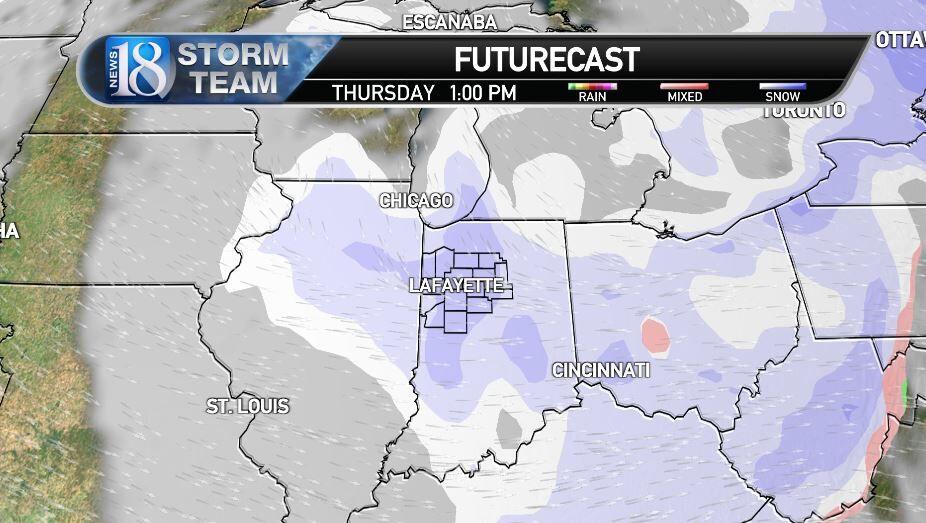 Temperatures plummet Thursday night into Friday morning into the mid to upper teens (highly dependent on cloud cover). This will cause some slick spots on some roadways for Friday morning. Highs on Friday will be back into the lower 30s.
Accumulations
This will begin as heavy/wet snow as mentioned above. Snowfall totals look fairly promising for 5" to 8" area-wide with slightly lesser totals to the NW in Benton, Newton, and Jasper counties. In some locations, especially from Lafayette to Kokomo and southeastward toward Indianapolis, an isolated 8"+ could be possible. This area will be where the heavy snow band sets up just north of the rain/snow line that will be just southeast of Indianapolis.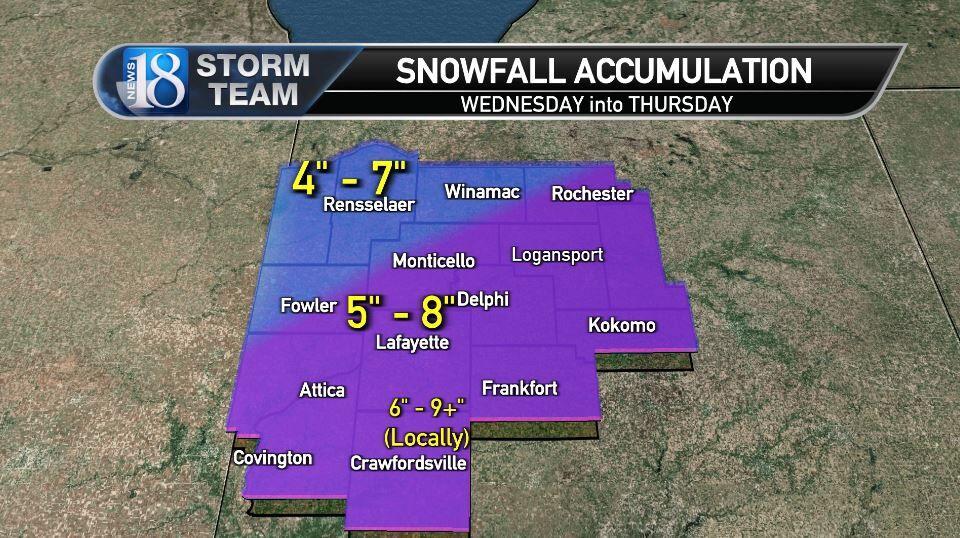 10-Day Outlook
We'll have another quick-moving system for Friday afternoon/evening which could give us another inch of snow. A Third system will work in Saturday evening into Sunday and a rain/ice/snow line will set up. A changeover to snow will occur on Sunday. Temperatures drastically cool off on Monday with highs in the teens.