(WLFI) – Good Monday morning! We are tracking a few areas of light sleet/flurries/frozen drizzle across the viewing area this morning. Back roads/country roads that may not be treated with salt/brine may be slick in spots, especially on bridges and overpasses. Black ice may be a concern in spots.
Morning lows area-wide will be in the lower 30s and upper 20s. We'll have mostly cloudy skies this morning then by this afternoon and evening, more clearing will be likely. We'll have highs today in the mid 30s.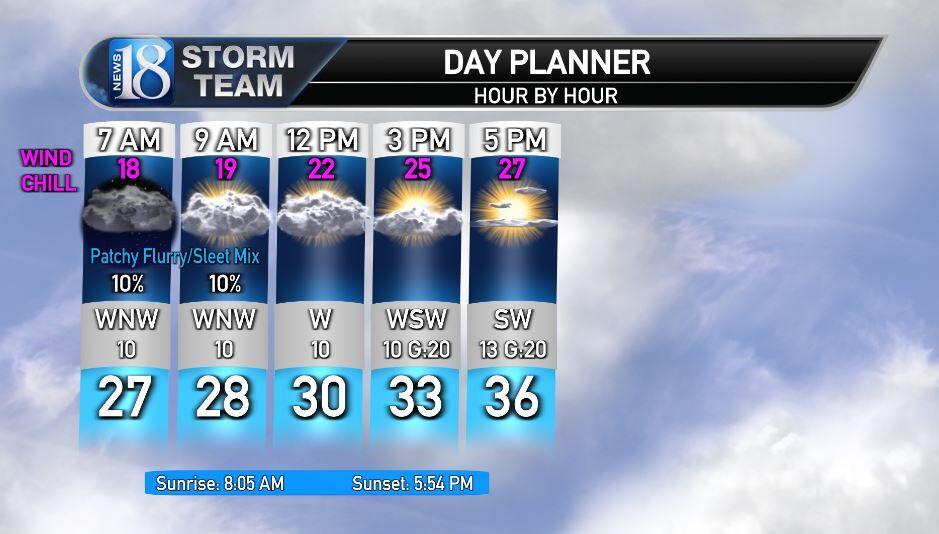 Tuesday
Tuesday will be another mostly quiet day. Morning lows are expected to be back in the lower 30s and upper 20s. Mostly cloudy skies will be likely for the day with high temperatures in the mid to upper 30s. Winds will be out of the WSW 5-10 mph.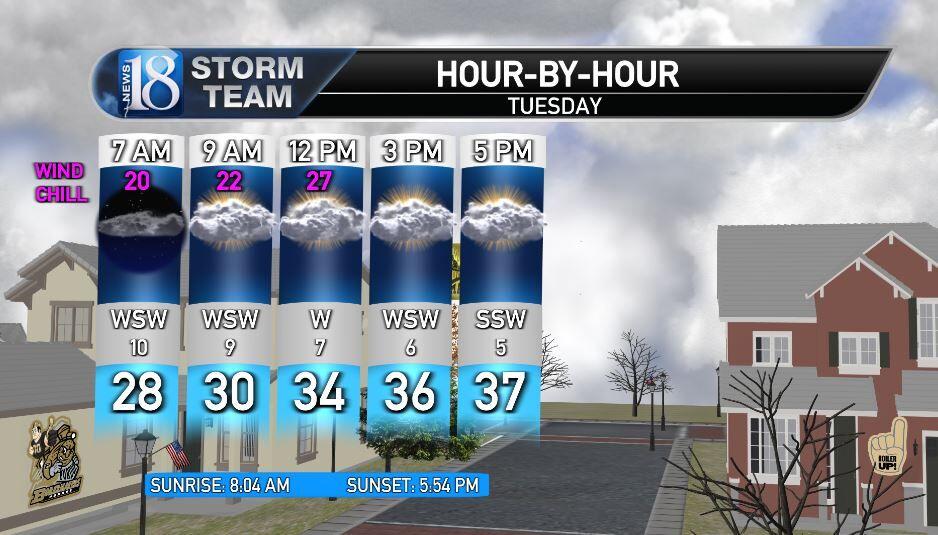 By late Tuesday night, a mix of rain/snow/sleet may occur which will be the beginning of our upcoming winter storm. Travel will begin to worsen as the evening and overnight hours progress into Wednesday.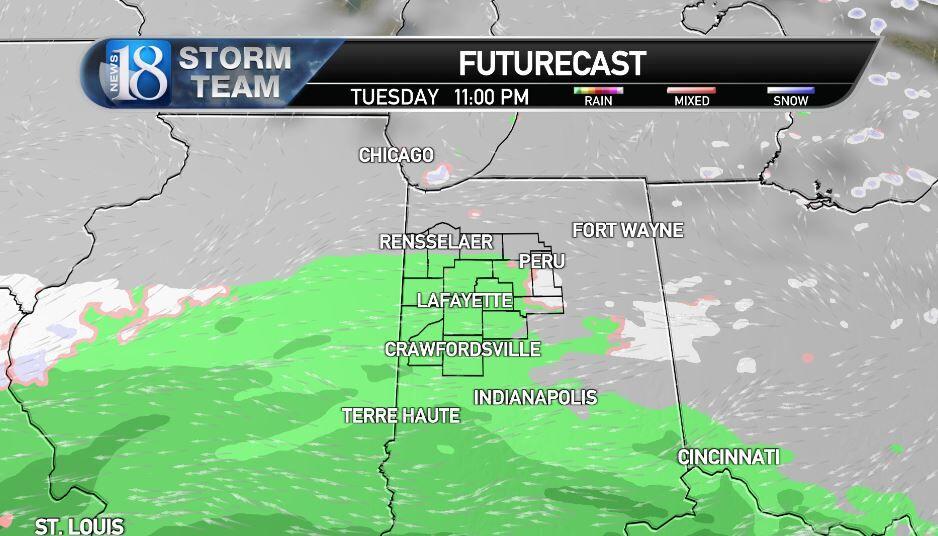 Wednesday's Winter Storm
(Details, Timing, Impacts, and Accumulations)
Winter Storm Watch
The National Weather Service offices in Northern Indiana and Indianapolis have given way to a Winter Storm Watch for the counties highlighted in blue below. This goes from Tuesday night until Wednesday evening. This will likely change to a Winter Storm Warning by Tuesday afternoon/evening since we'll be 12-24 hours out before accumulating snow occurs.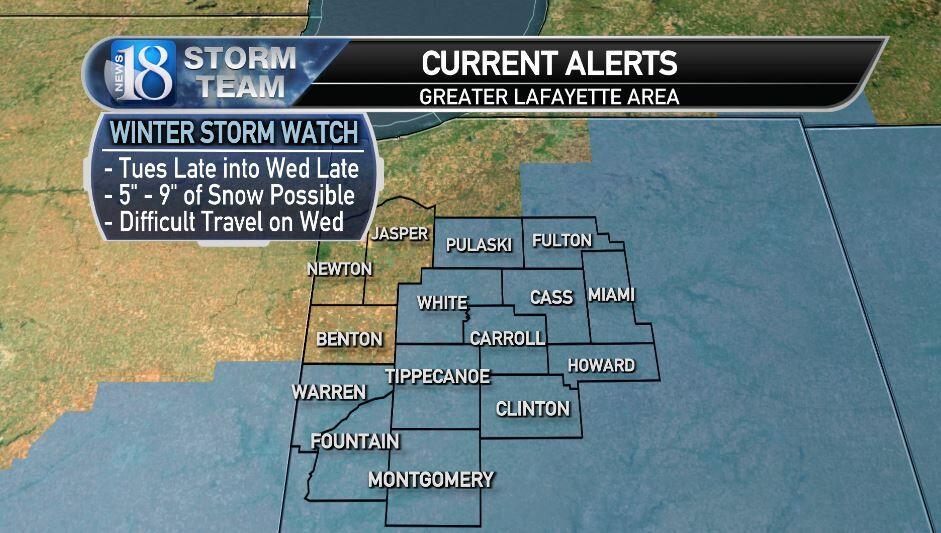 (Alerts as of 8:00 AM Monday Morning)
An area of Low pressure will work into Indiana Tuesday night through Thursday morning. The latest track has the Low moving across southeastern Indiana and Kentucky. This will place our area on the low's northern side, which means we will likely see all snow with this system. Overall, we are fairly confident of the strength and impact this system will have on our region.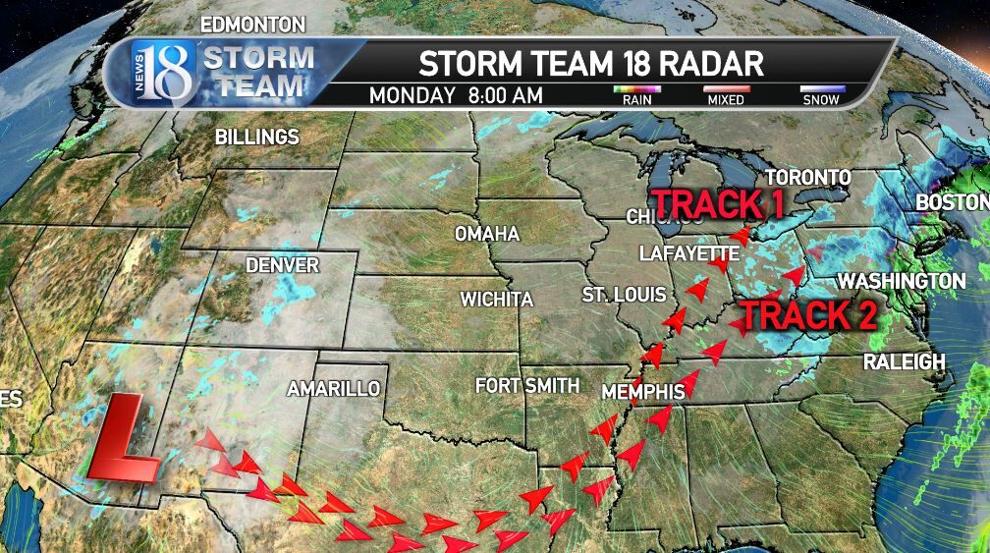 However, the exact track of this low is still in question. If Track 1 occurs on the map above, then that will give us more snow. This track is based off of the American GFS model which has stayed fairly consistent over the last couple of days. 
Track 2 is more in line with the Canadian GDPS model and the European ECMWF model. This track would give us less snow accumulation. I will note, trends with both of these models have pushed more northwest in line with the GFS. 
Regardless, a rain/snow line will set up across Indiana. The information and data in this blog are from newly outputted model data as of Monday morning January 23rd. So… Let's dive right in.
Timing + Futurecast
Tuesday night, as mentioned, the system will begin to work in the WLFI viewing area. This may start as a rain/sleet/snow mix but a quick changeover to all snow will be likely.
By early Wednesday morning, wet and heavy snow will be likely right during the morning commute and through the afternoon. This will lead way for low visibility at times and very slick and hazardous travel across the entire WLFI viewing area.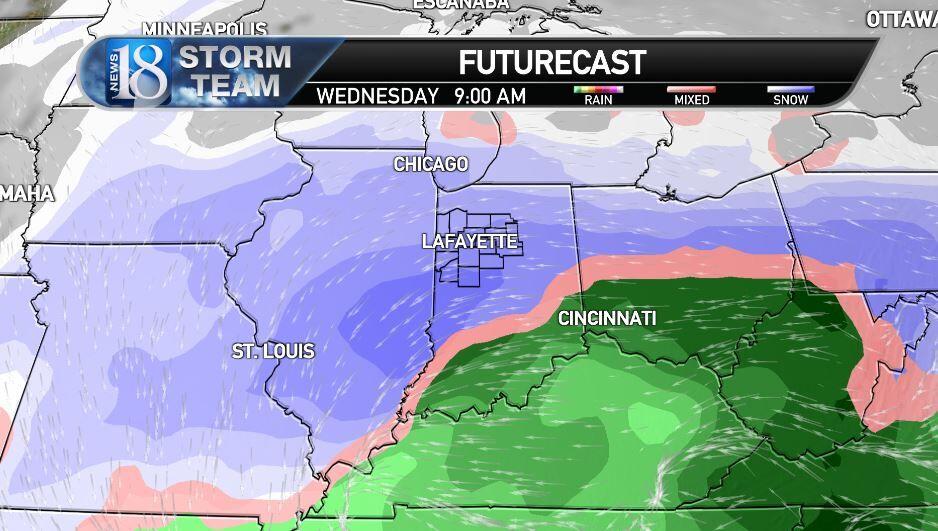 By Wednesday afternoon, temperatures will still be in the lower 30s which will give us plenty of cool air to work with giving us all snow.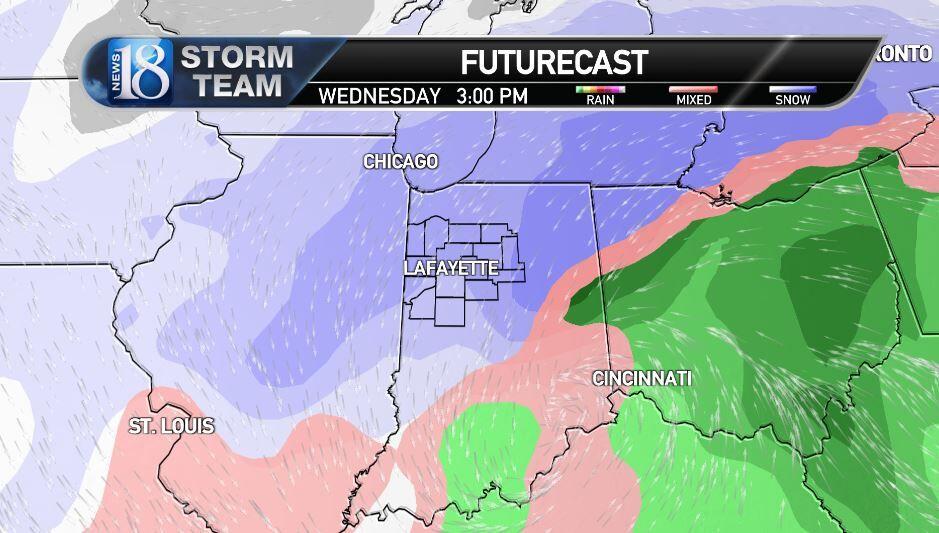 Wednesday night, the low will begin to depart to the NE of the region, and light to moderate snow will still be falling. Increasing winds will lead to blowing and drifting snow through the night and into Thursday. Wind gusts could reach up to 30-40 mph as the low departs the Midwest and we get NW winds into the area.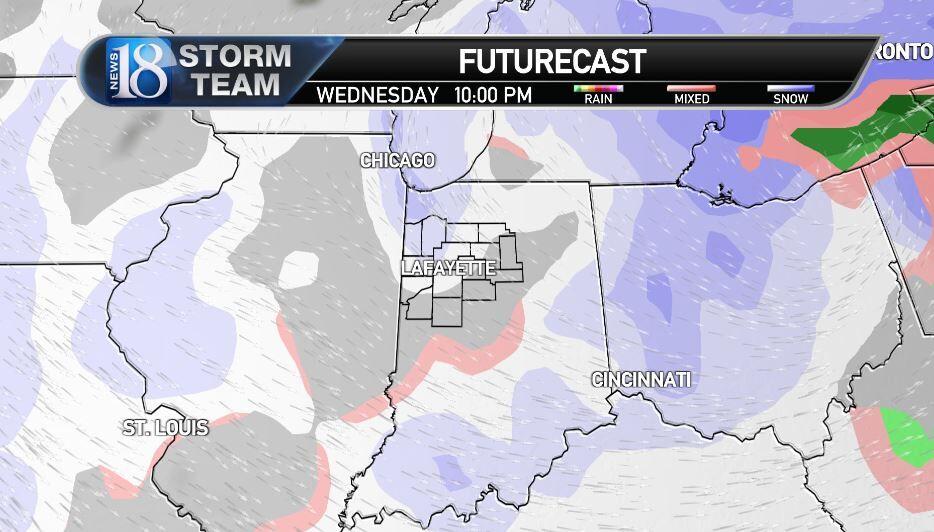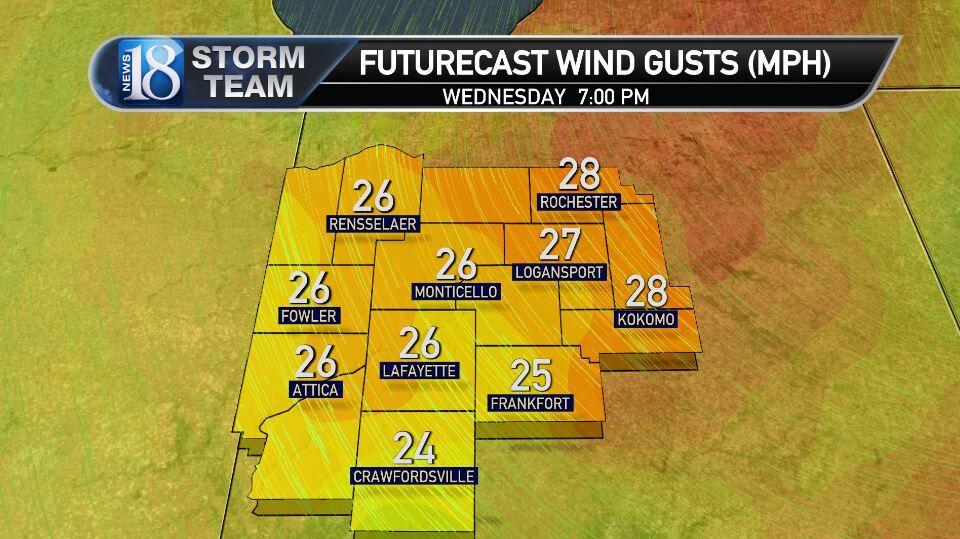 Thursday
We will still be watching for light to moderate snowfall throughout the morning and afternoon and Thursday. Again, blowing and drifting of snow will be likely throughout the day.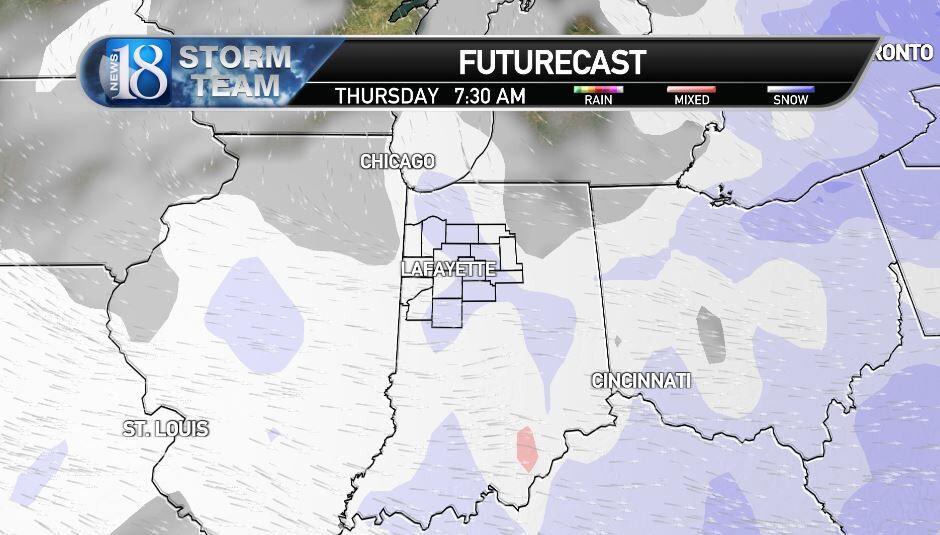 Snowfall Amounts by Thursday Evening
As mentioned above, a rain/snow line will be set up somewhere across the state of Indiana. The latest data suggests that the line will be set up southeast of Indianapolis. This gives us the opportunity to see heavy snow northwest of Indianapolis and basically for our entire viewing area.  
**As this system evolves in Texas, actual observation data from weather sites/weather balloons, etc… will give us better forecast model guidance in the next 24-36 hours. If this low in Texas phases better with a northern shortwave, this could mean more snow for us. If less phasing/mixing occurs, less snow will be the outcome.
Bottom line, we are 48 hours out from this system working into the viewing area so stay weather aware and prepare for some changes/tweaks/adjustments in the forecast ahead! Today and tomorrow (Monday and Tuesday) will be a couple of quiet days to prepare for wintry weather for Wed-Fri.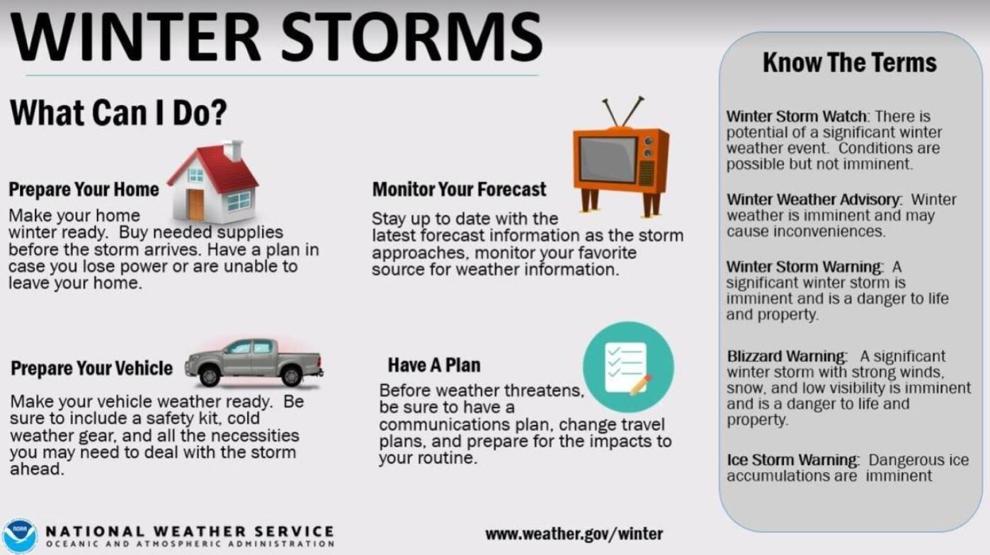 FOR NOW… I am going with roughly a 4" range of totals in our viewing area since we are two days out.
My thoughts are heavier snow may lead to 5"- 9"+ (locally) of snow to the southeast of Lafayette from Covington to Kokomo. A bit northwestward across Attica, Lafayette, and Rochester, may see 4" to 8" of snow. Further NW to Morocco, Kentland, Remington, and Rensselaer, may see a little less at 3" to 6".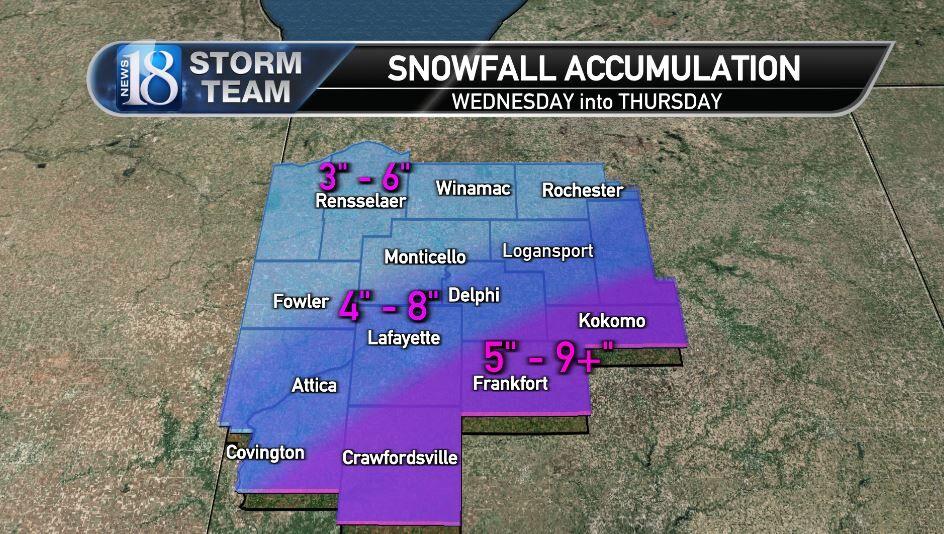 Regardless, a decent and impactful snowfall event will occur during the entire day on Wednesday and impacts will last through Thursday. Temperatures will remain in the 20s on Thursday keeping things frozen and slick in spots. Roadway treatments will be useful since temperatures may not drop below the point at which salt becomes ineffective. Untreated roadways though will remain slick through Thursday and possibly into Friday.
Friday + 10-Day Forecast
Friday evening, a quick-moving shortwave will likely give us another bout of snowfall. As of now, we'll keep 1" to 2" of additional snowfall with that system. However, since we are 5 days out, changes to this will be likely in the coming days.