(WLFI) – Good Wednesday morning! We are starting off overcast with temperatures in the mid 30s area-wide. We'll stay mostly cloudy all morning and into the afternoon hours before moderate to heavy rainfall moves in later today.
Temperatures today will slowly move up into the lower 40s in the afternoon and continue to rise overnight to the upper 40s to near 50 in some locations after midnight. To track the incoming rain, head over to our Live Interactive Radar or click, here.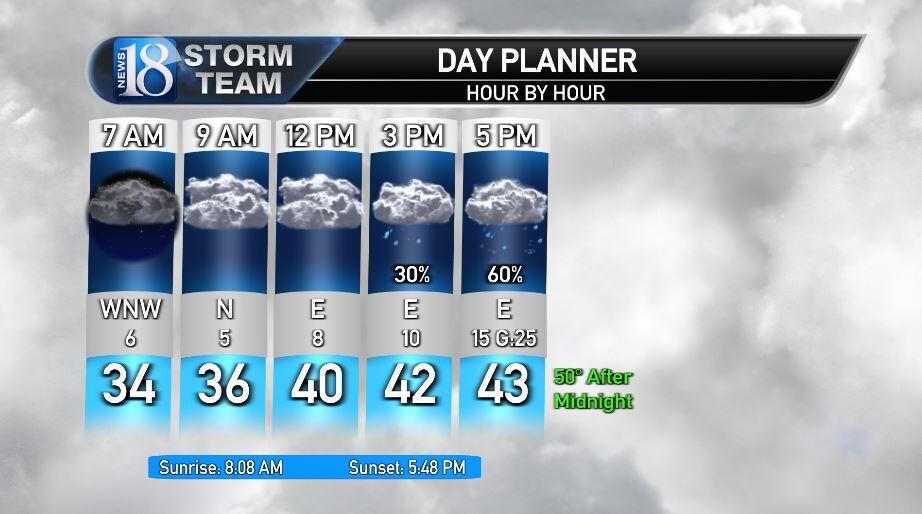 Looking at futurecast, light rain will begin to move in from the southwest to the northeast around 2-4 PM this afternoon.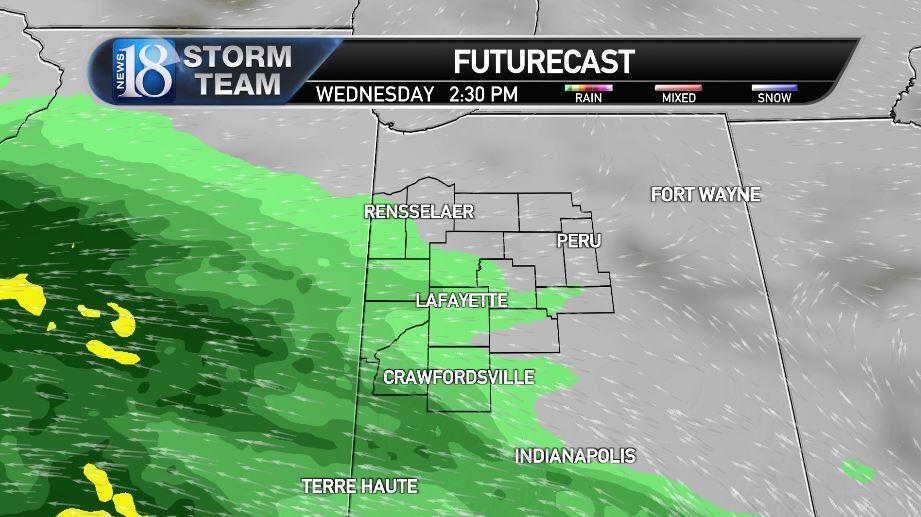 By this evening, heavy rain with a low chance of thunder will be likely after 7 PM to Midnight tonight. Severe weather will not be expected. Localized ponding on some roadways may be possible this evening.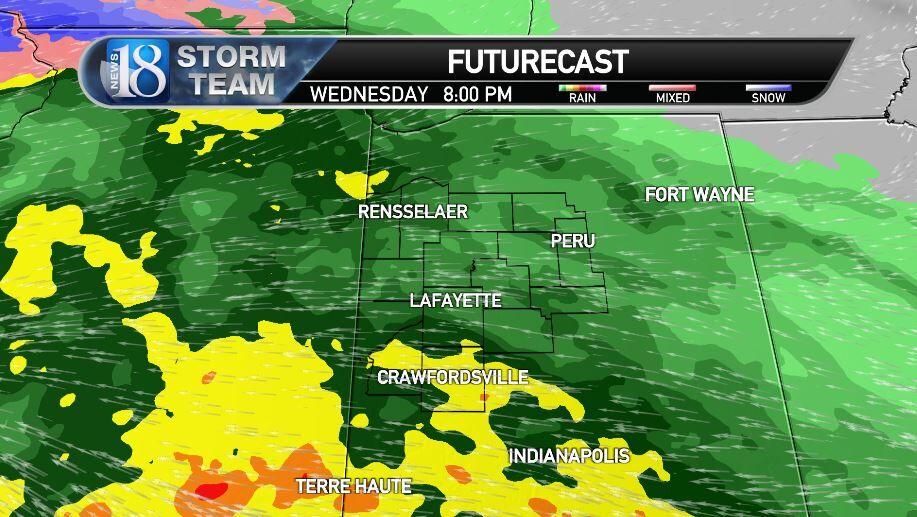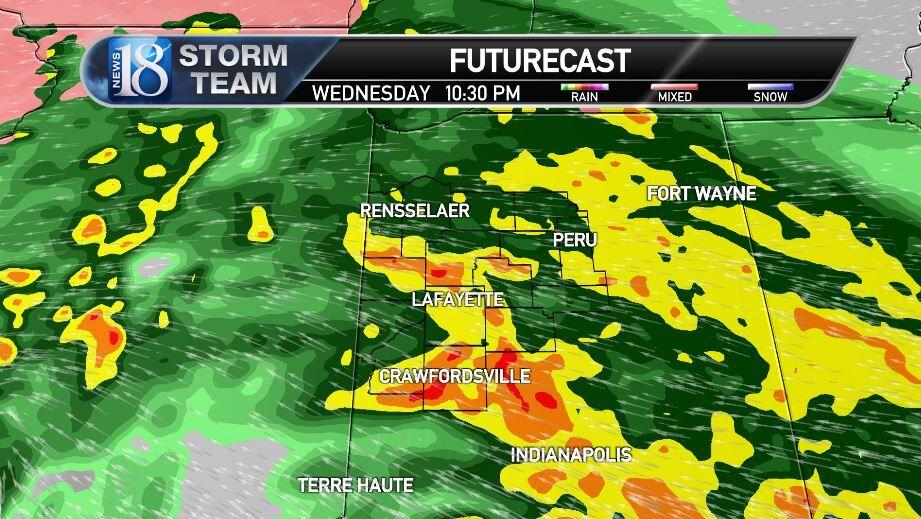 Thursday
Temperatures will hold steady after midnight tonight and work down slowly into the mid to upper 40s Thursday morning and into the afternoon. The 'dry slot' of this low pressure system will give us cloudy but drier conditions to start the day. The wrap-around scattered rain will begin to move in later in the afternoon.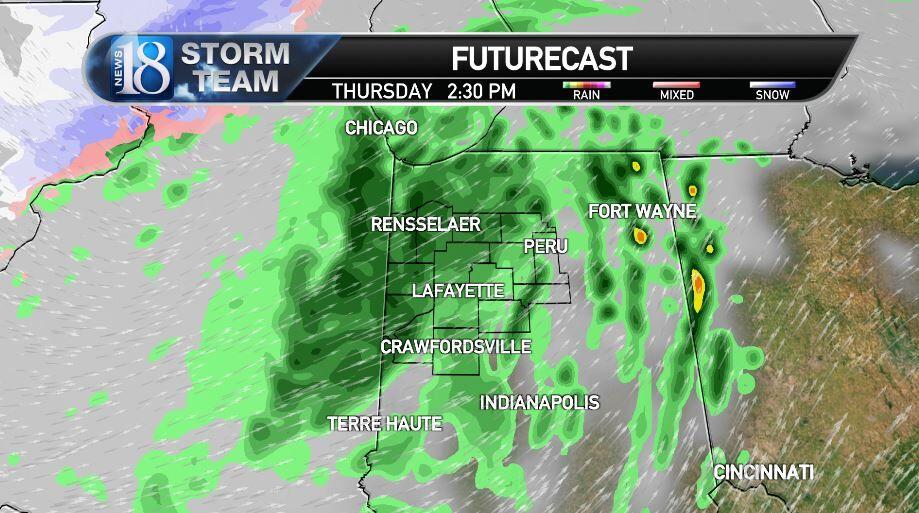 As temperatures begin to fall Thursday evening, a few areas of a rain/sleet/snow mix will be possible. Then turning to a few flurries Thursday evening into Friday morning. Little to no impacts to roadways will be likely.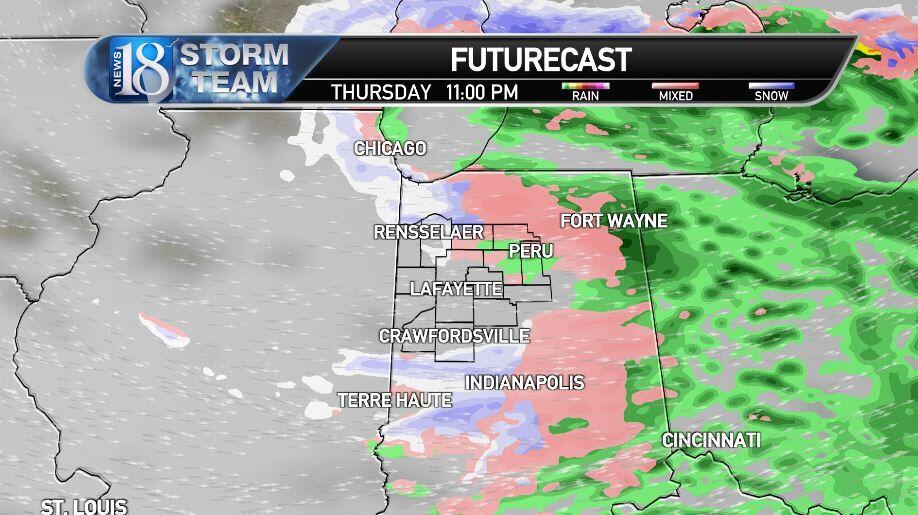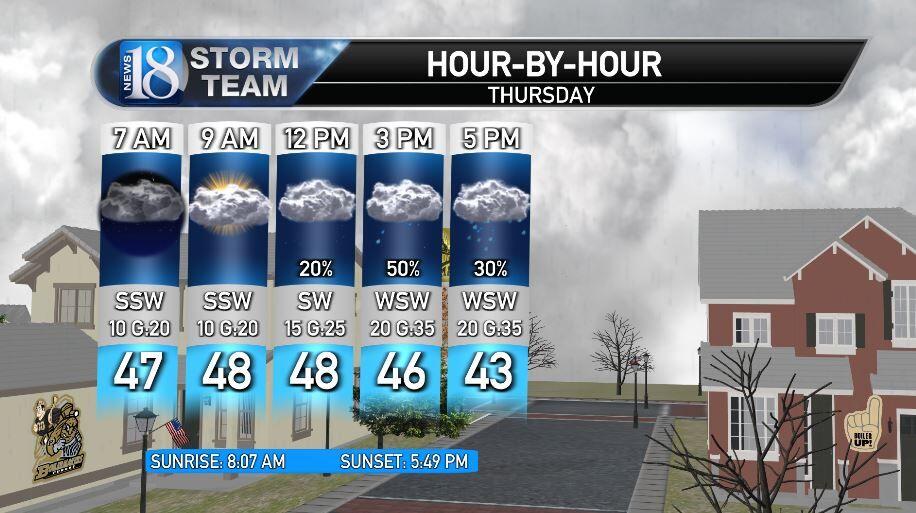 Rainfall Accumulation by Thursday Night
Rainfall amounts will range from 0.5" to 1" across the viewing area. Our northern counties may see roughly 0.5" while our southern portions may have our heaviest rainfall which could amount to near 1" by Thursday evening.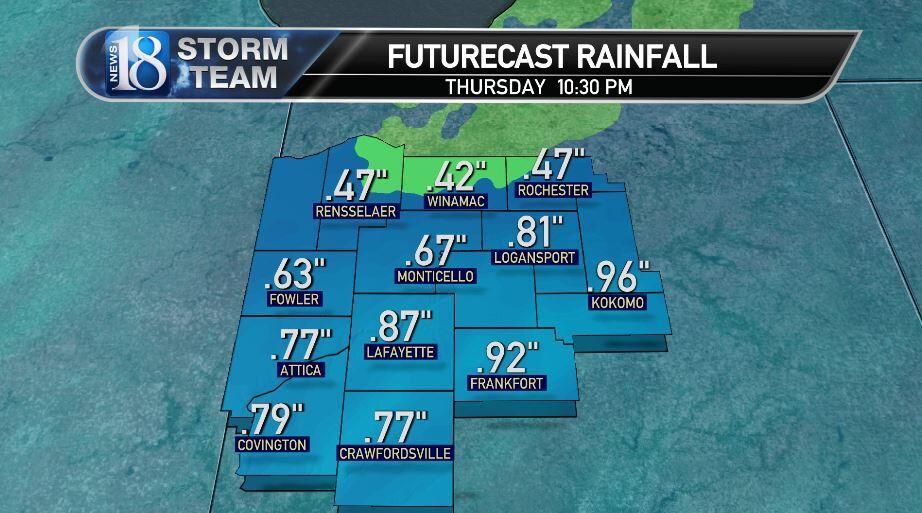 Friday
Going into Friday, a few scattered flurries may be possible as temperatures will drop Friday morning into the lower 30s to upper 20s. There may be a couple of slick spots on bridges and overpasses but overall, frozen precipitation shouldn't be too impactful as ground surface temperatures should be above freezing since we have been warm the last few days.
High temperatures for Friday will stay in the mid to lower 30s with mostly cloudy skies. It will be a windy day with gusts up to 30-45 mph at times which will make for a frigid day. Wind chill temperatures throughout the day will be ranging from the mid teens to the mid 20s.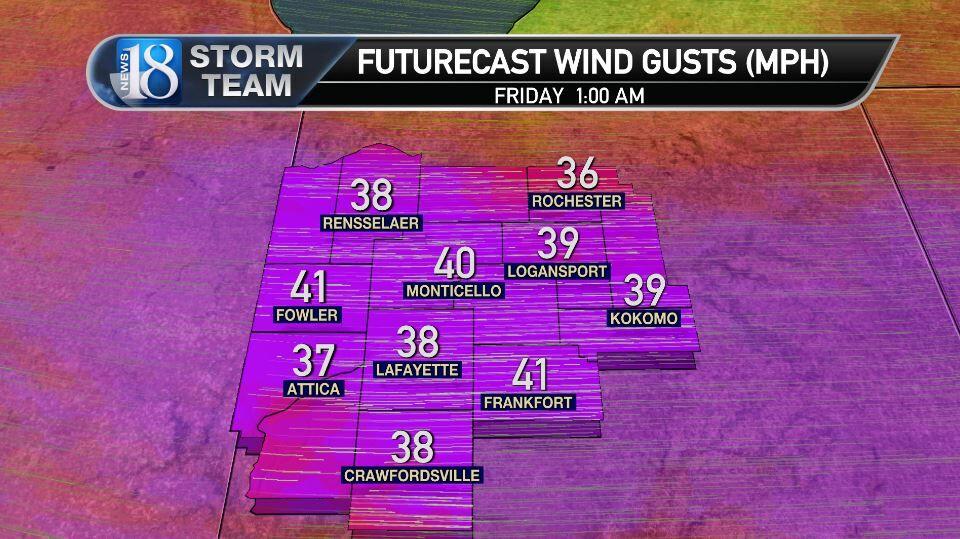 The Upcoming Weekend
Skies will likely become clearer by Friday night and into Saturday morning which will lead way to a cold start Saturday. Low temperatures are expected to get down into the mid 20s. Highs on Saturday will be in the mid 30s. High pressure works in for Saturday and partly sunny skies will be in the forecast with quiet conditions and lower wind speeds compared to Friday.
*Sunday will be a day to monitor closely… As of this morning's data, another system will begin to work in by Sunday morning/afternoon.
I've been comparing the trends of multiple weather models (GFS U.S., ECMWF European, GDPS Canadian) of this system for the last few days. The latest trends with these models are showing this low may track across the Ohio/Tennessee Valleys which would potentially give us a better chance for accumulating wet snow for the WLFI viewing area.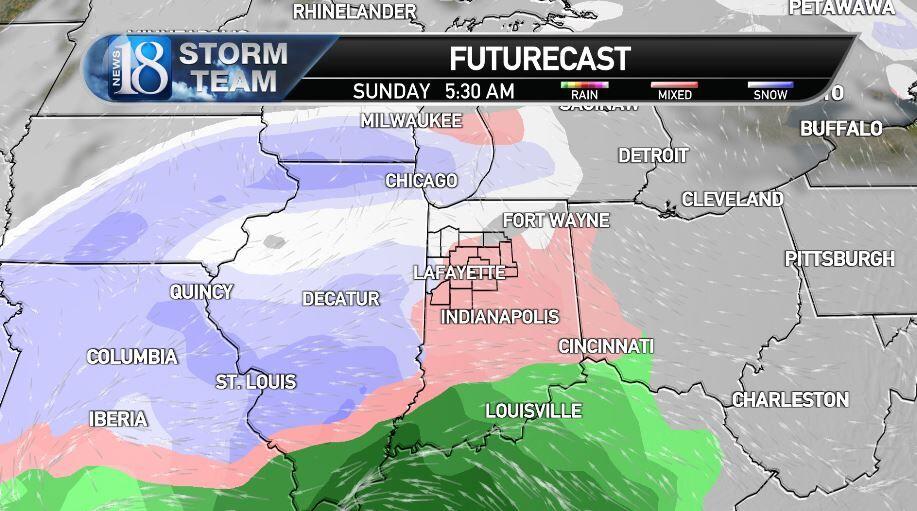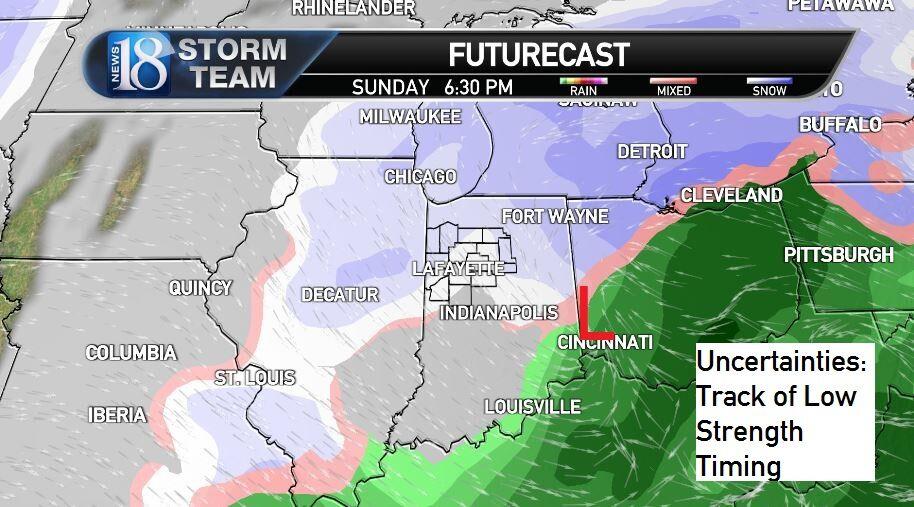 However, since we are still 4 days out, changes will likely occur with the track, strength, and timing of this system. For right now, I'll stay with a rain/snow mix ending with some snow showers Sunday night and into Monday morning. Stay tuned to future blog posts and forecasts from Storm Team 18 for the latest details as this may be an impactful winter storm for our region.
 10-Day Outlook
Another system could give way to another rain/snow maker Wednesday and Thursday. As with this Sunday's system, there are more questions than answers. I'll keep the system in mind and bring you the latest as we get closer to next week.
Long-range data certainly shows temperatures will be returning back to near and below normal temperatures especially by the end of next week and into the weekend of the 28th and 29th. So, winter lovers, get ready for the return of those bitterly cold temperatures and some snow chances in the future.