Widespread rainfall will pass tonight then end area-wide by 5 a.m. with temperatures rising to 41-47.
Winds may reach gusts of 35-45 mph from the southeast to south-southeast for a while before they diminish late.
Dry time with the possibility of a few breaks in the clouds will exist Thursday morning with temperatures reaching 46-53.
However, showers & even an isolated rumble of thunder (at the onset of the showers) is expected midday to afternoon.
After lulling in the wind to a degree in the morning, the winds crank up through the afternoon with gusts reaching 38-47 mph by evening.  Winds will shift from southwest to west-southwest.
Temperatures should fall to 36-40 by 5 p.m.
Scattered snow showers are expected tomorrow night to Friday morning.  If there is any accumulation, it would be the grass, rooftops & car tops being whitened.
The snow showers should taper to some flurries Friday afternoon with cloudy skies & highs 30-34 (after 29-31 in the morning) with west-northwest to northwest winds gusting up to 32-41 mph.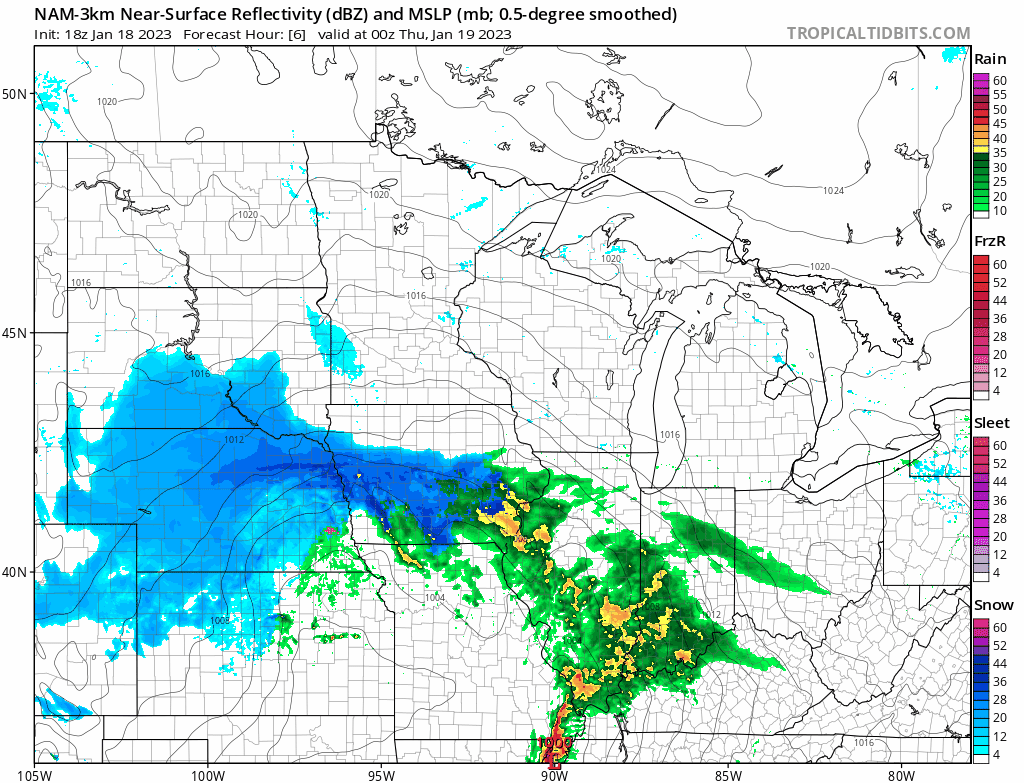 A total of 0.75-1.20" rainfall is expected from this system by Friday (rain & melted snow):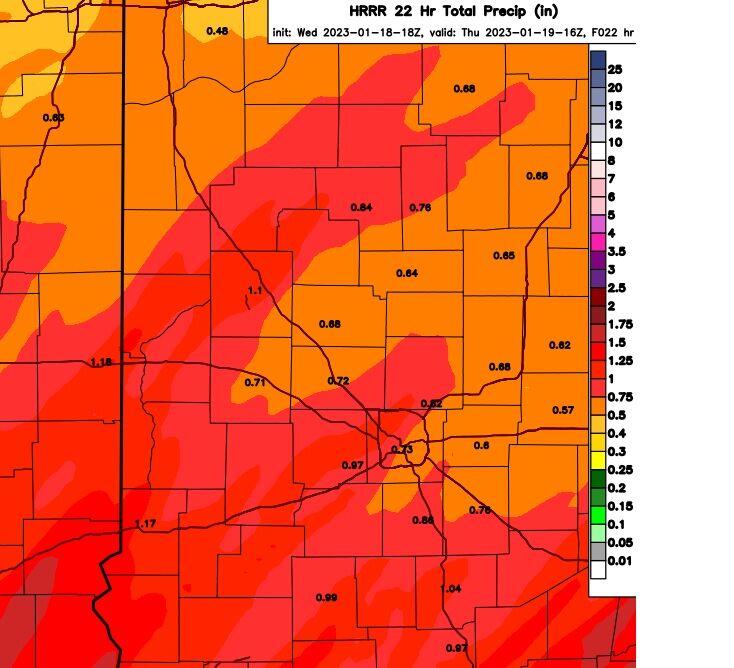 Saturday looks partly to mostly cloudy with highs 32-36 & much less wind (after 25-28 in the morning).
We need to watch Sunday for potential of mix &/or snow.
Whether it is all snow viewing area-wide or just all snow in the northern counties or mix & snow going to all snow for the area remains to be seen.
The exact track will become more evident in the coming couple of days.
Potential is there for this to be impactful, accumulating snowfall.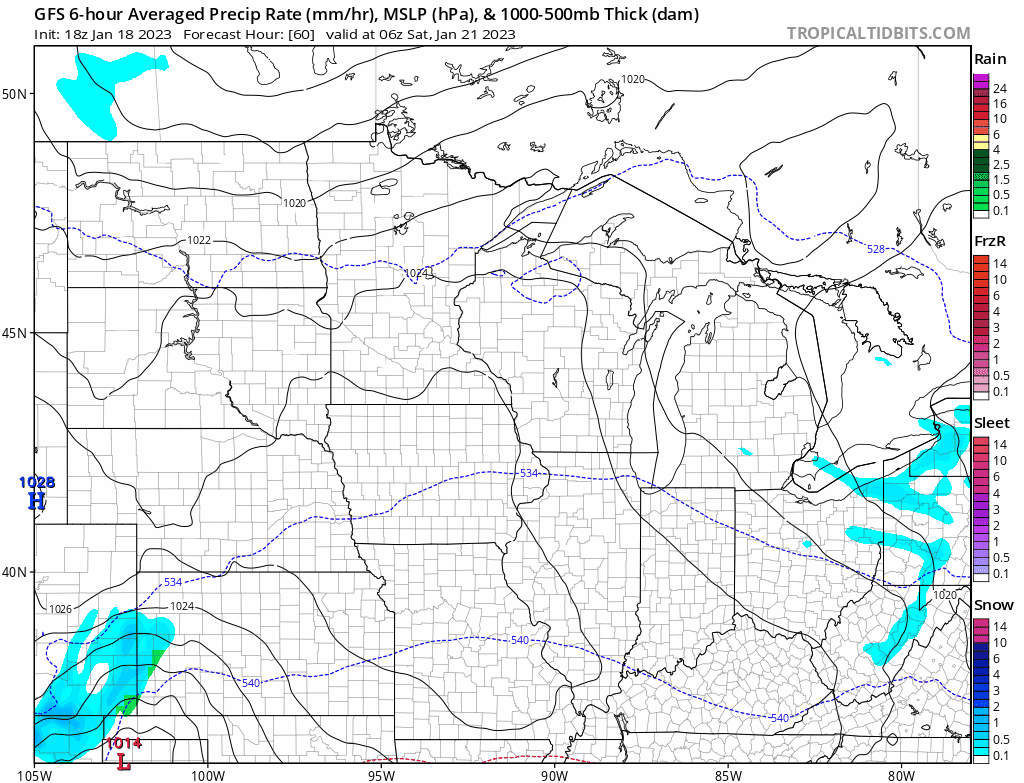 We also need to watch late next week for snow & then additional snow after that to early February.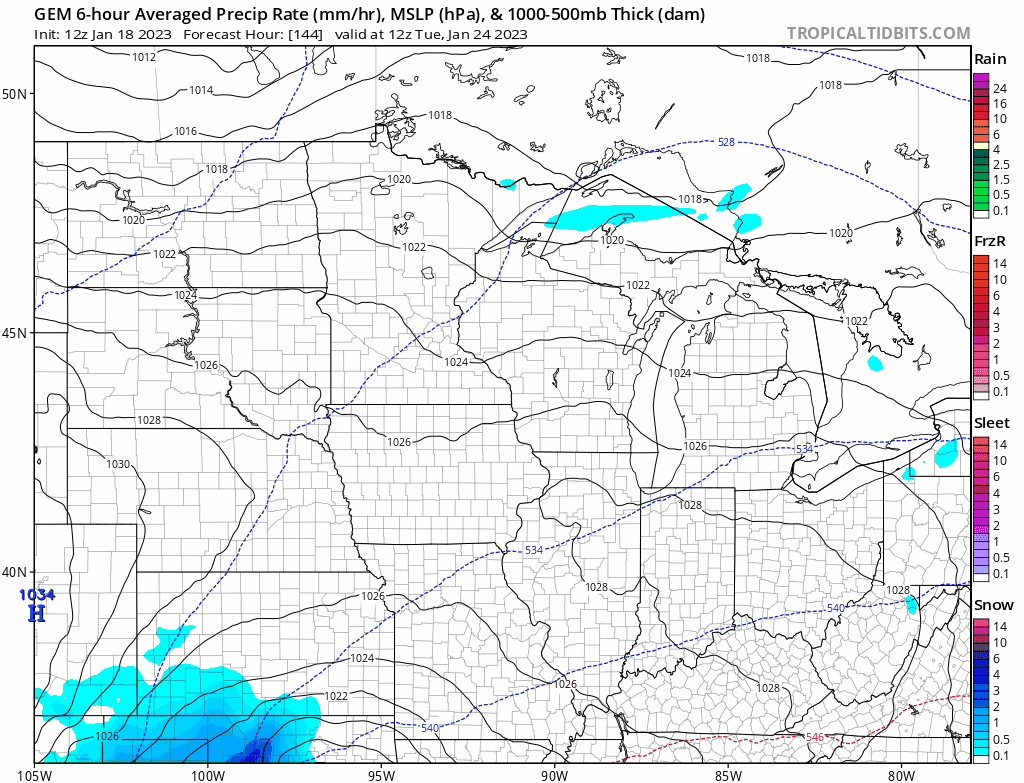 The big cold hits the West first, then the Plains, then moves eastward & southeastward with more surges dropping southeastward with time.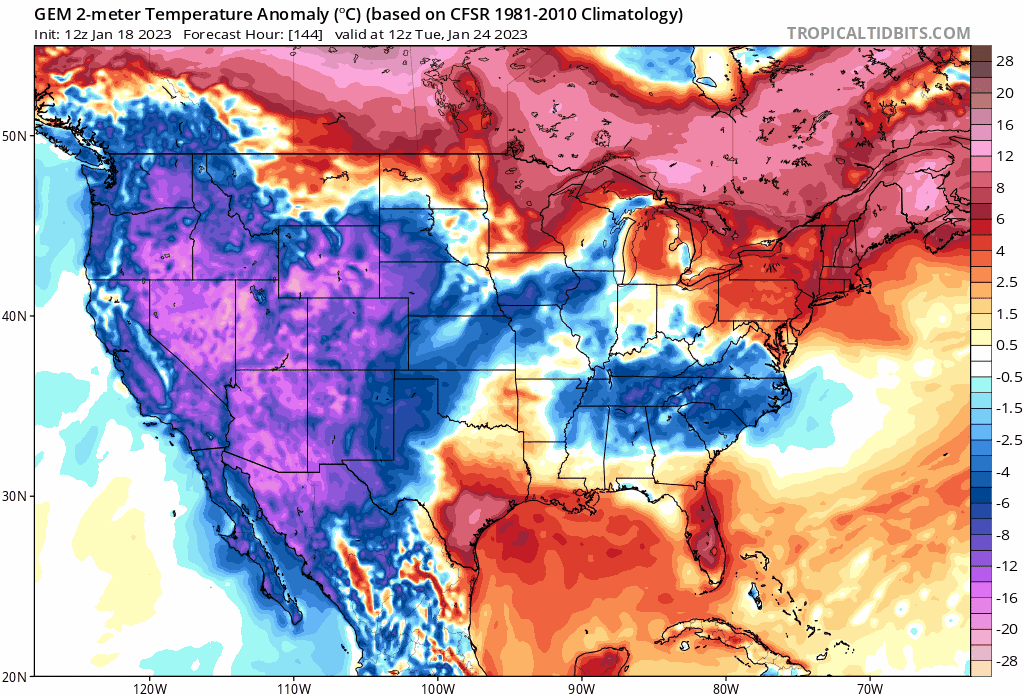 Cold should be the worst in early February.  Again, we may see temperatures drop below 0 & wind chills to <-20.  Temperatures greater than 20 degrees below normal are still expected.  The 40 degrees below normal temperatures are expected more towards the Plains & eastern Rockies, however.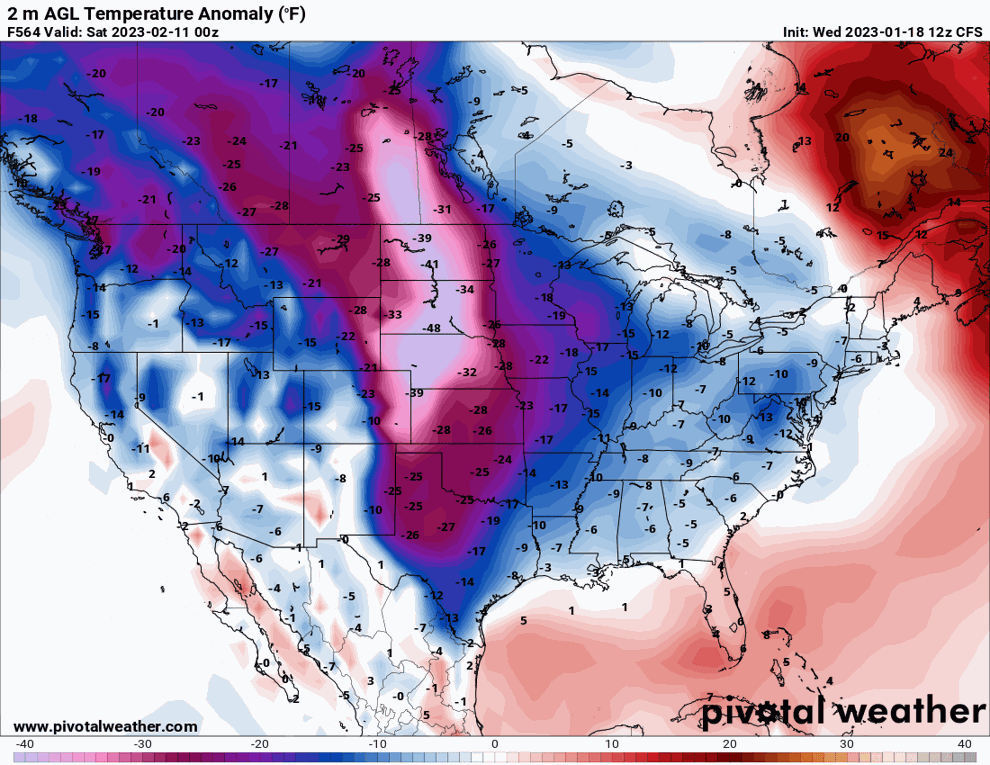 It is a good pattern for snow & ice late January to early February with the cold, cold weather & the above normal precipitation (in an active storm track here):
It still looks warmer (& spring-like) than normal in late February to early March: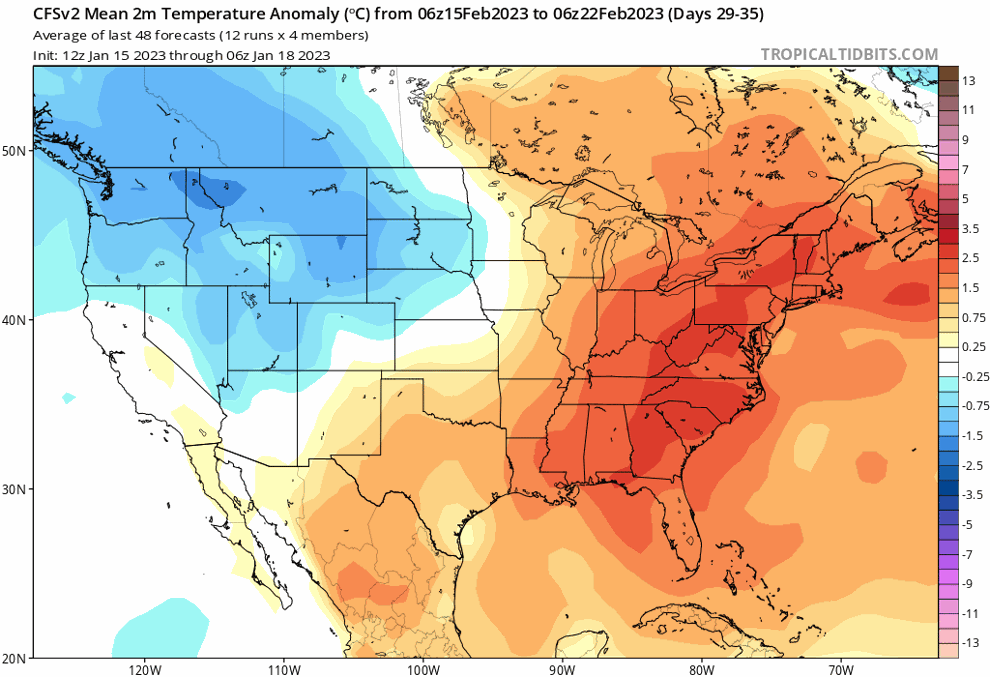 It also looks wetter than normal with risk of t'storms at times: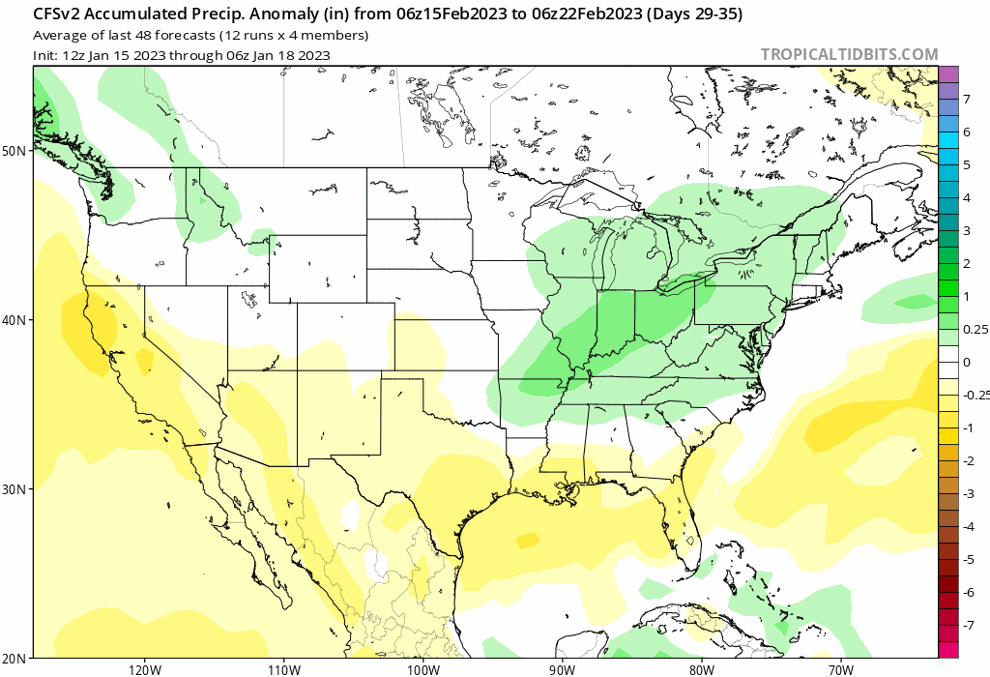 Watch for colder times & snow mid-March & cold, gross weather late March to start of April.  Like 1990 & 1996, thoughts are on sudden 80s & severe weather risk by April 18.  Those two years are still great analogs.