Rainfall will gradually taper this evening as temperatures continue to rise.
Cold front should then pass with clearing skies in a dry slot overnight to early Tuesday morning.  
Low clouds should then pivot back in followed by a few spotty showers & some drizzle for a while tomorrow.
Winds will be southwest then turn to the west tomorrow & run 20-35 mph.
Temperatures should continue to rise this evening to early overnight & our highs should be at 49-54.  Lows overnight of 41-45 are likely, followed slowly falling temperatures tomorrow to 37-41.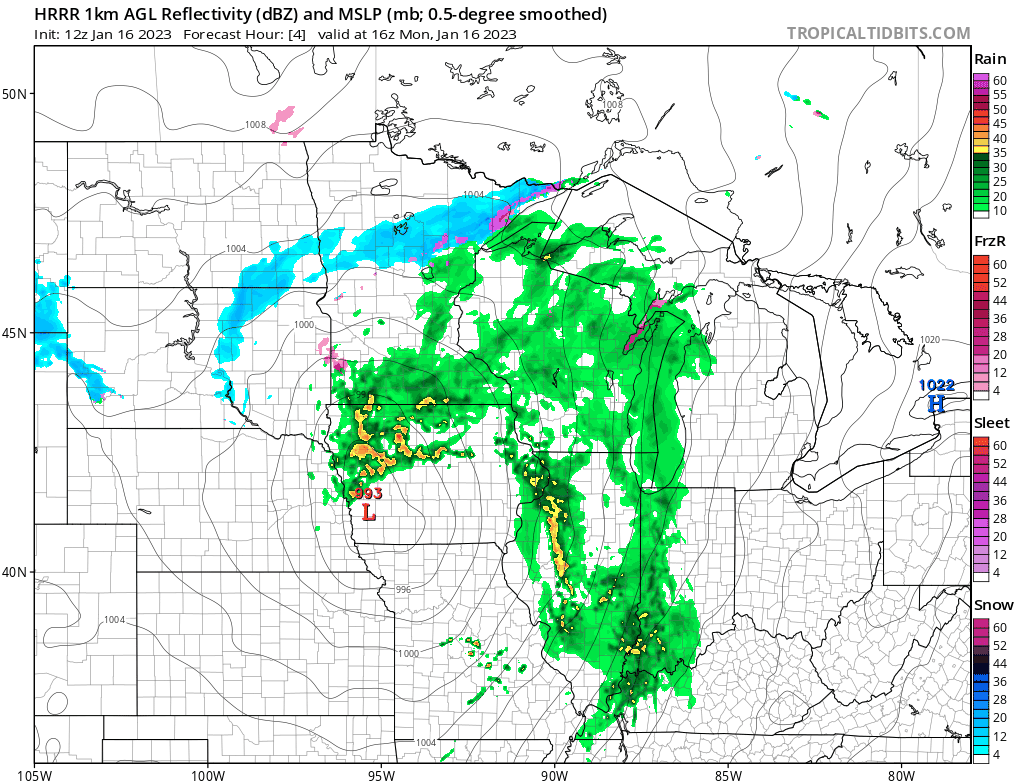 After mostly cloudy to cloudy skies & 31-33 tomorrow night, 44-48 is likely Wednesday with rain developing later in the day.
Rain is likely Wednesday night with lows 42-45, followed by falling temperatures from 47-53 to 36-42 Thursday with showers.
Showers may mix with or change to some snow showers Thursday evening-night.
Very little to no accumulation is expected.
Lows of 26-30 are expected.
Winds may gust +30 mph Thursday night from the northwest.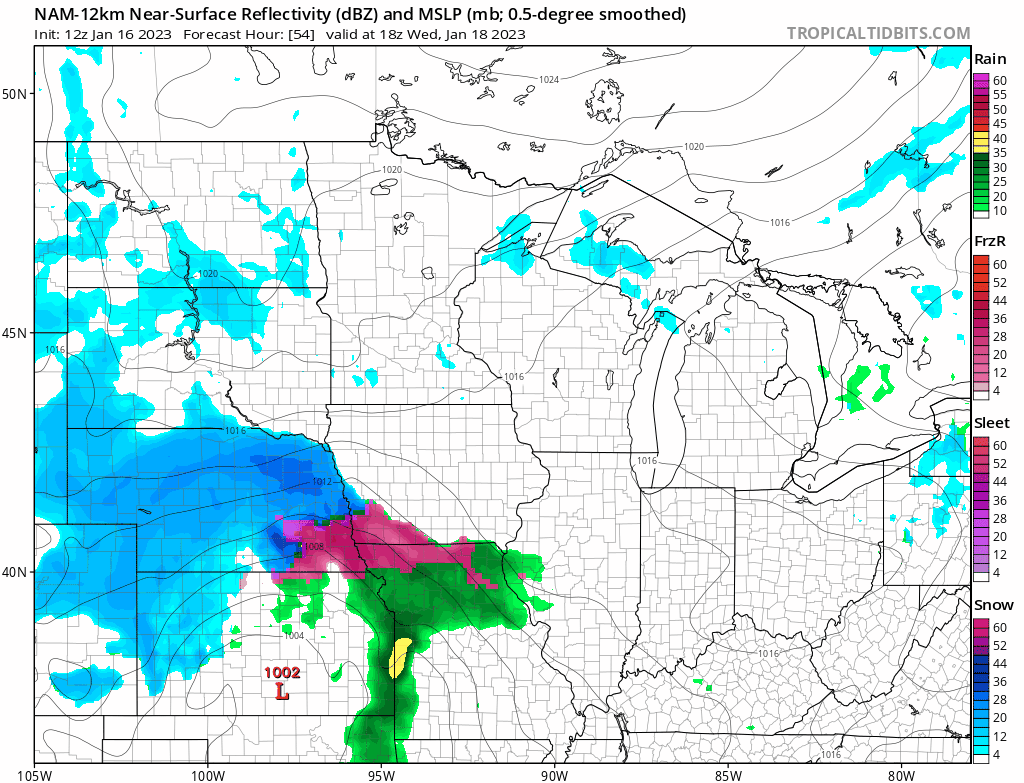 Friday looks mostly cloudy to cloudy with highs only at 32-36, followed by 33-38 Saturday. (with mostly cloudy skies) after 24-27 in the morning.
With highs of 34-38, rain/snow/sleet is possible Sunday (after 25-29 in the morning).
Sunday night could feature all snow north of a Fowler to Monticello to Peru line with rain/snow/sleet to all rain south of that line.  Temperatures of 31-35 are expected.
Band of +4" snow is expected with this system, but that currently looks to set up just northwest & north of our area.  However, areas north of that Fowler to Monticello to Peru line may see accumulating snow, depending on the exact storm track.
On the back side of the system Monday, northwest winds may gust 30-40 mph, leading to blowing/drifting of any snow in the north & northwest.
Scattered snow showers on Monday may bring very minor accumulations elsewhere with temperatures falling to 27-31.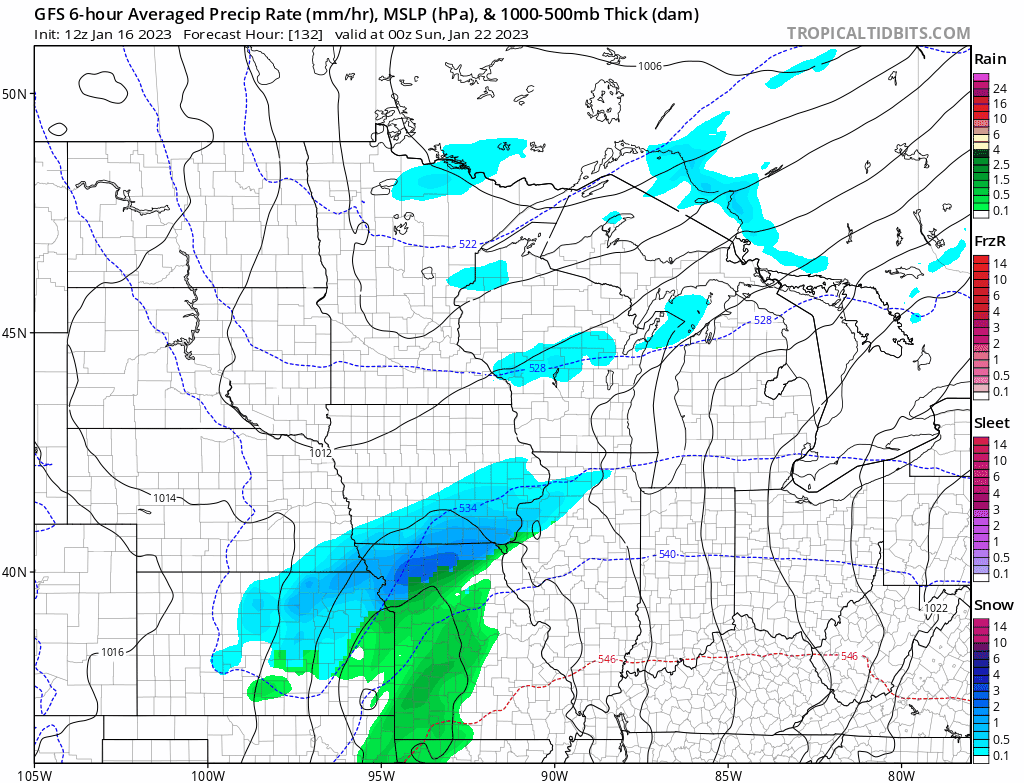 Trend for late January-early February is colder than normal, but it appears the worst of the cold may get locked in the Plains & over the western U.S.  It'll get much colder here & we may very well see a couple mornings below 0, but in terms of extreme -40 wind chills or lows to -20, that does not look to happen.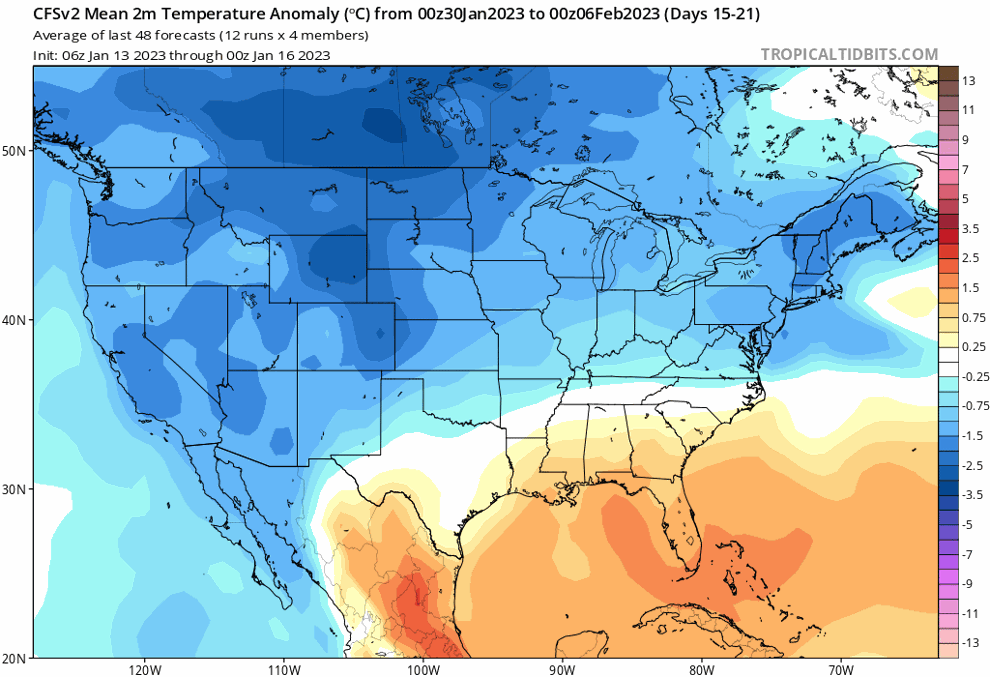 Reason for not 100% full Polar Vortex outbreak is MJO going into the cold phases of 8-1-2, but then going to 3 then neutral.  It then emergences into a strong 6 in late February, which is a very warm phase for that time of year.
My thoughts are that the SSTs support the strongest phase being a 2, which does bring us Arctic air, but it locks part of it up in the West.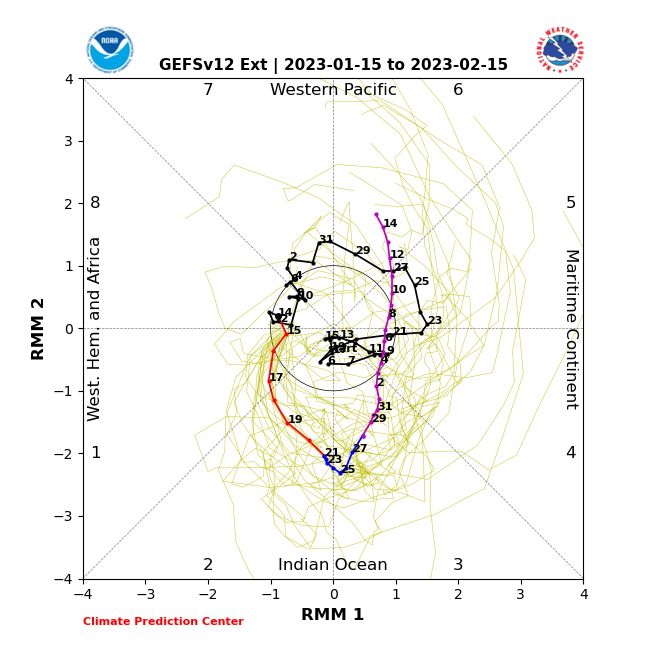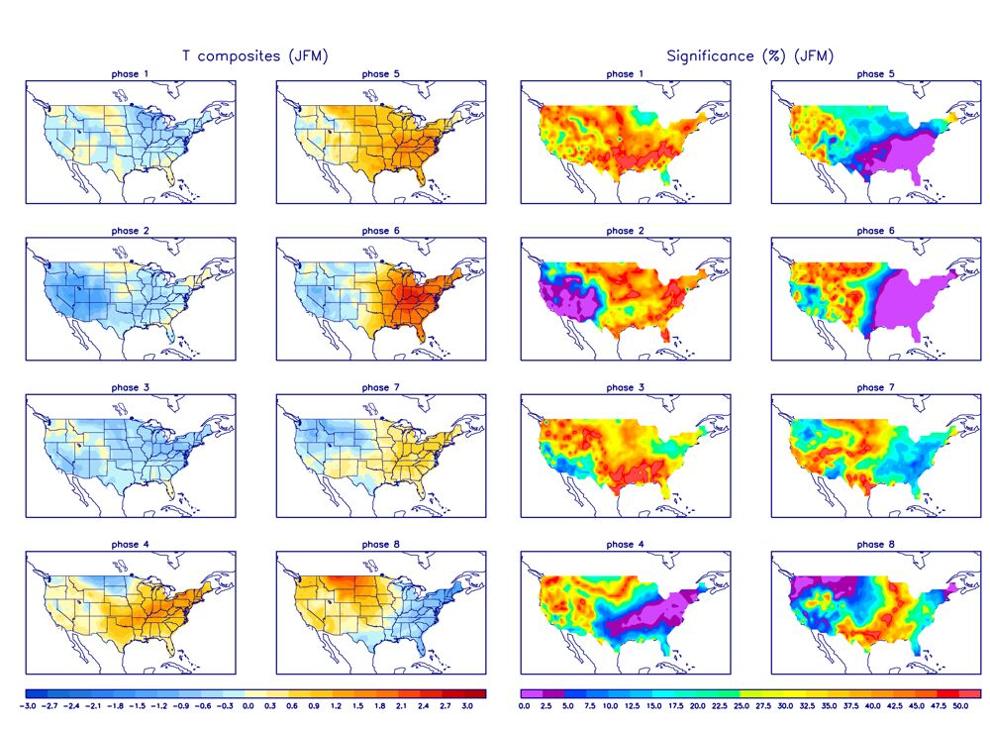 Also, -PNA will try to pump Southeast ridge a bit north.  This shoves the worst of the cold to the Plains & West.  However, it does make for a very active storm track for snow here.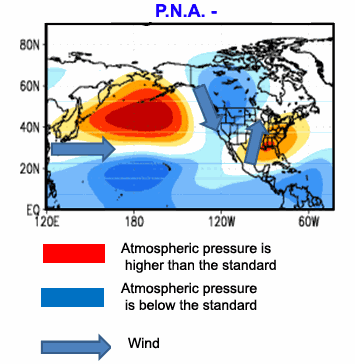 An interesting look at PNA pattern back to 1725 with blue being set-up for warmth here usually & red set up for bitter cold here.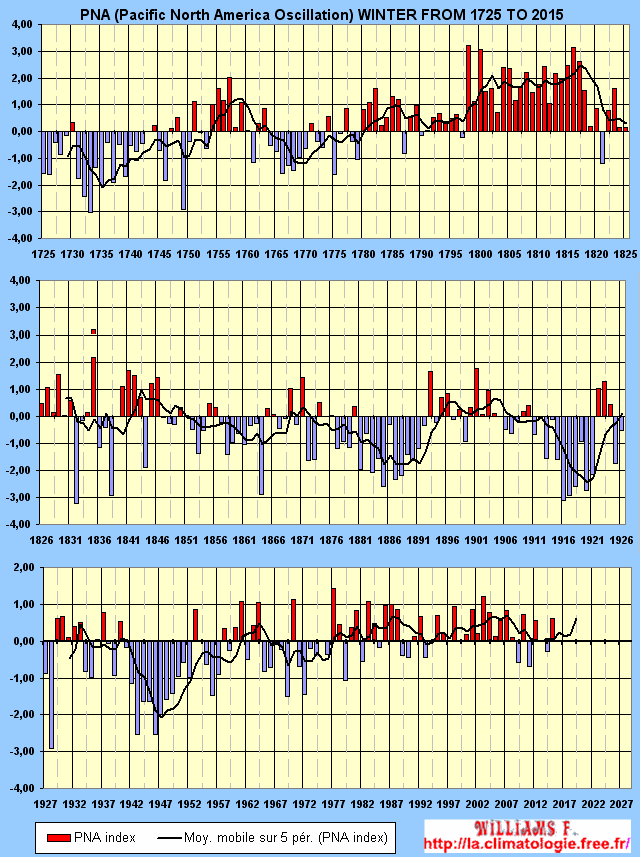 The brightest orange blob in the North Pacific has shifted a bit west towards Japan.  The closer that blob is to British Columbia & Alaska, the higher likelihood of all-out extreme Arctic outbreak here.  Again, this configuration brings brutal cold to the Plains & West.  Again, please know that WE DO HAVE Arctic air & HIGH snow risk, but record cold (despite loosening Polar Vortex & Ridge Bridge) would tend to shift to the Plains & the West.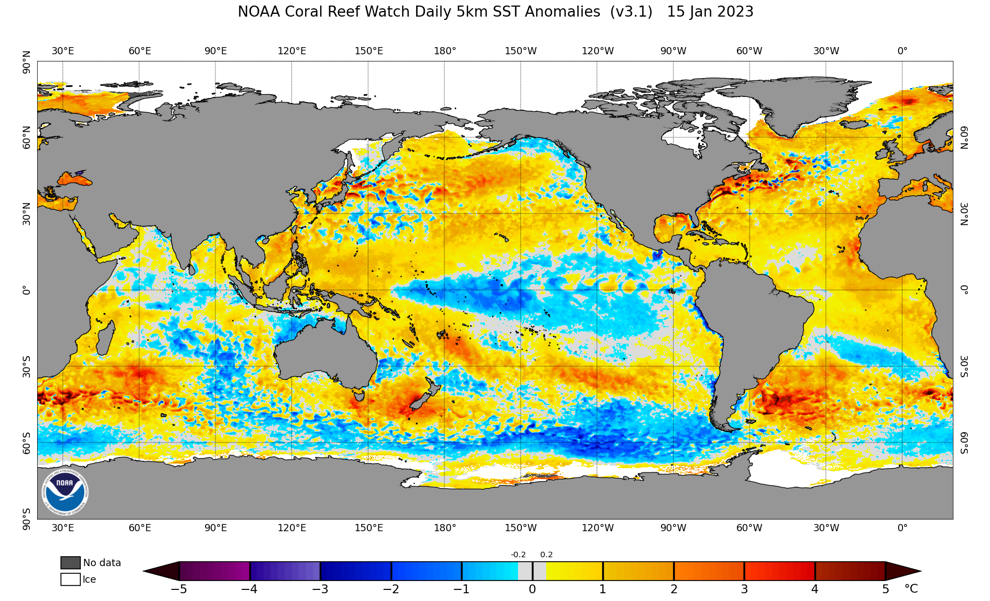 You can see with our colder pattern, precipitation trends above normal.  This will likely be an active to very active storm track, given the configuration of the Southeast ridge & all of that PNA, MJO, North Pacific SSTs info into account.
This is a snowy, icy pattern for us.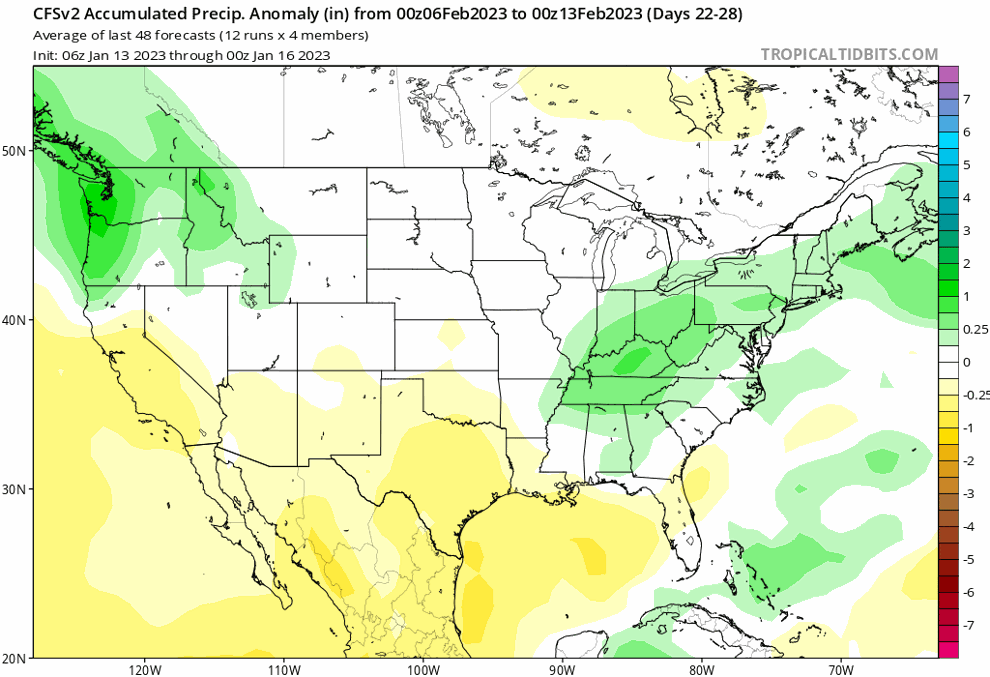 Sold, strong Phase 6 with -PNA, cold stratosphere at 10hPa, neutral NAO & AO means warmth in late February.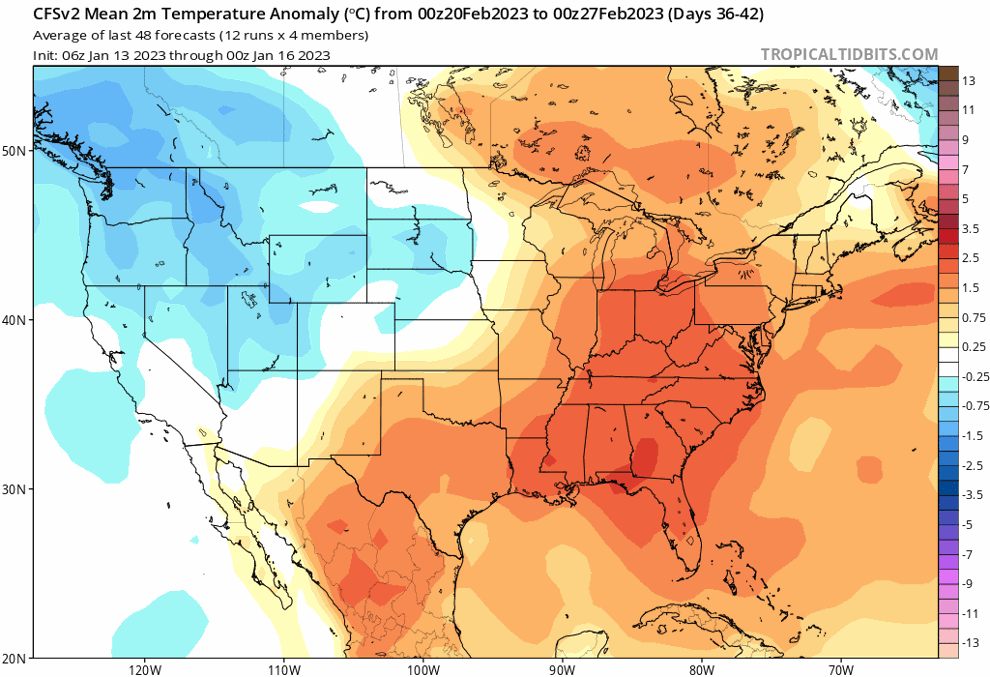 This is a wet, stormy, warm pattern.