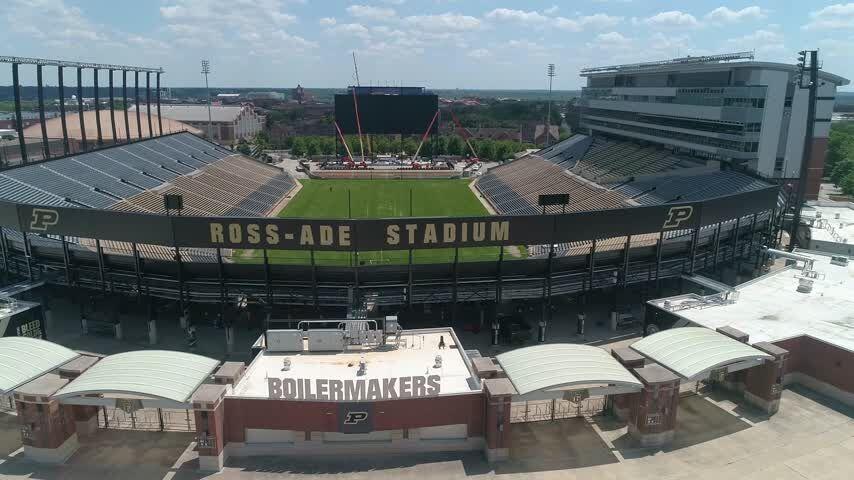 WEST LAFAYETTE, Ind. (WLFI) — Earlier today Purdue Football officially announced its brand new football program. Head Coach Ryan Walters took his time and put together a very impressive group of coaches.
According to Purdue Sports, Walters made his first two hires in his first week here. They were offensive coordinator Graham Harrell and defensive coordinator Kevin Kane.
Graham Harrell comes to Purdue from West Virginia. He spent only a year with the Mountaineers and his offense averaged 30.6 points per game.
Kane comes from Illinois, where Walters previously coached, and helped coach two players who were tabbed to the All-big Ten Honorable Mention.
Sam Carter is the new cornerbacks coach. Carter will be coaching with Walters for the second time in his career. His first was when he was with Missouri as the defensive quality control coach.
Meanwhile, Grant O'Brien will be leading the safeties this upcoming year. O'Brien came from Illinois where he helped the Illini to an 8-4 record this past season.
Also on defense, we have Joe Dineen who will be working with the outside linebackers. Dineen joined Purdue from Illinois as well. Before he went to Illinois he was at SMU as a graduate assistant.
And last but not least, we have Brick Haley who will be coaching the defensive line. Haley has more than 10 years of coaching experience which includes a one-year stint in the NFL with the Chicago bears.
Turning now to offense, we're going to meet the new running backs coach Lamar Conard. Conard comes from Miami of Ohio. But this isn't his first time at Purdue. In fact, Conard played for Purdue from 1996-1999 as a defensive back. He was also the first walk-on to be awarded a scholarship.
Adding to his offensive staff, Walters is bringing in Seth Doege who will be coaching Tight Ends. Doege is heading to the Big Ten after working with SEC school Ole Miss this past season.
Cory Patterson will be an Associate Head Coach and the new Wide Receivers coach. Patterson was also at Illinois as an assistant coach and worked with the running backs these past two years.
Matt Mattox will be coaching the offensive line for the upcoming season. Mattox comes from UTSA where he helped his team go undefeated in conference play last season.
And last but not least the Boilermakers are adding a new strength and conditioning coach to its lineup. Kiero Small will be the new director of strength and conditioning. Before coming to Purdue Small worked with the Michigan Wolverines.