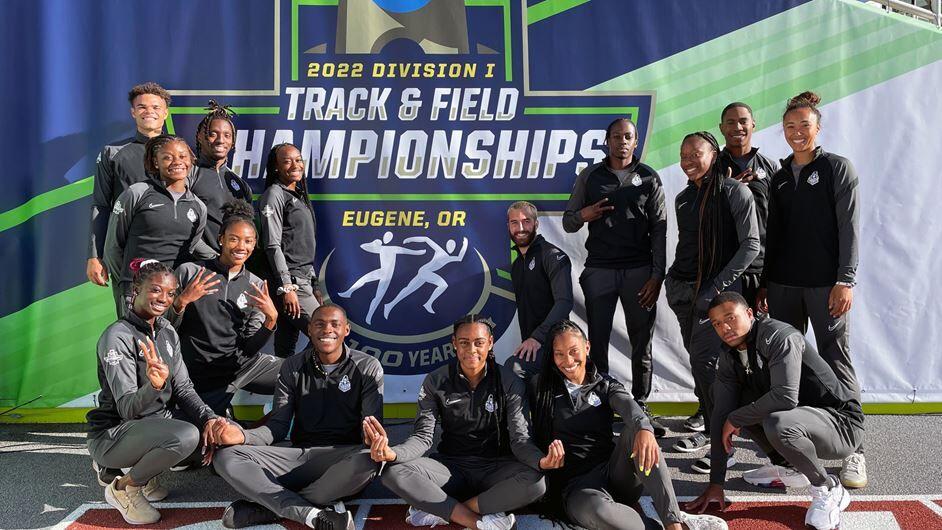 EUGENE, Ore. (PURDUE SPORTS) – The Purdue track & field team is set for the NCAA Outdoor Track & Field Championships at Hayward Field in Eugene, Oregon, from June 8-11.
Fifteen Boilermakers will compete in nine events at the national championships, the team's most entries since 2018. The men qualified in five events, their most since 2019, in the 4x100 relay, decathlon, long jump and triple jump. The women have four entries, their most since 2018, in the 400m hurdles, 4x100 relay, 4x400 relay and discus.
The meet begins on Wednesday, June 8, with Purdue's events from 3:30-10 p.m. ET / 12:30-7 p.m. PT. Action for the Boilermakers on Thursday, June 9, is set for 2:30 p.m. – 12 a.m. ET / 11:30 a.m. – 9 p.m. PT. On Friday, June 10, the team's events are from 9:02-10:20 p.m. ET / 6:02-7:20 p.m. PT, while the weekend wraps up on Saturday, June 11, from 5:05-8 p.m. ET / 2:05-5 p.m. PT.
Fans can follow all the action with live results and by watching on ESPN, ESPN2, ESPNU and ESPN3, while more details, including the event schedule, is at NCAA.com. Direct links can be found on the track & field schedule page on PurdueSports.com/TrackField. Additional updates are available by following the Boilermakers on Twitter, Instagram and Facebook.
A complete breakdown of Purdue's athletes, their events and the specific times when they will be competing is outlined below.
Representing the Boilermakers as one of the top 24 competitors nationally in their events are seniors Kelly Cook Jr. (hammer throw), Amir Harris (4x100) and Antonio Mitchell II (4x100), juniors Justin Becker (4x100) and Camille Christopher (4x100), sophomores Naomi Campbell (4x100), Kaia Harris (discus), Saran Kouyeth (4x100, 4x400), Kerris Roberts (4x100), K'Ja Talley (400m hurdles, 4x400), Cierra Williams (4x400) and Safin Wills (long jump, triple jump) and freshmen Shianne Dacosta (400m, 4x400) and Tyneilus Morrow (4x100).
Purdue's five men's entries are tied for fourth-most in the Big Ten, while the squad's nine total events are tied for sixth-most in the conference. Additionally, Talley will be the first Purdue woman to run in an individual event at the NCAA Championships since 2018.
KELLY COOK JR.: HAMMER THROW
Cook Jr. will compete in the hammer throw on Thursday at 5 p.m. ET / 2 p.m. PT on ESPN3. He is seeded No. 11 after a throw of 68.21 meters at the NCAA East Prelims on May 25. It's the second-best throw in school history and the best since 2015, and earned Cook Jr. his second career NCAA Championships appearance. The mark came after he placed sixth in the event at the Big Ten Championships in mid-May. The Buena Vista, California, native was 24th nationally in the discus in 2019 while competing for William & Mary.
KAIA HARRIS: DISCUS
In Purdue's final field event of the weekend, Harris makes her NCAA Championships debut in the discus on Saturday at 5:05 p.m. ET / 2:05 p.m. PT on ESPN3. Harris is the No. 17 seed thanks to a throw of 54.27m at the NCAA East Prelims on May 28 to finish fifth. That was just shy of her personal-best throw of 56.53m, set in late April that is No. 2 in the school record books and the best by a Boilermaker since 2018. From West Lafayette, Harris will make her national championship debut.
ISAIAH MARTIN: DECATHLON
Martin travels to the NCAA Championships for the fifth time in his career, along with outdoors in 2019 and 2021 in the decathlon and indoors in the heptathlon in 2020 and 2021. This year Martin again competes in the decathlon, which begins with five events on Wednesday at 3:30 p.m. ET / 12:30 p.m. PT and concludes with the final five events on Thursday at 2:30 p.m. ET / 11:30 a.m. PT. Every event will air on ESPN3 with the exception of the 400m on Wednesday and the 1,500m on Thursday, both on ESPNU at 9:56 and 10:56 p.m. ET, respectively.
As the No. 22 seed, Martin qualified thanks to a season-best 7,590 points scored at the Big Ten Championships to finish fourth on May 13-14. The Hillsboro, Missouri, native owns the school record in the event with 7,708 points, set at the 2021 Big Ten meet, and he is one of two Boilermakers to eclipse 7,500 points, a feat he has achieved in five of his eight decathlon competitions.
K'JA TALLEY: 400m HURDLES, 4x400
Individually, Talley will run in the 400m hurdles, with the semifinal on Thursday at 10:30 p.m. ET / 7:30 p.m. PT on ESPNU and the final on Saturday at 6:57 p.m. ET / 3:57 p.m. PT on ESPN. She is seeded No. 19 and qualified eighth overall in 57.44 at the NCAA prelims. From Dearborn, Michigan, Talley is third in school history in the event in 57.42, the fastest by a Boilermaker since 2017. She will compete at her second NCAA Championships along with a 4x400 relay appearance in 2021.
SAFIN WILLS: LONG JUMP, TRIPLE JUMP
Wills qualified in two events, the long jump and triple jump. He'll debut in the long jump on Wednesday at 9 p.m. ET / 6 p.m. PT, followed by the triple jump on Friday at 9:20 p.m. ET / 6:20 p.m. PT, both on ESPN3. Wills is seeded No. 20 in the triple jump and qualified ninth overall with a mark of 15.89m at prelims. In the long jump, he is 24th and punched his ticket thanks to a jump of 7.53m to finish 12th. A native of Rock Hall, St. Andrew, Jamaica, Wills is No. 5 in the record books in both events, with a long jump of 7.65m and a triple jump of 16.20m, and is less than a month removed from a Big Ten triple jump title and a fourth-place long jump finish. He's competing at his second NCAA Championships in as many years after qualifying in the triple jump in 2021 while at Texas Tech.
WOMEN'S 4x100 RELAY
The women's 4x100 relay runs in the semifinal on Thursday at 8:32 p.m. ET / 5:32 p.m. PT and in the final on Saturday at 5:32 p.m. ET / 2:32 p.m. PT, and both races open the broadcast on ESPNU and ESPN, respectively. Kouyeth, Roberts, Campbell and Christopher are the No. 20 seed and qualified with a time of 44.20, 11th overall at prelims. That was the fifth-fastest time in school history and the fastest since 2018. The relay was fourth at Big Tens. Kouyeth comes to NCAAs for the second time, along with a 2021 trip with the 4x400 relay, while Campbell, Christopher and Roberts will race at their first national championships.
MEN'S 4x100 RELAY
The men's 4x100 relay takes to the track in the semifinal on Wednesday at 7:32 p.m. ET / 4:32 p.m. PT and in the final on Friday at 9:02 p.m. ET / 6:02 p.m. PT to commence coverage on ESPNU and ESPN2, respectively. Harris, Mitchell II, Becker and Morrow are seeded No. 21 and made it to nationals with a season-best time of 39.53 to finish 11th at the NCAA East Prelims. Becker is at his third national championships and Harris, Mitchell II and Morrow each are at their first. Becker helped Purdue place seventh in 2019, two weeks after breaking the school record with a mark of 38.75, and his squad was 19th a year ago, also one meet after a time of 39.06 was second-fastest all-time.
WOMEN'S 4x400 RELAY
The women's 4x400 relay runs in the semifinal on Thursday at 11:48 p.m. ET / 8:48 p.m. PT and in the final on Saturday at 7:51 p.m. ET / 4:51 p.m. PT, and both races conclude the ESPNU and ESPN broadcasts. Talley, Kouyeth, Williams and Dacosta are the No. 22 seed and earned the NCAA berth with a 10th-place finish at prelims in 3:35.27. It was their second-fastest time this year, behind a 3:34.31 that is tied for No. 8 in school history. Kouyeth, Talley and Williams are back at the national championships for the second time after they helped Purdue place 20th a year ago, and the three also ran the fifth-fastest 4x400 time earlier in the 2021 campaign. Dacosta is making her first NCAA Championships appearance.
For more on the Purdue track & field and cross country program, visit PurdueSports.com/TrackField and follow and connect with the Boilermakers on Twitter, Instagram and Facebook.