(WLFI) – Good Wednesday morning! For the last day of August, we are going to have a very sunny and comfortable day ahead. This morning, lows are in the mid 50s area-wide. A few areas of patchy fog have been noticed but it shouldn't hinder visibilities too much.  
We'll remain sunny all day with WNW winds 5-10 mph with high temperatures in the lower 80s.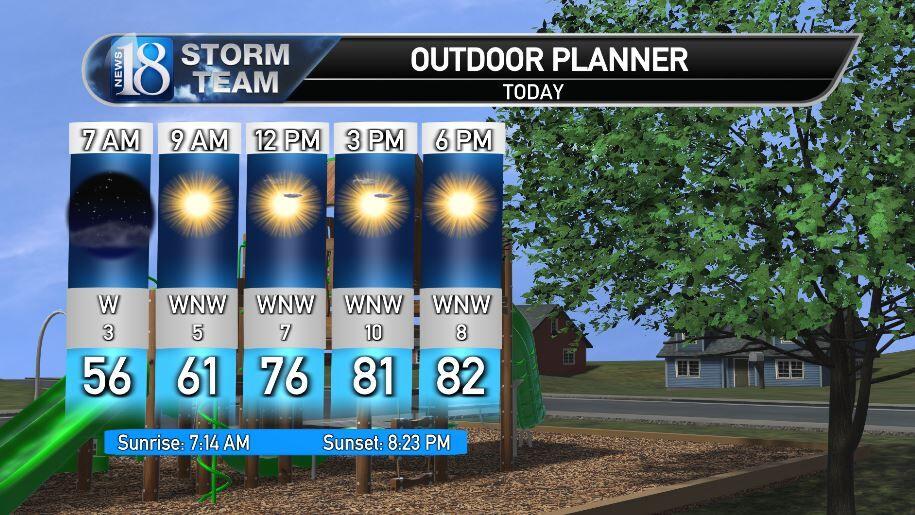 Thursday 
Tomorrow, we'll be waking up in the mid to upper 50s once again. Mostly sunny skies will be likely but we'll be slightly warmer than today. A few cumulus clouds may build in the afternoon along with high-level cirrus.  
High temperatures will be in the mid to upper 80s in some areas. It will not be humid but warmer conditions will be likely. High pressure will settle in over the Ohio Valley giving us light WSW winds 5-8 mph.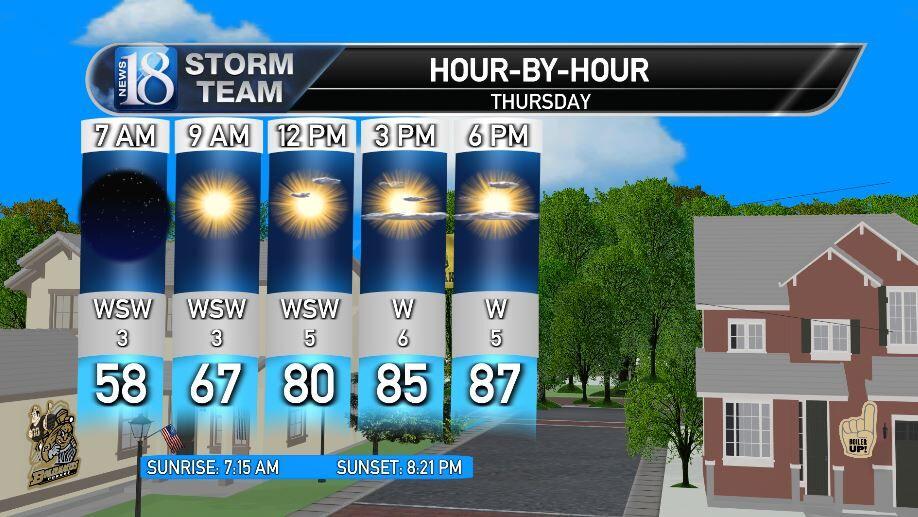 Friday 
Friday, we will begin to warm up even more. Morning lows will be in the upper 50s and lower 60s. We'll warm up in the afternoon with highs in the mid to upper 80s. South winds will be light, 5-8 mph as high pressure will continue to give us quiet weather and sunny skies. A few fair weather clouds will be likely during the afternoon and early evening.  
Labor Day Weekend Forecast 
A weak and mostly dry cold front will work in for Saturday. The latest model runs are varying and some have given way to a very low chance for a scattered shower/storm for mainly Sunday and Monday. The front could linger through those days giving way to those low chances but I am keeping the forecast fairly dry for now for the entire weekend. A less than 10%-15% will do for now but will revisit this in the coming days as we get closer to the weekend.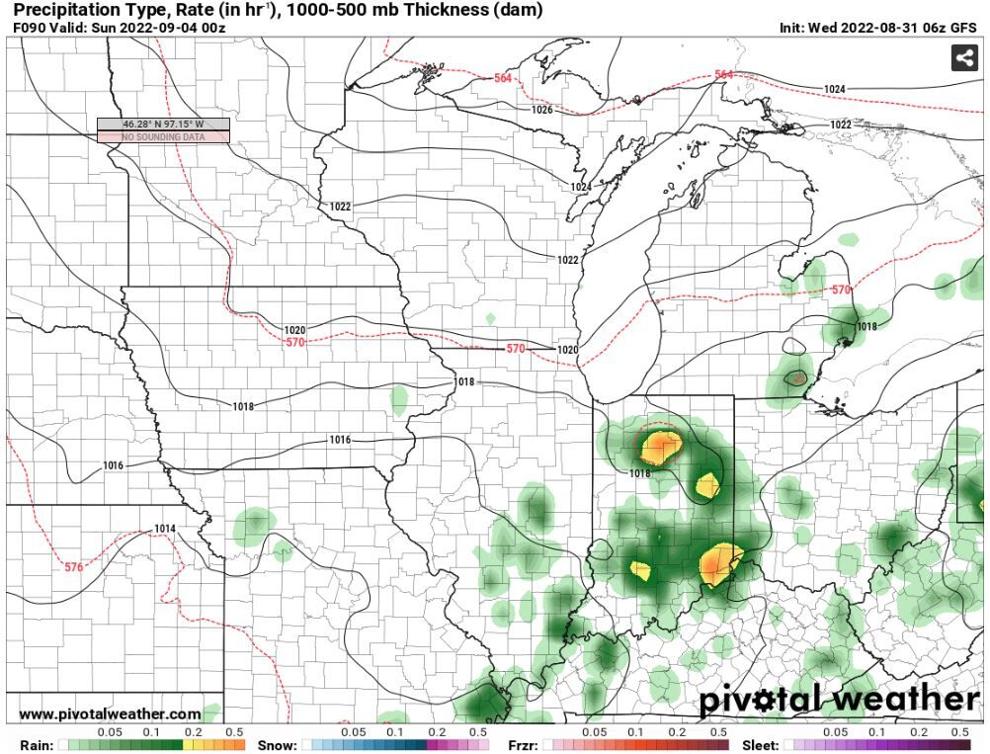 Highs on Saturday should reach up into the upper 80s to low 90s in some locations with slightly more humid conditions with mostly to partly sunny skies.  
As the front begins to stall out across south-central Indiana, temperatures will cool off slightly for Sunday and Monday as we'll have cold air advection work in which basically means dry continental air will intrude giving way to slightly cooler temperatures and a less humid feel outside. Still, temperatures will remain above normal.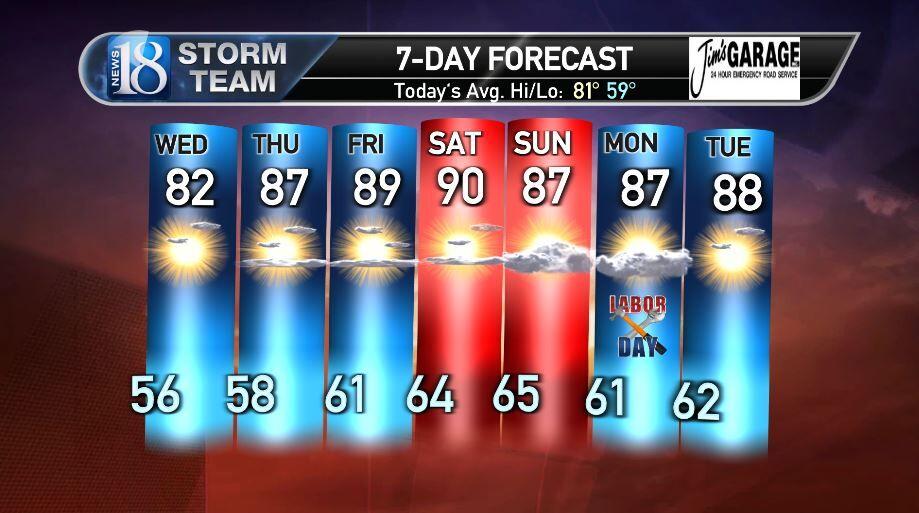 A Look Back at August
The month of August gave us warmer than normal as well as wetter than normal conditions. You can see in the graphs below, August was 2 degrees above average for temperatures. We were also 0.66" above normal for rain for the month. 
Temperature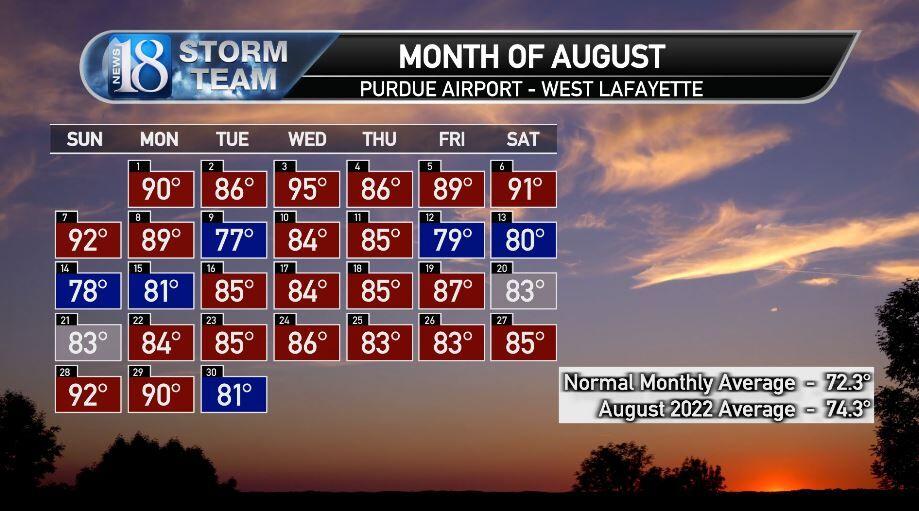 Precipitation