In looking at the extent of the 1-4" rainfall in the area, it was the largest since October 24.
The 1.52" at the Purdue Airport was the greatest calendar-day rainfall since October 24 when 2.52" was measured.
This puts a big dent in the long-term dryness over the area.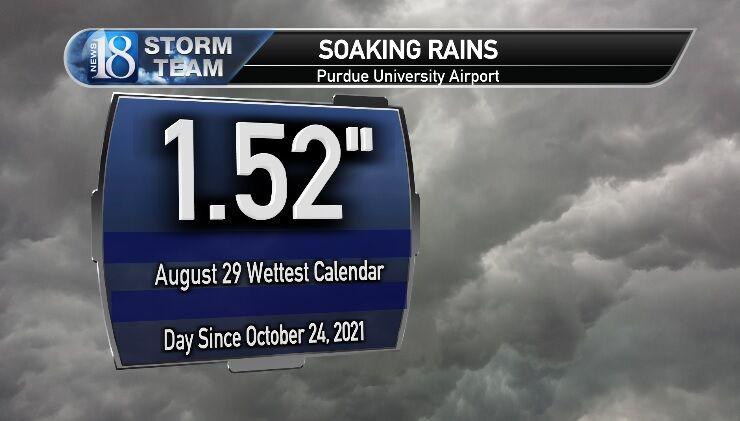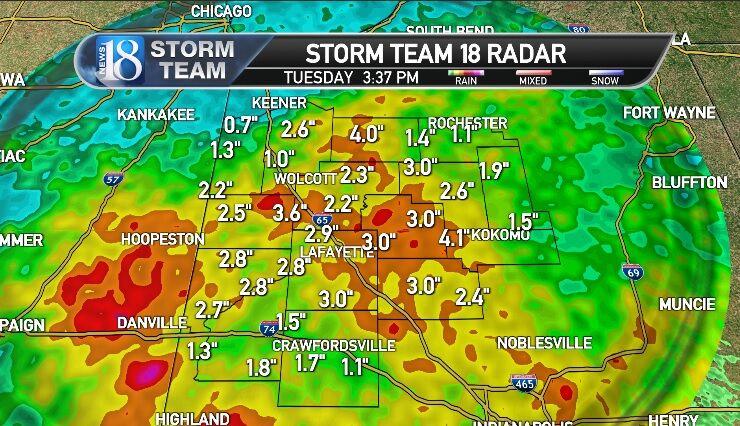 ___________________________________________
This was followed by lows 62-68 this morning giving way to highs of 79-84 today with breezy to windy conditions from the northwest with dew points in the 50s.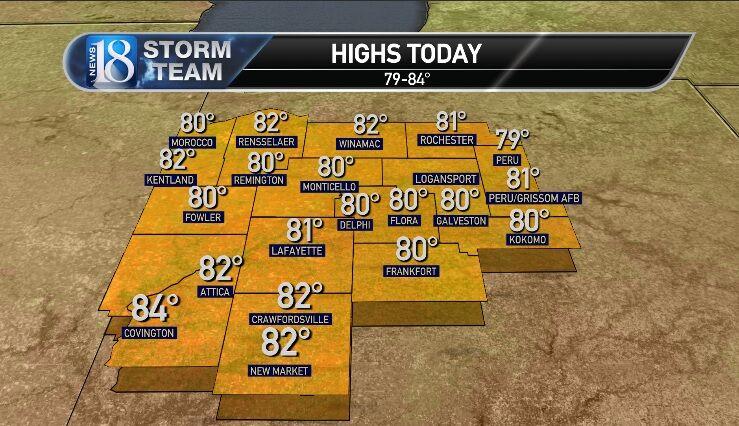 ___________________________________________
Some patchy fog is possible early Wednesday & Thursday mornings.
Lows tonight will run 54-58, followed by 57-63 tomorrow night.
We heat up again this week & into the weekend.  The humidity will creep up some by Friday & especially Saturday.  Highs should peak Saturday at 89-93 with heat indices 94-98.
Largely dry surface cold front should pass Saturday night or Sunday morning (kept dry for now seeing that it looks quite capped with lack of much mid & upper level support for any spotty to scattered storms, but we will monitor), leading to a bit cooler & less humid conditions for Sunday & Labor Day.
Each day Wednesday-Monday features a lot of sunshine.
7-day: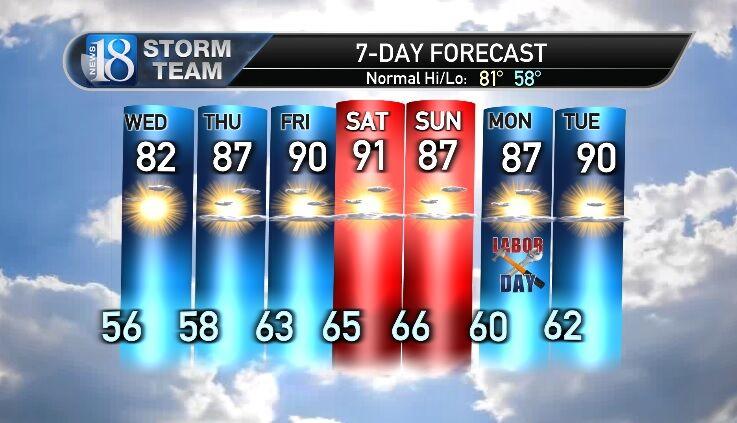 You can see the heat building in Saturday:
It gets barely pushed back a bit Sunday-Monday with some lower humidity.
Highs should go down from 89-93 to 86-91.
Meanwhile the heat intensifies in the Northern Plains & then out West from California to the Pacific Northwest to the Northern Rockies in a widespread, significant heat wave.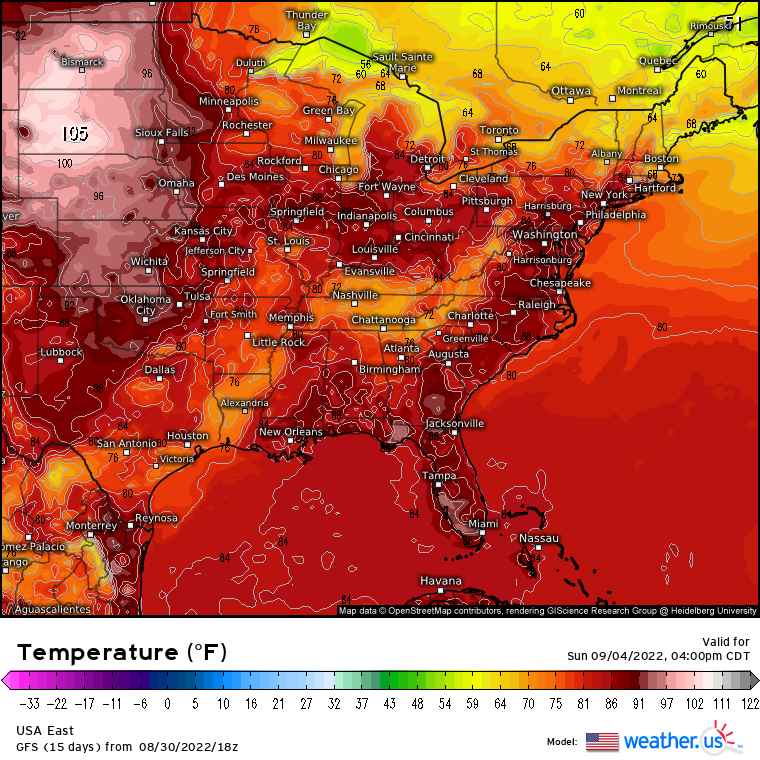 By mid-next week, 90s are possible here with record heat in the Northern Plains & Upper Midwest.
Note the cooler weather far southwestern Indiana to Tennessee to Texas where tropical rains will reside, keeping it much cooler.
Landfalling tropical system is still possible on the Gulf Coast.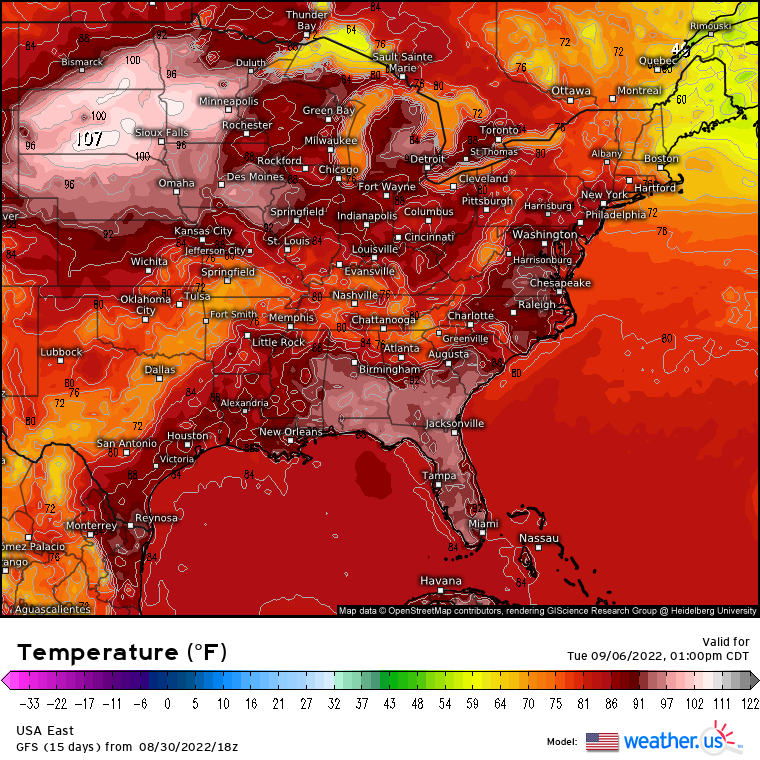 Cooler weather with the widespread rainfall from Pennsylvania to southern Indiana to Texas should occur late next week, while we are hot & dry with 90s & record heat should continue in the Upper Midwest to Northern Plains.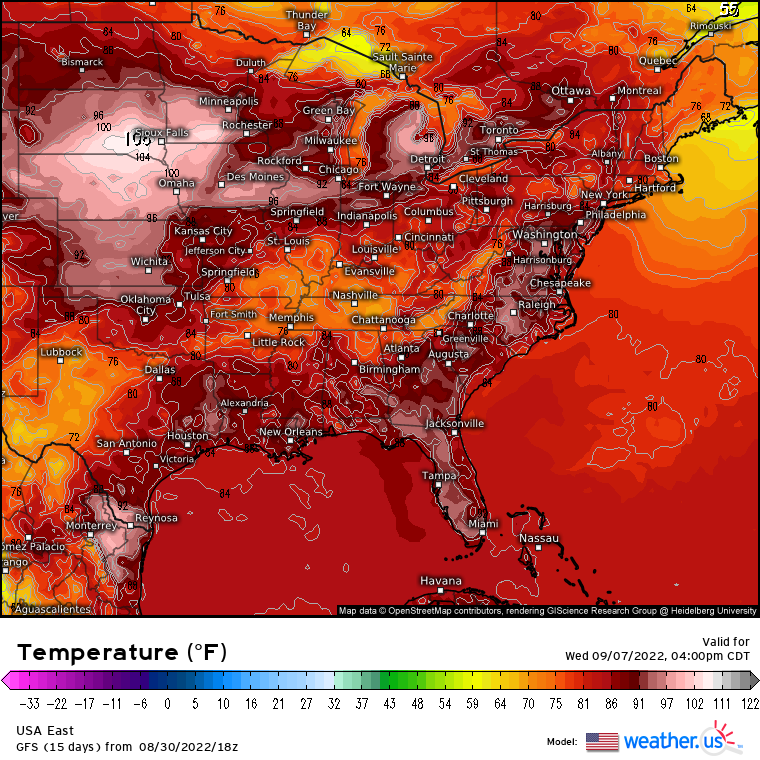 The tropical disturbances & potential landfalling tropical systems should keep front stalled well to our north, preventing any cool-down here.
Heat should continue to be story still at the very end of next week: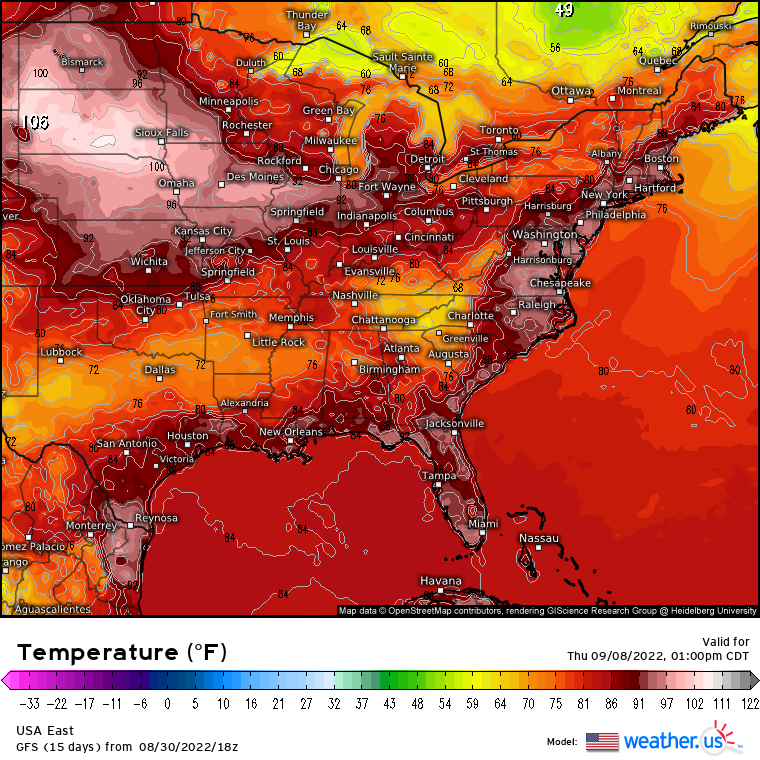 Around September 10, there is a trend to finally get the front southward to cool us off to highs 78-84.
Some storms are possible along the front.
The deep tropical moisture & potential tropical remnants will be wrapped up in Georgia, Florida at that point.
To mid-September, you can see that is where the heavy rains tend to concentrate:  south of our area courtesy of the tropics (from East Pacific to Gulf to Caribbean to East Atlantic).
Farther north, it is just unusually hot.  The below normal precipitation will also occur.
If we can pull more tropical moisture north, this will change, but this has been a consistent trend to have southern Indiana south & southwest & southeastward very wet & it be much, much drier & hotter here.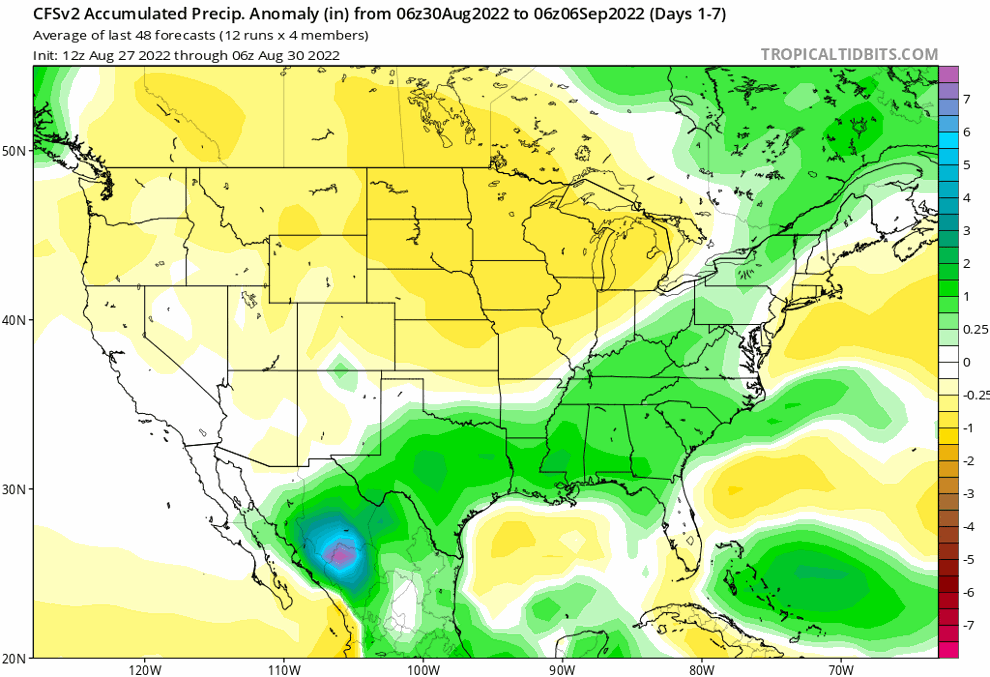 Around & just beyond mid-September there seems to be a window whereby some of that tropical moisture does find its way farther northward.
Temperatures still look above normal, but not as much as the first half of September.
You combine that tropical moisture with potential of us being on southern edge of substantial more Fall-like storm system passing through the Northern Plains & it could spell severe weather for our area.
Late, late September then looks to turn hotter & drier again.  The hotter, drier pattern should linger into the first days of October.