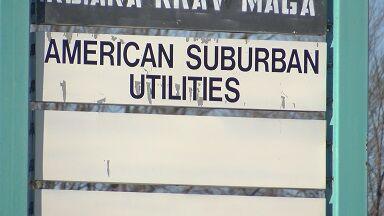 TIPPECANOE COUNTY, Ind. (WLFI) — American Suburban Utilities has responded to a critical report by a state consumer advocacy agency.
As News 18 reported, Indiana's Office of the Utility Consumer Counselor recently slammed ASU's request to raise sewer rates to $100 a month. The OUCC instead recommended lowering monthly bills to less than $50.
In their reports, state utility experts say ASU used ratepayer money on Christmas office parties and out-of-state travel to conferences. In all, they say, ASU in 2020 overstated its operating expenses by nearly $1 million.
In its rebuttal, ASU revised its requested rate hike to $89 a month. An accountant argued ASU President Scott Lods' travel expenses are needed to operate the public utility.
"Mr. Lods is a 'hands on' owner who works daily with his consulting engineers and field staff ... Therefore, it is important to be knowledgeable of new products and techniques, and one of the best ways is to attend conventions," says Katelyn Shafter, an accountant for Reedy Financial Group.
In response to concerns about employee benefits, including thousands of dollars in Christmas bonuses, ASU Staff Engineer Andrew Mix said the perks are in the interest of attracting and retaining talent.
"Employers are having an extremely hard time maintaining employees," he says. "Employees are giving up a lot when they are called out on Christmas morning to clear a sewer backup or cannot celebrate New Year's Eve since they are fixing a water main break in below zero winter conditions."
As News 18 reported, OUCC experts also pointed out possible conflicts of interest involving Lods.
Lods, for example, leases land to ASU for its office, storage and shop spaces, according to the review. As part of the reported deal, ASU pays property taxes on all 17 acres while encompassing a fraction of the footprint.
In 2020, Lods collected nearly $60,000 in rent from ASU and, in November of that year, entered into a new lease raising rent to nearly $78,000, according to the review. 
Rebuttal documents don't address concerns regarding rent payments and property taxes except for one paragraph in Shafer's testimony:
"What ASU initially included is understated. $77,869 should actually be included for building rental fees and related property taxes," she says. "However, even with the increased amount to be included in rates, it will be offset by the adjustments ASU has made in other areas."
The OUCC also recommends removing more than $1.1 million worth of heavy construction equipment and machinery from ASU's property.
"Despite the fact that it owns this equipment, ASU used various construction contractors, including its own affiliate, to perform this work, as has been its practice in prior years," says Margaret Stull, the OUCC's chief technical adviser.
But Mix argues maintaining the equipment is a better investment.
"ASU performed an analysis regarding equipment purchase price, yearly depreciation, insurance including rate of return and compared this with the rental fee for a similar piece of equipment," Mix says. "ASU determined that even if the equipment it owns is operated infrequently ... the cost to rent is over six times more expensive for the same equipment."
Lods couldn't be reached Friday for an interview and his attorney declined to comment.
An evidentiary hearing is set for June 2.