After 43-53 yesterday, highs reached 51-58 today (28-35 this morning).
Rainfall totals from yesterday (& bit of melted sleet northwest) varied from 0.04-0.21".
Up to 5" of wet, slushy snow fell in northern Illinois!
_______________________________________________
Another Alberta Clipper system passes tomorrow.  A wave of showers will pass in the morning with 0.04-0.12" liquid.
Sunshine should then appear for the mid to late morning through early afternoon (mixed with cumulus clouds).
In the colder air aloft, a few spotty showers may bubble up with the cumulus.
Low stratus overcast should then pivot in during the late afternoon to evening with falling temperatures.
After 38-42 in the morning, highs of 56-65 (63 Greater Lafayette) are expected with the sunshine.  Southwest winds will run 15-30 mph.
Temperatures will fall quickly through the 50s to the 40s by later in the day as winds turn to the northwest at 20-35 mph.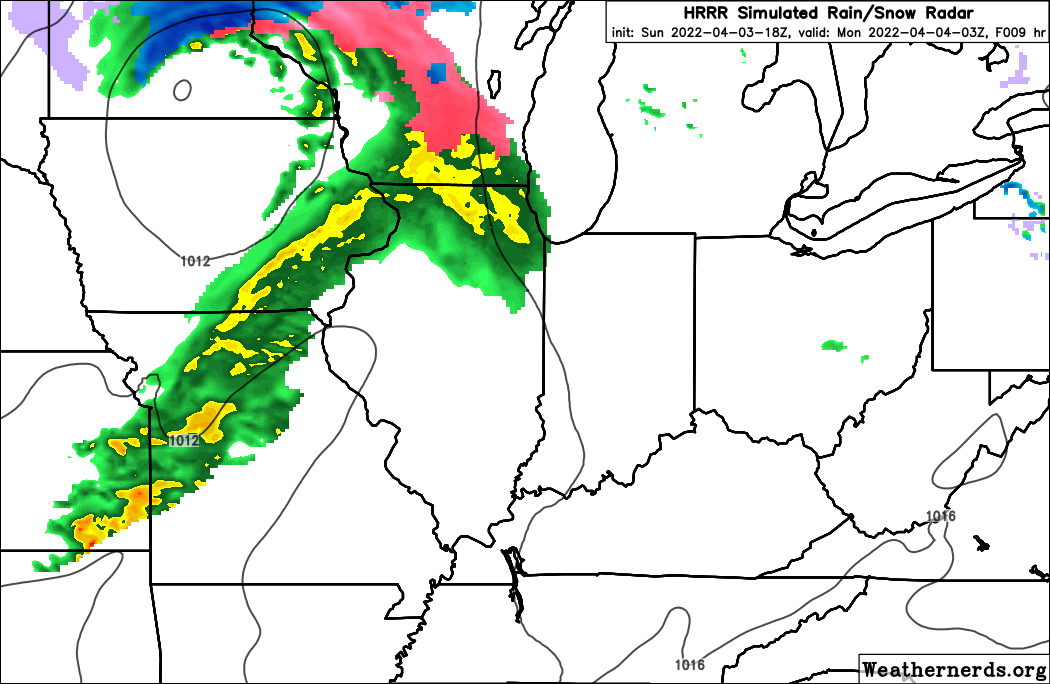 Rain is likely Tuesday. 
Looks like some showers early in the morning goes to steady rain with time.
Rain goes to scattered showers & drizzle late in the day.  It looks cloudy all day with southeast wind 10-15 mph becoming east at 13-24 mph.
After 44-48 in the morning, highs of 53-57 (55 Greater Lafayette) are expected.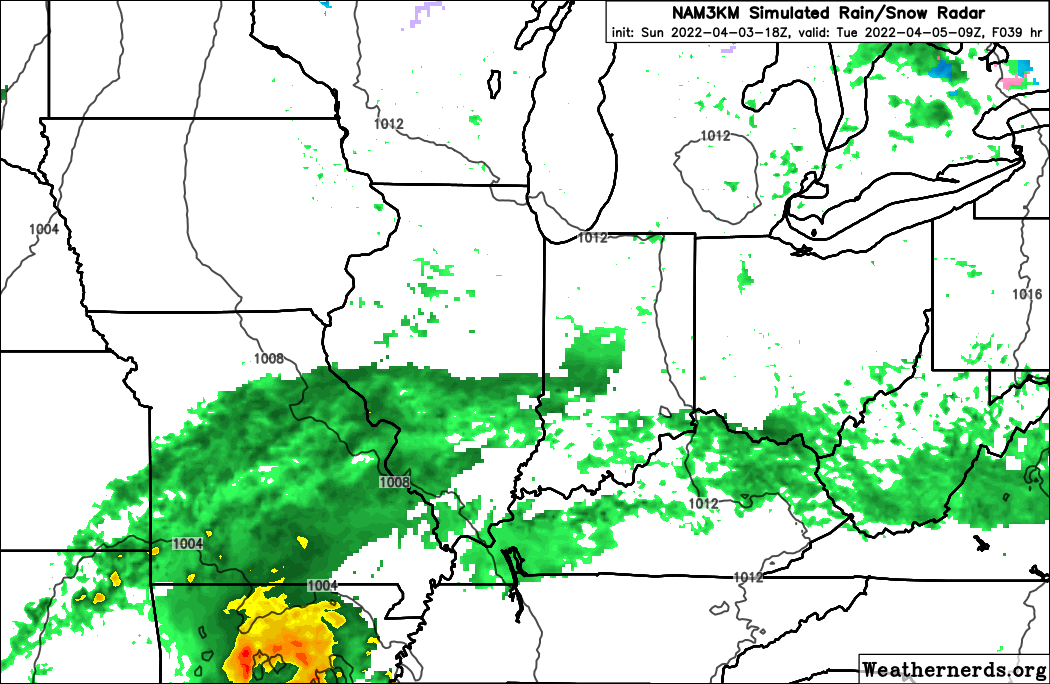 After that, a band of rain & a couple of embedded t'storms passes Wednesday morning with low temperatures Wednesday morning of 46-50.
After that band of rainfall, sunshine should appear Wednesday afternoon with potential of a broken line of showers & t'storms to pivot through the area.
Low stratus should follow Wednesday night.
Southwest winds of 20-33 mph are expected, shifting to the west-southwest to west in the evening.
Highs of 61-66 are expected.
Monday-Wednesday a total of 1-2" of rainfall is possible.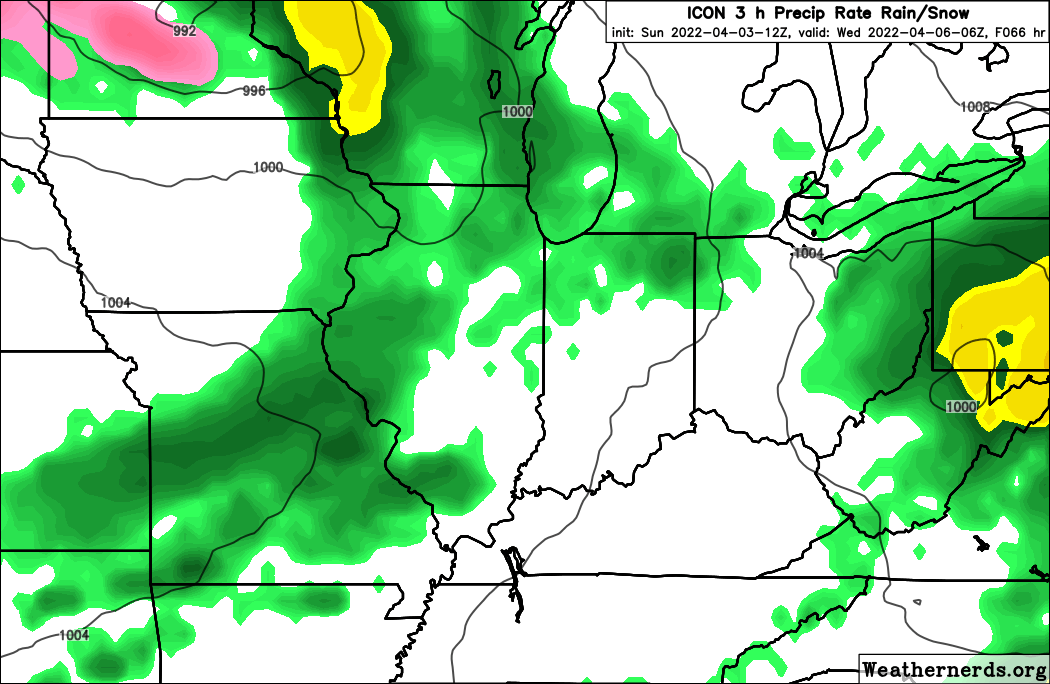 West to northwest winds to 35 mph, lots of clouds & a scattering of rain/snow/graupal showers dominate Thursday-Friday.
Highs Thursday will only run 38-46, followed by 32-36 Thursday night, followed by 37-46 Friday.
Pockets of very minor grassy snowfall accumulation cannot 100% be ruled out.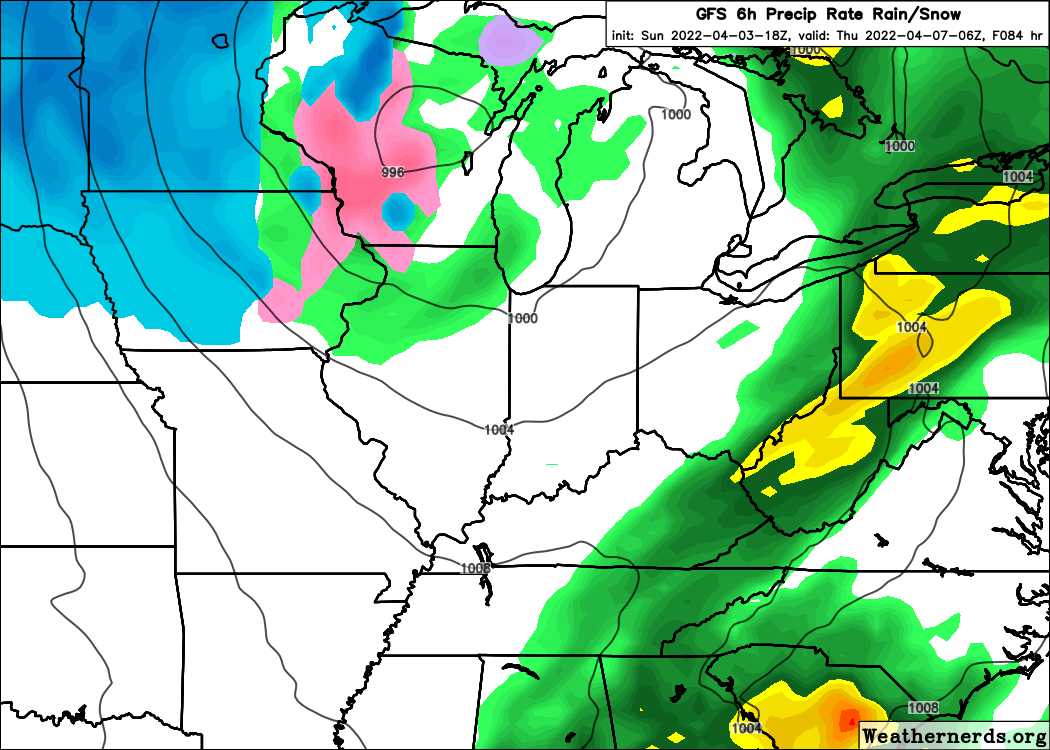 As for next Friday night-Saturday morning, at least partial clearing is expected.  
Lows of 27-30 seem reasonable with partly cloudy skies & highs only 44-50 next Saturday with a brisk northwest wind to 30 mph.
CIPS analog shows the unusually cold weather for that time in April.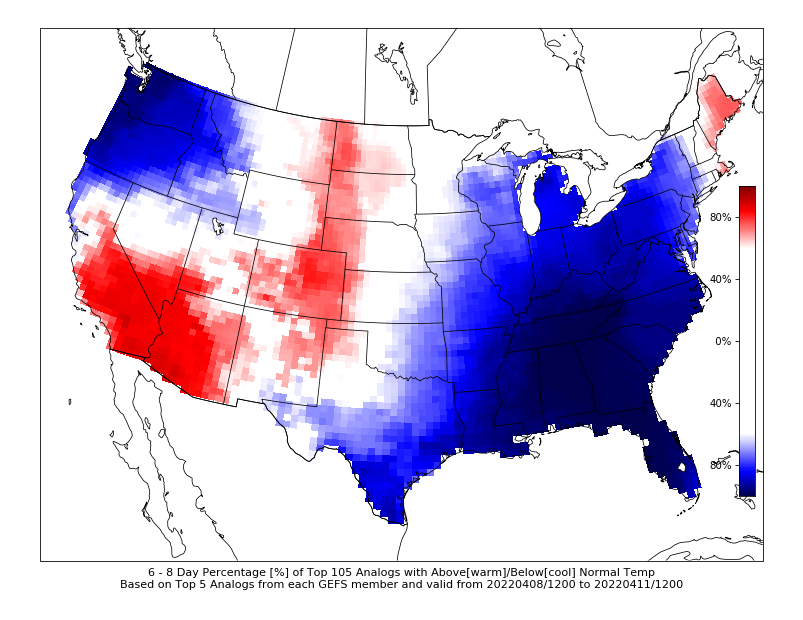 Next Sunday looks better with highs 53-58 with mostly sunny skies after 26-29 in the morning.
MAJOR changes occur the following week.
Note the BIG warmth building!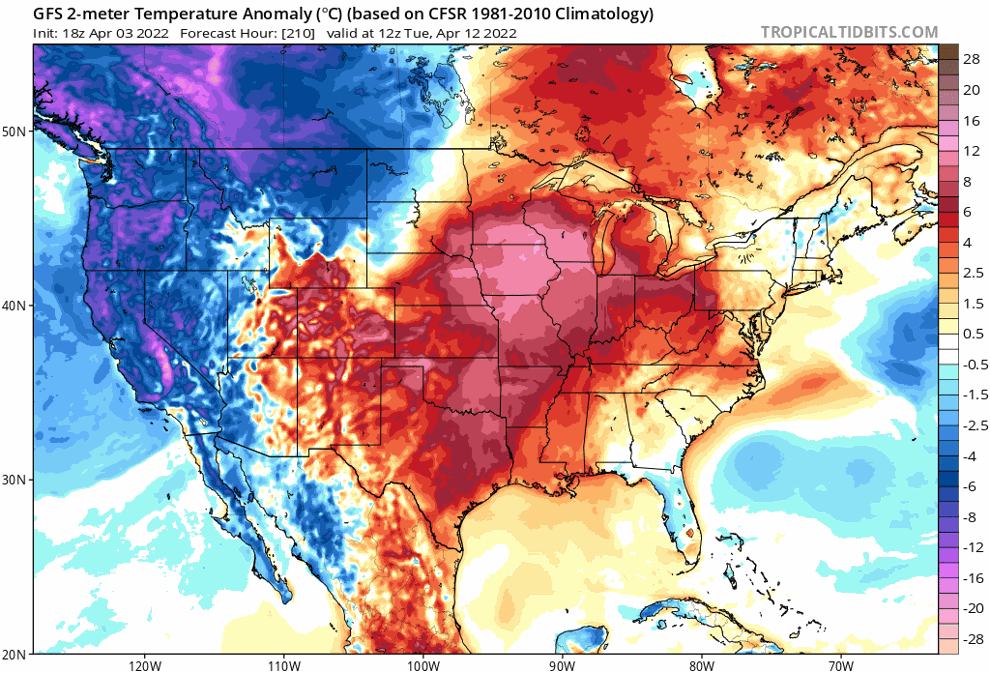 Very strong upper jet will set up over the Midwest with very deep upper trough off of California.
With widespread warmth & a very strong, warm, humid flow off of the Gulf of Mexico, shortwave troughs will eject out of that main upper trough into the Plains & Midwest.
This will promote multiple rounds of severe storms Plains to Midwest (including some big outbreaks) near April 13 to April 20.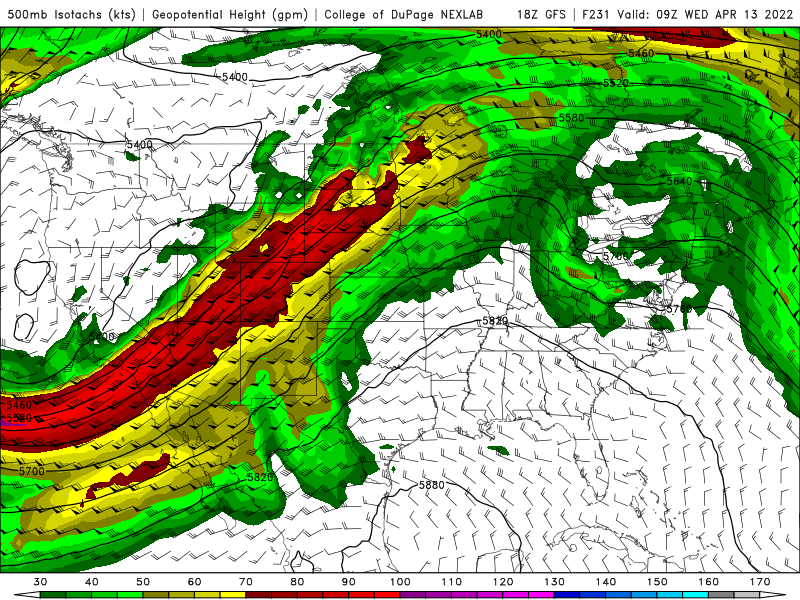 CIPS analog shows this pattern set-up with above to well-above normal temperatures here & over the central & eastern U.S. overall.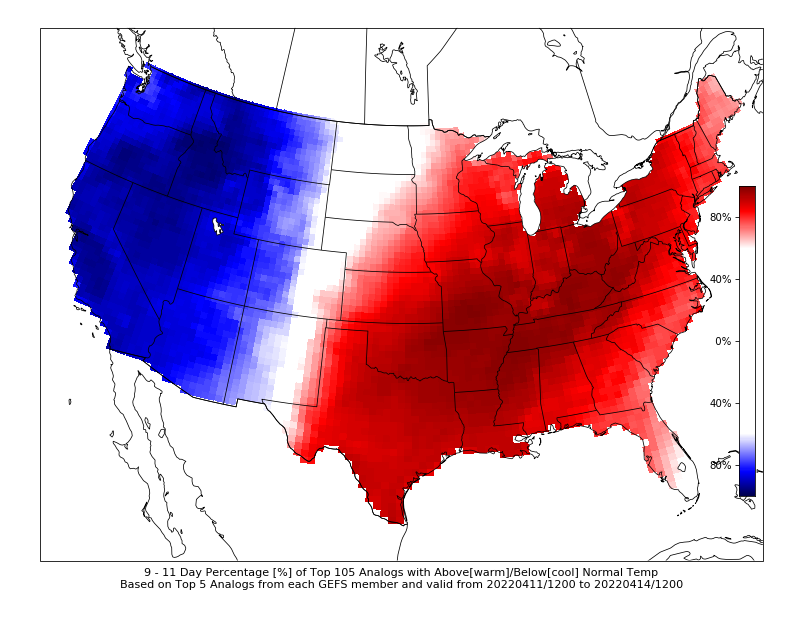 Tornado risk rapidly increases in the Plains to western Corn Belt the week after next week, then the severe weather risk should translate eastward to our area.
There is the risk of strong/long-track tornadoes in that active April 13-20 period, especially Iowa to Missouri to Oklahoma.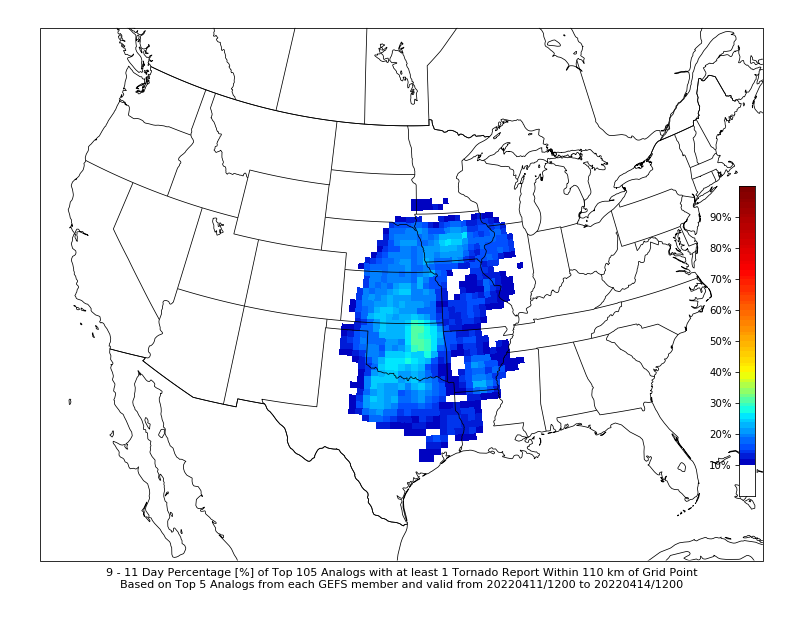 It appears that after a brief lull that another big upper trough will swing out of the Far West & send shortwaves into the Plains/Midwest, then the main upper trough should swing through.
These shortwaves & the main longwave will occur as very warm, humid, unstable air surges back northward.
This signals another period of multiple days of severe storms (& some outbreaks) from the Plains to Midwest April 23-29.