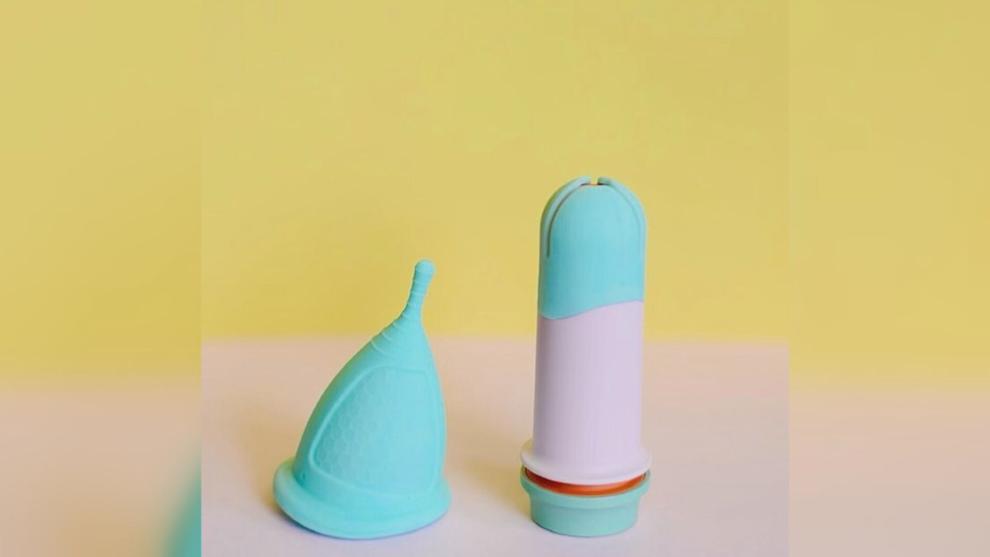 WEST LAFAYETTE, Ind. (WLFI) — Two Indiana entrepreneurs have officially opened preorders of a brand-new product. 
Sunny is a startup that is currently accepting preorders for their new take on a mensural cup. The product is designed to be inserted like a tampon. The founders hope to flip the script on menstruation.
After a couple of their TikTok videos received hundreds of thousands of likes and comments, Cindy Belardo of West Lafayette and Drew Jarvis of Fishers, are launching their own take on the menstrual cup after four years and hundreds of product designs.
"It was one of my initial goals to have an easier insertion process when using a menstrual cup," Jarvis, Sunny's CMO and co-founder, said. "Because we've found that that is one of [people's] biggest barriers to trying one. And so, we thought, 'What's something most people use for their periods that most people are comfortable with?' And that's tampons."
The reusable cup is designed to fold nearly in half and be inserted into the body using the reusable applicator. This is unique from traditional menstrual cups, which are inserted by hand. 
"People are saying things like 'I know about menstrual cups, I'm a tampon user, and this is exactly what I need to switch over,'" Jarvis told News 18. "It's just awesome to see that people get it."
Products like this menstrual cup are associated with possible health benefits.
"To date, there have been no links to toxic shock syndrome with menstrual cups," Sunny CEO and co-founder Belardo said. "So that's one huge plus. Also, here's no harmful chemicals or dyes like we see in other non-organic products."
The Sunny cup is made of medical grade silicone and only has to be replaced as frequently as once a year, depending on how well a user takes care of it.
"The average menstruator will spend over $6,000 in their lifetime on tampons and pads," Jarvis said. "But, [a person would spend] just a little over $1,000 if you were to switch over to a mensural cup, or even less."
According to Belardo and Jarvis' research, 7 billion tampons and 12 billion pads go into landfills and sewage systems every year, meaning more menstrual cup users would eliminate literal tons of waste. However, their mission goes beyond even saving the environment.
"Our mission is to be inclusive, open period care," Belardo said.
In that vein, their website doesn't use gendered language, and Belardo wrote a book to educate young people about periods.
"Unfortunately I think the subject is taboo," she said. "And there are people who just don't understand because we're not having these conversations. So we're definitely working to normalize it and hopefully change that."
The founders have also partnered with a non-profit to explore developing a buy-one-donate-one model for their products, so they can try to help give more people access to period care.