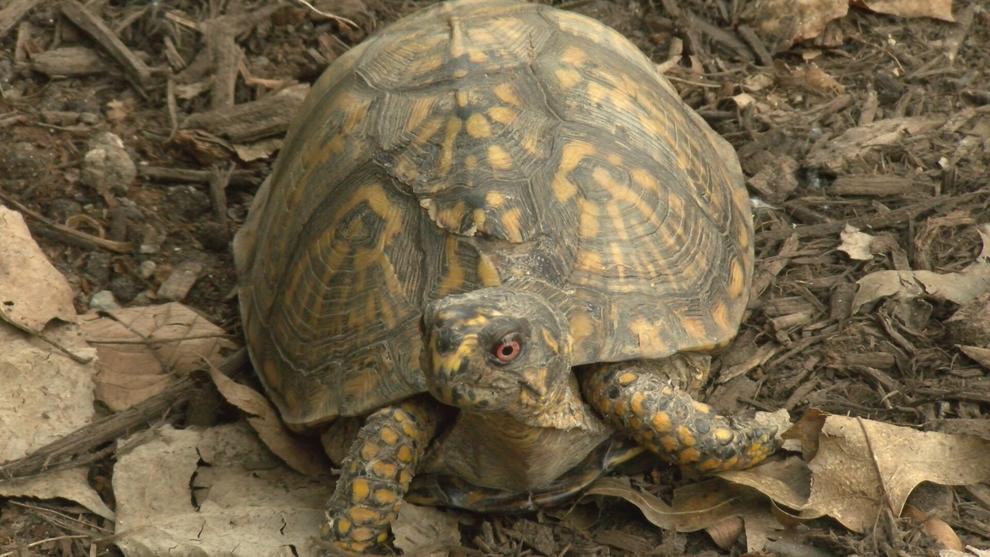 BATTLE GROUND, Ind. (WLFI) — A new species is now on display at Wolf Park in Battle Ground.
For the first member of the exhibit, it's been a long journey to get to Tippecanoe County. News 18 spoke with the Wolf Park Executive Director to find out how Charles the Eastern Box Turtle made it to his new home.
Wolf Park's Turtle Garden is now open to the public. While the park's executive director said most box turtles can live to be 100 years old, Charles nearly had his life cut much shorter.
Little Charles is an Eastern Box Turtle, which is a protected species in Indiana.  Wolf Park Executive Director Karah Rawlings says box turtles like Charles play a big role in Indiana's ecosystem. 
People often find them in their yards, which is exactly where Charles ran into a problem. A man who was clearing his garden accidentally hit Charles with a machete, damaging his shell and spinal cord.
Charles has since regained some of the mobility he lost in his back legs, but also uses wheels to get around. Rawlings said Charles is arriving from a rehab facility in southern Indiana and is settling in well at the park.
"He was there for about two years while they did physical therapy with him," Rawlings said. "Realized even though he was able to get around pretty capably, he wasn't going to do well in the wild and was non-releasable. So when they got the word we were putting together this new exhibit, they thought he would be a good fit for us."
Rawlings said Charles and the Turtle Garden exhibit will help people better understand the role these turtles play in the environment. She says one lesson is to not take in these turtles as temporary pets if you find them, which Rawlings told News 18 is common for people to do.
Rawlings also said Wolf Park is looking to add more turtles to the Turtle Garden exhibit in the near future.
The park is also accepting financial contributions to help pay for Charles' ongoing care.
If you would like to learn more information on how to donate, click HERE.