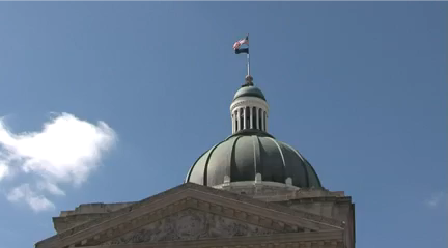 TIPPECANOE COUNTY, Ind. (WLFI) — Indiana Senate leaders have proposed banning abortion with limited exceptions on Wednesday.
This proposal will be taken up during a special legislative session on Monday. 
Indiana Gov. Eric Holcomb said he wishes to read the entire proposed abortion ban Indiana senators released on Wednesday. 
"Understanding that where we start may not be where we end on a topic that is complex, emotionally — understandably — charged," Holcomb said. "That we will have thoughtful conversations understanding there's a spectrum of thought." 
Sen. Ron Alting told News 18 "I do not support that bill the way it is written." 
He also said he plans to hold a caucus on Thursday regarding the legislation. 
"As far as, you know, having my body regulated as a woman I feel is a deep invasion of privacy," Rep. Chris Campbell told News 18.
Campbell said she anticipated a ban like this being proposed since the overturning of Roe v. Wade by the U.S. Supreme Court. 
"I appreciate the fact that we are going to go through the whole legislative process and that he public will be able to give public input," she said.
Holcomb said he will be providing input throughout the process as well.  
"Part of my responsibility will be to be in those, not just conversations, but negotiations as they unfold from day one," he said.
In a news release, Planned Parenthood Alliance Advocates Indiana said "Indiana legislators' proposed ban would prevent providers from giving legal and safe care. Even the bill's limited exemptions would leave providers risking investigations, and even criminalization, making them exceptions in name only."
A pro-life rally is planned for Thursday at 6 p.m. on State Road 38 in Lafayette.