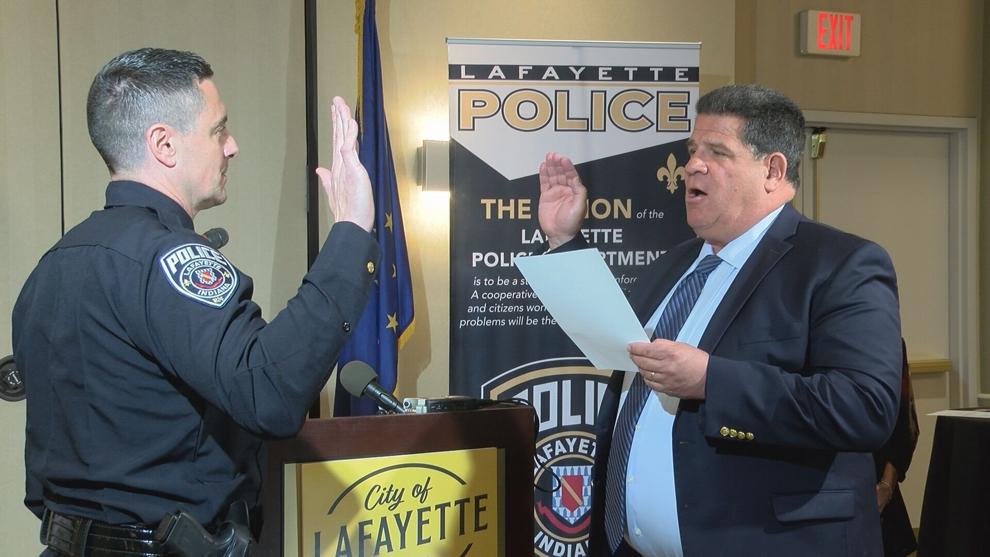 LAFAYETTE, Ind. (WLFI) — Scott Galloway is officially Lafayette's newest Chief of Police. 
Law enforcement, public servants and civilians alike gathered in downtown Lafayette for the swearing-in ceremony Monday.
The now former Chief Patrick Flannelly told News 18 he is confident the department is in good hands.
"If you put the right people in place, then good things are always going to happen," he said. "You're always going to have challenges, there's always going to be tough times, but when you have good people with a good heart, good character, integrity, sense of honor and duty and compassion, then great things are going to happen for our community."
Galloway said he intends to maintain the close relationship the law enforcement agencies within Tippecanoe County have, as well as see through the completion of the public safety center building so that LPD can work under one roof.
"The greater Lafayette community expects and deserves world class public safety," Galloway said to the crowd after being sworn-in. "With highly trained, equipped and prepared officers and civilian staff. A department who recognizes the importance of inclusion and connecting to diverse communities. As well as providing maximum efforts an protecting victims of crimes that most impact our community."
Mayor Tony Roswarski spoke to Galloway's character before swearing him in.
"He's a man of kindness and compassion, integrity and perserverance," Roswarski told the crowd.