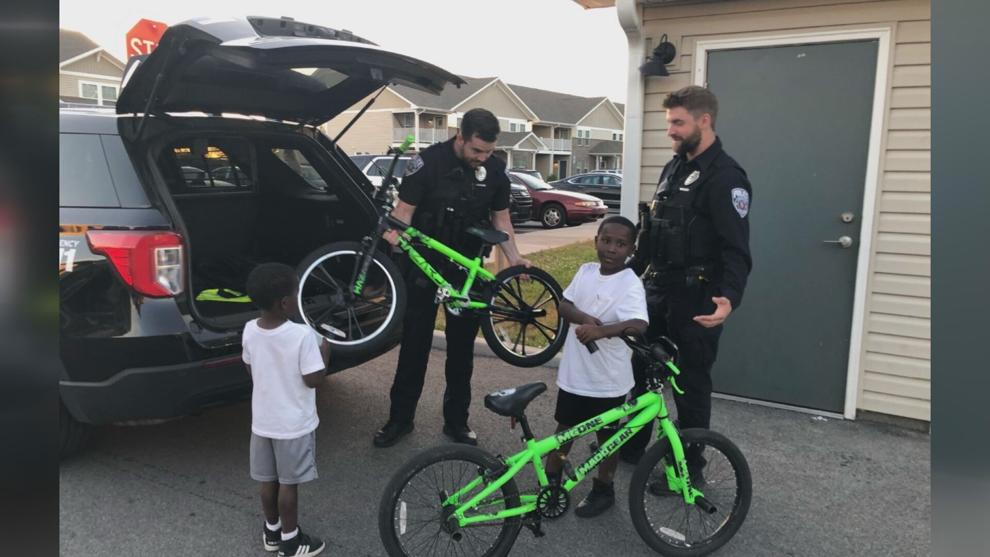 LAFAYETTE, Ind. (WLFI)—  Lafayette Police were out Thursday night on a mission for community engagement.
Officers Daniel Anthrop and Taylor Turner were handing out frisbees and footballs to the kids playing outside at the Overlook Pointe Apartments in Lafayette.
That's when they realized one of the kids' bikes had brakes that didn't work, and they wanted to do something about it.
"We told him that we would try to fix his bike," Anthrop said. "But, we're not the handiest and we didn't have the tools for it. So then it was actually his (Turner's) idea to go and get him a bike. And he went to Walmart and said 'Hey' he asked me 'You want to split this?' and I said sure."
The two officers were able to see the impact of their work right away.
"I think one takeaway that I took from it was his mom," Turner said. "When she saw what we did, she immediately said, 'You don't need two bikes. This bike over here, we're going to fix it up and we're going to give it to a kid who is less fortunate than you, a kid that doesn't have a bike.'"
According to Officer Anthrop, people become police officers to help others and make a positive impact in the community. So while protecting the community is a big part of the job, stuff like is is also very important.
"I think the biggest thing is that this stuff happens every night, every day, all across America," Anthrop said. "You know recognition is great and we appreciate that, but that's definitely not the reason we're doing it. The reason why we do that is to make that positive impact."
Officer Anthrop added that he hopes that this one action will lead to more positive outcomes, like someone else getting that kid's old bike once its fixed up.