The capping effects of the smoke aloft (smoke reflect sunlight, warming that layer of the troposphere) combined with the expanding upper ridge is trapping pollutants near the surface, resulting in worsening air quality in the area.  Air Quality Alerts are up for Warren, Fountain, Tippeceanoe, Montgomery Carroll, Clinton & Howard counties.  The air is unhealthy for sensitive grops (those with conditions like asthma).
Air quality will continue to be an issue for the next 10 days.
Smoke so thick that it will turn us nearly overcast, will continue to dominate our skies for the next 2.5 days.
It may thin a bit over the weekend, but it will still be very smoky.
Meanwhile, extreme, record heat wave in the Plains will develop & expand east & southeastward.  Temperatures to 118 are possible in South Dakota to Nebraska.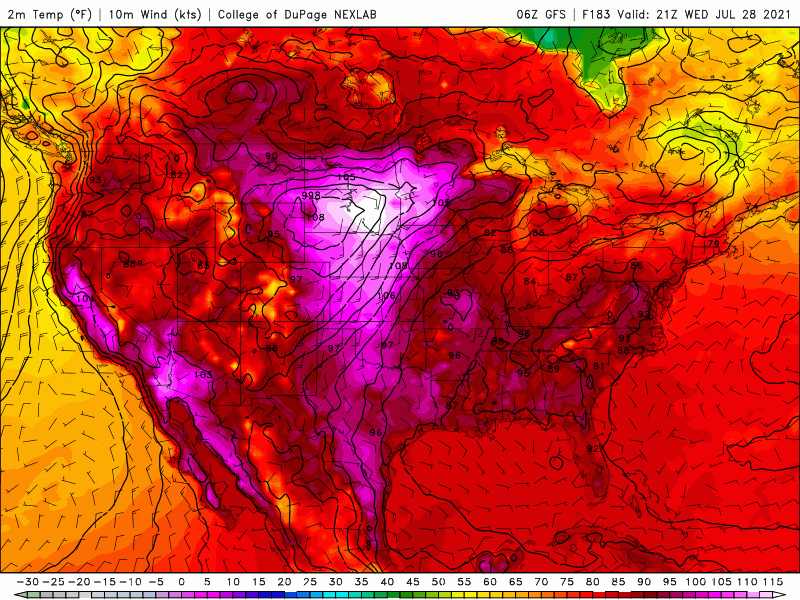 On the periphery of this expanding extreme ridge, a few storms are possible Friday morning from northeastern Wisconsin through Michigan to far northeastern Indiana.  We may see an isolated storm or two Friday morning & possibly one or two Friday afternoon.  However, the smoke will be thick & capping will prove to be very difficult to overcast to really get much organized storm action going not only here, but farther north & northeastward.
By Friday evening, a couple of lines of storms over northeastern Minnesota to Ontario will be moving southeastward.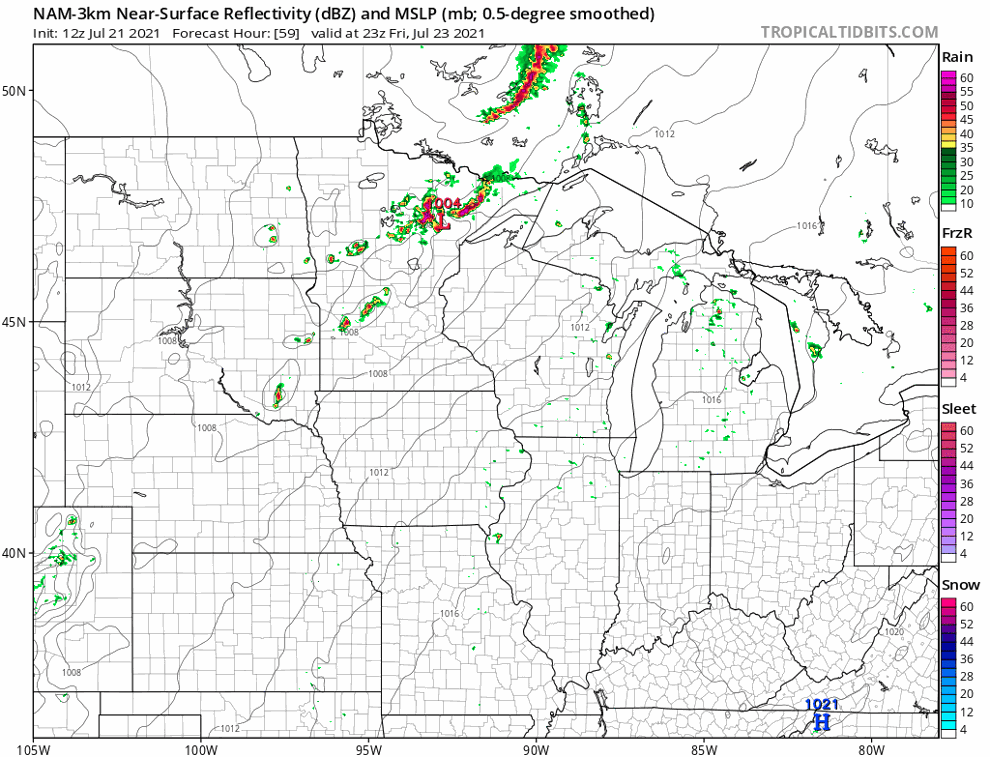 Complex of severe storms in the "Ring of Fire" is projected to dive through northeastern Minnesota to northern Lower Michigan & the UP to Ontario Saturday.
We look oppressive, hot & very capped & smoky. 
We will have BOILING instability or CAPE with temperatures in the 90s & dew points surging 75-81.  Although the storms are northeast of the area, if we can get just one storm or two to overcome the cap & smoke, it could go severe with downburst & hail threat (mentioned hail due to such high CAPE of 4000 J/kg MLCAPE).
Trigger would tend to be the lake breeze front & subtle gravity wave &/or outflow boundary from Michigan storms crossing that lake front.
At the intersection of those boundaries, a random severe storm could pop.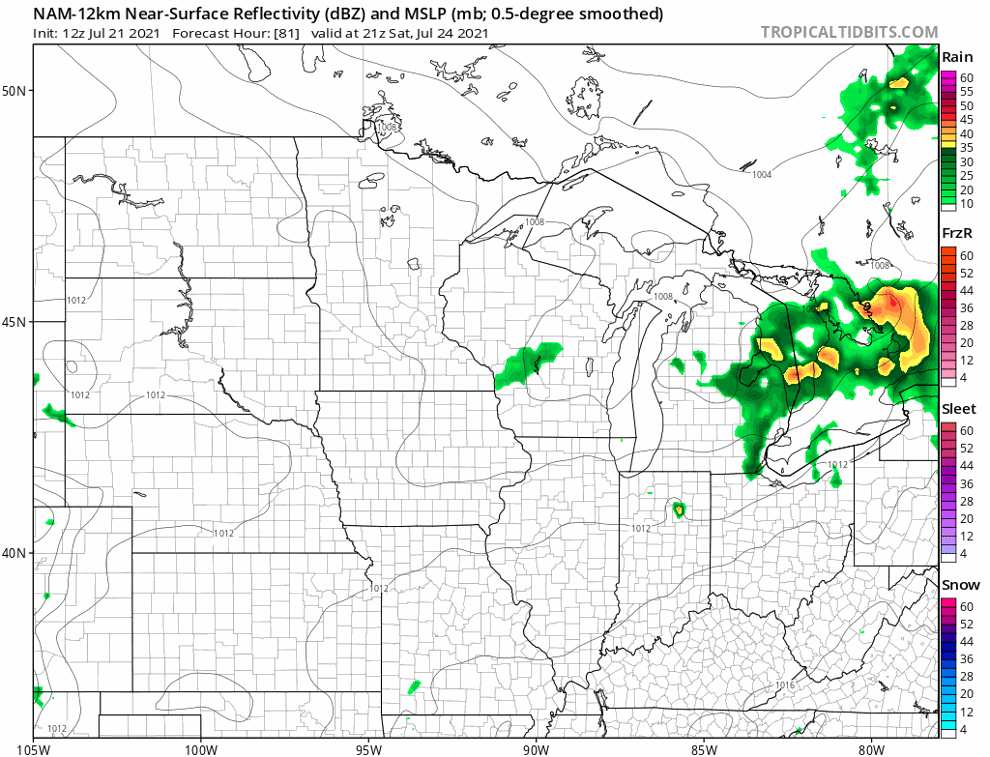 The intense heat (though quelled 5-7 degrees by thick smoke) combined with tropical low-level moisture from the wet, wet soils of the South advecting in & the transpiring corn & other vegetation all spells a DANGEROUS set-up for heat.
Temperatures surging to 94-98 with dew points of 79-82 mean heat indices 110-120 for multiple days.  Excessive Heat Watches & Warnings may be issued for our area.
I'd go more like 98-103 for highs if not for the smoke.  This would be similar to the 1995, 1999 & 2005 historic heat waves with heat indices +118.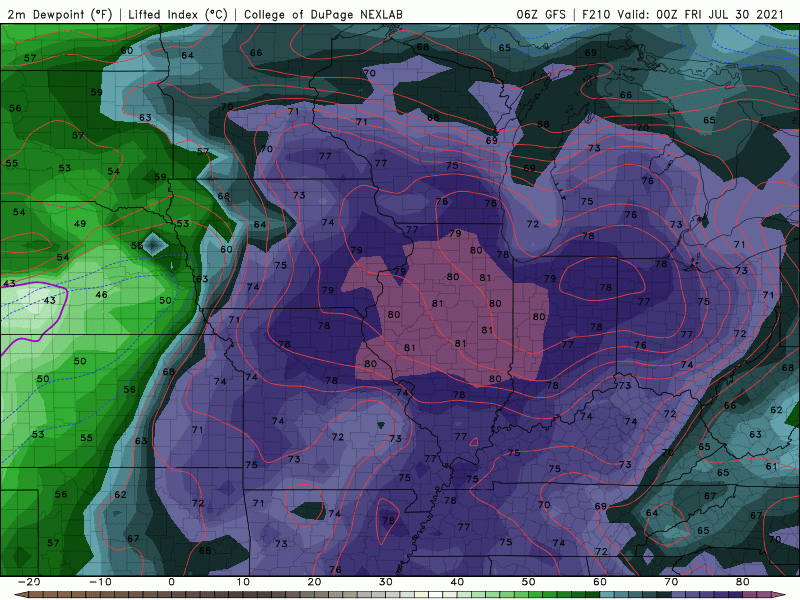 "Ring of Fire" "Ridge Riders" will tend to pass well north & northeast of our area Sunday-Friday of next week.
However, you always have to watch a renegade.  I have seen renegade Progressive Derechos develop & rather than moving southeast, they move south & then southwest into the area, riding the best instability gradient & the gradient with the least capping.
That could happen.
Also, the lake breeze front will be surging inland on multiple days.  Any sort of subtle outflow boundary or gravity wave from the severe storms well to the north & northwest could intersect that & pop a random severe storm or cluster of severe storms that could move southeast, south, southwest or even ridge the lake breeze boundary westward.
Each extremely hot, humid day with have tremendous amounts of CAPE of +4000 kg/J & it will be well-mixed.  It could reach 5200 J/kg near the surface where cap will concentrate it the most.
After torrid, dengerous heat wave for days, it appears that the strong cold front & upper trough will pass.
It is a bit unclear when.  Whether it is July 31, August 1 or 2 is still a bit unclear, but there is increasing consensus that it will be the evening-night of July 31-August 1.
This means that after a boiling, boiling hot day on Saturday, July 31 with highs 94-98 with heat indices 110-120, a line of severe storms may impact the area that evening with a wind threat.
Then, the following day (Sunday, August 1), dew points will drop from 70-73 in the the morning to 61-67 by late afternoon with north wind blowing.  Highs would be cooler in the 80s.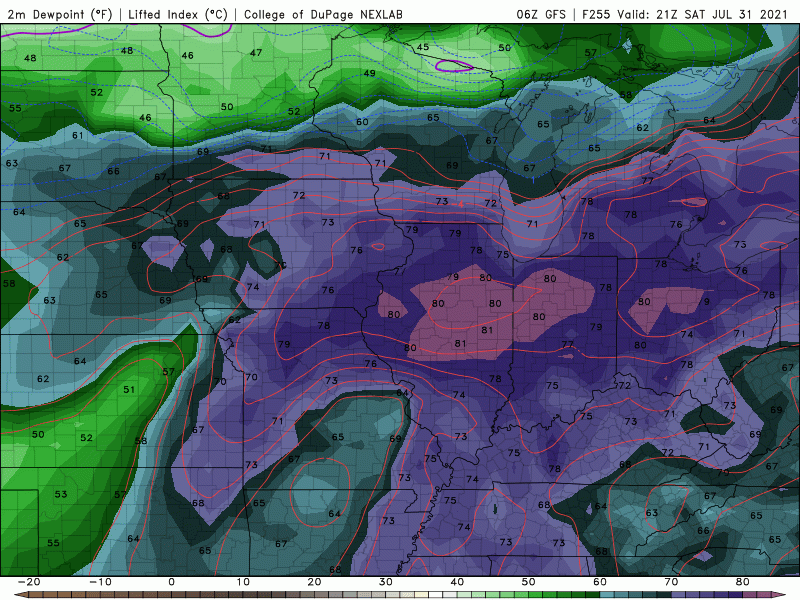 After a day or two with highs 75-79 with lows in the 50s, the mid 70s dew points advect back in by August 6 with highs in the 80s & 90s.
Storms are possible around August 7.