We were able to get rid of the clouds & keep them away today! :)  This allowed us to reach those highs of 57-62.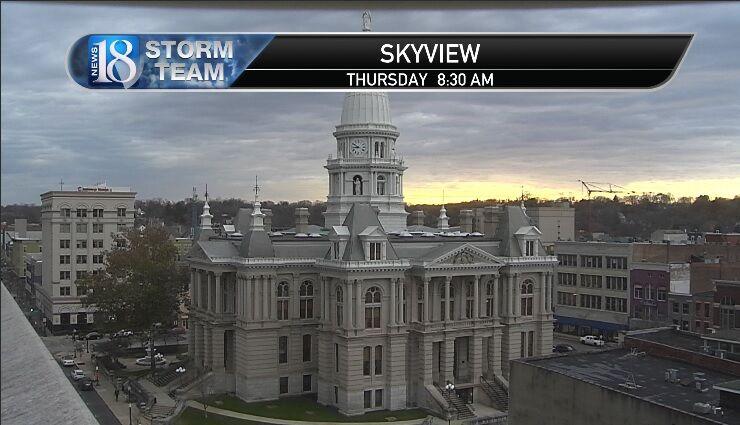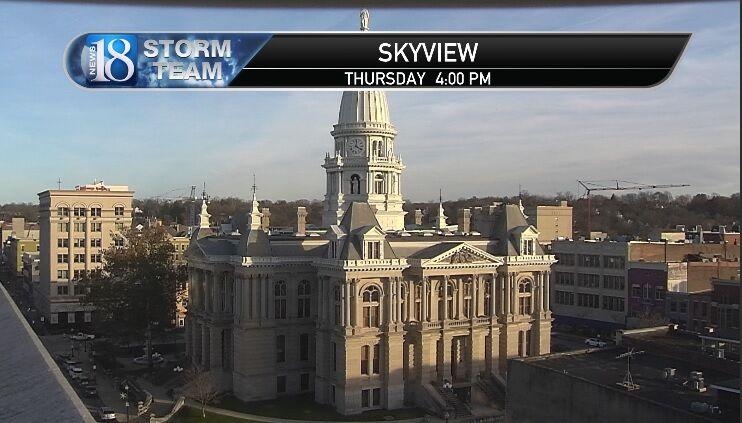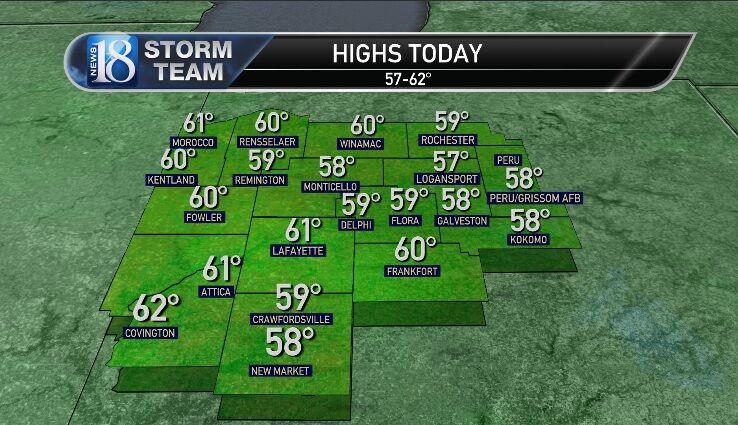 Unusually warm with +EPO & dry soils with brown vegetation plus downsloping winds off of the Ozark Plateau has led to temperatures near or exceeding all-time record levels for the month of December in areas of southeastern Missouri to southwestern Illinois.  Temperatures have been as high as 81.  Temperatures have read as high as 83 in northeastern Arkansas as the wind downslope, compress & warm at just the right angle to the Ozark Plateau toward the Mississippi Valley.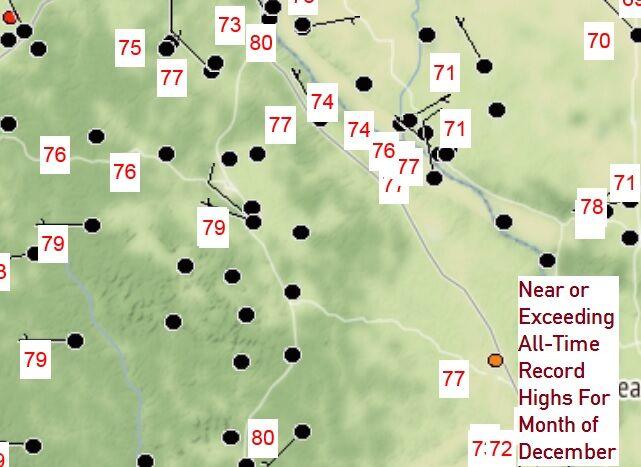 It has been INCREDIBLY WARM in the Rockies & Northern Plains!  Denver has yet to see snow & has mid 70s back in the forecast.
This heat bears resemblance to the early December 1939 pattern & warmth in the western & central U.S. 
Over the past two days Washington, Wyoming, Montana & North Dakota have all broken their STATE RECORDS for HIGHEST temperatures for the month of December!  Canada just tied its record for the warmest temperature ever record in the month of December.  The record for the country is 72.5!  It was tied at Penticton, British Columbia.
Many cities from Washington to Kentucky have set near or all-time records for the month of December.
Very positive EPO is the biggest part of the warmth, but also drought is fueling the warmth.  This is part of the continued very warm pattern that has been established over much of the central U.S. since March.
Incredible numbers for yesterday & today include:
79 Wray, Colorado...79 Poplar Bluff, Missouri...78 Jordan, Montana...78 Buffalo, Wyoming...77 Chester, Illinois...77 Scottbluff, Nebraska...76 Sheridan, Wyoming...75 Carbondale, Illinois...74 Omak, Washington...72 Yakima, Washington...72 Louisville, Kentucky...71 Hettinger, North Dakota...71 Mobridge, South Dakota...70 Shenandoah, Iowa...
It was also 81 at Timber, Missouri...80 Piedmont, Missouri...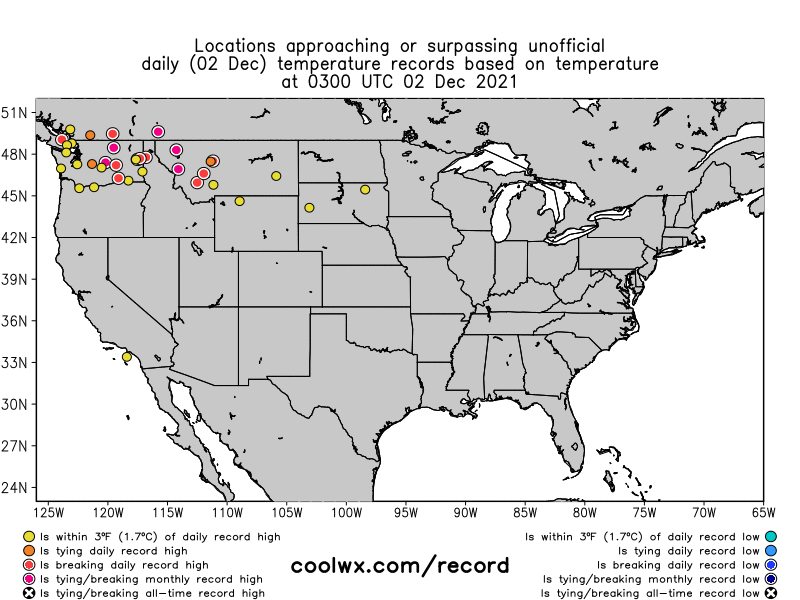 Numerous prairie & forest fires have developed over a massive area. 
Smoke late morning tomorrow: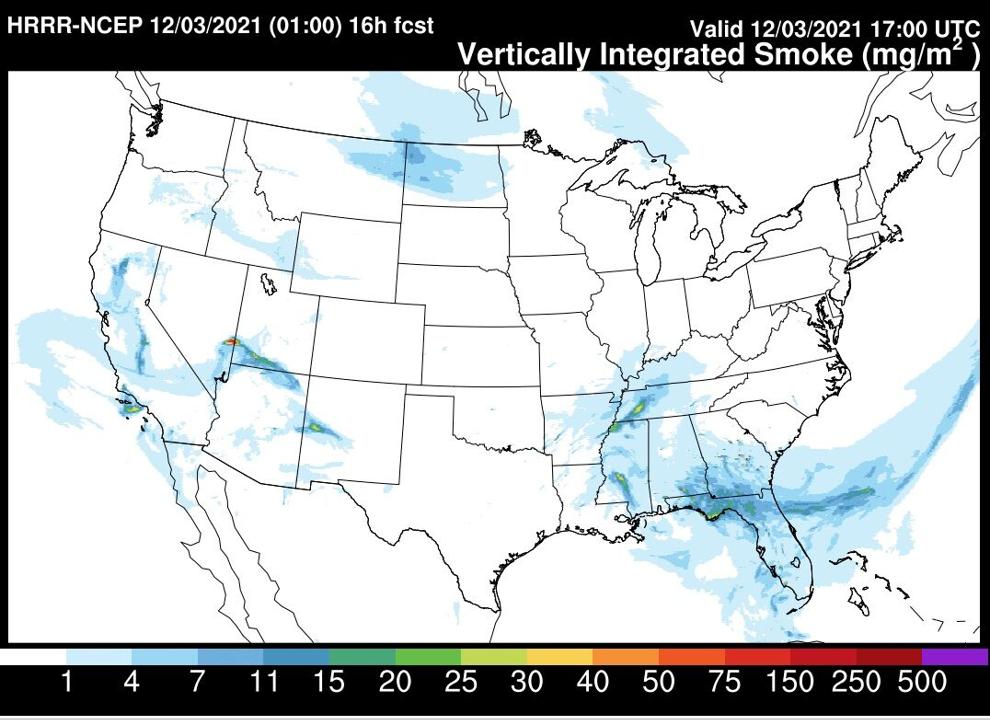 Here, dry surface cold front is moving eastward in the area now, so wind will go to northwest, then north to northeast, then east tonight.  Lows of 34-37 are expected with mostly clear skies southwest, partly to mostly cloudy north & northeast.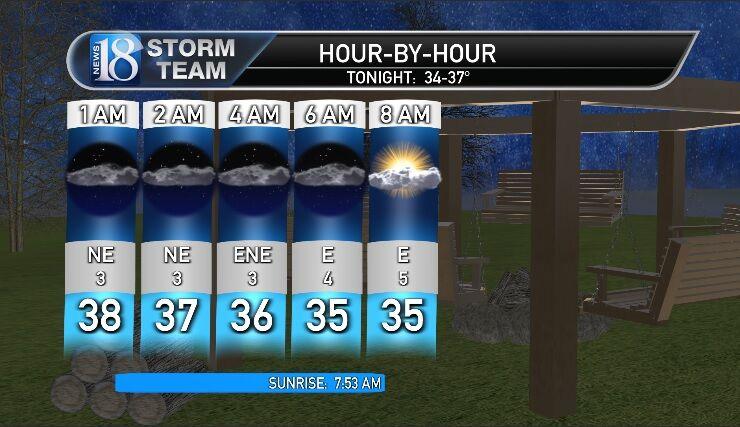 Tomorrow will features east to southeast winds & highs 51-58.  It will be mostly sunny in our southwestern counties, but more clouds as your work northeastward.  In north & northeast, skies will be partly to mostly cloudy.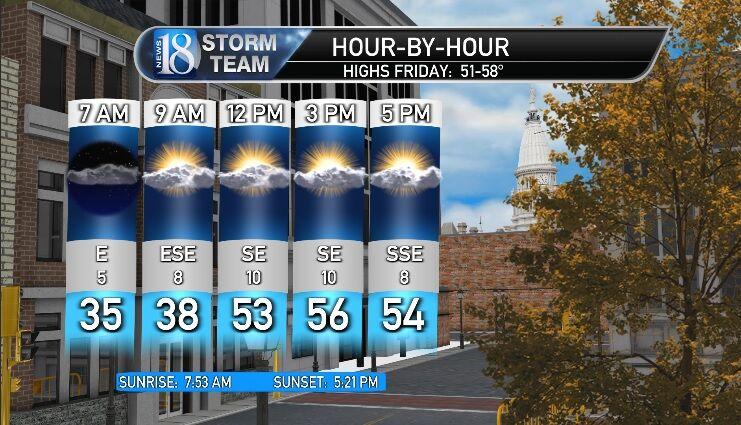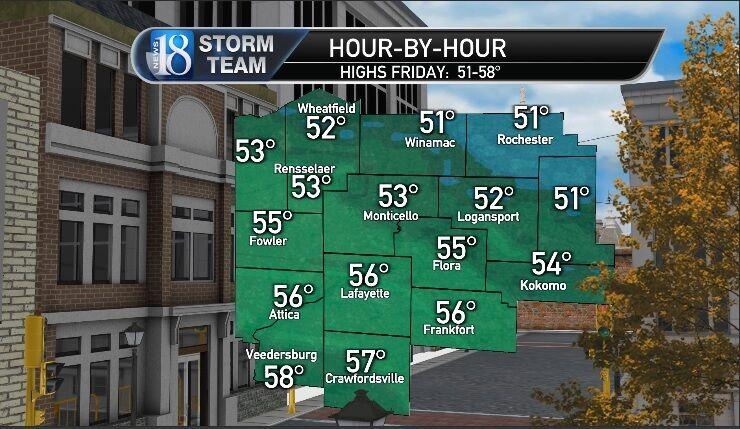 Saturday looks mostly cloudy early, then partly cloudy with highs 41-47 with north to northeast breeze after dry surface cold front passes Friday night.  Morning lows will run 30-34.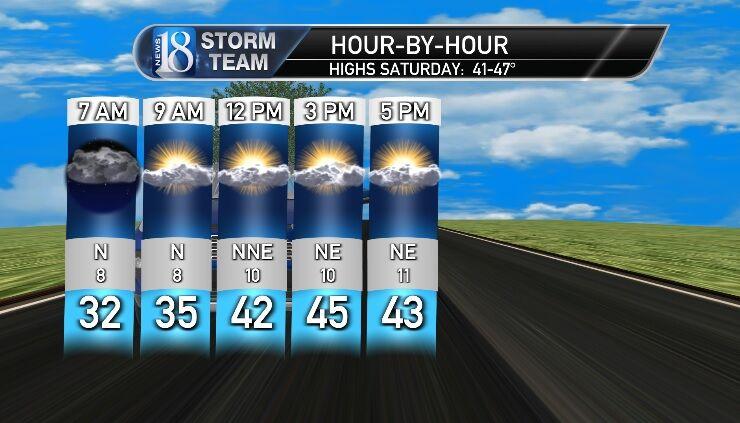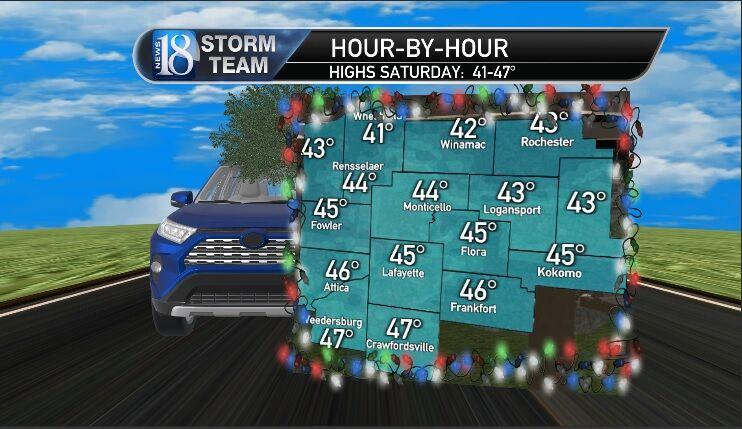 Temperature will fall from 41 to 36 during Christmas parade in downtown Lafayette with northeast breeze making it feel like 36 at first, then 28.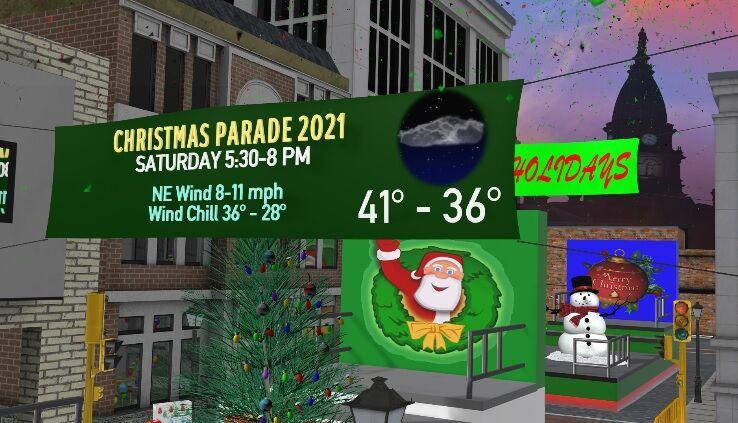 We turn cloudy early Sunday with rain developing.  warm front will set up over part of the area as storm system moves directly overhead.
So, highs will vary from 46 north to 58 south.  As cold front moves through in the afternoon, wind will turn to northwest & temperatures will fall.
Rain may end briefly as rain/snow or snow Sunday overnight.  Little to no accumulation is expected at this point with lows 26-32 & northwest winds 25-40 mph.
0.75-1" of total liquid is possible.
A few flurries & snow showers are possible Monday with partly to mostly cloudy skies & highs 30-35 & northwest winds 20-35 mph.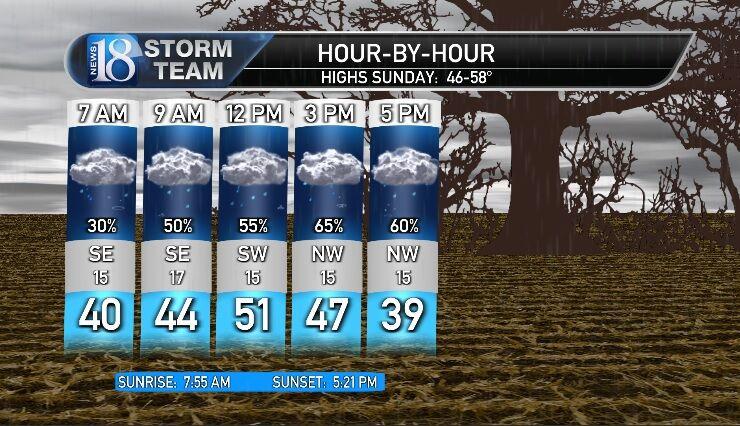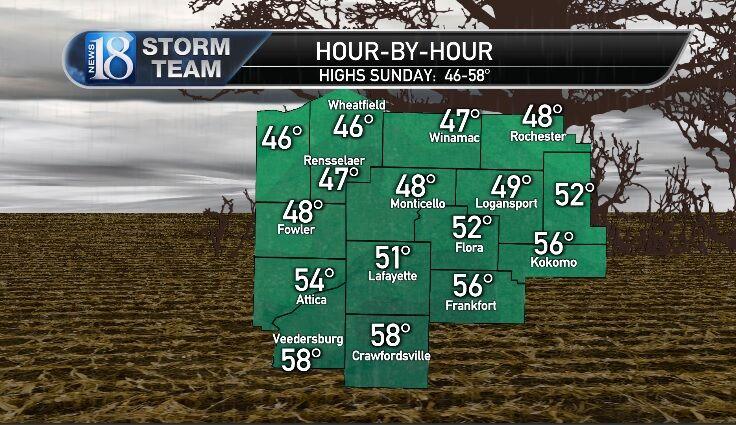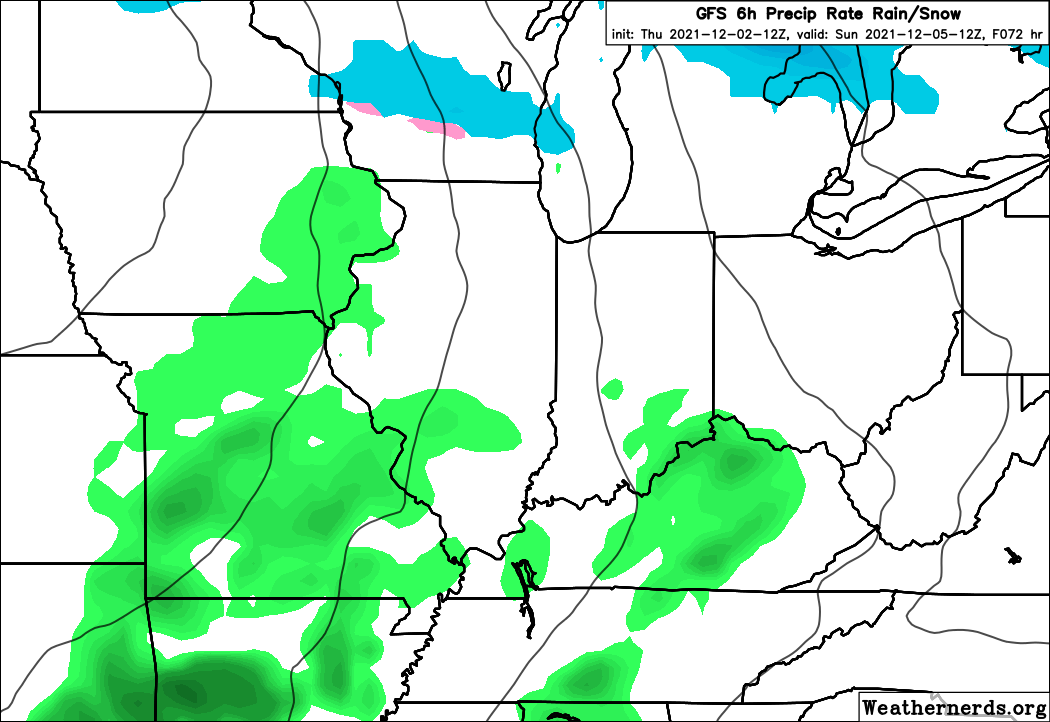 Tuesday will feature increasing & thickening clouds with highs 32-37 with east wind after morning lows of 20-25.
Warm front will move northward & with it, a band of snow & some freezing rain & sleet may occur north of it.  This could impact the area Tuesday night-Wednesday morning with accumulation.  Stay aware regarding the commute!
It appears that the snow & icy mix may change to rain as temperatures warm a bit with wind turn to the southeast Wednesday.
However, as storm pulls away, rain may end as a period of snow Wednesday evening with temperatures falling to around 32 with northwest winds 20-30 mph.
Some light additional accumulation cannot be ruled out in the evening.
As for Thursday, after morning lows of 26-31, wind turning to the southeast then south should send us up to 35-41.  Temperatures may rise from 27-32 Thursday night to 30-35 by Friday morning.
Some light icy mix early Friday may change to rain by Friday afternoon with highs 40-45. 
Rain & thunder is possible Saturday, December 11 with 50s to 60, followed by 20s & gusty snow showers & squalls Sunday, December 12 with some very minor, light accumulations possible.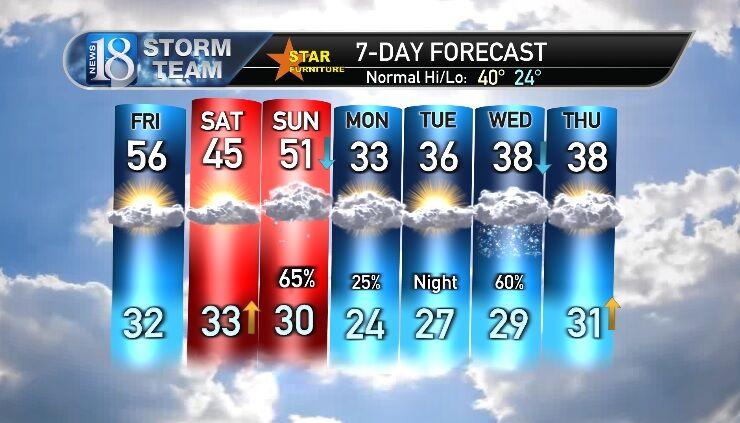 December 12-17 looks like a big FIGHT between warm & cold with active storm track of rain, storms, ice & snow back fourth & a lot of wind.  WILD temperature swings are possible as the warm phases battle the cold phases governing our weather pattern.
Eventually the cold will completely win out as cold phases dominate the effects of the Sudden Stratospheric Warming Event & weakening & splitting of the Polar Vortex arrive.
Late December through early January continues to look cold & snowy with below to well-below normal temperatures frequently.
Multiple nights below to well-below 0 are expected.
Cold should bottom out in early January.
Still looks like late January big thaw with flood risk with rain, storms & lots of wind.