After lows this morning at 58-64, highs today reached 79-85.  It became humid to muddgy with dew points reaching 65-71 over the area by late in the day.
After a lot of clouds with some sun & a couple isolated sprinkles in the south, we have actually seen a decent clearing trend in the heart of the area this evening.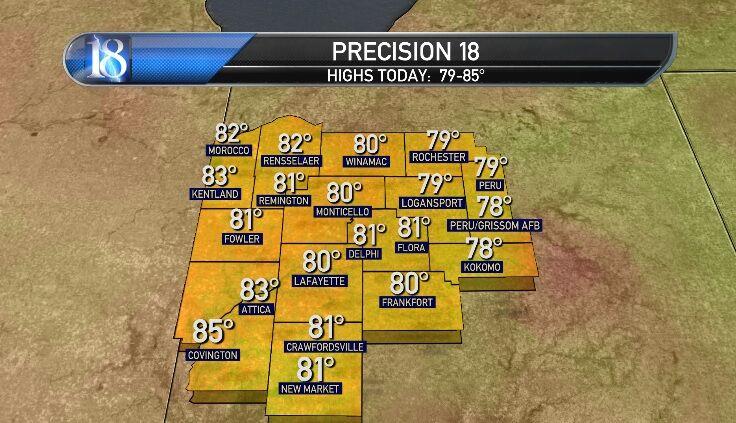 Lows near 60-65 are likely tonight with patchy fog developing as east wind goes light to calm. 
Some additional cloudiness will work its way up from the south overnight-tomorrow morning.  A small isolated light shower or two or sprinkle is possible in the morning.
Tomorrow afternooon will feature a some spotty t'showers (with 30% coverage) bubbling up with a mix of clouds & sun. 
Highs of 81-86 are expected with dew points 67-73 making it feel more like 85-90.
Winds will increase from the southeast to southeast-southeast to 8-13 mph.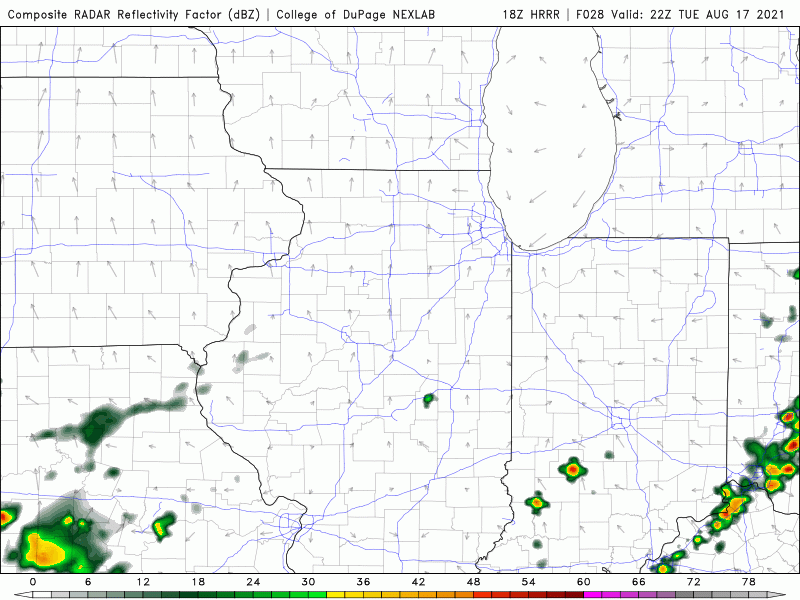 An isolated shower is possible Wednesday morning (with patchy fog & lows 65-70) with some spotty t'showers Wednesday afternoon bubbling up.
As core of weak upper low pulls overhead Wednesday amidst tropical airmass with dew points in the 70s & temperatures in the 80s, a couple/few funnels are possible.  This is due to uptick in vorticity over the area & the CAPE concentrating near the surface resulting in stretching for a couple/few rope funnels.  It is not a certainty, but possible.  These would have a very low chance of touching down, but a couple/few may develop.
Winds will be very light at 2-5 mph from the south-southeast to south. 
Thursday may feature an isolated shower in the morning with patchy fog & lows 67-71, followed by a couple/few isolated t'showers with funnel risk & highs 86-90 with heat indices 90-95.
The remnants of Tropical Storm Fred will track northeastward from Georgia to the Carolinas & near the Mid-Atlantic, causing no direct impacts to our area.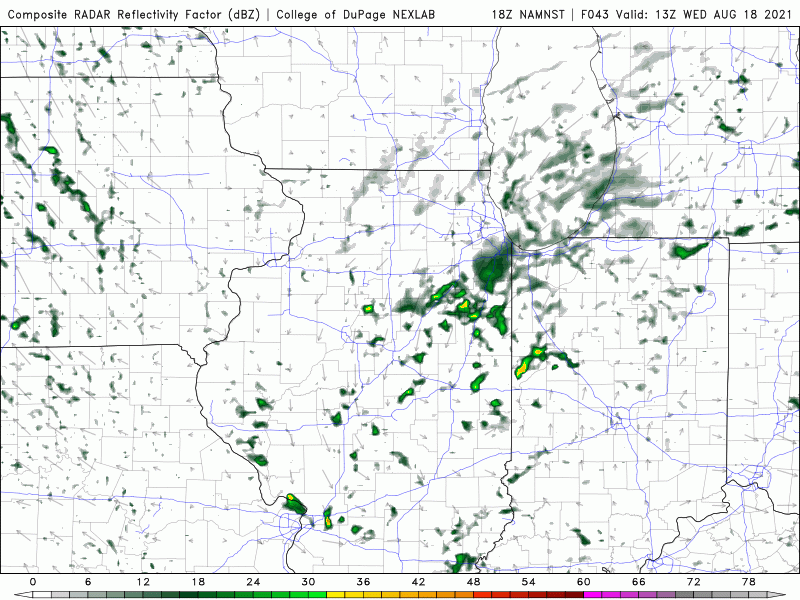 Smoke returns Friday to next week.  How much smoke we see will determine storm coverage from three period of storm risk Friday night-Tuesday.
This thick smoke could hamper severe storm coverage northwest of our area, but if storms can find pockets to overcome this, tornado risk will go way up where marginal shear coincides with putting a lot of the smoke in the low-levels.  This smoke helps rotating storms produce actual tornadoes in the low levels by dropping LCLs or lifted condensation levels.  Smoke is linked to tornado number & intensity.  University of Iowa researchers have found solid correlation between smoke & tornadogenesis.  The researchers also found that smoke also locally-increased low-level wind shear.
It is important to note that this occurs when storms themselves can overcome the capping effects of the soot-warming layer of the smoke several thousand feet up.  If the smoke layer is extremely thick, storms can greatly, greatly struggle.  The thinner the layer, the better potential of storms to get going.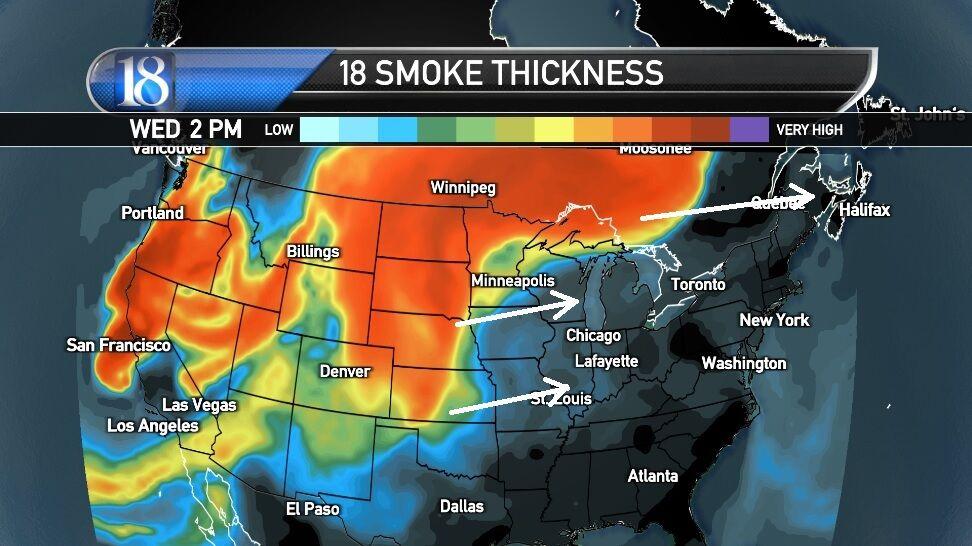 All that said, strong storm system will pivot through Montana to Manitoba with great wildfire relief in the form of rainfall & cooler air into Montana & Idaho to Saskatchewan & Alberta to Manitoba.
Conditions are favorable for severe weather outbreak from eastern Montana to Manitoba to South Dakota & Iowa, unless the smoke becomes an overwhelming factor. 
This would all be at the end of this week.
Timing of showers & storms here would be Friday night.  Current data continues to suggest MARGINAL (Level 1) to potential SLIGHT RISK (Level 2) for severe weather.
Strong wind fields for severe will be northwest of our area, but split in mid & upper jet will result in rising air motion for storms from Missouri to Indiana.
Again, smoke is a bit of a wildcard.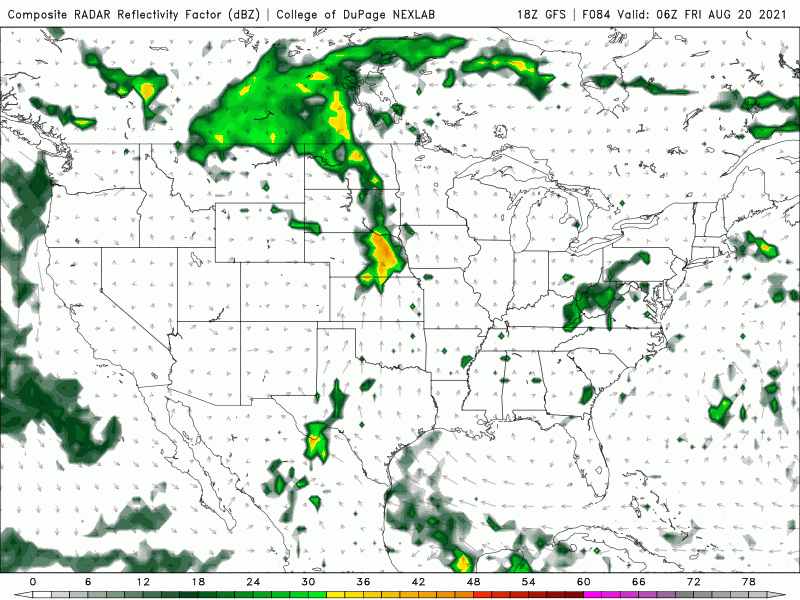 Saturday may feature a few showers & storms in the morning followed by dry weather with slightly less humid weather behind surface cold front.  It looks partly cloudy with 83-88 in the afternoon with heat indices 84-91 with a west to northwest wind.
By Sunday, highs of 85-90 are likely with heat indices 90-96 with winds turning back to the southwest & partly cloudy skies as front goes back north as a surface warm front.
Some storms are possible Sunday night as strong storm system pivots farther northward toward Hudson Bay, but another onepivots underneath it to the Dakotas to western Ontario.
Parameters suggest MARGINAL RISK (Level 1) for severe weather, but smoke is a wildcard.
One last bout of storm risk will tend occur Monday PM.
Monday will heat up to highs of 88-91 with heat indices 93-98 with southwest winds.  Once again, smoke is a wildcard Monday PM with parameters suggesting MARGINAL RISK (Level 1) for severe weather.
Note how "Grace", which will likely become a hurricane, tracks toward Northern Mexico with landfall there by next Saturday morning.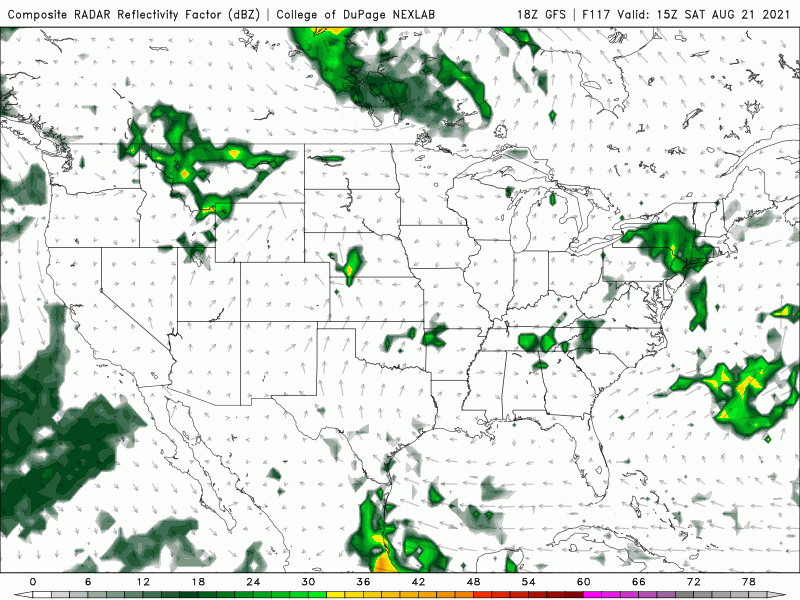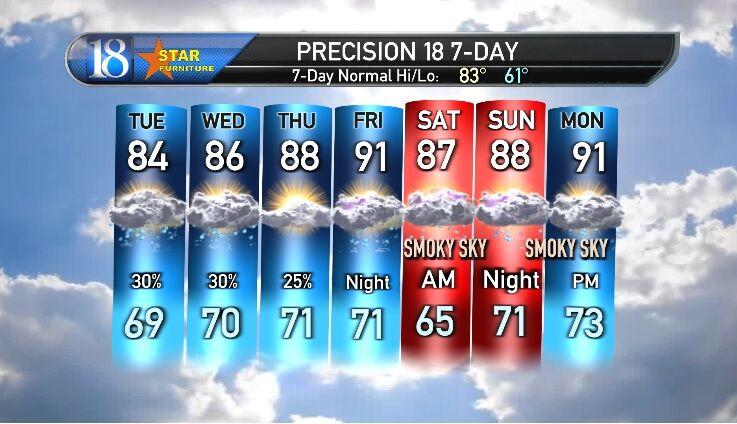 It could get quite hot later next week with 90s & 100s heat indices with southwest winds here.  We may get a cold front through next Friday with some storms, then brief cool-down.  However, hotter weather will follow again.  We could very well see a brief stint at near/record warmth in early September.
There are signs that a tropical storm or hurricane could impact the Gulf Coast in the last week of August. 
If it does develop & tracks far enough to the west into southeastern Texas or Louisiana, then it could move northward into our area & bring rainfall.  However, uncertainty is too high for that right now to even consider increasing rainfall risk for that.
Getting into September, the Florida & East Coast area will become a target for tropical storms &/or hurricanes as MJO enters favorable phase for active Atlantic.  This will occur as the Saharan dust continues to clear & wind shear lessens in that zone, as well.
MJO Phase 2 now will transition to 3 & 4 with time.  Enhanced MJO zone for hurricanes will shift from Gulf to Atlantic with time.
We favor drier trend with cooler round briefly now (& what we had this weekend) & perhaps briefly in late August, then hotter trend in Phase 4 here.
It looks like an overall drier than normal September with much of the rain occurring with front mid-month that will be transition from hot, drier regime to much cooler, more fall-like weather.
We could literally go from a high in the 90s to lows in the 40s over a 3-day period centered around September 14.
It does appear that temperatures will go back above normal in late September.
October looks warmer & drier than normal unless we can get a tropical system to impact the area.